This strawberry rhubarb crisp has a thick layer of oat-based topping, is gluten-free, whole grain and can easily be made dairy-free and vegan!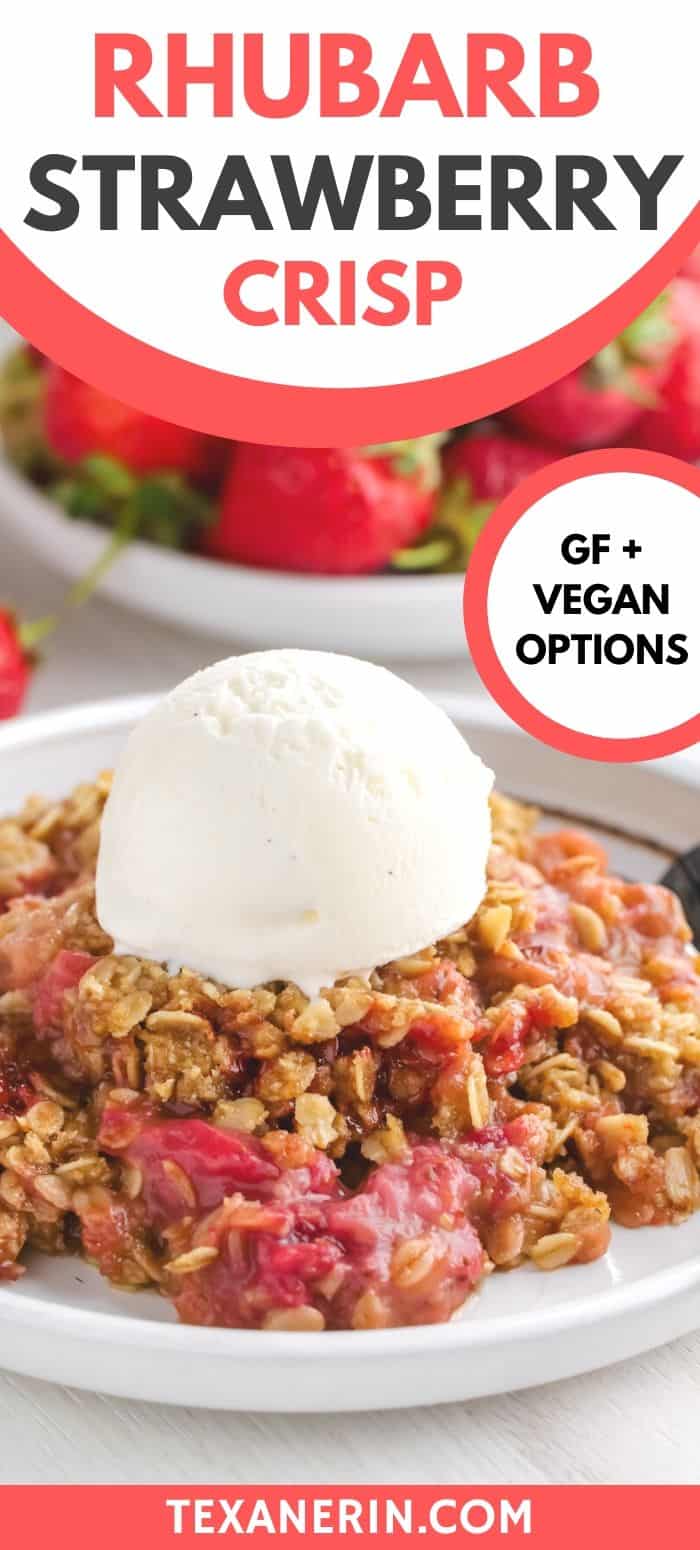 I've made this strawberry rhubarb crisp every spring for the last few years and people always rave about it. Normally I'm all about the topping in crisps, crumbles and cobblers but the fruit layer in this crisp is really amazing.
Nevertheless, this crumble is pretty topping heavy – just the way I like it! You can use 50% more fruit if you want it a bit more balanced.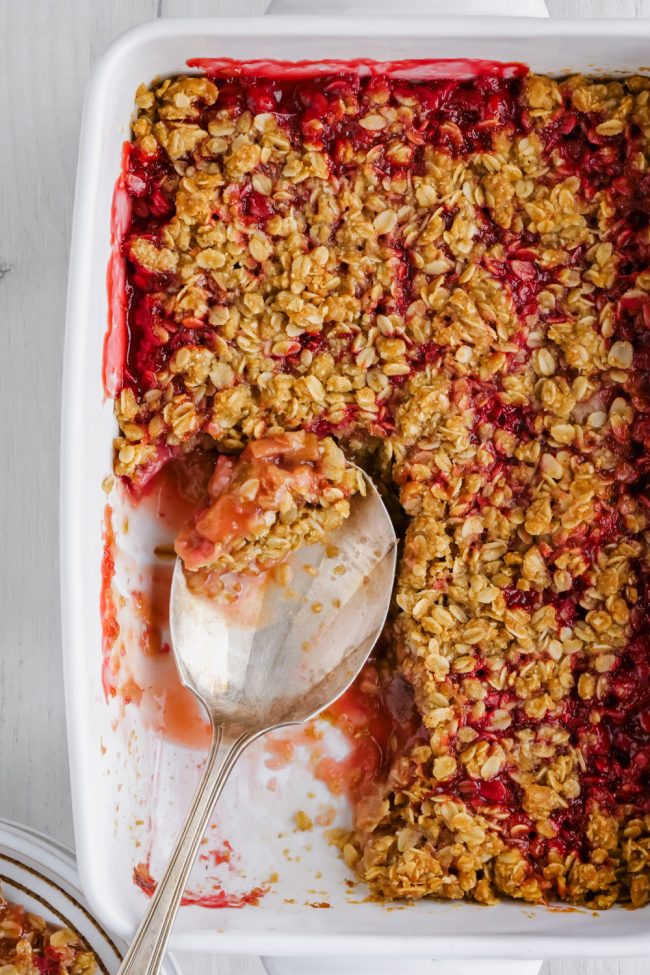 So many people have told me that it's the best crisp topping ever and I absolutely agree. Hence the large amount of it loaded on top of the fruit. :D
If you need a grain-free version, try my paleo strawberry rhubarb crisp, which is also vegan and even AIP-friendly!
If rhubarb isn't your favorite or if it's not in season, just use more strawberries or another fruit (like in this gluten-free apple crisp). Just note that the baking time will likely be different.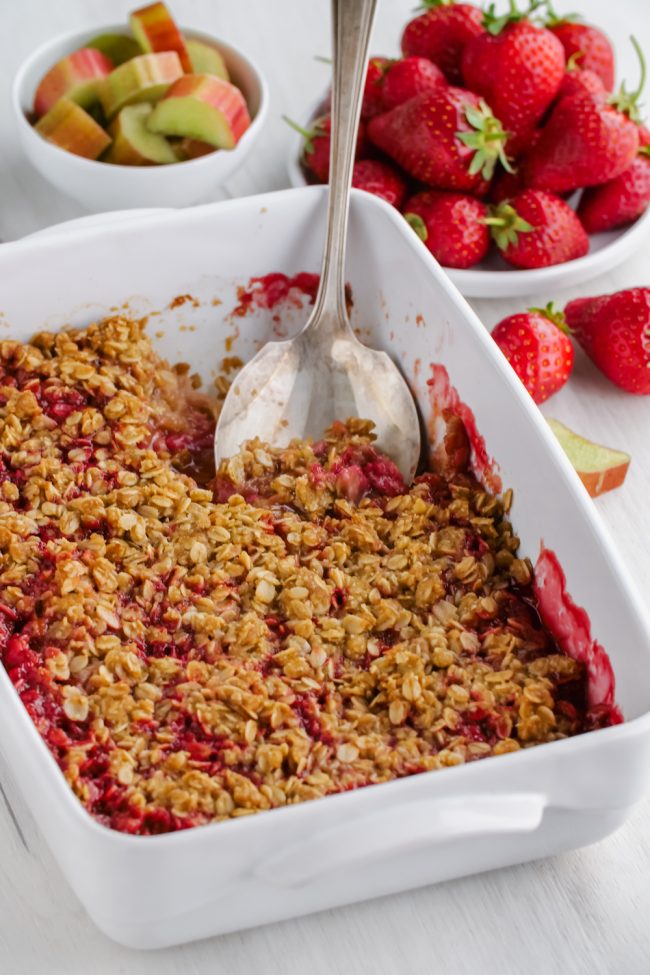 I don't like rhubarb on its own but whenever it pops up at the store, I grab some to make this rhubarb crisp.
I was thinking that rhubarb's tartness would require a little more sugar than most crumble recipes, so I took a look at some other strawberry rhubarb crisp and crumble recipes. Most of them used double or even more sugar for the same amount of fruit that I used here.
My strawberries hardly had any sweetness to them and I still found 1/4 cup to be enough. All that topping helps sweeten things quite a bit!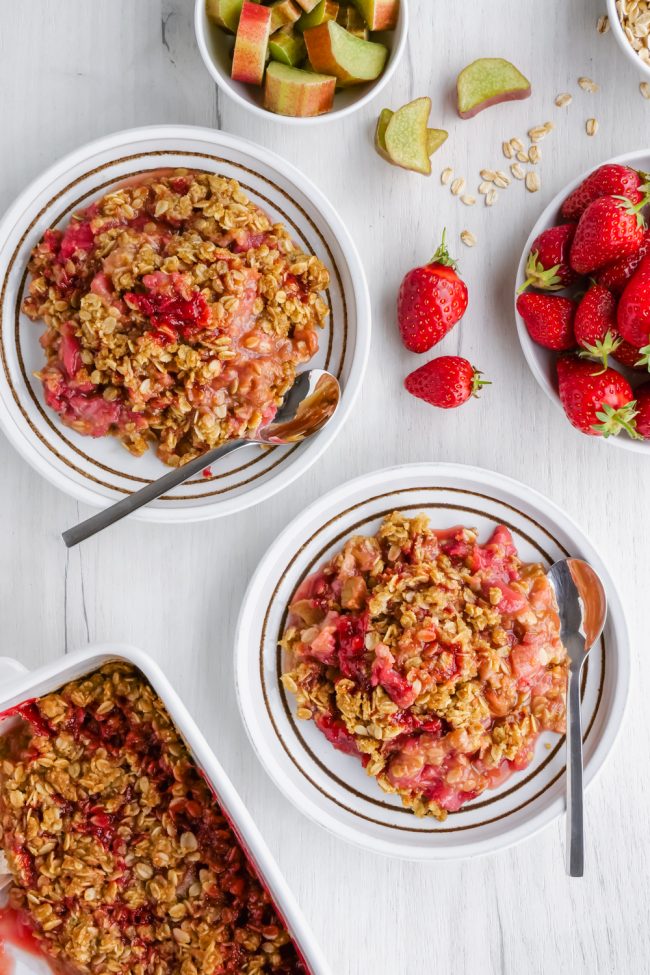 The almond extract makes this crisp totally irresistible. When baking anything with berries, I almost always add some lemon zest and extract but almond extract is definitely the yummiest alternative here, I think.
By the way, if you want to make something for a gluten-free friend but don't want to invest in expensive gluten-free flours, this is the recipe for you! You just need some gluten-free oats and you're good to go.
To make oat flour, you can grind rolled or quick oats in a coffee grinder, small food processor or high-powered blender like a Vitamix or Blendtec until it resembles flour.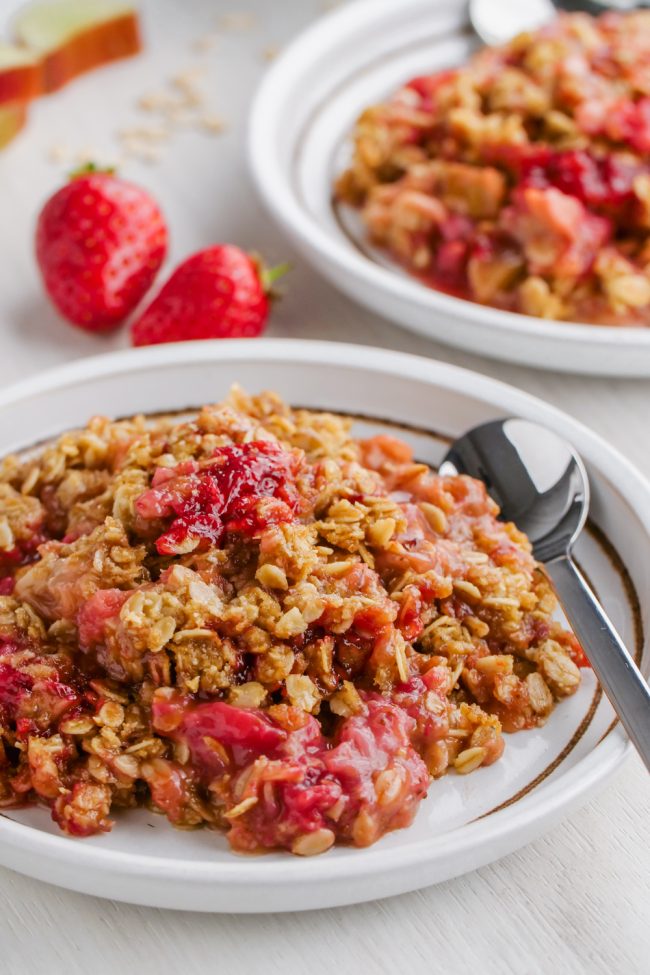 This strawberry rhubarb crisp is also easy to make dairy-free and vegan! Just use coconut oil in place of the butter (but notice that you use a different amount). I'm assuming vegan butter would also work in place of the butter.
I know I'm a little late in the rhubarb season to be posting this recipe but I hope I'm not too late! If I am, give this paleo blueberry crisp or this vegan blueberry crisp a try. And if you still have access to rhubarb, this rhubarb sauce looks amazing!
And if you're looking for something special to bake for spring, try this Lemon Blueberry Cheesecake.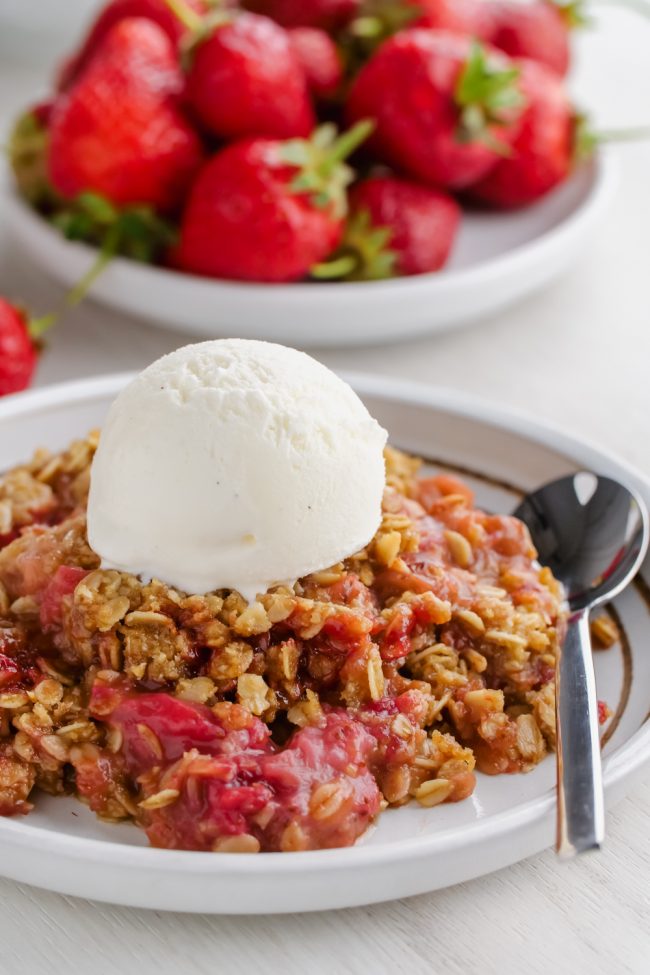 ❀
Strawberry Rhubarb Crisp (vegan gluten-free, whole grain)
Prep Time:
Cook Time:
Ready in:
Yield:

8-12 servings
Ingredients
For the fruit:

2 cups (250 grams) rhubarb, cut into 3/4" pieces
2 cups (282 grams) strawberries, hulled and cut into 3/4" pieces
1/4 cup (50 grams) granulated or raw sugar
3/4 teaspoon almond extract
1/2 teaspoon vanilla extract
1 tablespoon cornstarch (or tapioca starch)
pinch of salt

For the topping:

3/4 cup + 1 tablespoon (75 grams) oat flour (use GF oat flour, if necessary)1
1 1/4 cups (115 grams) rolled oats (use GF oats, if necessary)
2/3 cup (132 grams) light brown sugar or raw sugar
2/3 cup (149 grams) butter or 1/2 cup + 1 tablespoon (126 grams) coconut oil, melted and cooled slightly (use coconut oil for vegan / dairy-free)
1/4 teaspoon salt
Directions
Preheat the oven to 350 degrees F and grease a 1-quart, 8"x8" or another similar sized baking dish.
In a large mixing bowl, stir together the sugar, almond extract, vanilla extract, cornstarch and salt. Add the chopped fruit and stir to coat in the mixture. Let sit for at least 10 minutes while preparing the topping.
In another large mixing bowl, stir together the oat flour, oats, brown sugar, melted butter or coconut oil and salt until well combined.
Spoon the fruit mixture into the pan and top with the topping. Place the dish on a baking sheet to catch any spills.
Bake for 40-45 minutes or until the topping is firm and the fruit is bubbling. The topping will appear to be quite runny around 25-30 minutes but firms up in the last 10-15 minutes of baking. The filling may also appear runny while warm but thickens as it cools.
Let cool for 30 minutes and serve warm or room temperature. Cover and store at room temperature for up to 2 days.
Notes
To make oat flour, grind rolled or quick oats in a coffee grinder or small food processor until it resembles flour.
Source: My book, The Sweet Side of Ancient Grains