Super soft and chewy, these whole wheat chocolate peanut butter cup cookies are packed with peanut butter flavor!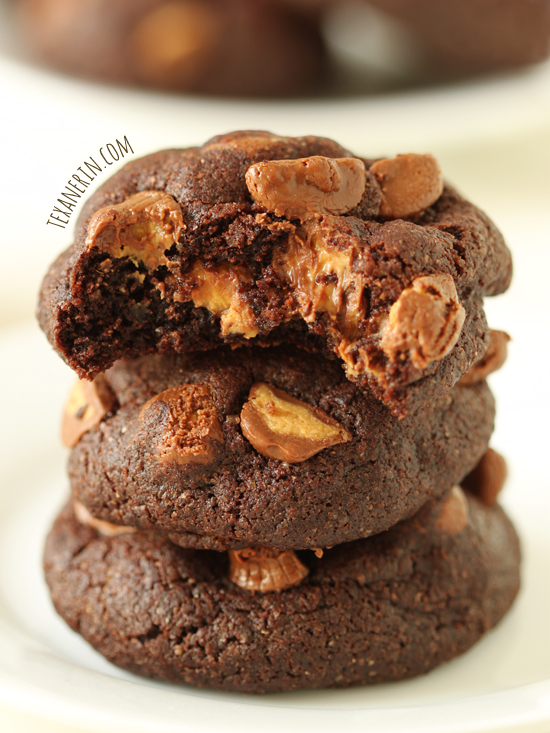 It's the last giveaway of Giveaway Week! And it's another chance to win a $500 Amazon gift card! Scroll down to enter.
Before we get to the cookies, here's a reminder of all my current giveaways: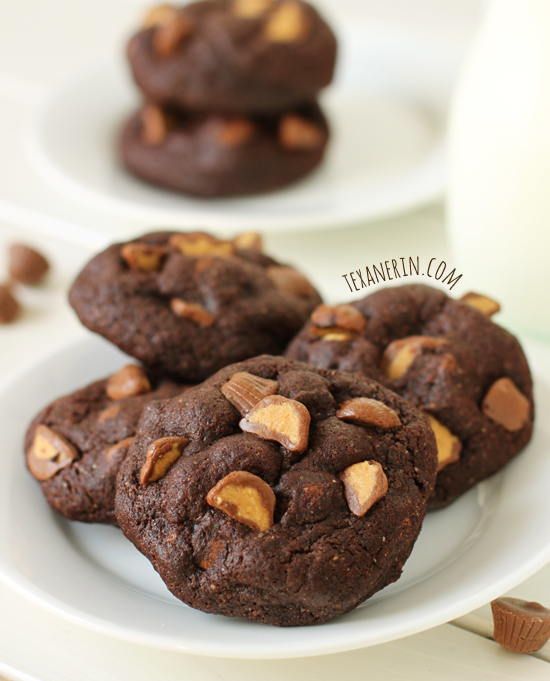 You might have guessed by the number of peanut butter recipes I have on the blog that I LOVE peanut butter. And because of the lack of peanut butter candy products in Germany (and I think the rest of the world outside of the US), I brought home three containers of mini peanut butter cups from Trader Joe's that I picked up during my US trip this summer. I made the mistake of opening one without having a purpose for it. That didn't end so well! So I hid the other two containers so I could make something really, really special with them. And what could be more special than chewy chocolate peanut butter cup cookies? :D
I saw these gooey chocolate peanut butter cup cookies from SugarHero back in July and since then, I've been obsessed with creating a healthier version. I worked on my own whole wheat, coconut oil and sugar version of these cookies for ages! I made at least 8 different batches but I just couldn't get them right. I wish I had a story about how I persevered, but nope. It wasn't to be!
I was fed up with the whole situation and decided to try these soft and chewy double chocolate M&M cookies from Tracey's Culinary Adventures. Tracey's recipes never disappoint and this was no exception! These are so perfectly soft and chewy and don't taste the least bit whole grain.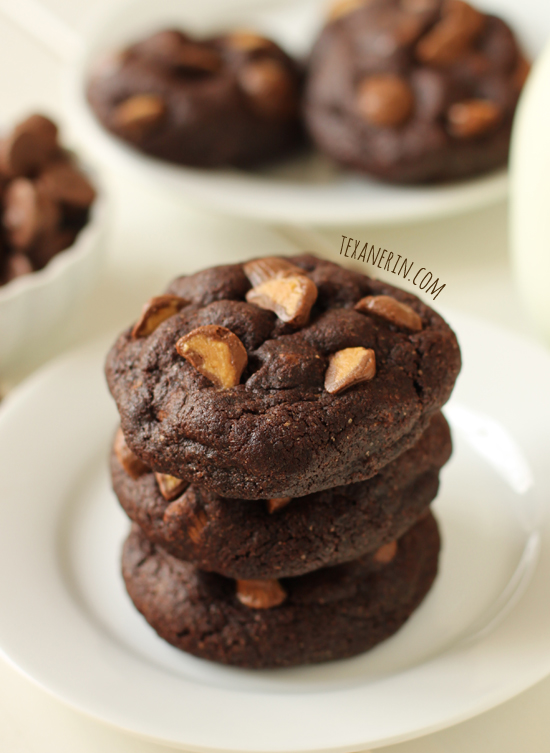 There's quite a bit of peanut butter cups in there so I reduced the sugar a little and they were still plenty sweet. I'm afraid that reducing the sugar even more would result in a cakey cookie. If you don't mind cakey cookies, go for it! But if you want them super soft and chewy, go with the 2/3 cup of sugar.
I normally don't have a problem with downing an entire dozen of cookies (not exaggerating here) but with these? I felt content after just one. These chocolate peanut butter cup cookies are very, very, decadent. But what's life without some ridiculously sinful cookies every now and then? :)
And now the giveaway for the $500 Amazon giftcard! It ends on December 15th at 12:00am EST and you must be 18 years old or older and have a valid US mailing address to enter the giveaway. Be sure to check out the other bloggers who have sponsored this giveaway!
Dinners, Dishes and Desserts | Bakeaholic Mama | Buns in My Oven | Chocolate & Carrots | Crazy for Crust | Inside Bru Crew Life | Love from the Oven | Rachel Cooks | The Lemon Bowl |
❀
Chewy Chocolate Peanut Butter Cup Cookies
Prep Time:
Cook Time:
Ready in:
Yield:

16 - 18 cookies
Ingredients
1 1/4 cups (156 grams) whole wheat or whole spelt flour
1/4 cup plus 2 tablespoons (30 grams) unsweetened cocoa powder
1 teaspoon cornstarch
3/4 teaspoon baking soda
1/2 teaspoon salt
1/2 cup (113 grams) unsalted butter, room temperature
2/3 cup (133 grams) unrefined sugar
1 egg, room temperature
1 teaspoon vanilla extract
1 cup (2 1/3 dl) mini peanut butter cups, plus an additional 1/3 cup to press on top of the cookies, if desired
Directions
Preheat the oven to 350°F (176°C). Line a baking sheet with a Silpat or a piece of parchment paper.
In a medium bowl, mix together the dry ingredients (flour through salt). Set this bowl aside.
With an electric mixer or in the bowl of your stand mixer fitted with the paddle attachment, beat the butter and sugar on medium speed for 3 minutes or until fluffy.
Add the egg and vanilla.
With the mixer on low, gradually add in the dry ingredients and beat until the dough has just combined.
With a spatula, gently stir in the 1 cup of mini peanut butter cups. It might be easier to do this with your hands.
Roll the dough into 2" balls and place about 3" apart on the prepared cookie sheet.
If desired, cut 1/3 cup of mini peanut butter cups into halves and press onto the tops of the cookies.
Bake for 10 – 13 minutes or until the edges of the cookies are set. Do not overbake! The middle of the cookie might appear underdone, but it'll continue to cook even after you take the cookies out of the oven.
Let the cookies cool for 3 minutes on the cookie sheets, and then, using a spatula, remove the cookies to a wire rack to cool completely.
Store in an airtight container at room temperature for up to 5 days.
Adapted from Soft and Chewy Double Chocolate M&M Cookies from Tracey's Culinary Adventures