These healthier raspberry coconut oat macaroons are super simple to put together and couldn't be any more delicious! They're also 100% whole grain, gluten-free, vegan and dairy-free.
These were my first macaroons ever. I had never had one before these and I can't imagine trying any other recipe just because these are so good. I never had interest in making macaroons until Lauren posted these. Go look at them. How could you not want to make them?!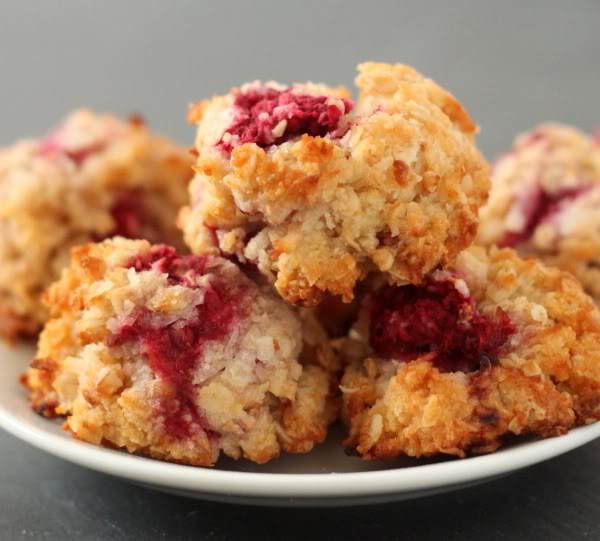 The first time, I made them with frozen raspberries, but I stupidly thawed them first. Don't be like me. If you used frozen, take them out of the freezer only once you're ready to fold them in. Melty soggy raspberries resulted in some ugly little cookies.
A few weeks later, I found raspberries for .89 a box. I thought it had to be a mistake, but it wasn't. I was elated. Fresh raspberries! I bought the remaining six containers, ate them for a few days, but then realized I couldn't finish them off. So I "had" to bake with them. And so I made these again and they are indeed much prettier with fresh raspberries. But if I weren't taking pictures, I'd definitely use the frozen ones. Baking with fresh raspberries is kind of painful for me. They're just so delicious and delicate… and yeah, expensive.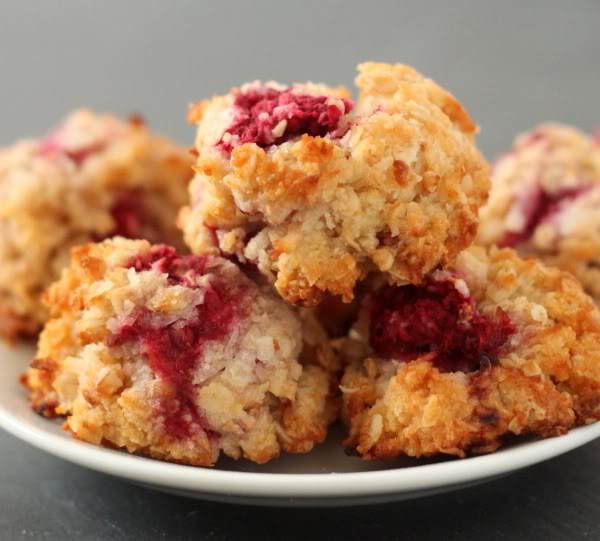 Another thing is that we don't have the same type of coconut over here. We have these really dry flake things, but they still work to make coconut butter. I used my American coconut the first time, and German the second time. They came out the same. I also reduced the maple syrup the second time, and while I didn't miss the sweetness, they seemed a bit more crumbly. But I can definitely live with crumbly! It's so expensive that I definitely like cutting down when possible.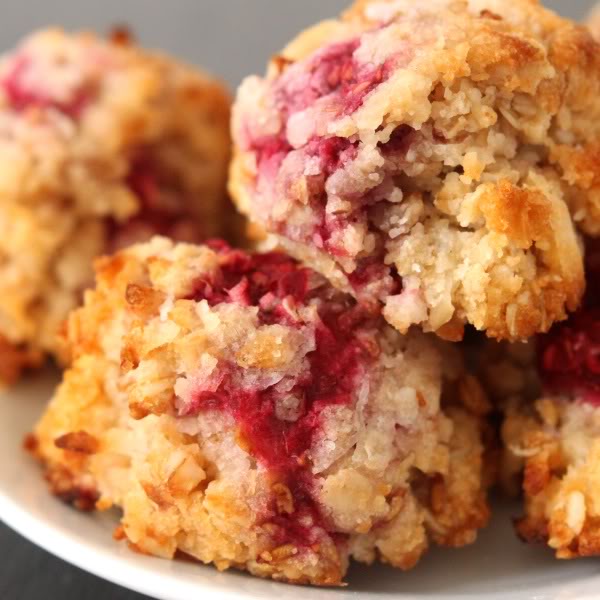 Coconut butter is also super expensive, but not if you make it on your own and you can find instructions for that in the directions.
You know, Mr. Texanerin is super picky when it comes to sweets. He would simply rather eat vegetables so something has to be really, really good for him to consider it even "okay." He devoured these. He had no idea that they were healthified. Really. You have to make these.
Oh, and if you use non-contaminated gluten-free oats, these are gluten free. Just throwing that in there if that's an issue for you. I feel silly calling these whole grain because it gives you the image that there's some flour in there, but it's just oats. And oats are whole grain. Hence the whole grain in the title. :)
❀
100% Whole Grain Raspberry Coconut Oat Macaroons (gluten-free, vegan)
Prep Time:
Cook Time:
Ready in:
Yield:

1 cup
Ingredients
2 2/3 cup (8 ounces / 225 grams) full fat shredded unsweetened coconut or 1 cup of coconut butter (NOT coconut oil!)
1 cup unsweetened shredded coconut
1 cup (92 grams) rolled oats (use gluten-free oats, if necessary)
1/2 - 3/4 cup (118ml - 177ml) pure maple syrup
1 tablespoon + 1 teaspoon vanilla bean paste or vanilla extract
1/2 teaspoon almond or coconut extract
1/4 teaspoon salt
1 cup (6 ounces / 170 grams) fresh raspberries, very lightly mashed
Directions
Preheat your oven to 300°F / 150°C. Line a cookie sheet with a Silpat or a piece of parchment paper.
In a food processor, process the 2 2/3 cups shredded coconut for about 5 - 10 minutes. At first it'll be hard to believe that this will form a smooth butter, but it will. Just continue processing it until it's very smooth and buttery. This yields about 1 cup of coconut butter.
Combine the coconut butter and all of the remaining ingredients, except for the raspberries, in a large bowl and stir, only until combined. Fold in the very lightly mashed raspberries, but be careful as you want the raspberries to stay somewhat whole.
Form about 32 little balls of dough using an ice cream scoop or a medium cookie dough scooper. Place on the Silpat / parchment paper, leaving just a little bit of space, about 1 centimeter, between the balls. Bake for about 20 - 25 minutes, or until the macaroon bottoms have browned a little. When you take them out of the oven, they'll be very soft.
Let them cool on the cookie sheet, about 30 minutes, or until they're firm and cool.
Raspberry Coconut-Oat Macaroons from Healthy Food For Living