Baci di dama are a type of gluten-free hazelnut cookie originally from the Piedmont area of Italy. Two sand-like cookies are sandwiched together with chocolate or if you prefer – Nutella!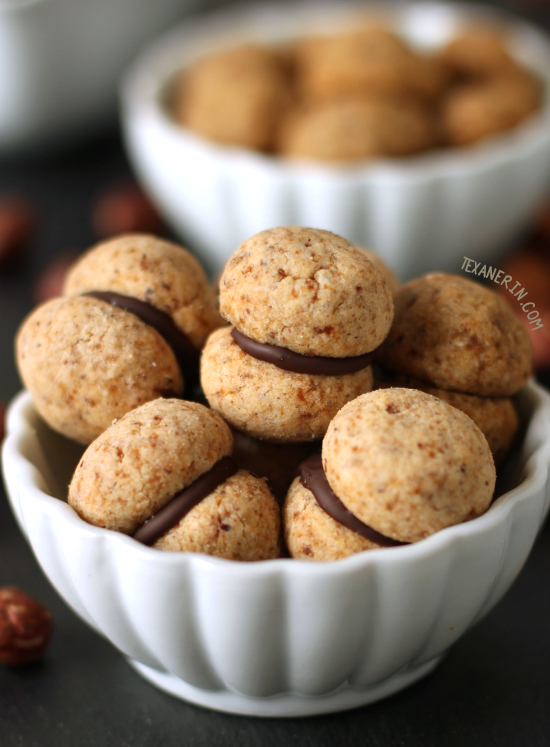 Baci di dama, which means Lady's Kisses in Italian, are pretty hard to describe to someone who hasn't had them. They're unlike any American cookie I've ever come across. I admit that they don't sound all that exciting just by looking at the ingredients, so I'll just have to recommend that you try them for yourself. :)
As much as I love my soft and chewy cookies, these baci di dama are pretty nice, too. I've tried a lot of recipes and the others were too crunchy for me. So I came up with something a little softer. My version isn't crunchy at all but soft and crumbly.
These baci di dama use glutinous rice flour or white rice flour, both of which are gluten-free. I promised to never start posting recipes with "unusual" gluten-free flours (if you're new here, I like to stick to nut flours!) so I wanted to try these with some easier to find flours. I've tried my baci di dama recipe with whole wheat and all-purpose flours and both worked well!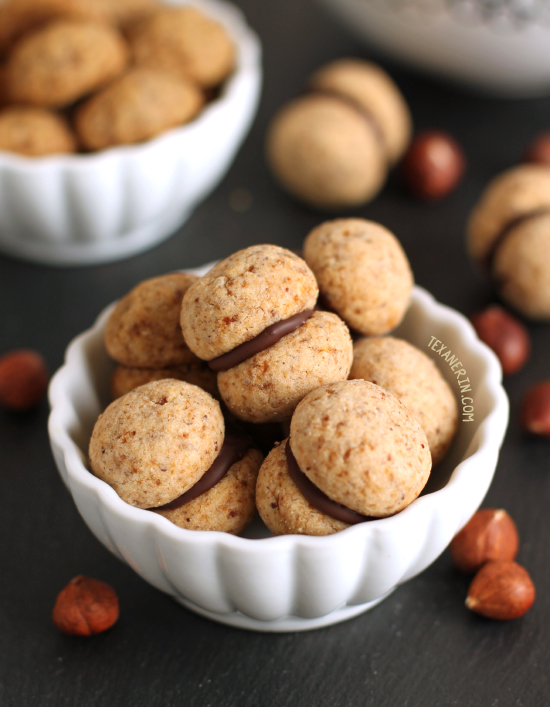 My favorite version is with glutinous rice flour. The texture of the baci di dama seemed smoother with it than with the other flours. After that, my next favorite was white rice flour.
The cookies still had a lovely sand-like texture. With whole wheat and all-purpose flours, they didn't have that texture at all. They're just soft and crumbly, and in my opinion, not that special tasting.
I found both glutinous rice flour and white rice flour at an Asian food shop. It was cheap and works just as well as my more expensive name brand rice flour that I brought back with me from the US, which was labelled as "sweet rice flour." If you can't find these flours in your local Asian food shop, they're easy to find on Amazon.
This recipe also uses hazelnut meal, which is pretty cheap and easy to find where I live. I've never bought it in the US, so I just looked at the prices on Amazon and $16 for less than a pound is pretty insane.
Does anyone know of a better source? You could also use roasted hazelnuts and grind them in a food processor until finely ground!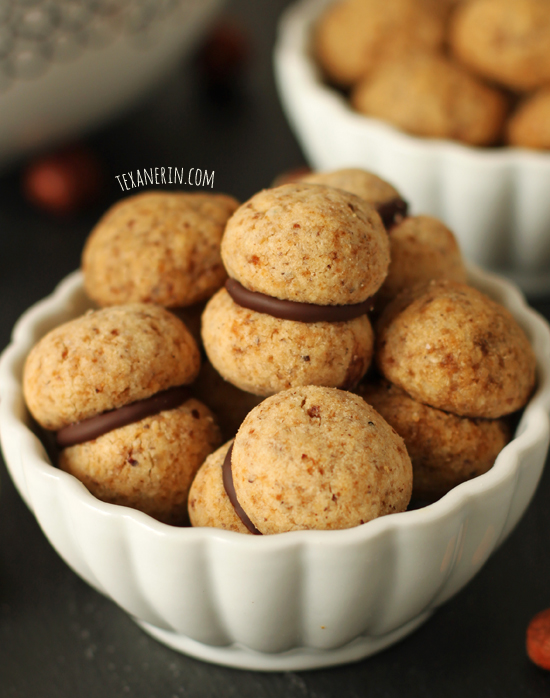 I'm sure traditional recipes don't use Frangelico (hazelnut liqueur), but I happened to have some around and wanted to use it. So I replaced the water in the recipe with Frangelico! And it was a nice move.
They do taste more complex and interesting than the cookies made with water but if you have no interest in drinking hazelnut liqueur, you certainly don't need to go out and buy a bottle just for these cookies. But if you think you'd enjoy Frangelico, then definitely invest in a bottle! It's delicious. Especially in hot chocolate. :)
Mr. T., the Nutella fiend, wants you all to know that these are even better with some Nutella sandwiched between the cookies. And hey, it's one less step! No melting of chocolate needed. :) You could also use homemade chocolate hazelnut spread for a healthier, less sugary version of these delicious little morsels.
These little cookies would be a great dessert after this traditional Italian pasta fagioli recipe, which looks amazing!
I hope you'll enjoy the baca di dama! Should you try them, please leave a comment below to let me know what you thought. Thank you!
❀
Baci di Dama Cookies
Prep Time:
Cook Time:
Ready in:
Yield:

52 sandwich cookies
Ingredients
140 grams (1 3/4 cup) roasted hazelnut meal1
120 grams (3/4 cup + 2 tablespoons) glutinous rice flour or white rice flour or 120 grams (1 cup) white whole wheat flour or all-purpose flour
4 teaspoons Frangelico or water
120 grams (8 1/2 tablespoons) butter
65 grams (1/2 cup) coconut sugar or (1/3 cup) granulated sugar
45 grams (1/4 cup) semi-sweet chocolate chips
Directions
In a large bowl, mix together all the ingredients except for the chocolate. I used a fork and then used my hands to get the butter well combined.
Preheat the oven to 350°F (176°C) and line a baking sheet with a Silpat or a piece of parchment paper.
Roll the dough into 1/2" balls and place 1" apart on the baking sheet.
Bake the cookies for 7 minutes. They should be set but not have turned brown yet.
Remove from the oven and let cool completely.
Melt the chocolate in a microwave safe bowl at 50% power in 30 second increments, stirring after each increment.
When the cookies are completely cool, dollop a tiny bit of chocolate on the center of a cookie and sandwich it together with another cookie. Repeat with the rest of the cookies.
Place the assembled cookies back on the Silpat or parchment paper you used for baking and let the chocolate harden. If you're in a hurry, place them in the fridge to harden quicker.
Cover the cookies and let sit at room temperature for up to 5 days.
Notes
You can also take roasted hazelnuts and grind them in your food processor until they resemble a coarse flour.
As an Amazon Associate, I earn from qualifying purchases. For more info, see my disclosure.