This Baileys hot chocolate is super-rich and only calls for 4 ingredients. It can also be made paleo and / or vegan with dairy-free milk and homemade Irish cream. Don't like Baileys? Use another type of booze for a fun Christmas and New Year's drink.
I think we can all agree that hot chocolate with Baileys is the best kind of hot chocolate, right? Or am I alone in that? ;)
This recipe isn't at all healthy. I have a wonderfully decadent and date-sweetened hot chocolate this way that might interest you. ⇨ Healthy Hot Chocolate
Baileys also tastes great in that recipe. I've tried it!
Time to indulge!
The base of this Irish cream hot chocolate recipe is a super-rich hot chocolate. It's awesome on its own.
But why not add 1/2 cup of Baileys?! It's Christmas. And when you split that 1/2 cup between 3-4 servings, it's not that much.
This year has been, as a whole, miserable – and I think we all deserve some Baileys in our hot chocolate.
If you're reluctant to go buy a bottle just for this recipe, I can highly recommend these mini Irish Cream cheesecakes and Baileys Brownies. Plus, I'm pretty sure you're going to want to make this hot chocolate recipe again and again and again.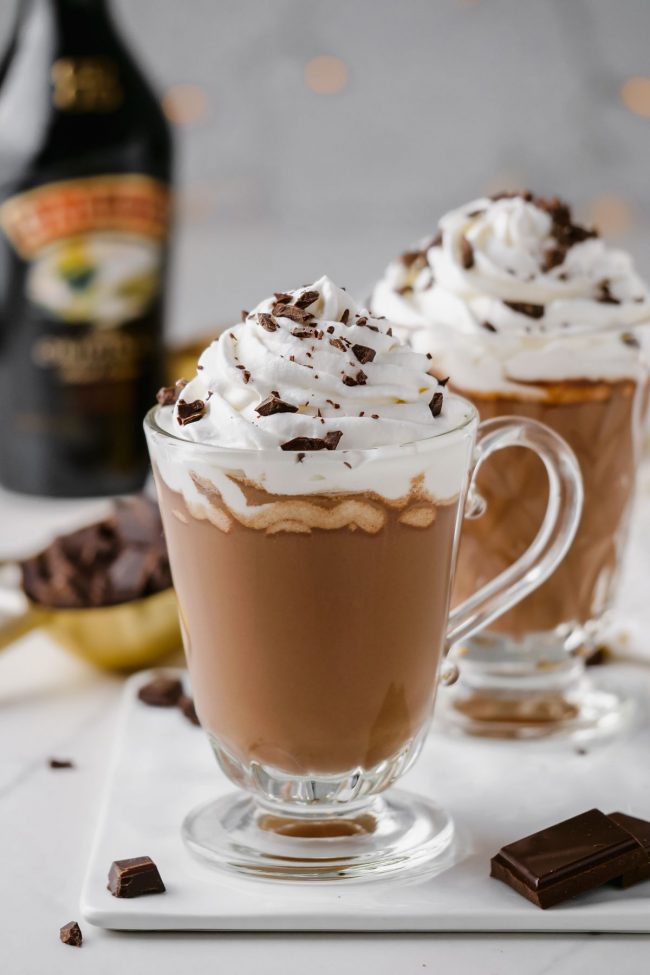 So what makes this recipe so rich? It's basically just evaporated milk + chocolate.
You can thin it down by using half evaporated milk and half regular milk or really, whatever combination of milk products you'd like.
Using all milk results in something that's way too thin for my liking but I may be a bit unusual in that I want my hot chocolate super, super-rich. Also note that if you use something in place of evaporated milk, which is sweeter than regular milk, your hot chocolate will be a little less sweet than intended.
If you want to use cocoa powder and a sweetener, this recipe isn't for you. You'd need a totally different recipe (like the healthy one that I linked to above!).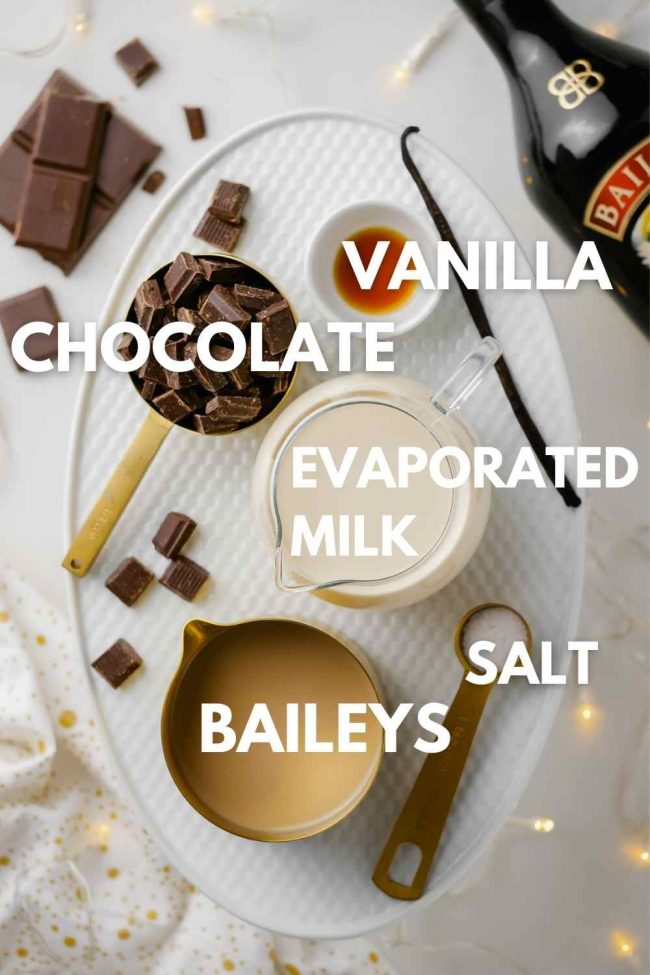 Paleo and vegan Baileys hot chocolate
This recipe is easy to make paleo and vegan.
For the milk, you've got lots of options. Use any milk paleo / vegan milk that you'd like.
If you use all coconut milk, you will be able to taste it. I think a mix of coconut milk + cashew milk or another milk is best.
Then you get the creaminess but without the coconut taste.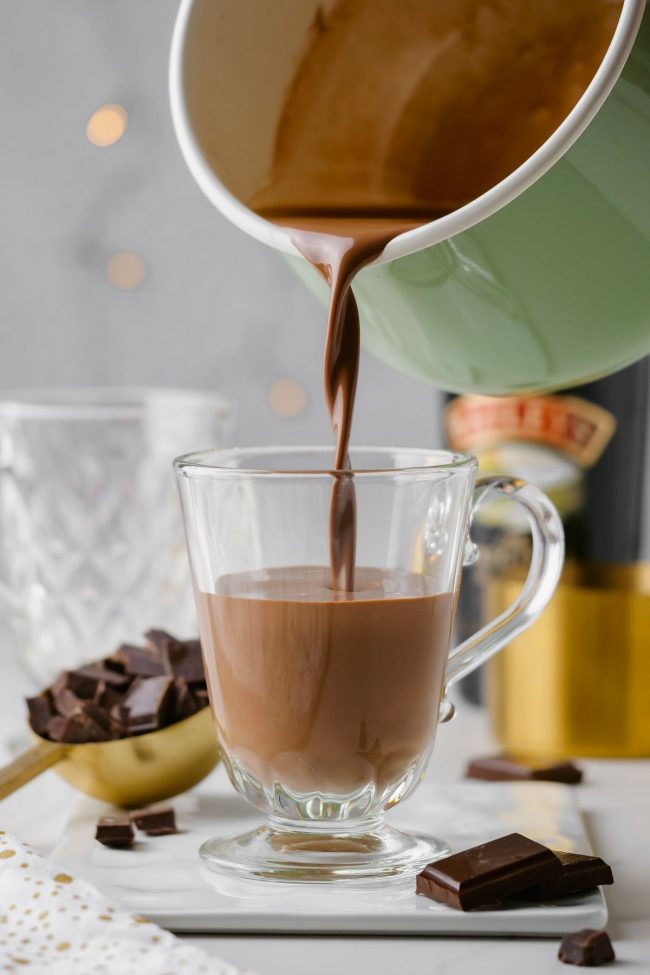 For the Baileys, you of course need to choose an appropriate homemade version. Perchance to Cook has this homemade clean Irish Cream liqueur recipe that's wonderful in this Baileys hot chocolate. It's even maple-sweetened!
There's also Baileys Almande, which is dairy-free and vegan but not paleo as it has sugar and soy. At the time of writing, it's vegan but it wasn't previously and ingredients can change.
So read the ingredients before buying it. Also, the ingredients might vary from country to country!
I've got to say that with all the chopped chocolate in today's hot chocolate recipe, it's not exactly healthy and / or paleo in spirit (to me), but as long as you use paleo chocolate, it's technically paleo.
Also, some people consider alcohol paleo… some don't. I think it's really up to you. Do make sure that your alcohol is gluten-free if that's something you need to avoid.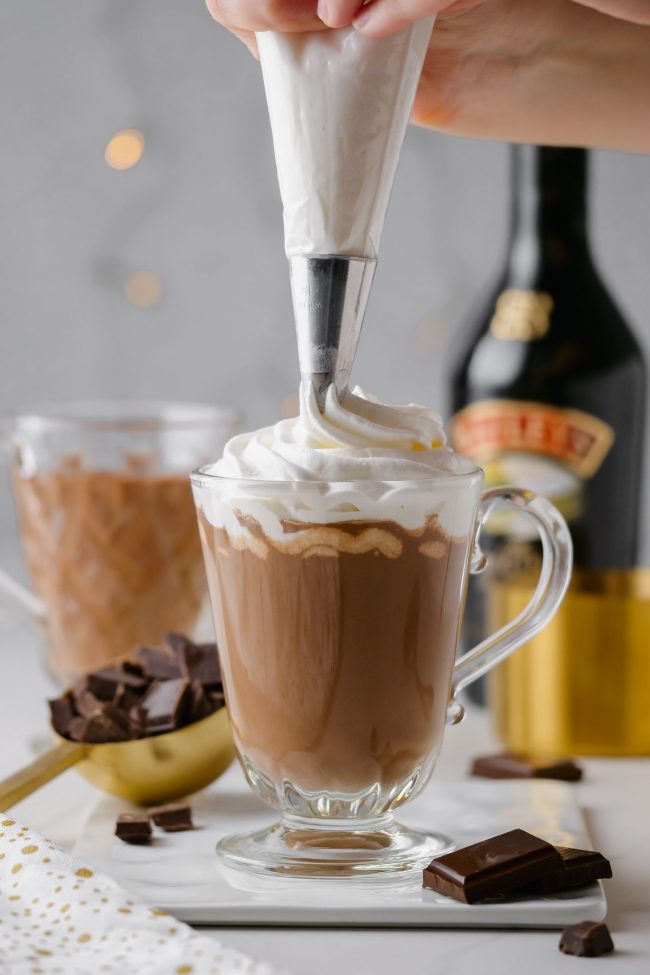 What to use in place of Baileys
If you're not a fan of Baileys, use whatever booze you want. I'd recommend starting off with 1/4 cup, instead of 1/2 cup, and adding more to taste.
Rum, Kahlua, and amaretto are my favorites! I probably wouldn't want to add 1/2 cup of rum, though.
If you love rum, too, try my rum cake from scratch or my coconut rum cake. Both are swimming in rum!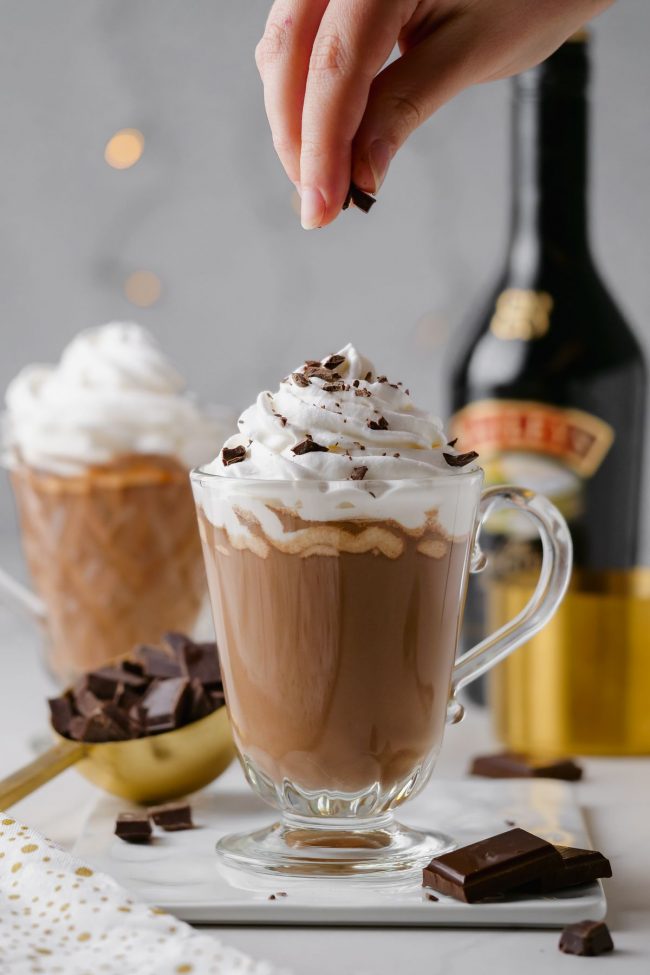 The topping
For the photos, I went crazy and used whipped cream. I don't do this in real life.
Does anyone do this in real life? Maybe I'm just too lazy.
I couldn't be bothered to make whipped cream and to locate a piping bag (fun / sad fact: I'm the least organized person ever), use it, and then clean it. But this hot chocolate really doesn't need the topping.
It's perfect as is! If you like marshmallows, go ahead and use those.
Enjoy! Let me know how you like it if you try it out.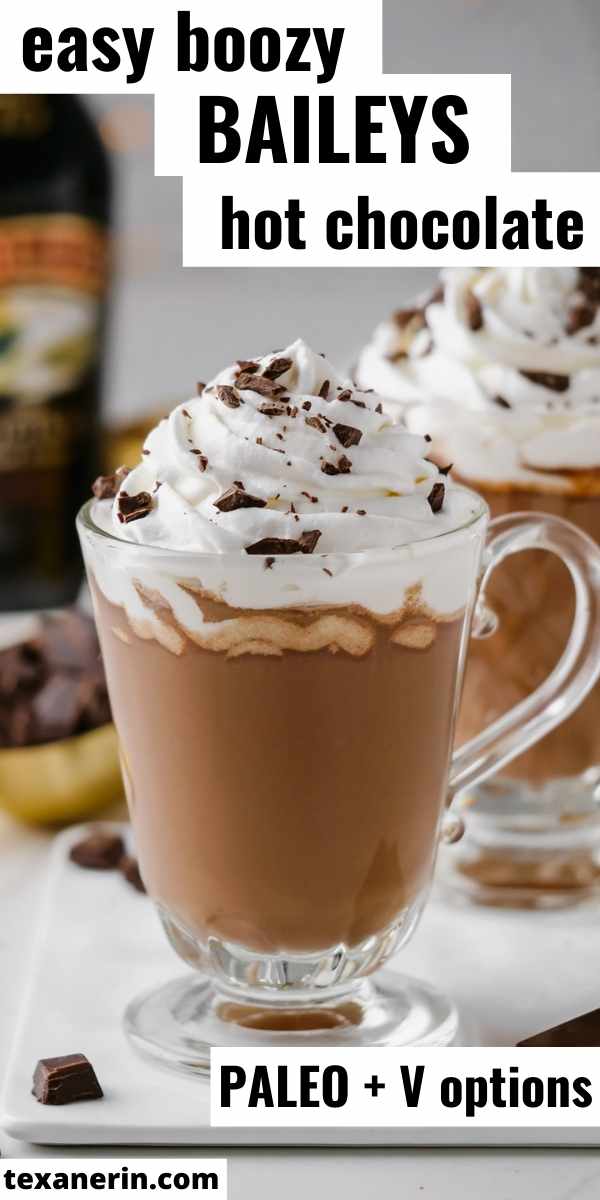 ❀
Baileys Hot Chocolate - Easy, Rich and Creamy!
Prep Time:
Cook Time:
Ready in:
Yield:

2 1/3 cups (3-4 servings)
For paleo / vegan, make sure to use paleo / vegan chocolate, milk and homemade clean Irish Cream liqueur and toppings.
Ingredients
12-ounce can (340 grams) evaporated milk (that's 1 1/2 cups)
2/3 cup (113 grams) chopped semi-sweet chocolate
pinch of salt
1 teaspoon vanilla extract
1/2 cup (120 ml) Bailey's
optional: whipped cream + chocolate shavings or mini chocolate chips for topping
Directions
In a small saucepan over medium heat, stir together the evaporated milk and chocolate. Continue stirring occasionally until all the chocolate bits are totally melted and no speckles remain – about 3-5 minutes.
Remove from the heat and stir in the remaining ingredients.
Top with whipped cream and shaved chocolate, if desired.