Rum cake from scratch – there's no pudding or cake mix involved and it's even more delicious than the cake mix version! Can be made with all-purpose flour or with whole wheat pastry flour for a 100% whole grain version.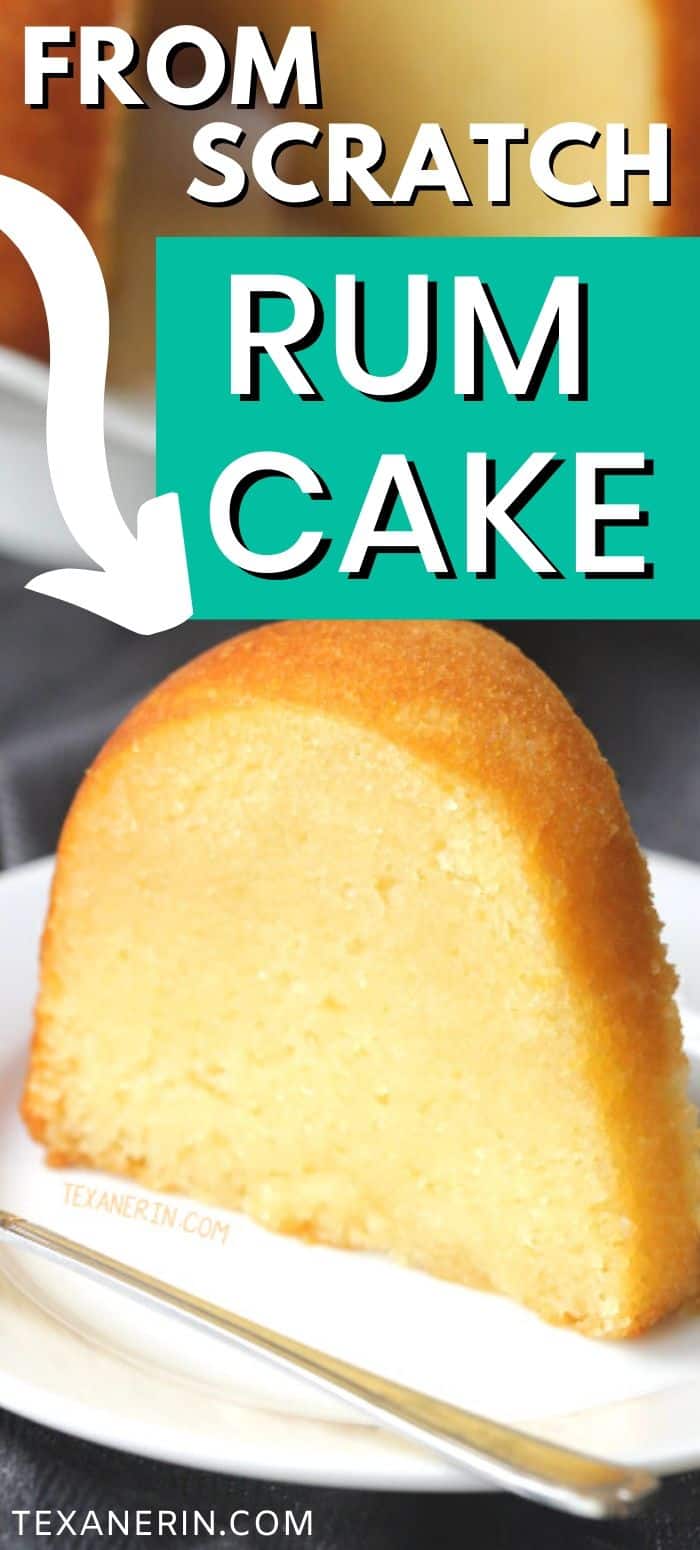 The special thing about this rum cake, other than being the most awesome rum cake ever, is that you don't need a bunch of processed junk to make it. Most rum cakes call for cake mix and pudding mix, neither of which I really want to use.
I remember when I moved to Germany, where we don't have the same cake and pudding mixes, 6 years ago and spent hours looking for a rum cake recipe from scratch. No luck.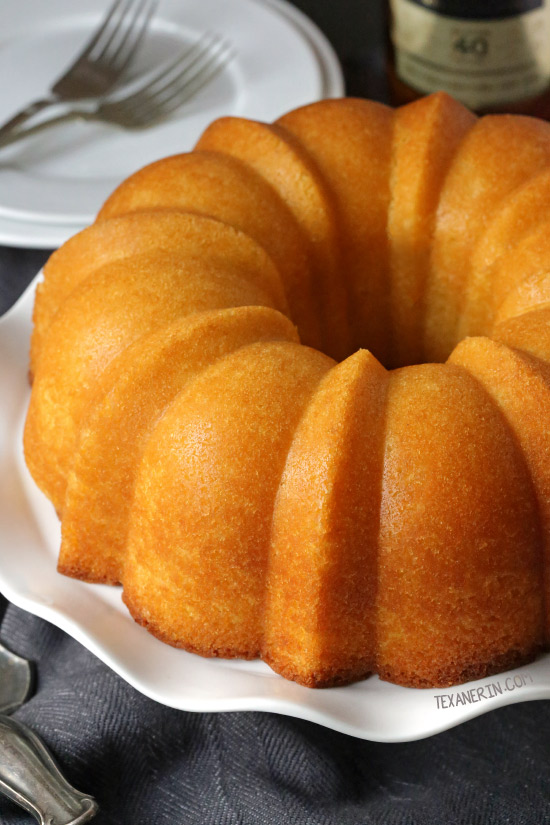 But Alejandra from Always Order Dessert has solved that problem with her rum cake from scratch! Now the whole world can enjoy rum cake. :)
The original recipe calls for 1 cup of homemade pudding mix. The recipe for the pudding mix yields 2 1/2 cups and since I didn't want any pudding mix left over, I scaled down the pudding recipe to what was needed just for the rum cake and it worked perfectly!
I also wanted to try subbing coconut oil for the vegetable oil in the original but I chickened out and used olive oil. Since coconut oil is solid at room temperature (at least in cold winter kitchens), I was worried that it'd make the cake too firm.
If you taste the batter and can taste the olive oil, don't panic! The olive taste bakes away, or perhaps it's just all the rum in the syrup that totally covers it up.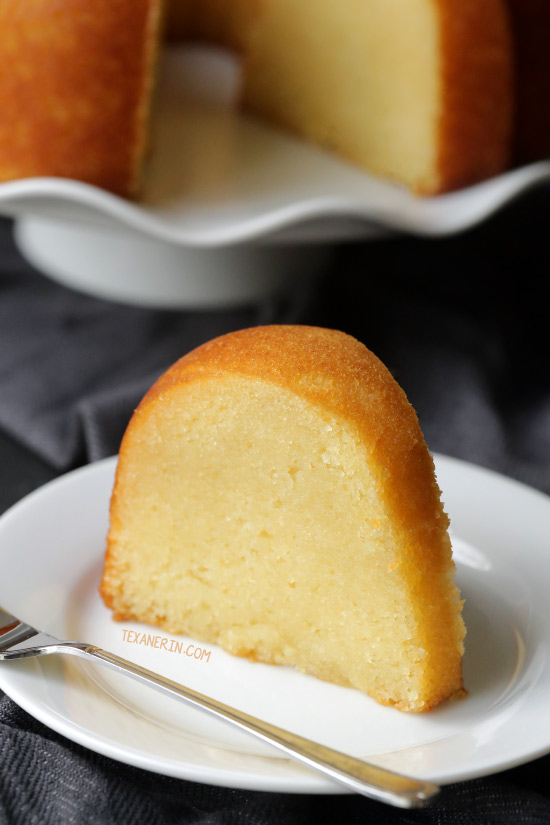 The first time I made this rum cake, I made it for a birthday party that I wasn't even going to, and it smelled so unbelievably amazing that I had to cut into it. And then I cut into it some more.
And then we just cut the cake into slices, made some whoopsie-I-ate-most-of-the-cake-brownies and Mr. Texanerin brought a few cake pieces to the party.
This cake is so ridiculously boozy. Some folks don't like a strong alcohol taste in their goodies. Not me. I want my cake to be swimming in booze.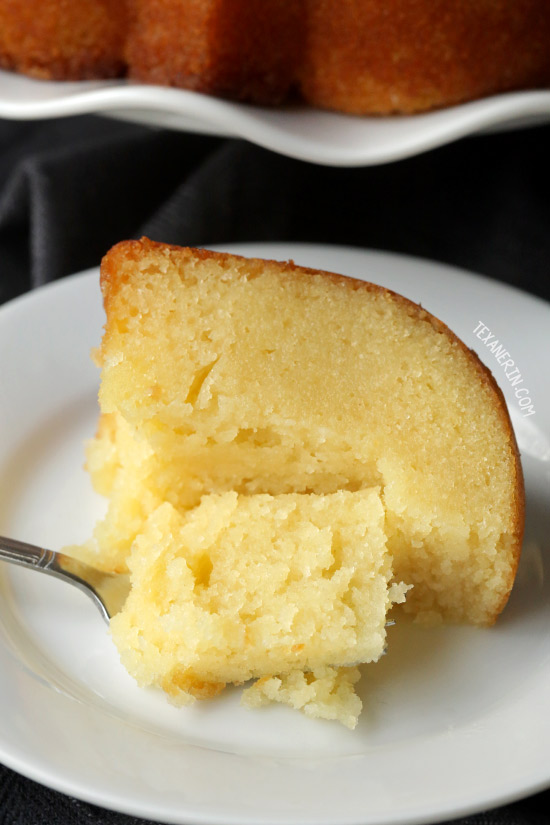 If you love boozy desserts, you also have to try my Irish cream brownies. There's 3/4 cup of Baileys in there!
And this thing is SO moist. I suppose that's not too surprising considering the amount of butter that goes into it. In addition to what's in the cake, you also make a butter rum syrup, poke holes in the cake, and then you pour the syrup all over it.
If a whole bundt cake is too much for you, check out my Irish cream bundt cake. It's basically this recipe, halved to fit a 6-cup bundt pan, and with Irish cream. Just use rum instead and you'll have yourself a cute little bundt cake. :)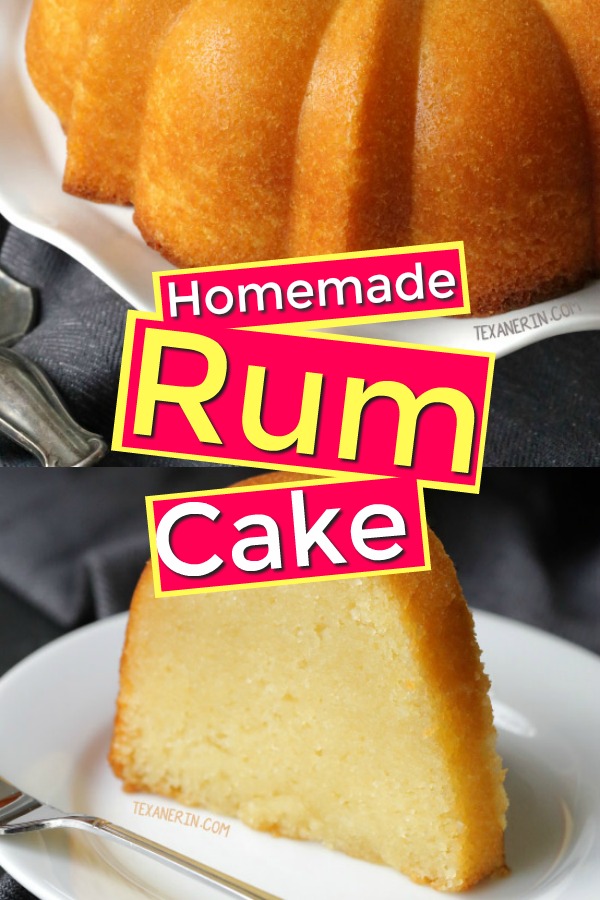 ❀
Totally from Scratch Rum Cake (with a 100% whole grain option)
Prep Time:
Cook Time:
Ready in:
Yield:

12-15 servings
Ingredients
Cake:

1 3/4 cup (219 grams) all-purpose flour or whole wheat pastry flour
1/2 cup (55 grams) dry milk powder (whole milk or fat-free work)
1/4 cup + 2 tablespoons (42 grams) cornstarch
4 teaspoons baking powder
1 teaspoon salt
1/2 cup (112 grams) unsalted butter, softened
1 3/4 cups (350 grams) granulated or raw sugar
1/2 cup + 3 tablespoons (160 milliliters) olive oil (canola oil or another vegetable oil would work, too, but I don't recommend coconut oil)
3/4 cup (177 milliliters) milk
4 large eggs, room temperature
3/4 cup (177 milliliters) dark rum
1 tablespoon vanilla extract

Rum Syrup:

1/2 cup (112 grams) unsalted butter
1/2 cup (120 milliliters) water
3/4 cup (150 grams) granulated or raw sugar
1/4 teaspoon salt
1/2 cup (120 milliliters) dark rum
Directions
Preheat your oven to 325°F (162°C). Spray a 12-cup bundt pan very well with cooking spray.
In a large bowl, combine the flour, dry milk powder, cornstarch, baking powder and salt. Set this aside.
In a large bowl with an electric mixer or stand mixer, cream the butter and sugar at high speed until light and fluffy. Add the dry flour mix to this. It will resemble fine crumbs.
In the bowl that just had the flour mix, whisk together the oil, milk, eggs, rum, and vanilla extract. Add this to the crumb mixture and beat until well combined. The batter will be quite thin.
Pour the batter into the prepared bundt pan and bake for 48-60 minutes, or until a toothpick inserted in the middle comes out clean.
When there are about 15 minutes remaining on the timer, start the butter rum syrup. In a large saucepan over medium heat, heat the butter, water, sugar and salt until the sugar has dissolved, stirring occasionally. Take the saucepan off the heat and stir in the rum (it'll bubble).
Let the cake cool in the pan for about 10 minutes and then invert onto a wire rack. Wash and dry the bundt pan and place the cake back into the pan. Poke holes into the cake (I used a meat thermometer to do this) and pour the syrup slowly over the cake. Let soak for 1-2 hours and then invert the cake back onto a serving platter. Cover and store at room temperature for up to 5 days.
Notes
For German bakers: German flour and American all-purpose are not interchangeable but I've had great luck using 50 grams Type 550 and 169 grams Type 405 in this cake. You could also try whole spelt but I think it'd taste a little whole grainy.
Adapted from Rum Cake from Scratch on Always Order Dessert
This post was originally posted in 2012. Here's the original picture for kicks and giggles. :D