This paleo fudge is made healthier with almond butter and maple syrup and has the most amazingly creamy texture! It's also vegan, dairy-free and no cooking is required.
I already have a recipe for paleo vegan fudge. That one is pretty much exactly like traditional fudge in taste, texture and the ability to keep it at room temperature.
But it uses a bunch of chocolate chips.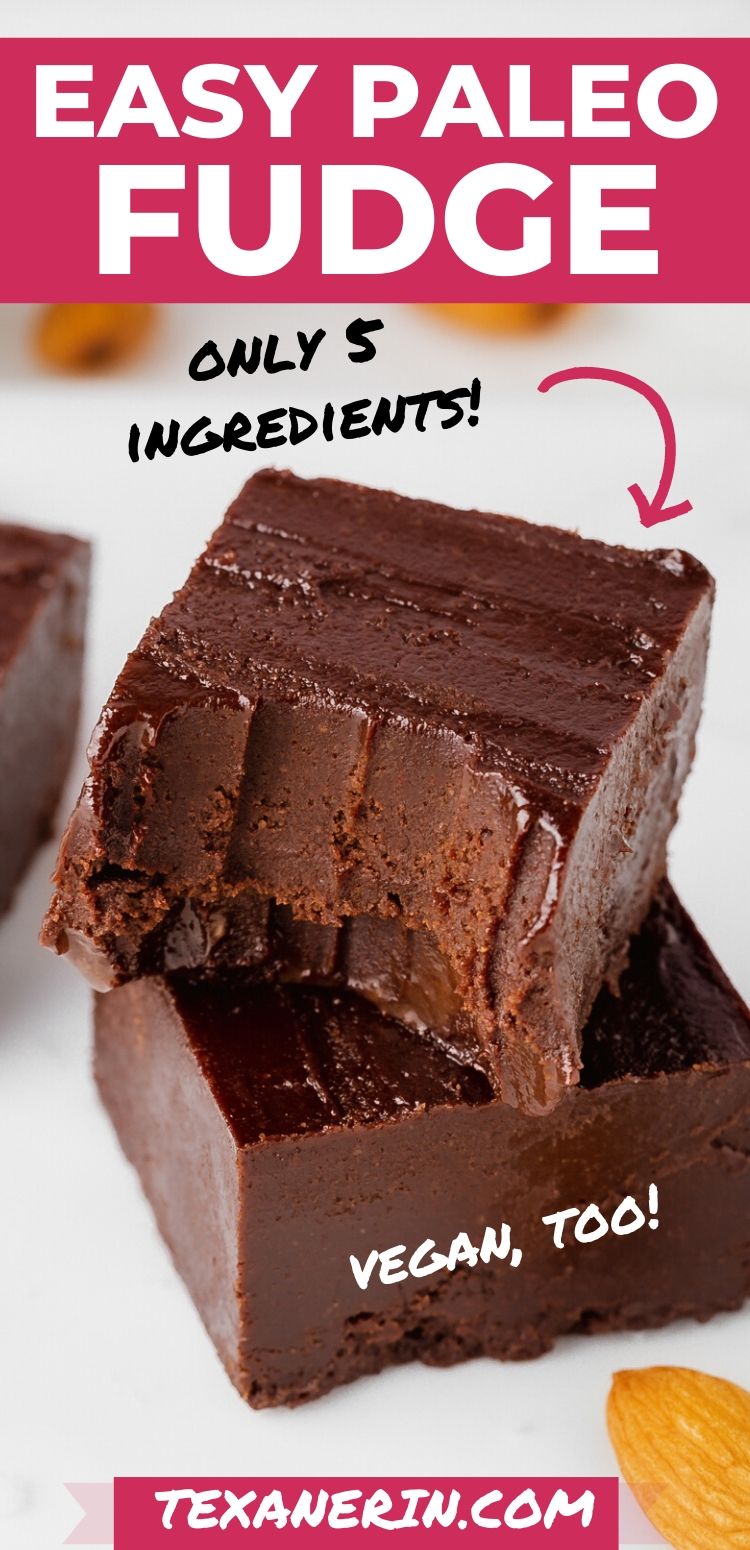 I wanted to offer an alternative that is naturally sweetened so today's paleo fudge recipe is sweetened with just maple syrup. By the way, I tried two keto versions and they were inedible. There are more details in the questions section below!
It doesn't taste exactly like traditional fudge – it has a more refined taste! I actually much prefer this recipe. The maple syrup + almond butter come together to make something really delicious.
Today's recipe is also creamier. On the off-chance that anyone reading this has had Viba Nougat, a creamy German chocolate hazelnut bar (that is not at all similar to what we call nougat in English), it tastes really close and it has the same texture, too! Everyone I've brought Viba Nougat to in the US has been obsessed with it.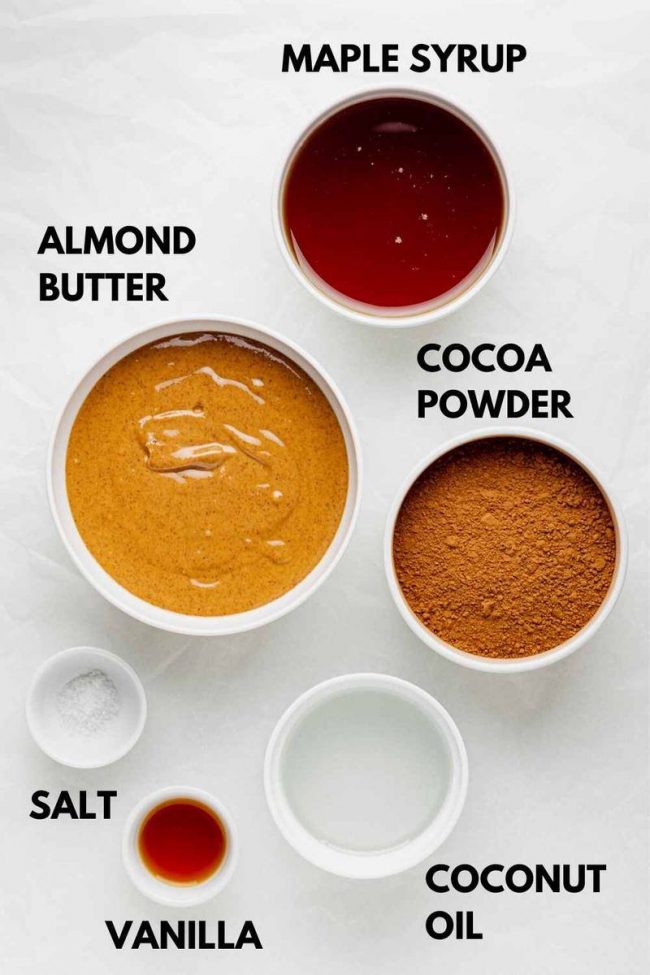 Nothing like Viba exists in the US so I'm going to try this recipe soon with hazelnut butter to see if I can recreate Viba for my non-German-readers (and for my German readers who want a healthier alternative!).
You sadly can't tell by the photos what a great texture this dairy-free fudge has. It starts getting pretty soft a few minutes out of the freezer so it doesn't really hold up well while taking photos in a hot room, rearranging it, etc.
This fudge can't be kept at room temperature. You've got to keep it in the freezer – and you can eat it straight from there. No thawing required. It's a bummer, I know, but it doesn't stop me from making it.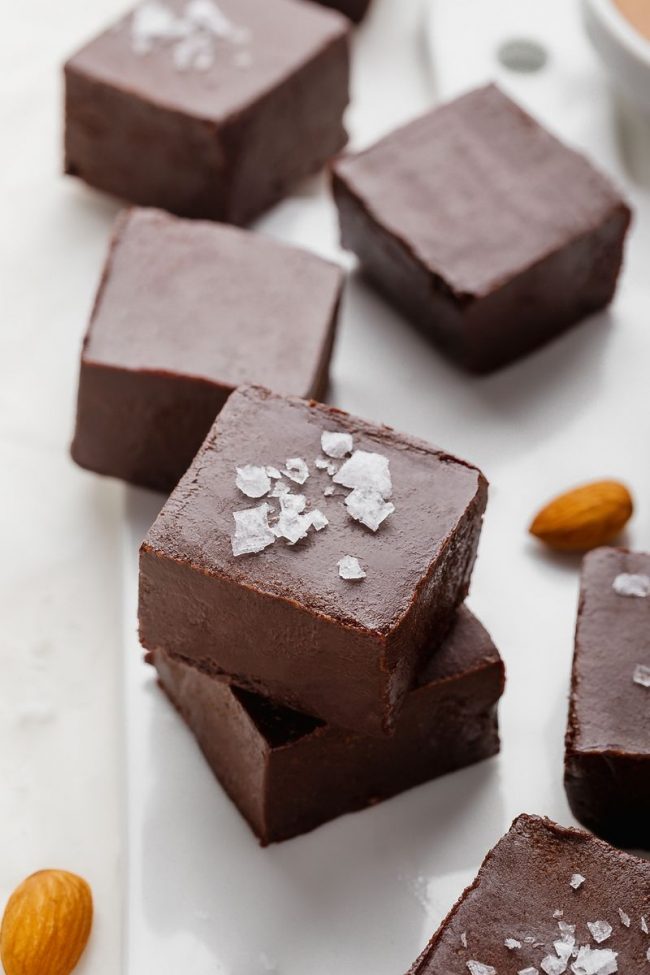 You'll want to be sure to use refined coconut oil, unless you want to have coconut flavored chocolate fudge. There's something about unrefined coconut oil in chocolate flavored goodies that I just can't stand.
I don't even use it in my chocolate coconut granola or chocolate peanut butter oatmeal bars and those recipes both have coconut in them. 🤷 Is it just me?
The base of this vegan fudge recipe is almond butter. You need a whole cup for the full recipe. Here's how to make almond butter.
Just in case you happen to read this recipe during a future lockdown and ALL the nut butters are gone for two months, as they were when I worked on this recipe.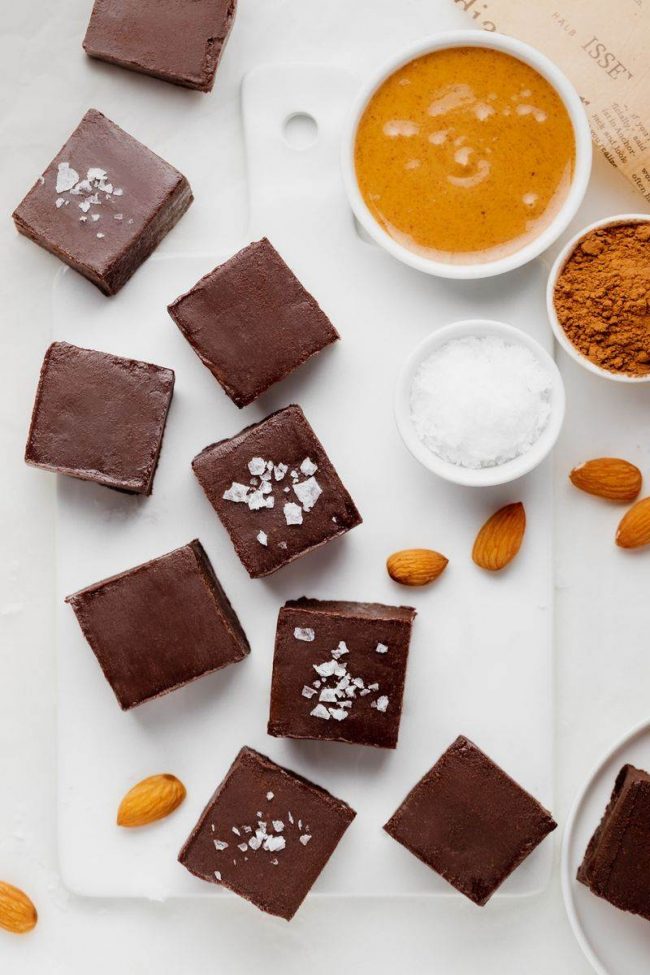 I almost always make my own nut butters to cut down on costs but during lockdown, I didn't have a minute to spare and needed to take every shortcut possible. So the lack of nut butters was annoying. I'm now stocked with all kinds of nut butters for next time!
I'm normally a big fan of making fudge in mini muffin liners (a usually failed attempt at portion control!) but thought I'd change things up and use a 9″x5″ pan this time.
I've tested paper and silicone muffin liners and both work well. Use whichever method is easiest for you!
If you try out this recipe, I'd love to hear what you think. :)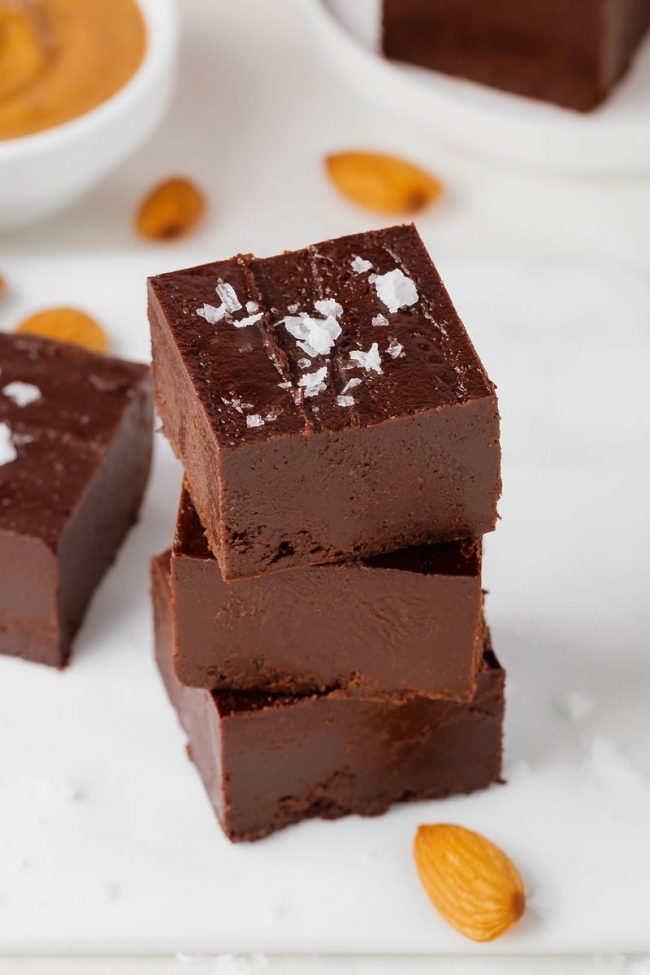 Questions about this healthy fudge recipe?
Can I use something instead of almond butter?

You can definitely experiment, though if you use a different nut butter, the result won't be exactly the same. For example, I find that when using sunflower seed butter, you need to add quite a bit of extra salt and sweetener.

I also find it runnier than almond butter.

If you want something with hazelnut butter, try my hazelnut fudge! I've also got this amazing peanut butter fudge, which is also maple-sweetened.

As is this lemon fudge, which uses cashew butter. I feel like I've got all the nut butter fudges covered now. ;)

Can I use a different sweetener?

I actually tried making this with Lakanto's Sugar-free Maple Flavored Syrup and it worked texturally but the taste was awful. Nobody could eat it.

Then I tried it with granulated sugar-free sweeteners (and attempted to dissolve it in the coconut oil) but it was of course grainy. A keto version will have to wait for another day!

Honey should work (if you don't care about this fudge being vegan) but it'll likely have a very noticeable honey taste and not be as balanced as the maple version. I'm sure it'd still be delicious!

Can I use something instead of coconut oil or butter?

I suppose butter would work if you can have dairy. Liquid oil like olive oil, avocado oil, etc. would definitely not work.

Does it taste like coconut?

Not if you use refined coconut oil. If you unrefined, it definitely has a coconut taste to it.

Can I use a different type of cocoa powder?

I use normally use Dutch-process cocoa powder for its deep chocolaty taste. That's what I used the first few times I made this recipe and loved it. But I tried it with the regular stuff and loved it even more. I'm pretty sure you can use whatever cocoa / cacao powder you'd like.
❀
Paleo Fudge (vegan, no-bake)
Prep Time:
Cook Time:
Ready in:
Yield:

18-24 pieces
Ingredients
1 cup (256 grams) natural almond butter (the kind with just almonds)
3/4 cup + 2 tablespoons maple syrup
6 tablespoons (84 grams) melted refined coconut oil (make sure it's totally melted with no lumps of oil)
2 teaspoon vanilla extract
1/4 teaspoon salt
3/4 cup (86 grams) cocoa powder
Directions
Mix the almond butter, maple syrup, coconut oil and vanilla extract together until smooth and no more lumps of coconut oil remain. Add the salt and cocoa powder and mix until combined. If you taste it now and it doesn't taste quite perfect, don't fear as it takes some time for the flavors to blend.
Line a 9"x5" loaf pan with parchment paper and pour the fudge in. You can also use muffin liners (silicone or paper) if you prefer. Freeze for about 2-3 hours or until firm.
Store in the freezer.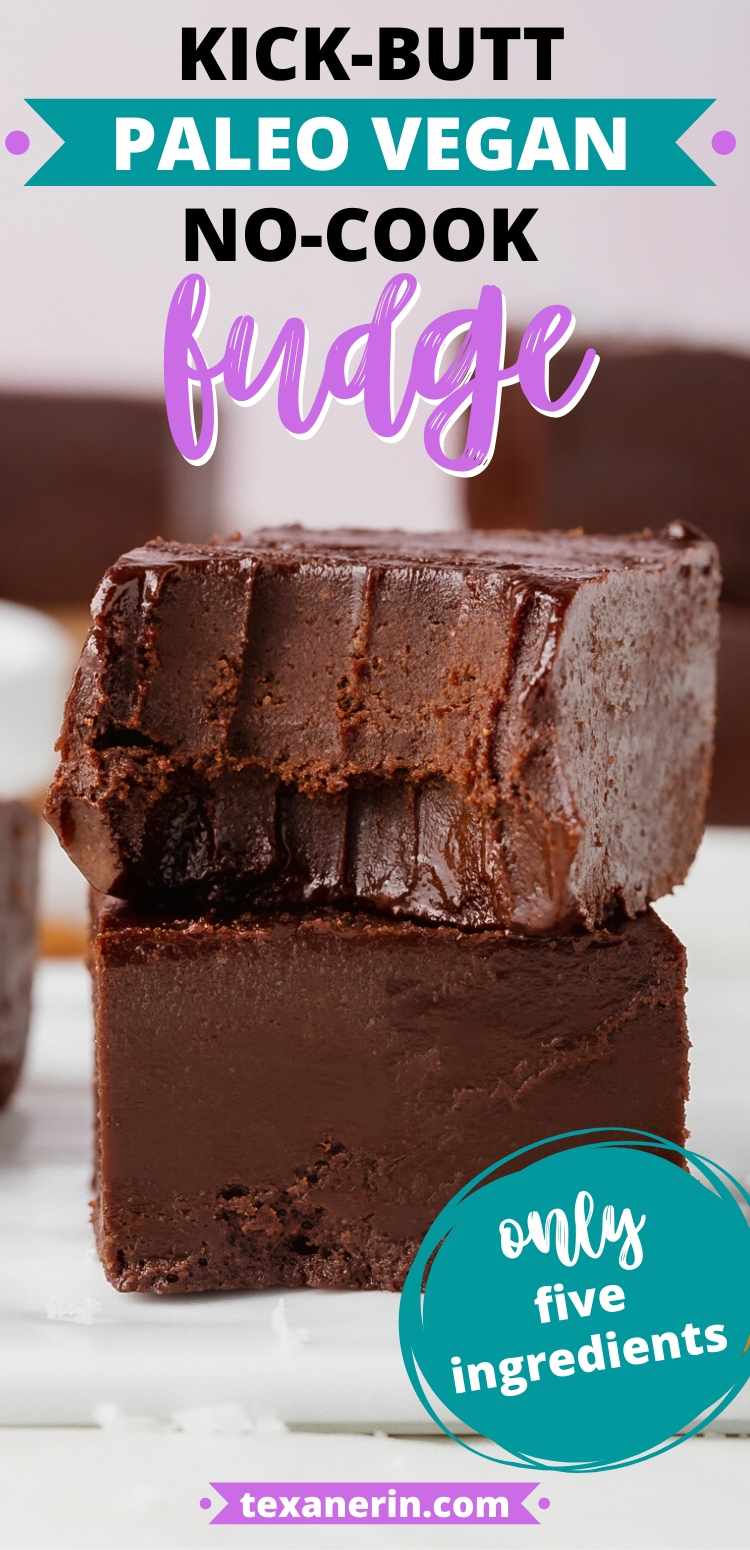 As an Amazon Associate, I earn from qualifying purchases. For more info, see my disclosure.