These 100% whole grain walnut blondies are a bit gooey, chewy and full of cinnamon! With a dairy-free option.
I shared the link to my upside down apple honey cake in a recipe sharing group on Facebook and just got this comment (from someone who doesn't follow me): "Sounds great, but I got bored getting to the real recipe." Lol. People crack me up. I'm sorry if I'm boring anyone by talking about what works and doesn't work with the recipes. And here I thought I was being helpful. ;) I seem to be very lucky that my readers don't leave me these kind of comments. So thank you, readers! I sure do appreciate it.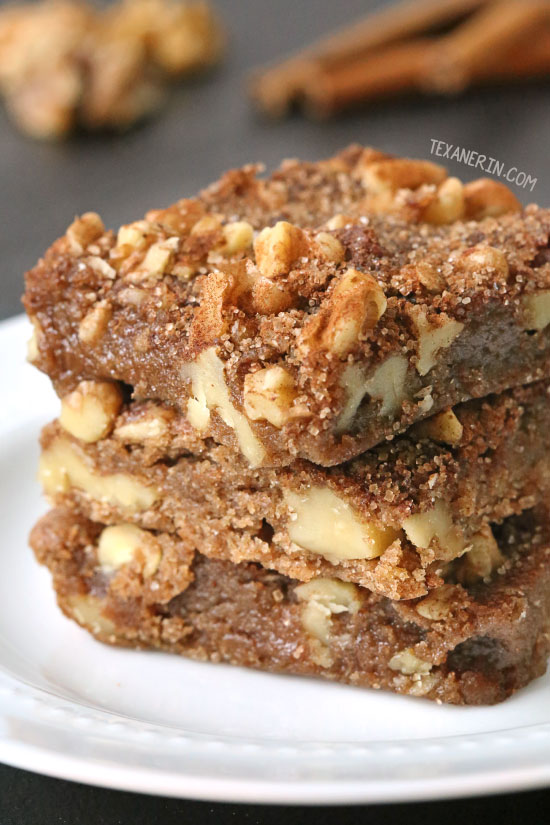 I wanted these walnut blondies to actually be maple walnut blondies but I suppose when you add so much cinnamon, it overpowers the maple flavor. But that's okay because they were still awesome. I brought these blondies and some regular chocolate brownies to a small get-together recently and people kept coming back for the blondies. I was kind of sad for the chocolate brownies but I just kept telling myself that people were feeling the warm, cozy flavors of the walnut blondies!
You'll probably want to chop the walnuts a little finer than what you see in the pictures. The smaller they are, the easier the blondies are to cut.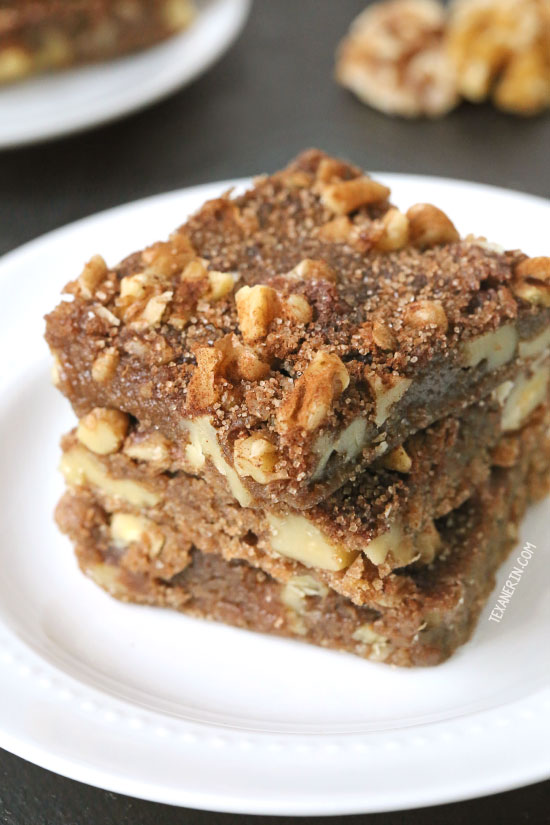 And definitely be sure to toast the walnuts a little bit first! That really brings out the nutty flavor. I admit that it adds an extra step, which can be annoying, but it's worth it. Don't have walnuts? I bet these blondies would be great with pecans!
These walnut blondies are a bit ugly without something on top so I sprinkled some cinnamon sugar over the batter. I love the little crunch it adds! Chocolate chips would also be nice.
Summertime and don't feel like baking? This black walnut ice cream looks fantastic!
I hope you'll enjoy the blondies! Happy baking. And for another cinnamony treat, check out these snickerdoodles without cream of tartar! These cinnamon cookies also look wonderful.

❀
Cinnamon Walnut Blondies (100% whole grain, dairy-free)
Prep Time:
Cook Time:
Ready in:
Yield:

16 blondies
Ingredients
1 cup + 1 tablespoon (132 grams) whole spelt or whole wheat flour
2 1/2 teaspoons ground cinnamon
1/2 teaspoon salt
6 tablespoons (84 grams) unsalted butter or coconut oil, melted1
2/3 cup (133 grams) light brown sugar or raw sugar
1/4 cup (60 milliliters) maple syrup
1 1/2 teaspoons vanilla extract
1 large egg, room temperature
1 cup (110 grams) chopped walnuts

Cinnamon sugar topping:

1 tablespoon granulated or raw sugar
1 teaspoon cinnamon
Directions
Preheat the oven to 350°F (175°C) and line an 8"x8" (20cmx20cm) pan with parchment paper.
Place the walnuts on a baking sheet and roast for 5-8 minutes or until they smell toasty. Remove from the oven and let cool while you prepare the rest of the recipe.
In a medium bowl, mix together the dry ingredients (flour through salt). Set aside.
In a large bowl, mix together the melted butter, sugar, maple syrup, and vanilla until well combined.
Beat in the egg, just until combined.
Add the dry mixture to the wet and stir just until almost combined.
Chop the walnuts (to about 1/4" pieces). Fold the walnuts into the batter, just until combined.
Pour into the prepared pan.
Mix together the sugar and cinnamon in a small bowl and sprinkle evenly over the top of the batter.
Bake for 12-14 minutes or until the topping is firm and a toothpick inserted 1" from the edges come out clean. They will still appear a bit gooey.
Let cool for 10 minutes and then serve.
Let cool completely and then store in an airtight container at room temperature for up to 4 days.
Notes
I used refined coconut oil, which doesn't have any coconut taste. If you use unrefined coconut oil in this cake, it will likely have some coconut taste to it.
Use coconut oil for a dairy-free version.