This bourbon pumpkin cake is full of pumpkin flavor and soaked in a butter bourbon sauce. You can make it with gluten-free, whole grain or all-purpose flours. Thanks to Nordic Ware for making today's post possible!
I'm so excited that it's finally October! For me, September is all about apples and so I always wait until October to post pumpkin recipes. I hope you all aren't already sick of it!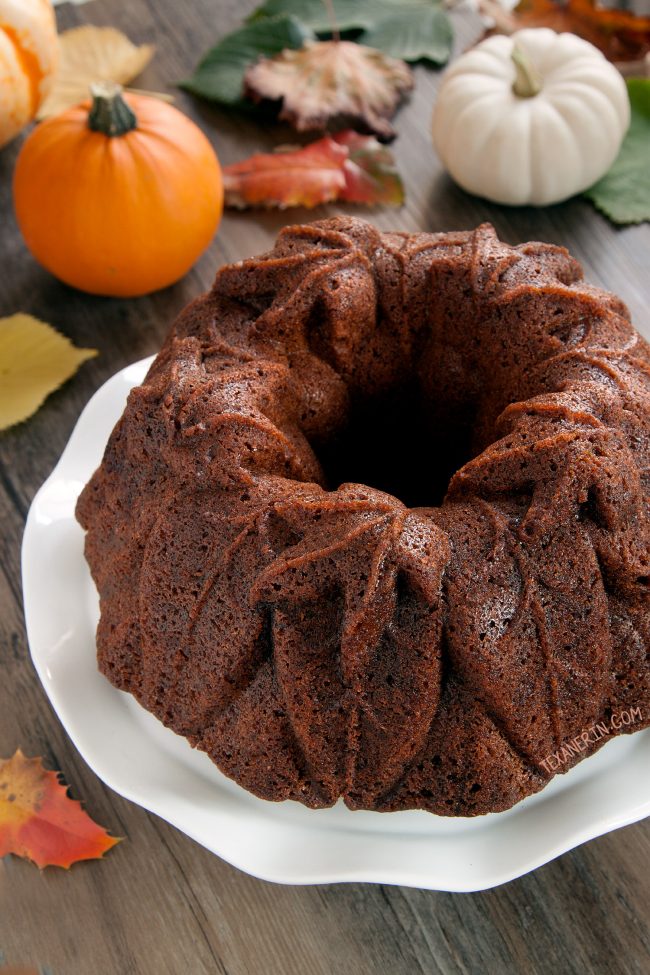 Up first we have this pumpkin bourbon cake. Unlike a lot of other boozy cakes, this one isn't drowning in syrup. I usually like that, but not when there's another flavor, like pumpkin, that I don't want to overpower.
If you're not a fan of bourbon, I think dark rum or brandy would be fantastic!
Like I've mentioned in a few of my other Bundt recipe posts, I'm a huge Nordic Ware fan. I used their new Harvest Leaves Bundt for this cake – isn't it pretty?!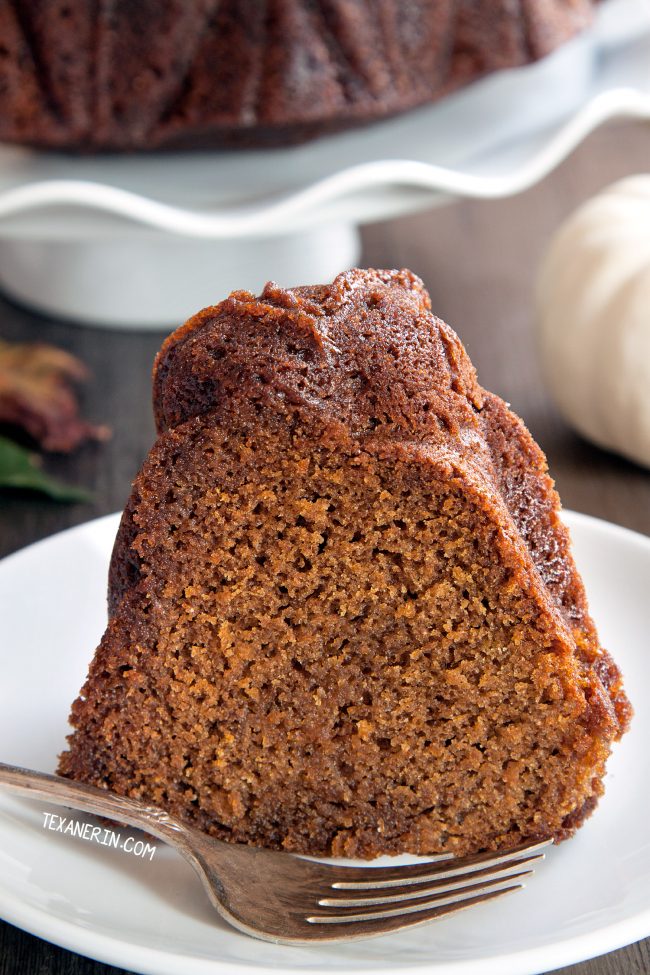 So far, I've only made this bourbon pumpkin cake with it but I have so many other recipe ideas I can't wait to make with this pan, like this honey chai spice cake recipe I found on Nordic Ware's recipe page.
Up until last year, I didn't make or post Bundt cakes (with the exception of 1 or 2) because they always fell apart. Turns out that buying the cheapest Bundt pan isn't exactly the best idea if you want your cakes to be successful!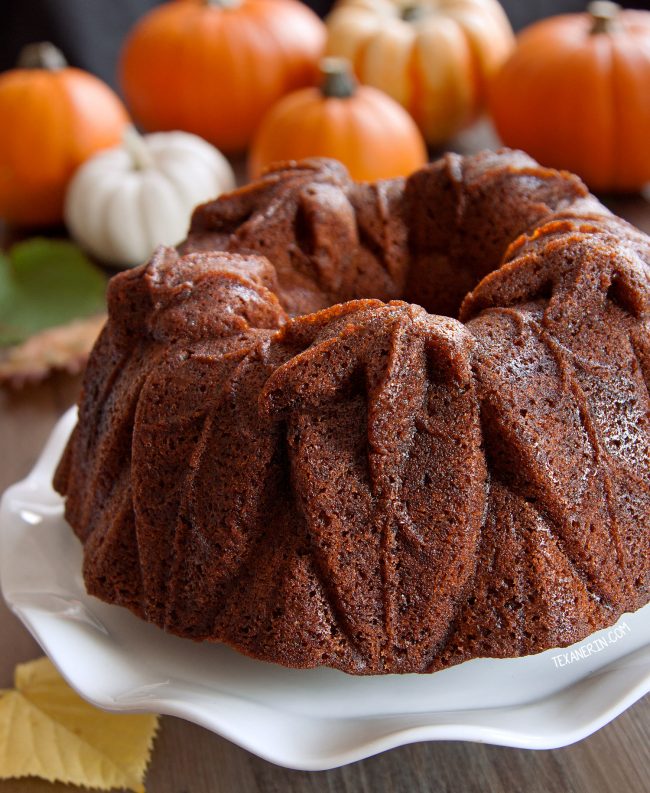 Since I switched to the higher-quality Nordic Ware pans last year, every single one has plopped out of the pan without a problem. If you've ever had a Bundt cake totally stick to the pan, you know how traumatic it can be. I have no idea what the issue was with my other pans but they just didn't work.
Nordic Ware is a family-owned and operated company that has been making high-quality kitchenware since 1946. A majority of their products (like this Harvest Leaves pan!) are made in the USA and are distributed across the world.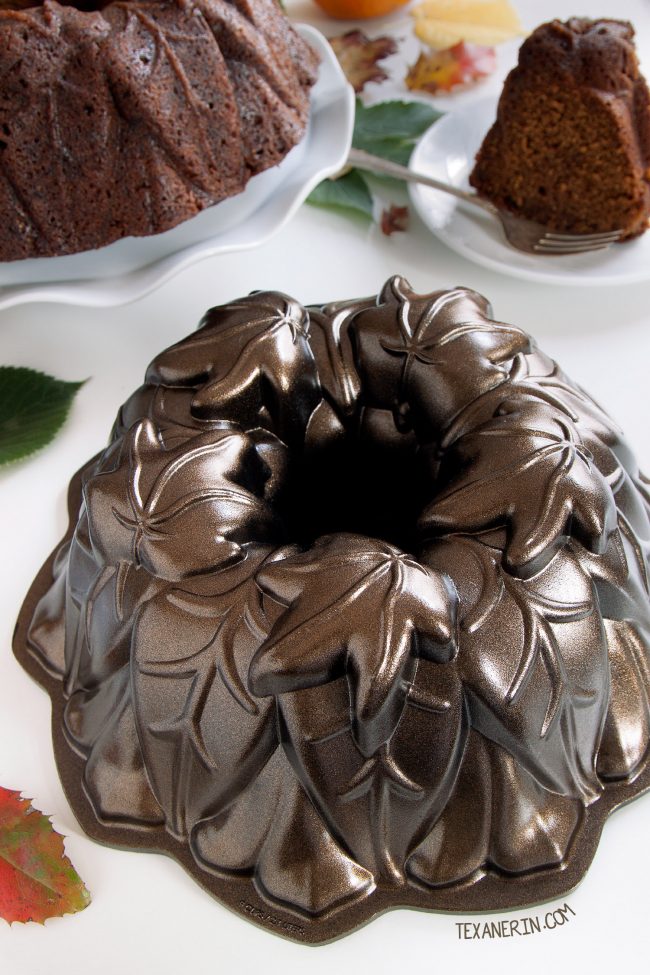 I love how they almost always seem to have new items – and not just Bundts and other bakeware, but all kinds of things for indoor and outdoor cooking and serving! By the way, they have a bunch of new fall and winter specialty pans listed here. I have my eye on the Gingerbread Family Loaf Pan! I love how they're all so smiley. :D
For more boozy pumpkin treats, try this whole grain pumpkin coffee cake with bourbon glaze or these mini pumpkin doughnuts with cider rum glaze!
Thanks again to Nordic Ware for sponsoring today's post! As always, all opinions expressed are my own.
❀
Some more great fall + holiday Bundts!
❀
Bourbon Pumpkin Cake (gluten-free, whole grain, all-purpose flour options)
Prep Time:
Cook Time:
Ready in:
Yield:

8-12 slices
Ingredients
For the cake:

2 1/2 cups + 2 tablespoons (329 grams) whole wheat flour, white whole wheat flour, whole spelt flour, all-purpose flour or 2 1/2 cups + 2 tablespoons (352 grams) of this 1-to-1 gluten-free baking flour1
1 tablespoon + 2 teaspoons pumpkin pie spice
2 teaspoons baking soda
3/8 teaspoon baking powder
3/4 teaspoon salt
3 large eggs (50 grams each, out of shell), room temperature
1 cup (200 grams) light brown sugar, raw sugar, or coconut sugar
1/2 cup (160 grams) honey
3/4 cup (180 milliliters) olive oil2 or another neutral vegetable oil that's liquid at room temp
2 tablespoons water (or orange juice or bourbon)
1 1/2 tablespoons vanilla extract
1 1/3 cups (319 grams) pumpkin puree (that's 3/4 of a 15-ounce can)

For the sauce:

1/2 cup (112 grams) unsalted butter (or vegan butter for dairy-free)
1/2 cup (120 milliliters) water
1/2 cup (100 grams) granulated sugar or raw sugar
1/4 teaspoon salt
1/2 cup (118 milliliters) bourbon (or dark rum or brandy)3
Directions
Adjust oven rack to lower third of the oven. Preheat the oven to 325°F (163°C) and spray a 9-cup Bundt pan (I used the Harvest Leaves Bundt) very well with cooking spray (preferably the baking kind with flour in it).
In a large mixing bowl, mix together the dry ingredients (flour through salt). In another large mixing bowl, lightly beat the eggs and then add the remaining cake ingredients. Stir until thoroughly combined. Add the dry mixture to the wet mixture, and stir just until combined. Pour the batter into the prepared pan and bake for 50 minutes or until a toothpick inserted in the middle of the cake comes out clean.
Let the cake cool in the pan for 10 minutes and then invert onto a wire rack.
While the cake is cooling, prepare the syrup. In a large saucepan over medium heat, heat the butter, water, sugar and salt until the sugar has dissolved, stirring occasionally. Take the saucepan off the heat and stir in the bourbon (it'll bubble).
Wash and dry the Bundt pan and place the cake back into the pan. Poke holes into the cake (I used a meat thermometer to do this), about every 3/4" or so. Pour the syrup slowly over the cake. It will get absorbed. Let soak for 2 hours and then invert the cake back onto a serving platter. Cover and store at room temperature for up to 3 days.
General tip: if you have issues with the syrup-drenched cake not coming out of its pan, fill a pot with hot water and submerge 2/3 of the pan in the water and hold it there for 30 seconds. The heat will help loosen the cake from the pan. If it doesn't plop right out, give the top of the pan a good whack.
Let the cake cool completely. Cover and store at room temperature for up to 3 days.
Notes
I especially recommend weighing the flour if you're using the GF flour. It's easy to overpack the measuring cups.
If you taste the batter, it'll taste strongly of olive oil but after baking, the taste goes away. If you're worried about it, use a light flavored olive oil rather than extra-virgin.
If you're gluten-free, make sure your bourbon is gluten-free!