An easily adaptable blueberry peach crumble recipe that's coincidentally gluten-free and whole grain! Can be made with any fruit that you like.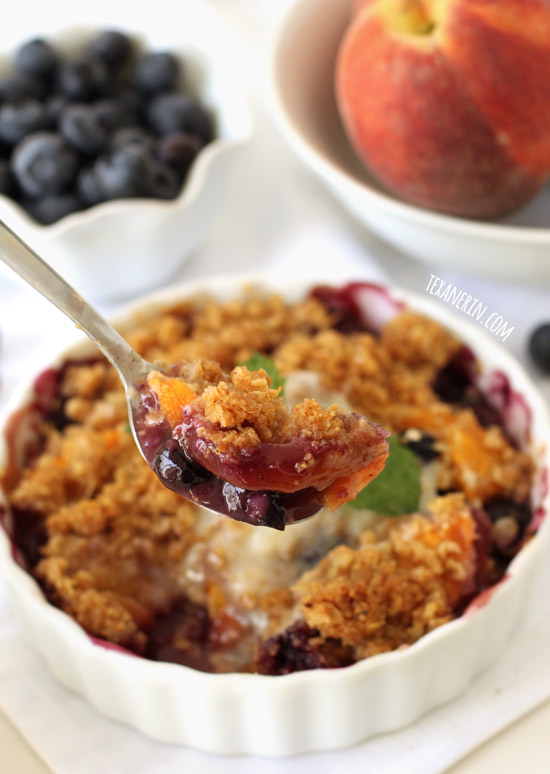 I always knew that cobblers were different from crisps and crumbles, but I never knew there was really a difference in crisps and crumbles until now.
So what's the difference between a crisp, crumble, and cobbler?
Crumbles:

Crumbles are baked fruit topped with a streusel topping that consists of oats, sugar, fat, and spices.

Crisps:

Crisps are like crumbles but don't have oats in the topping, which makes the topping more crumbly, like a crumbled up pie crust.

Cobblers:

In cobblers the topping is basically biscuit dough. Generally the biscuits are dropped individually instead of having a blanket of dough. This Berry Cobbler, for example, looks amazing!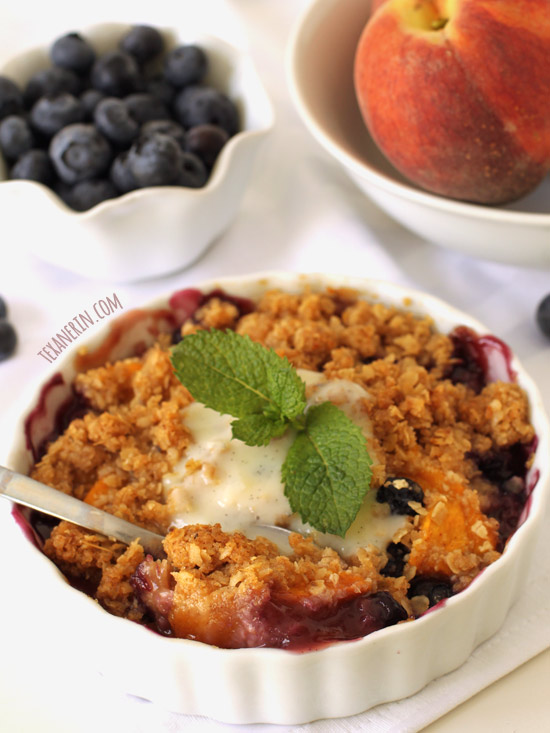 Now that we've cleared that up, meet my new favorite way to use up summer fruit. After coming back from the US 11 pounds heavier, I haven't really been into making large serving desserts. So I only made a fourth of the original recipe and ended up with two 5″ crumbles. I guess you could share each crumble but it's much more fun to eat the whole thing yourself and then feel content.
The topping only uses oats and no flour, which happens to make this blueberry peach crumble gluten-free if you use gluten-free oats! And because oats are whole grains, it's also 100% whole grain. So you can feel good about eating it! Yay. And don't let the "oat flour" throw you off. Oat flour is just ground up oats! Grind oats (I prefer quick oats) in a coffee grinder or food processor until flour like.
I wish I could take credit for this gluten-free blueberry peach crumble recipe but I adapted it from the King Arthur Flour Whole Grain Baking book. Every recipe I've made from there so far has been amazing! Definitely go check it out if you're into whole grain baking.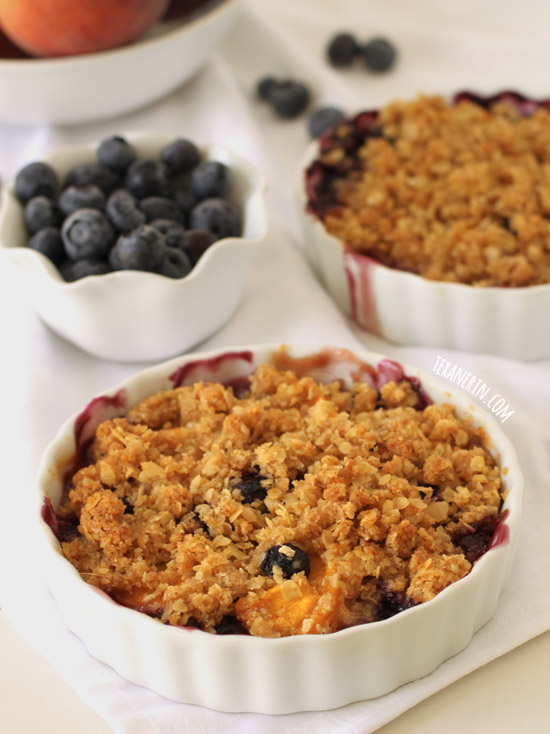 I served mine with some homemade vanilla sauce but since I'm not completely happy with that recipe, I'll just recommend ice cream. Crumbles are nice on their own but just a little bit of vanilla ice cream makes a world of difference! This vegan peach ice cream also sounds fantastic.
I used these cute little $3 tart pans from Pier 1 Imports. If you want more than just two servings, double the recipe for an 8″x8″ or quadruple it for a 9″x13″ and bake for the same amount of time.
And you can of course use any fruit that you have on hand. The original recipe used apples and raspberries but I just had too many peaches and blueberries on hand to even think about using anything else.
Something I loved about this crumble was that it actually tasted just as good on the second day as the first. And then I refrigerated it and it also tasted amazing cold. You just can't go wrong with this recipe. ;)
❀
Blueberry Peach Crumble (100% whole grain + gluten-free)
Prep Time:
Cook Time:
Ready in:
Yield:

two 5" crumbles
Ingredients
Topping:

1/4 cup (23 grams) oat flour1 (non-contaminated for gluten-free)
3 tablespoons unrefined or brown sugar
2 tablespoons (28 grams) butter
1/4 cup (25 grams) traditional rolled or quick oats (non-contaminated for gluten-free)
1/4 teaspoon cinnamon
1/8 teaspoon salt

For the filling:

2 tablespoons unrefined or granulated sugar
1 tablespoon oat flour (non-contaminated for gluten-free)
1/8 teaspoon cinnamon
1 3/4 cup peaches (395 grams or about 3 small-medium peaches), peeled and cut into eighths
1/2 cup (75 grams) blueberries
Directions
Preheat the oven to 350 degrees F (175 degrees C) and spray two 5" tartlet pans with cooking spray. Get out a cookie sheet.
In a medium bowl, mix together the oat flour and sugar. Cut the butter into this mixture using a pastry blender, fork, or your fingers. Don't work it in so much that it becomes paste-like!
Add in the oats, cinnamon and salt and stir until combined. Set this aside.
To make the filling, mix together the sugar, oat flour, and cinnamon in a medium bowl.
Add the peaches and blueberries and stir just until combined.
Divide the fruit among the two tartlet pans and top with the topping.
Place the crumbles on top of the cookie sheet (to prevent potential spillage from dirtying your oven) and bake for 35 - 40 minutes or until the topping is golden brown, crisp and the filling is bubbling.
Remove from the oven and wait 10 minutes before serving.
If not eating on the first day, cover and store at room temperature for 1 day. You can also refrigerate it for up to 4 days.
Notes
To make oat flour, grind 6 tablespoons of oats in a food processor or coffee grinder until flour like. With quick oats, this takes me a few seconds in a coffee grinder. It'll take longer with regular rolled / traditional oats and longer in a food processor. This should give you enough for the topping and filling.
Adapted from King Arthur Flour Whole Grain Baking
As an Amazon Associate, I earn from qualifying purchases. For more info, see my disclosure.