These pumpkin pie bars are loaded with streusel and are a fun alternative to traditional pumpkin pie! With gluten-free and 100% whole grain options.
I originally wanted to make an almond flour based crust and top it off with the same streusel topping I used here, but then I realized how dumb that was. That would have dirtied up another two bowls and made the whole process even longer.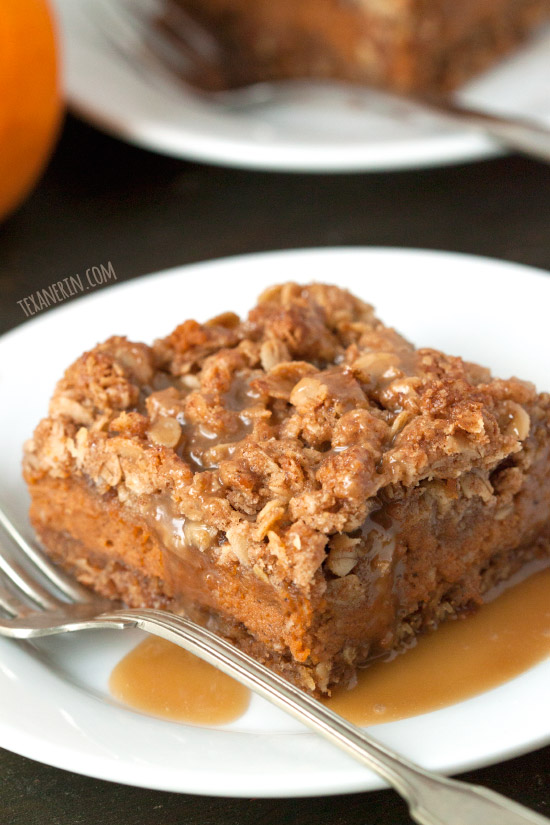 Plus, let's be honest – an almond flour crust wouldn't have been as good as this streusel-like one. I love baking with almond flour but it's just so darned hard to compete with oats and oat flour.
So now you've got one mixture for the crust and topping. The result is incredibly easy and it couldn't be tastier.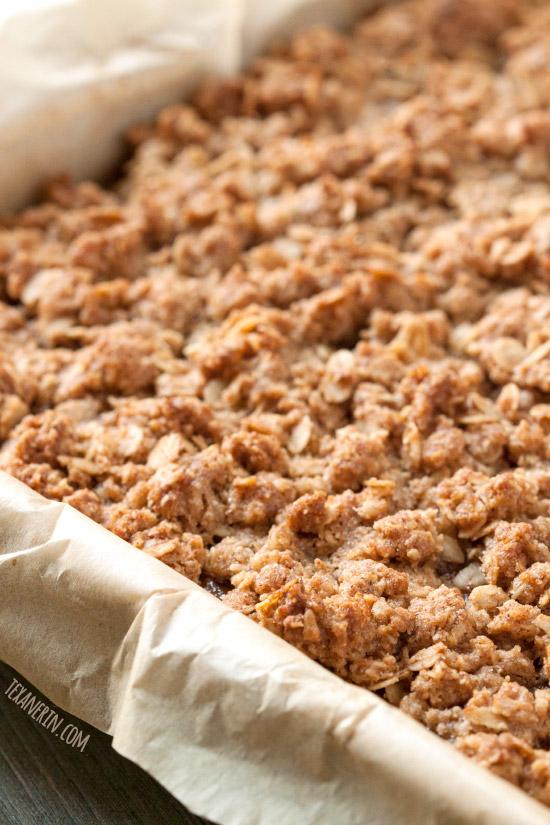 I used oats and oat flour making these pumpkin pie bars gluten-free and 100% whole grain but I kind of dropped the ball on the dairy-free thing. I bet you could use canned coconut milk for the evaporated milk in the filling. For a topping, this vegan caramel sauce would be perfect.
But using coconut oil instead of butter in the streusel in the crust / topping would probably require a little reworking (a slight reduction in the amount of fat). If you try it out, I'd love to hear how it goes!
You can serve these pumpkin pie bars as is or with whipped cream or this salted maple caramel sauce. I preferred the caramel sauce but whatever floats your boat. :)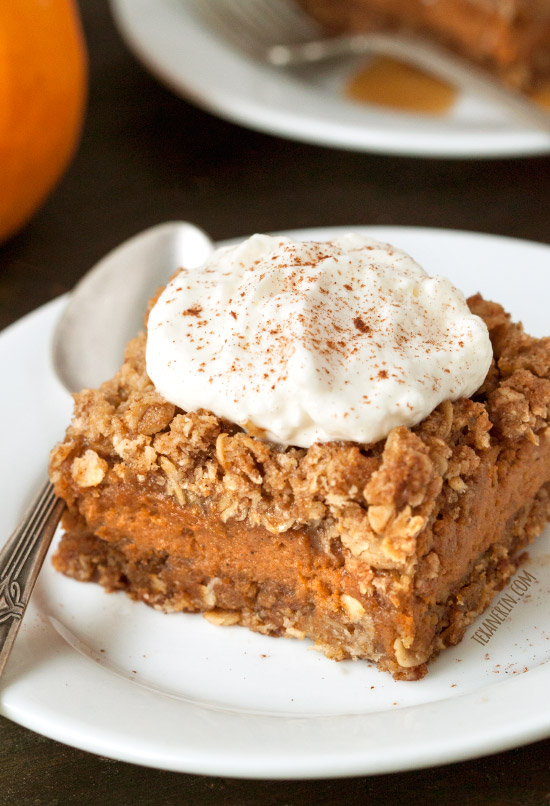 Maybe ice cream would also be good? Or maybe not. I don't think I've ever had a pumpkin dessert served with ice cream. I guess it's time to try that out!
Something else I'm not sure about is doubling the recipe for a 9″x13″ or using a tart pan. I think some more experimenting is in order!
This no-bake pumpkin Nutella cheesecake or these pumpkin caramel layer bars also look awesome!
❀
Pumpkin Pie Streusel Bars (gluten-free, 100% whole grain options)
Prep Time:
Cook Time:
Ready in:
Yield:

16 bars
Ingredients
For the crust and topping:

1 1/4 cups (115 grams) oat flour (use certified gluten-free, if necessary)1
2 cups (180 grams) rolled oats (use certified gluten-free rolled oats, if necessary)
1 tablespoon cinnamon
1 cup (200 grams) brown or raw sugar
1/4 teaspoon salt
3/4 cup + 2 tablespoons (196 grams) unsalted butter, melted and cooled slightly

For the filling:

1 15-ounce (425-gram) can pumpkin puree
2 large eggs
1/3 cup (67 grams) granulated or raw sugar
1/3 cup (67 grams) brown or coconut sugar
2 1/2 teaspoons pumpkin pie spice2
1 teaspoon vanilla extract
1/4 teaspoon salt
1/2 cup (120 milliliters) evaporated milk
Directions
Preheat the oven to 350 °F. Line an 8" x 8" pan with parchment paper and set aside.
Prepare the crust and topping. In a large mixing bowl, stir together the oat flour, oats, cinnamon, sugar and salt. Stir in the butter until well combined.
Pat half of the mixture firmly onto the bottom of the prepared pan.
Bake for 18 - 22 minutes or until lightly golden brown. The crust will bubble a little during baking.
Let the crust cool for 5 - 10 minutes while preparing the filling.
In a large mixing bowl, stir together all the filling ingredients. Pour evenly over the crust and bake for 12 minutes.
Remove from the oven and add walnut-sized pieces of the remaining oat mixture over the filling. It will be a very thick layer and some of it will sink a little into the filling. Bake for another 30 minutes or until the filling is golden brown and firm and the middle is set.
Let cool for 1 hour and serve with whipped cream or maple caramel sauce.
Cool completely before covering. Store at room temperature for up to 2 days or in the refrigerator for up to 4 days.
Notes
You can also make your own oat flour! To make oat flour, pulse quick or rolled oats in a food processor or coffee grinder until finely ground.
If you don't have pumpkin pie spice on hand, make your own using 1 teaspoon cinnamon, 3/4 teaspoon ginger, 1/2 teaspoon allspice, and 1/4 teaspoon nutmeg.
Recipe is from my post on My Baking Addiction: Gluten-free pumpkin pie streusel bars