Overnight oats with water are a quick and easy way to get a high-fiber, heart-healthy breakfast with minimal ingredients. They only take 5 minutes to make and can easily be made vegan or gluten-free.
I recently posted these Overnight Oats Without Chia Seeds because I'm not a big fan of chia seeds in my overnight oats. But I know most people here!
So here's a more standard recipe for overnight oats. And because people have asked several times if they can use water instead of milk, I tried them with water. And they're just as delicious.
These oats are naturally sweetened with maple syrup, made creamy with whatever thick yogurt you hand on hand, and can be topped however you like. Berries are my favorite, but I've listed several other ideas below.
Because of the yogurt, you don't miss the milk. I really don't recommend omitting it from this recipe. Not only because you'd miss the creaminess, but because the oats would have the wrong texture.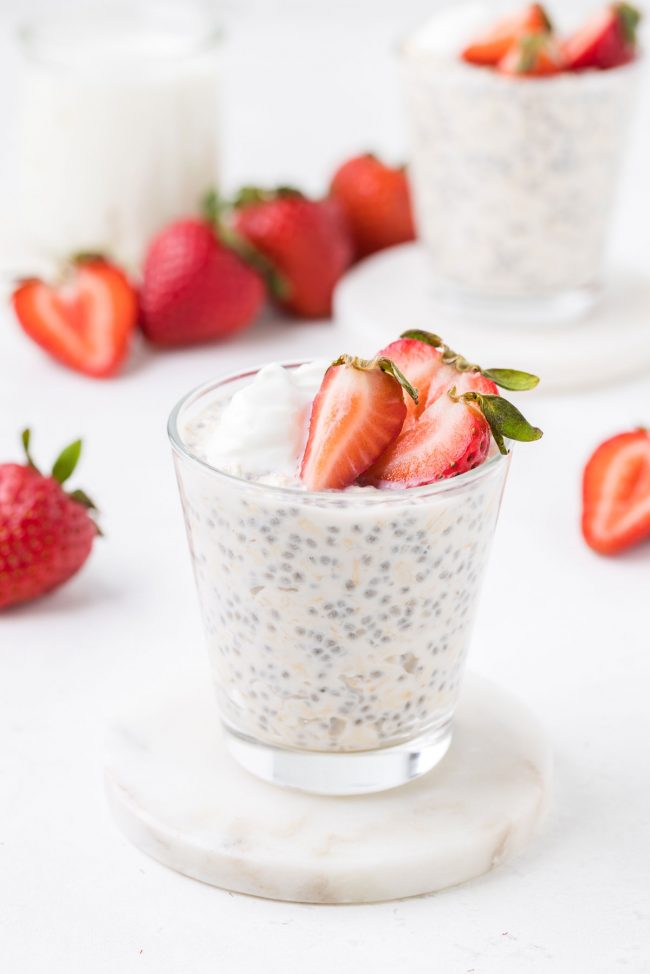 Tips
Everyone likes their oats a bit different. Some like them thick; some prefer them thinner.

If the oats are too dry for you, add more water and mix, but don't overdo it, as the consistency could get soupy.


Give it a quick stir before eating, as the oats at the bottom of the bowl will be thicker than the oats on top, and stirring will give the oats a consistent texture.


If you like hot oatmeal, you can heat these overnight oats. Here's → How to Heat Up Overnight Oats.


Since overnight oats are great to make in advance, check out this post to see How Long Do Overnight Oats Last.


Freezing overnight oats is a great way to increase their shelf life. Find out how here → Can you Freeze Overnight Oats?


If you'd like to add protein to overnight oats, check out these recipes: PB2 Overnight Oats, Chocolate Protein Overnight Oats, or Cinnamon Overnight Oats.


When storing oats, it's best to use glass, stainless steel, ceramic or porcelain bowls to maintain the freshness of the oats. Plastic containers absorb grease and odors from past food storage and will taint the oats if stored in plastic.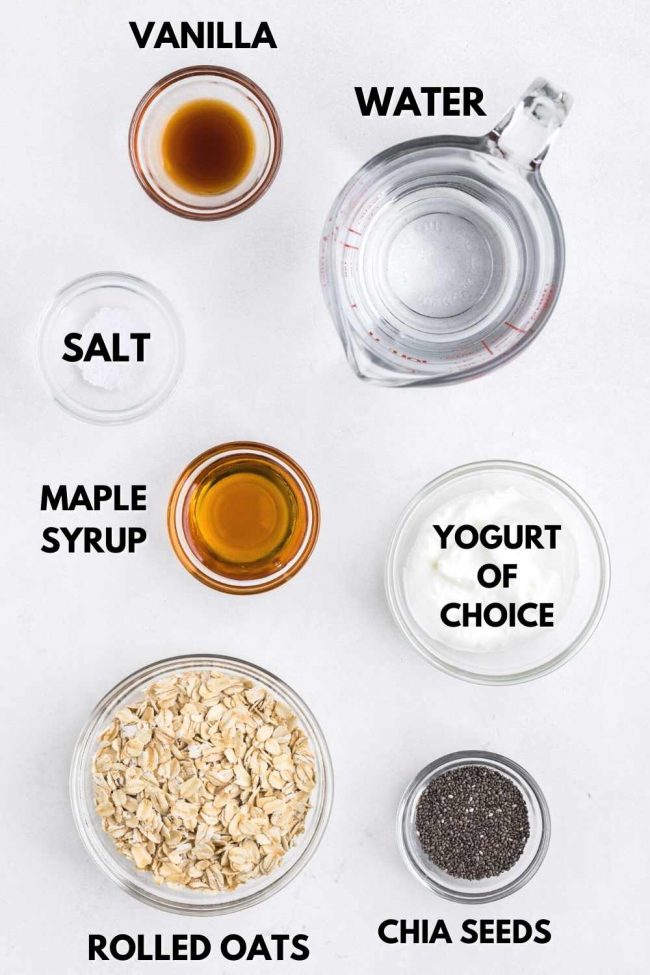 Why overnight oats?
Firstly, they're the easiest way to wake up to a healthy breakfast. Because you make them the night before, there's nothing to do the next morning except add some toppings.
Also, they're super healthy! Oats are rich in vitamins, minerals, iron, fiber and protein, and they're packed with many health benefits to keep your gut and heart healthy (source). I go into much more detail about this in my post about → Overnight Oat Benefits.
But are overnight oats healthier than cooked oatmeal?
Yes, for a couple of reasons.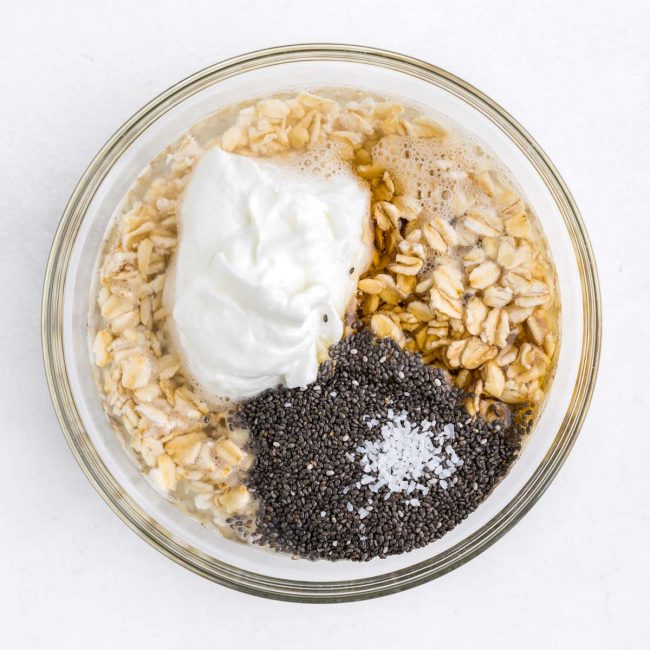 Because overnight oats are soaked rather than cooked, they're healthier because they retain more nutrients than cooked oatmeal.
Soaking breaks down the starch, making it easier to digest and allowing for more nutrient absorption. Soaking also decreases phytic acid at a higher rate than cooking oats.
Phytic acid prevents your body from absorbing nutrients, so the less phytic acid, the better you can digest the nutrients.
Plus, uncooked oats have higher levels of protein and fiber.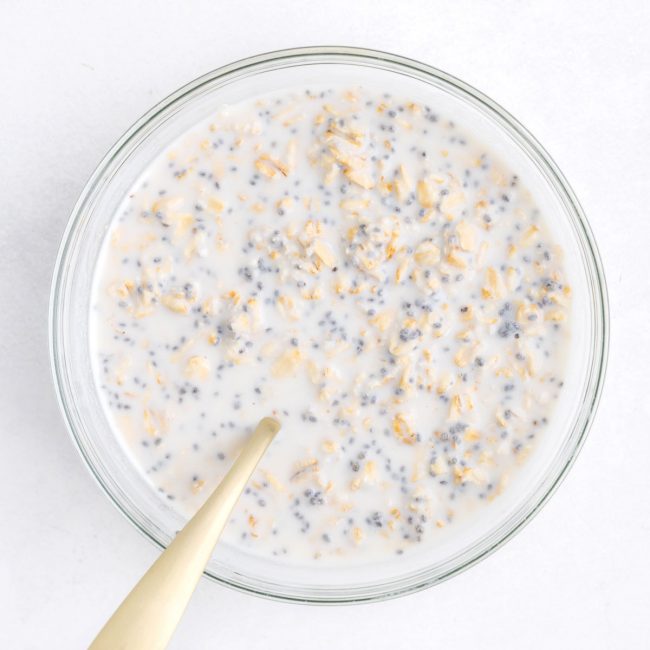 What type of oats should I use?
Rolled oats are what you see in the photos. They're more al dente regarding texture, meaning they have more bite and chew than quick oats.
I find overnight oats with quick oats to be too mushy. I highly recommend trying them first with rolled oats.
You don't want to use instant oats, as they'll turn into a mushy mess.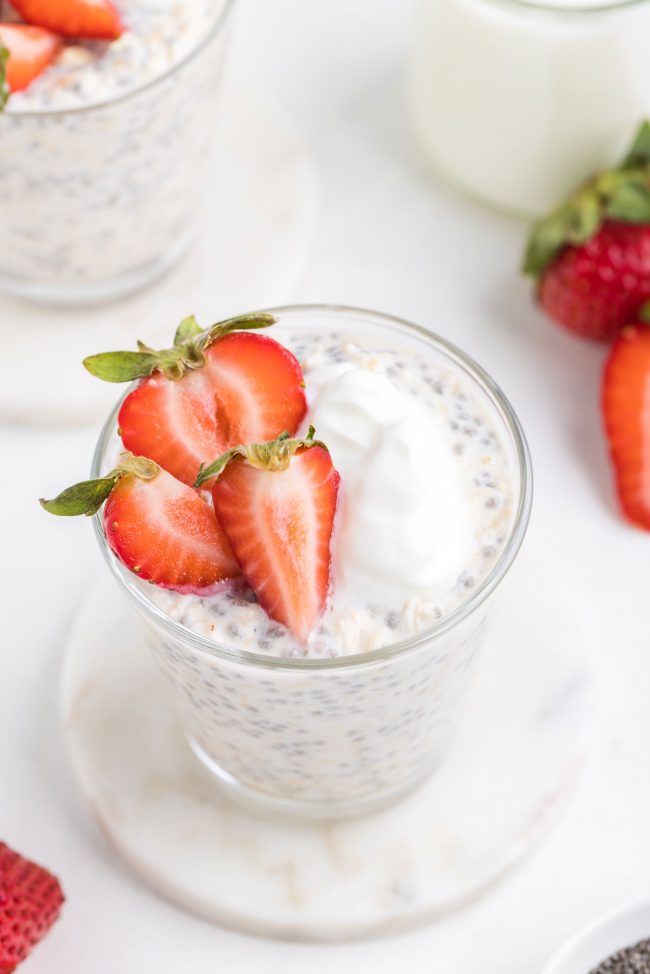 Are oats gluten-free?
Oats are naturally gluten-free, but you'll want to buy gluten-free oats if you have gluten sensitivity. Please read Are Oats Gluten-free? for more info.
Toppings
Overnight oats are my go-to breakfast. I made a quadruple batch for myself on Sunday nights. And because I don't want to eat the same exact thing every morning, I like to have a variety of toppings ready to add a little diversity throughout the week.
I love to add fresh berries, cubed apples, sliced bananas, and toasted coconut flakes. But really, whatever fruit you have is a good choice.
Nuts and seeds give a little crunch but absorb liquid, so it's best to add them just before serving, and the same goes for fresh fruit and berries.
Yogurt is another great option for added protein and creaminess. If making a dairy-free or vegan version, be sure to use vegan yogurt.
Nut butter is another excellent way to add extra protein and flavor. Be sure to use natural nut butter with no added oil or sugar. If you need recipes, I have several easy nut butter recipes.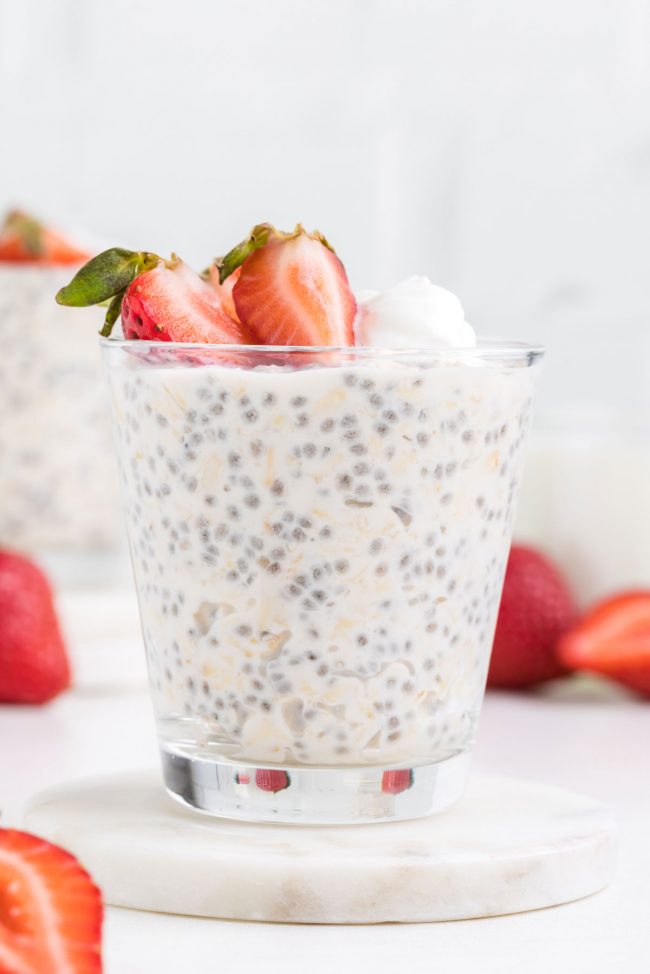 Other no-cook, no-bake oat recipes
I'd love to hear your thoughts on these overnight oats if you make them! Please leave a comment below or share on social media and tag #texanerin so I can be sure to see it. Thank you! :)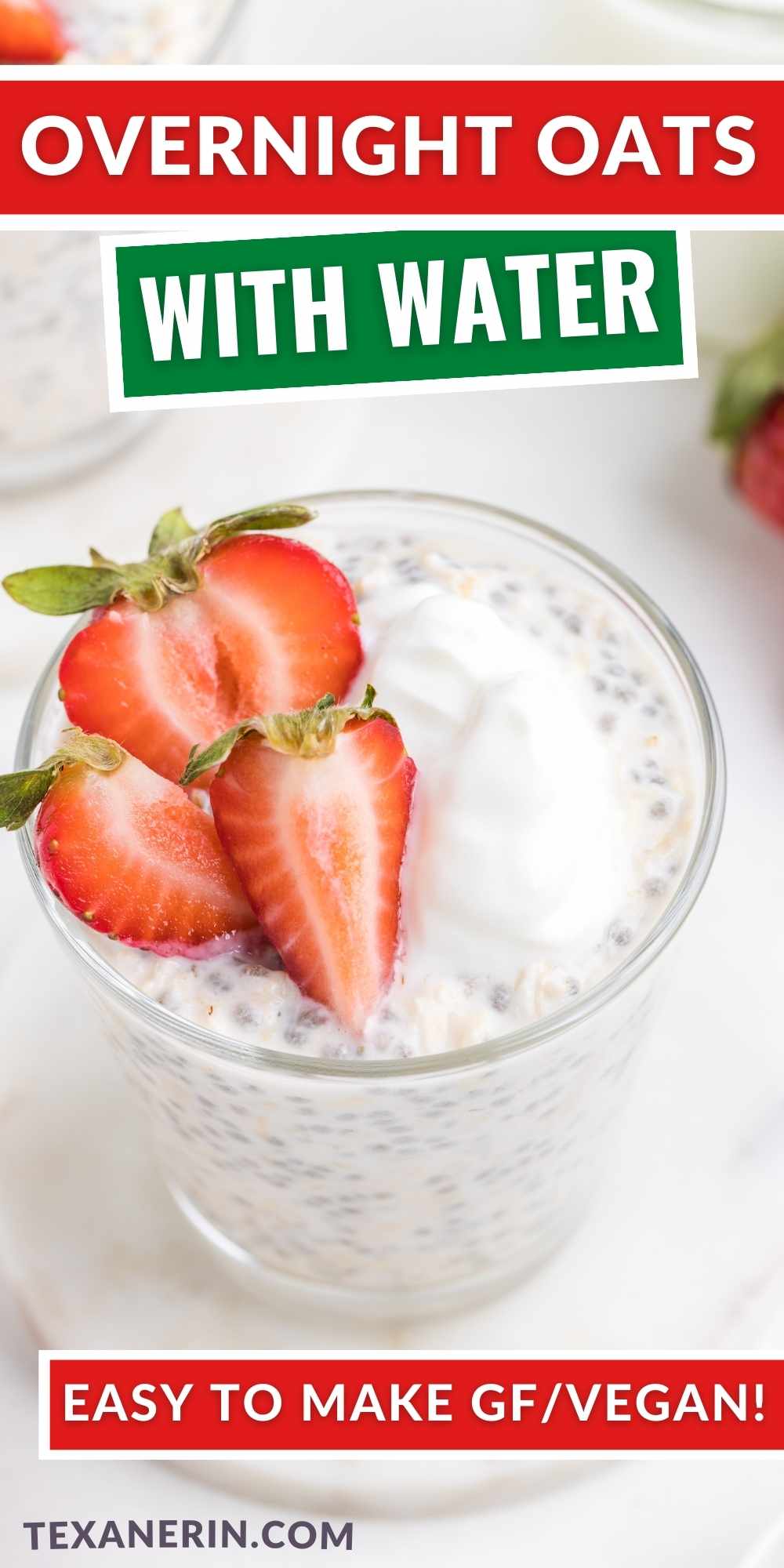 ❀
Overnight Oats with Water
Prep Time:
Cook Time:
Ready in:
Yield:

1
Read the notes if using lemon juice!
Ingredients
1/2 cup (46 grams) rolled oats (if you're gluten-free, use GF oats)
2/3 cup (157ml) water
1 tablespoon chia seeds
1/4 cup thick yogurt1 (I used coconut milk yogurt)
1 tablespoon maple syrup
1/2 teaspoon vanilla extract
pinch of salt
optional – splash of fresh lemon juice2
Directions
Stir all the ingredients together in a little bowl or container.
Cover and refrigerate for at least 8 hours or overnight. Give it a stir before serving.
Leftovers can be refrigerated in an airtight container for up to 4 days. The recipe is easy to quadruple for a bigger batch.
Notes
If you're dairy-free or vegan, use DF/vegan yogurt.
Adding lemon juice neutralizes the phytic acid, making it more digestible. For more details, check out my post on → Overnight Oats Benefits. If you want to do that, soak the oats for at least 12 hours. Use slightly warm milk to soak the oats, let them soak at room temperature (or slightly warmer than room temperature, like a laundry room or in a sunny spot) for 4 hours. After 4 hours, move the oats to the refrigerator for the remaining 4+ hours. Don't forget to move them into the fridge after 4 hours, or else they might spoil and/or develop something undesirable.