So, can you froth almond milk? Yes! But then again, it's a little more complicated than a straight yes, so read on. I've also included directions (and step-by-step photos) on how to froth almond milk four different ways.
Out of all plant-based milk, almond milk is one of the best options when it comes to frothing milk. Some people will tell you that soy is the best for frothing, while others will say that soy is the worst.
But pretty much everyone seems to agree that almond milk is a good choice.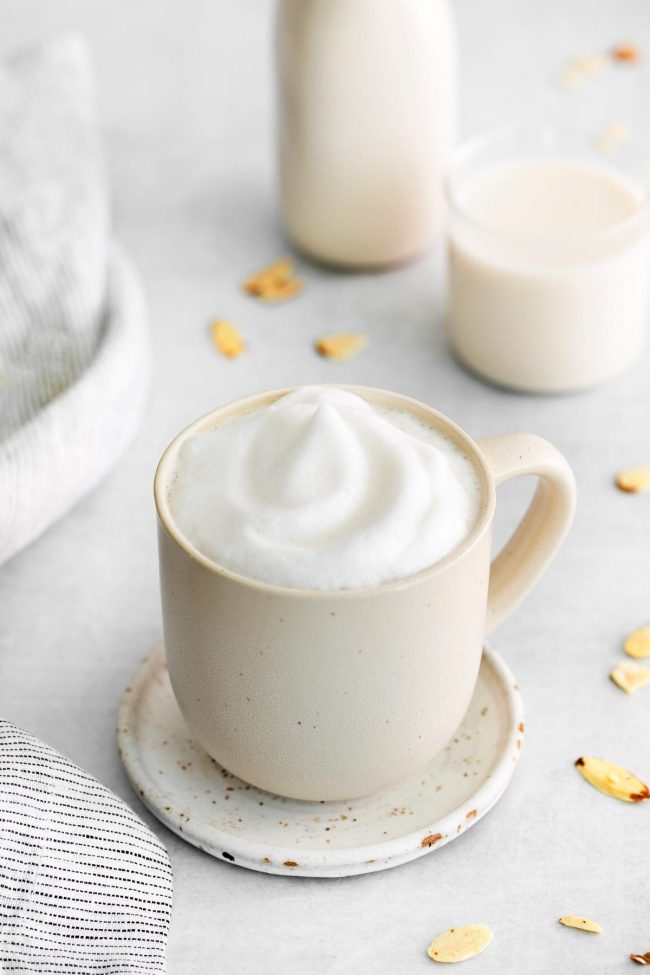 To successfully froth almond milk, you basically just need to heat the almond milk a bit higher than you would dairy milk. If you're a frothed milk aficionado, you might want to consider a few things before getting started: freshness, temperature, protein content, and fat content.
The higher the fat content, the more froth you get. And high protein content means the foam will last longer. So if you're at the store comparing brands and one brand has more fat + protein than the others, go with that one.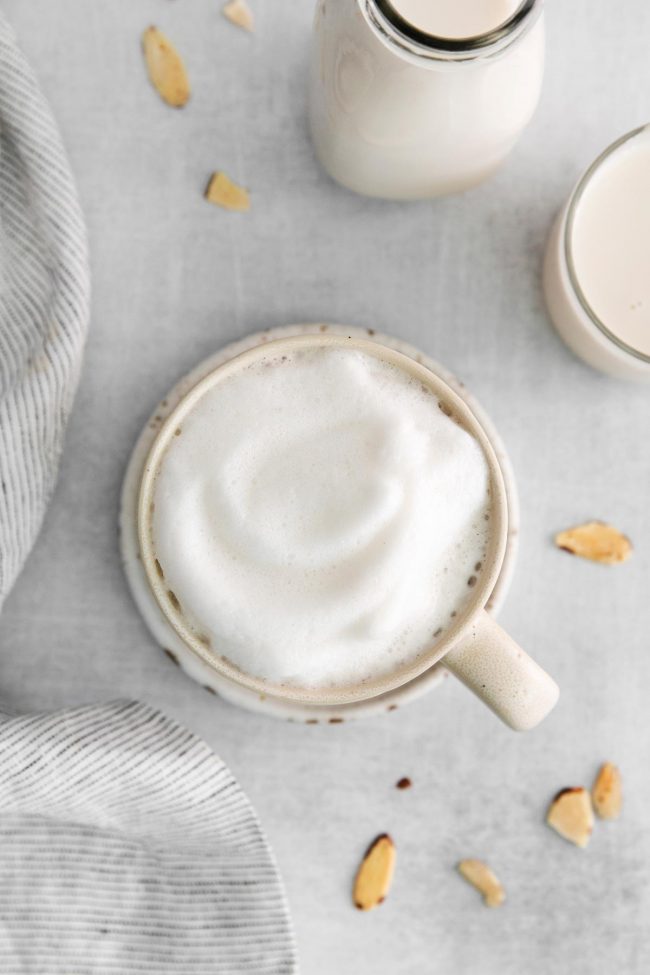 Dairy vs. almond milk frothing
Since almond milk has a different blend of proteins and fat than dairy milk, it responds differently to frothing.
If you froth almond milk like regular dairy, the results might be lacking or chunky.
Many brands that make almond milk sell a version designed to be frothed and used in coffee drinks, typically labeled as barista almond milk. The protein content is altered to improve frothing capabilities.
So, a coffee-specific variety of almond milk makes a big difference. If you're looking for that perfect long-lasting foam for your morning cappuccino, then purchasing this frothing-specific almond milk is the best option.
But to be honest, I never use it.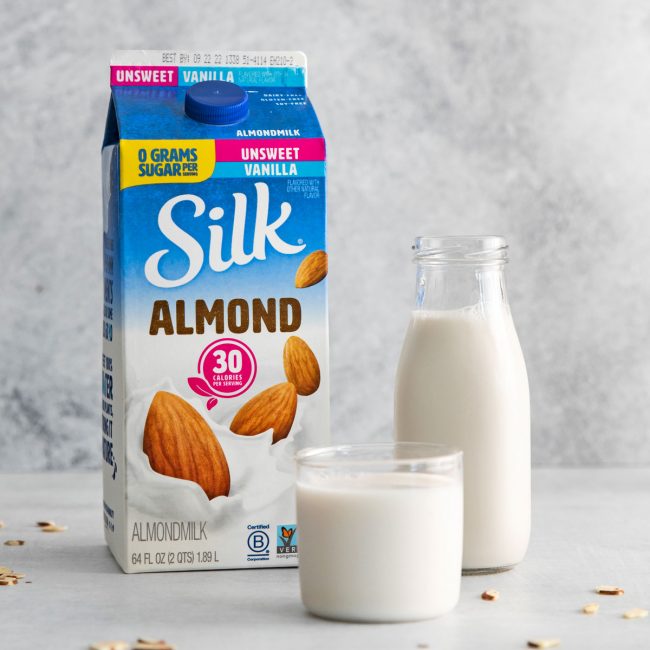 Can I just froth normal almond milk?
Yes! And that's what I'm going to show you today. Above you can see that Silk Unsweetened Vanilla Almond Milk was used here.
I personally don't like the gums in that product, so I use unsweetened plain almond milk that just contains water, almonds and salt. Note! This is the kind you need if you're paleo or keto.
I always buy store-brand and get results that look like the below pictures. And I don't even use fresh almond milk, but the shelf-stable kind.
By the way, Silk doesn't have a barista almond milk edition in the US. In Canada, they do! It seems to be new.
I said above that barista editions are your best bet. That's because I can't guarantee that every brand of almond milk will froth as well as you see in my photos, but the barista editions should give you even more froth than what you see – regardless of brand.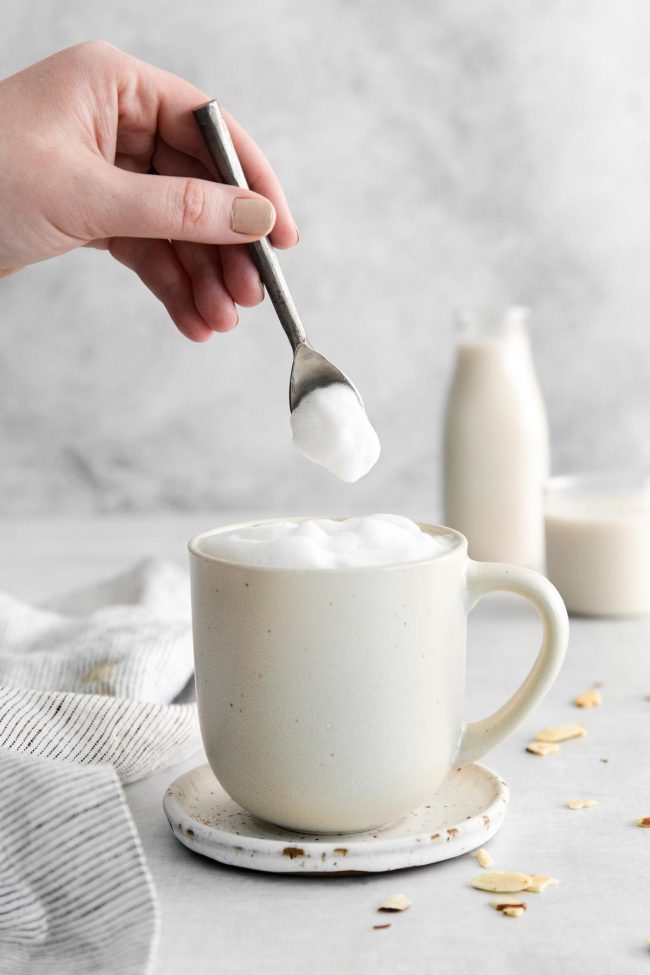 Can I use cashew milk instead?
I rarely use almond milk and prefer cashew milk. My results aren't quite as frothy as the pictures, but almost.
I've read a lot of people saying that cashew milk doesn't work well for frothing, but it works well enough for me. And again, I use store-brand, shelf-stable, unsweetened cashew milk with just water, cashews and salt.
How to froth almond milk
It's just like frothing dairy milk, but you warm the almond milk a bit higher. This is what you do:
Heat the almond milk to 150 °F (65 °C).


Place in a jar, mug or glass that's large enough to froth the almond milk without making a mess.


Froth using an electric frother, handheld frother, a French press or a blender. Photos of each method are below!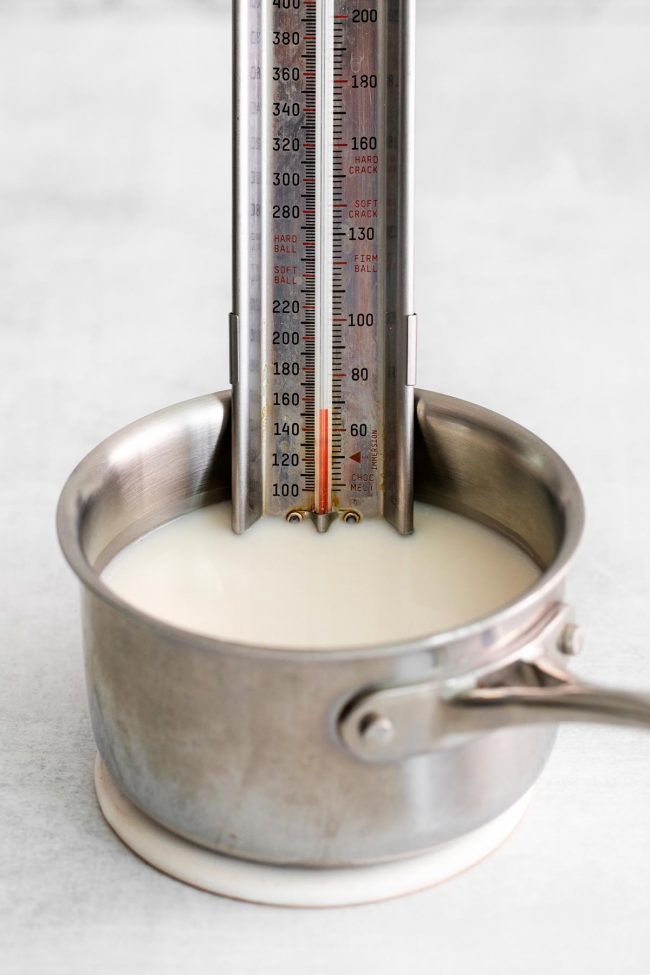 Handheld milk frother
Heat the almond milk to 150 °F (65 °C).


Place in a jar, mug or glass that's large enough to froth the almond milk without making a mess.


Insert the milk frother so the tip of the wand is close to the bottom of the cup.



Switch on the power button and move the frother up and down until the milk has doubled in volume.


Electric milk frother
If you want to use the heating function, you need to check the manual to see to what temperature the milk is heated to. Like I said above, if the almond milk is the wrong temperature, it won't froth as well.
If you're not sure what temperature your electric frother heats milk to, then you can always try out a small amount and see if it works.
If you have a tiny amount of almond milk left and can't risk wasting it, then it's best to heat the milk on the stovetop first to the correct temperature, and then choose the frothing setting on the frother (rather than heat + froth).
Simply pour almond milk of choice into the electric milk frother. Be sure the level is between the minimum and maximum markers.
Secure the lid and place the frother on the power base and switch it on.



Some brands will automatically switch off when it's ready. If yours doesn't, then stop it when it looks nice and frothy.


French Press
Pour almond milk that has been warmed to 150 °F (65 °C) into the bottom of the French press.
Place the press on a hard flat surface.



Place the lid with the plunger on the press. Make sure the pouring outlet is closed.
Froth the almond milk by moving the plunger up and down until you reach the consistency of froth you want.



Allow it to rest for about a minute for the froth to thicken even more.


Blender
This one is your last choice. If you don't have any of the three abovementioned tools (which all create foam about equally), the blender will do, but it doesn't create a ton of foam.
Pour in almond milk that has been warmed to 150 °F (65 °C).



Blend at medium speed for about 1 1/2 to 2 minutes or until frothy.


Tips
The most important factor when frothing any milk is temperature. If it's too hot, you'll wind up with a chunky texture, not that silky smooth goodness you want in your coffee. If it's too cold, you won't get much action.
The best way to ensure the best foam is to use a thermometer.


It's crucial never to let almond milk come to a boil.


If you don't have a thermometer, you can heat the almond milk for 30 seconds in the microwave and then froth. This is a super unexact way to go about it, because the exact time needed to reach the proper temperature will vary on how cold your milk is, the size and material of your mug, how much milk you use, how many watts your microwave runs at, etc.


Remember that cold almond milk will not froth like warmed almond milk.
I hope this answers your question! If you have any more, please leave them in the comments below, and I'll get back with an answer. Enjoy!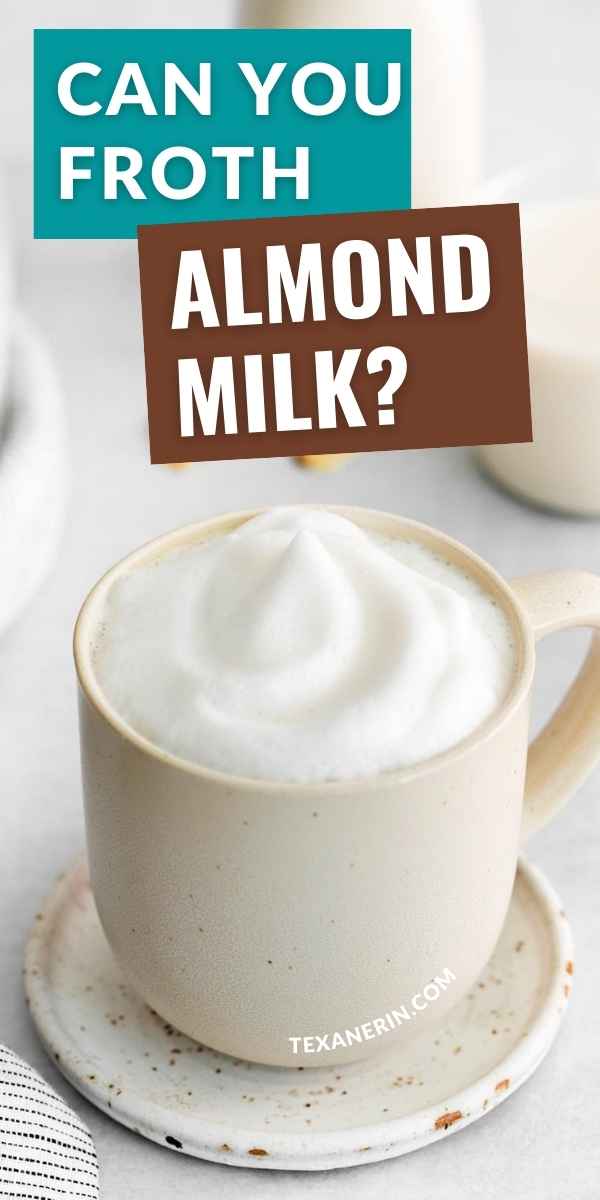 ❀
How to Froth Almond Milk
Prep Time:
Cook Time:
Ready in:
Yield:

varies
Ingredients
almond milk (the minimum amount varies on which method you choose - it would be hard to blend 1/4 cup of almond milk in a blender, but it's doable with a hand frother)
Directions
Heat the almond milk to 150 °F (65 °C). It's best to do this on the stovetop, using a thermometer.
Place in a jar, mug or glass that's large enough to froth the almond milk without making a mess.
Froth using an electric frother, handheld frother, a French press (by plunging up and down until it's your desired consistency) or a blender (by blending on high for about 1 1/2 to 2 minutes).
Notes
If you're paleo/keto, make sure to buy a brand of almond milk that's just almonds, water and salt! No gums or other weird stuff.