This hot chocolate with frothed milk only takes 3 minutes to make and is incredibly easy with an electric milk frother. You can make it traditionally with dairy milk and granulated sugar or you can make it vegan or even paleo with the right milk and maple syrup.
I've never posted this many recipes in such rapid succession, but here I am again today with a super quick hot chocolate I thought would be fun to make while you're preparing for Thanksgiving!
This hot chocolate is way better than I expected it to be. I usually go over-the-top by using evaporated milk and chopped chocolate, like in this Christmas Hot Chocolate or by using half milk and half (coconut) cream, like in my Vegan Hot Chocolate.
My original plan was to use cream in this drink, too, but it's absolutely unnecessary. Frothing the milk makes it rich and creamy. There's no need for cream, half-and-half or marshmallows!
The frothed milk is a really nice sub for melty marshmallows, and you won't miss the extra fat and calories from the missing fattier options I mentioned above.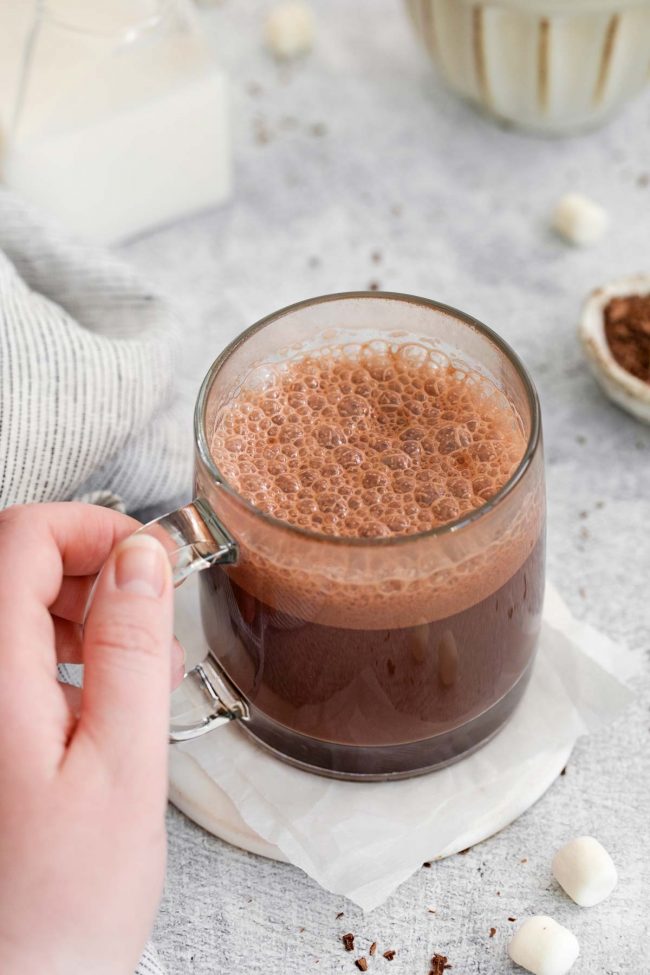 Ingredients
Here's what you need. I used Dutch-process cocoa powder, but you can use regular cocoa if you prefer.
You could also use cacao, but you'd need to use more sweetener. See here → Cacao vs. Cocoa.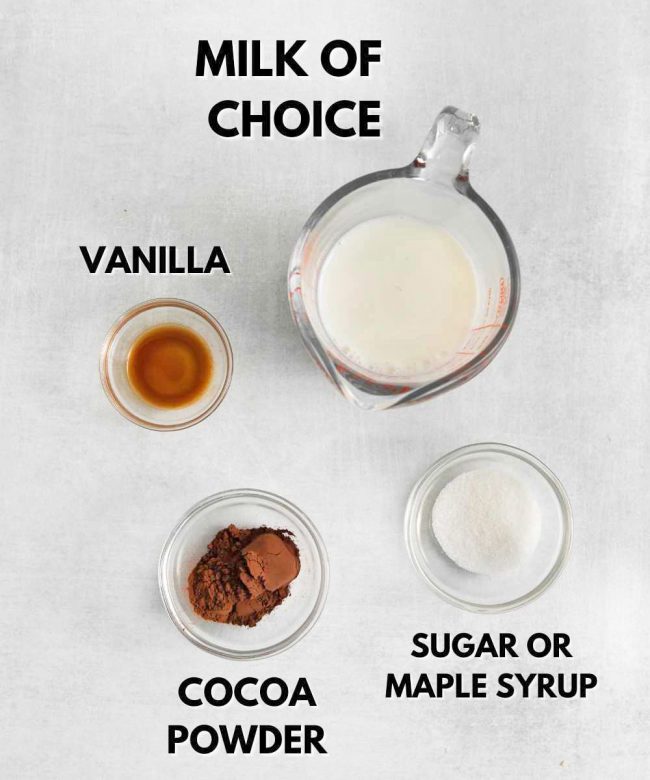 Does it taste like maple syrup if I use that?
I used Grade A maple syrup, which is the one with the lightest flavor. What that, there's zero maple flavor in this hot chocolate.
If you use a darker, more flavorful grade, then you might get a hint of maple flavor, but I doubt it would be a terrible thing.
What I've tried so far
Here are the different versions I've tried over the last few days. And this was only after several other attempts to get the recipe perfect. So I've tried different amounts of cocoa and sweetener and in different proportions.
I find it a bit suspicious how bloggers without teams (except for stuff like social media) are "developing" a "new" recipe, photographing, filming, editing the pictures and videos, and writing an entire post practically every single day. That is not even remotely possible. 😬
I went down a rabbit hole the other day, and I needed to rant. If you're new around here, I can usually only manage 1-2 recipes a week, with one of them being a drink. I took a 2-week break after I published all my Halloween recipes in September, and now I'm playing catch up until Thanksgiving. Anyhow. ;)
I used 4 teaspoons of sweetener and 1 tablespoon Dutch-process cocoa powder unless indicated.
Green = great and red = bad.
Dairy whole milk + granulated sugar – yes. My husband's favorite version. He thought it seemed richer than the maple syrup version (I did not).


Dairy whole milk + maple syrup – yes. I thought using maple syrup instead of granulated sugar might reduce the amount of foam, but it was just the same.


Cashew milk + maple syrup – yes. This is the version I'll continue making for myself now that my experiment is over. For my son, I only use 3 teaspoon of maple syrup. If you don't like dark chocolate, you'll probably want 4 teaspoons. I have quite a sweet tooth, and the hot chocolate is perfect for me with 4.


Cashew milk + granulated sugar – yes. But I preferred the maple syrup version. It didn't taste maple-y, but was more complex.


Cashew milk + coconut sugar – eh. It wasn't nearly as chocolaty as the other versions. It definitely tasted like a "healthy" drink.


Cashew milk + 1 tbsp coconut cream + maple syrup – no. The coconut cream ruined the taste. It was weird. I actually only added the cream because frothing wasn't working well with a steam wand, and not because I think the drink needed to be richer. More on this below!


Cashew milk + 1 tbsp coconut cream + granulated sugar – no. Same weirdness with the coconut cream.


Cashew milk + 1 tbsp carob powder + 1 tbsp maple syrup – no. I only used 1 tablespoon of maple syrup instead of 4 teaspoons because carob powder is sweeter than cocoa powder. It was still too sweet. But when the frother was done, it was practically ALL foam. There was so much volume, I couldn't even fit it all in my cup.


Cashew milk + 2 teaspoons carob powder + 2 teaspoons maple syrup – no. It was still all foam. If you want to use carob powder, see the directions below on how to make this on the stovetop. I would recommend using 1 tablespoon carob, 2 teaspoons maple syrup, and then adding more maple to taste. You might want another teaspoon, but definitely not another 2 teaspoons.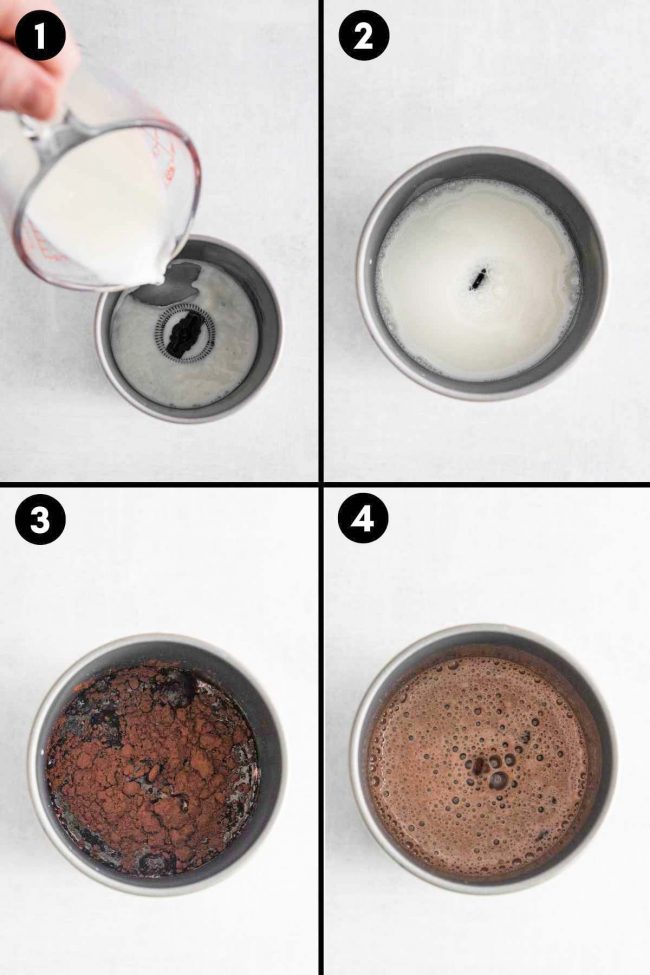 Milk frother
I used this electric milk frother from Paris Rhône. It's rated more highly on German Amazon and was only 33 euros (it's more on US Amazon), so I got it, and I'm happy with it.
My photographer used this one from Bodum, but it also doesn't have fantastic reviews.
It looks like there are cheaper and more highly rated options on US Amazon, so perhaps check that out.
I got this frother just for this recipe since my steam wand didn't work so well. I thought it was a little ridiculous at first, and my husband rolled his eyes when he saw the box, but after trying this hot chocolate… we don't mind the little space it's taking up. ;)
I'll definitely be using it regularly!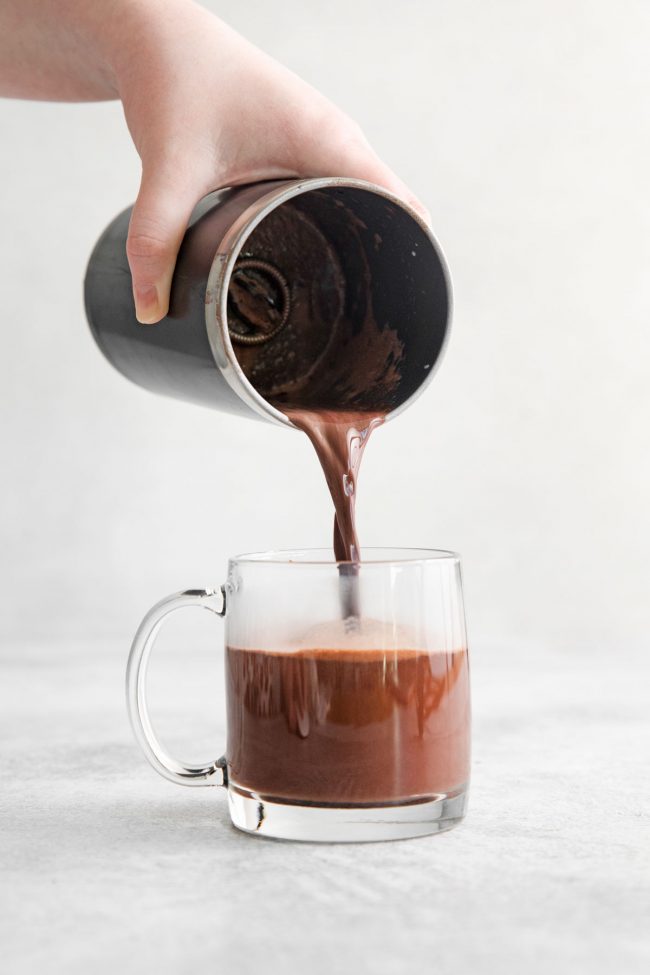 Can I use a steam wand?
I tried it, admittedly just with cashew milk, and didn't get much froth. I added a tablespoon of coconut cream, frothed again, and got a lot more foam.
BUT – I don't like the flavor that it added. I really don't recommend it.
If you use a steam wand, you also need to heat the milk to the correct temperature first. If using plant-based milk, see Can You Froth Almond Milk?
If using dairy milk, you'll want to heat the milk to 150 °F (65 °C). You can go a bit higher or lower, but this temperature will give you the best balance between drinking temperature and the taste and texture of the drink.
If you want a cold hot chocolate, then you can froth dairy milk when it's as low as 130° F (55° C). Frothing at a lower temp is better for the taste and texture, but I doubt it really makes a noticeable difference in this hot chocolate.
I once tried getting more foam by frothing the milk separately and then adding it to a paste I had made out of a little of the milk, cocoa powder and sweetener. That didn't work at all.
If you only have a steam wand, you can try it, but I wouldn't expect fantastic results. You'll probably have better luck than I did if you use dairy milk because it froths better than cashew milk.
You could also use barista editions of plant-based milk, which are meant for frothing.
Stovetop directions
I mixed together the maple syrup and cocoa powder, added a bit of the milk to make a paste, and then stirred in the rest of the milk and vanilla + salt. I warmed it over medium-high heat until steamy.
The result was great! You're not going to be able to use a hand whisk to get it frothy or anything like that. This is "just" for a traditional, but delicious, hot chocolate. :)
I used the same method for my Instant Pot Hot Chocolate. It prevents you from having to whisk away all those little cocoa blobs.
That recipe is also a great option for making hot chocolate for a crowd!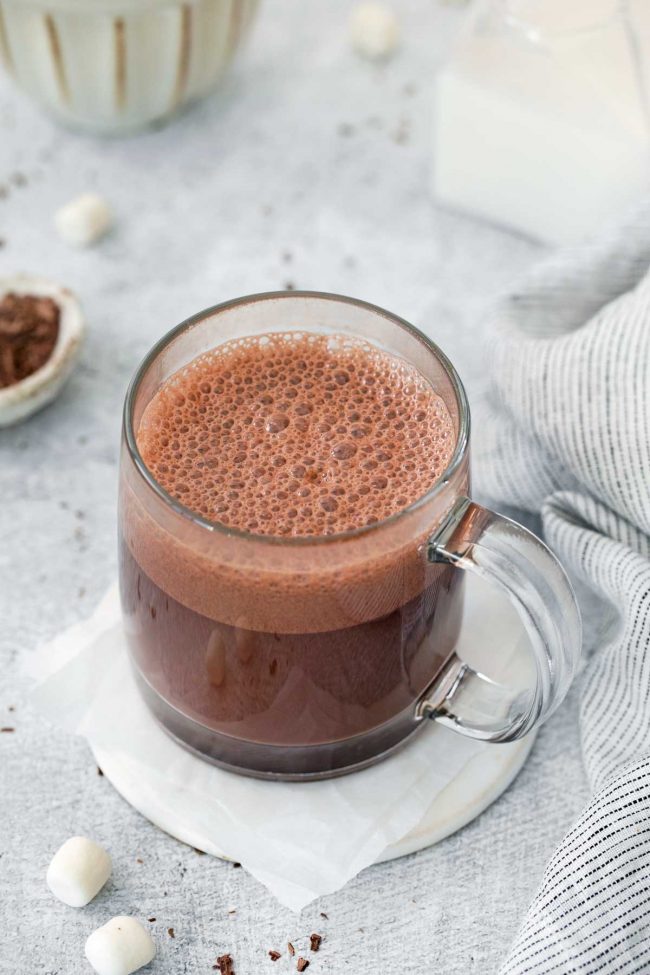 Can I reheat it?
It's generally not recommended to reheat steamed or frothed milk. I tried, and it killed off all the foam.
But if for some reason you don't finish your hot chocolate, you'll need to refrigerate it. The foam will dissipate, so you might as well reheat it then.
But this recipe only calls for 1/2 cup (120 ml) of milk. I think there's very little chance that you'll have leftovers!
Can I double it?
This depends on your frother. I made a double batch with my kid, wasn't exactly thinking, and made a mess. The milk went to just below the max line.
Then we added the rest of the ingredients, which put it well over the max line. I thought we could just froth it for less time, but that didn't work.
All the ingredients need to fit below the max line!
Different flavor options
My vanilla extract, which I made from vanilla beans and vodka, works fine. But once there's any kind of oil in the extract, it prevents the milk from frothing.
We tried with Simply Organic Almond Extract, and there was zero foam. The ingredients are: Water, Organic Alcohol, Organic Glycerin, Bitter Almond Oil.
I have no idea what effect glycerin has on frothing, but it doesn't matter because you can just add the extract afterwards.
My recommendation is to make the drink and then carefully stir in the extract. It's much easier to pour it into a 1/8 teaspoon measuring spoon than just pouring it into the mug. I can't tell you how many times I've accidentally added an absurd amount of extract to a single hot chocolate.
Then I have to make a few more batches to reduce the extract flavor. It's quite dumb and easy to avoid! I ordered these measuring spoons from US Amazon for my son, and he loves them because they're colorful and magnetic, and they're useful for most people because they go down to 1/8 teaspoon.
For my recipe testing needs, I need 1/32 teaspoon and 1/16 measuring spoons, and so I also have a few sets of these, but they started breaking after a while. And all at the same time. Even the ones I rarely used!
I just checked my order history, and I actually ordered them in 2010. 😆 So they lasted quite a while, but obviously not practically forever like stainless steel.
But back to extracts. My favorite addition is peppermint extract. Make sure to get peppermint and not mint extract, which has more of a spearmint taste.
Each brand of extract is different so you may want to use 1/16 teaspoon, taste and then add another 1/16 teaspoon or even more.
I think almond or orange would also be great options.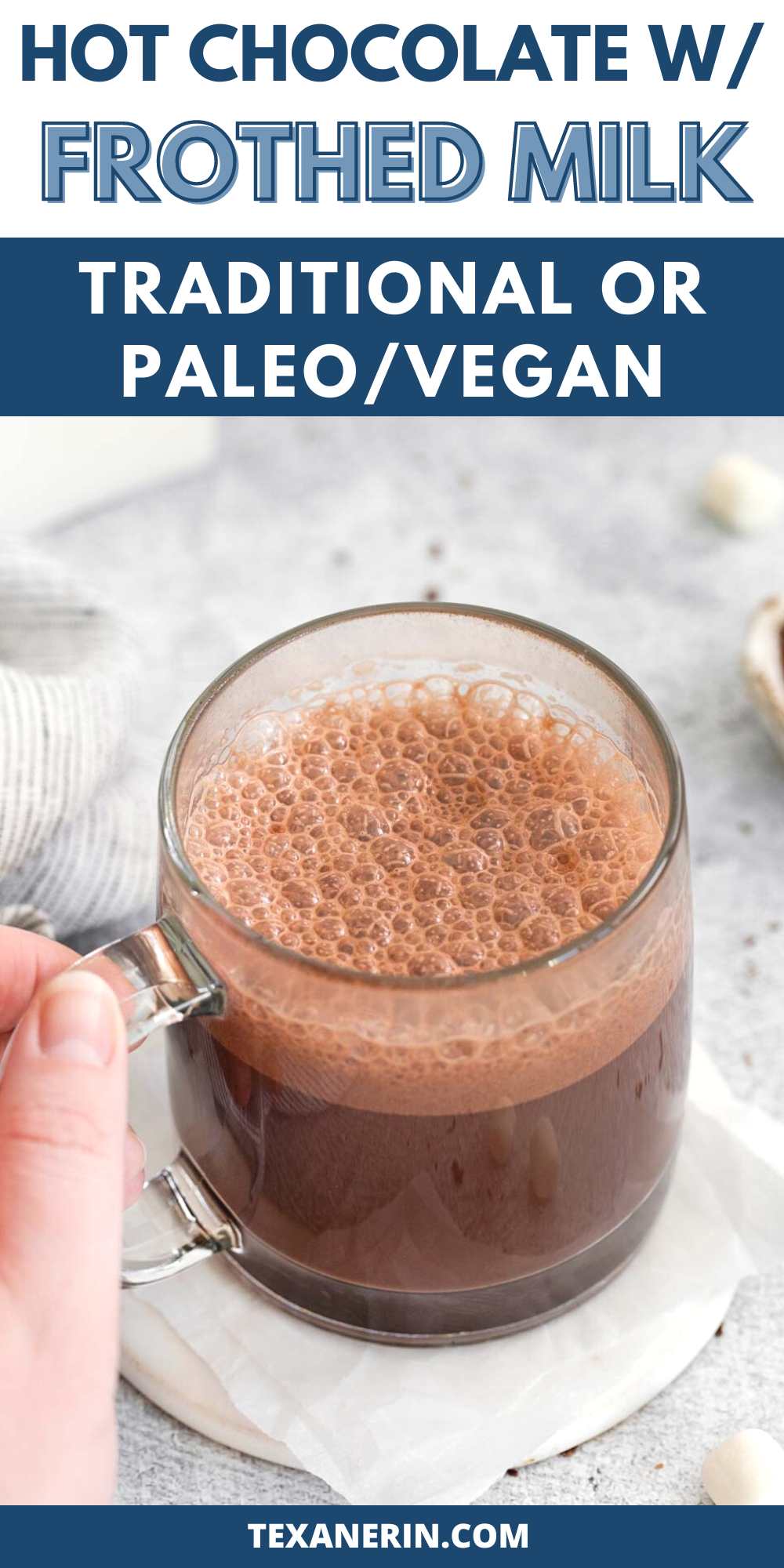 Vegan option
I use unsweetened cashew milk for a vegan version. You can use any plant-based milk you'd like but know that some dairy-free milks aren't that great when it comes to frothing.
Paleo version
All you need to do is use nut milk and maple syrup. Make sure your nut milk just consists of nuts, salt, and water.
And if you have a high-speed blender, I highly recommend this Paleo Vegan Hot Chocolate. It's sweetened with dates and only uses canned coconut milk.
It's SUPER rich. So much so that when you chill it, you have mousse! But it's one of my absolute favorite recipes.
I think it highly depends on your cocoa powder, though. You need to use Dutch-process cocoa powder for the best flavor.
I hope you'll enjoy this hot chocolate with frothed milk! If you try it out, please let me know in the comments section how you liked it. Thanks! :)
❀
Hot Chocolate with Frothed Milk
Prep Time:
Cook Time:
Ready in:
Yield:

1
Ingredients
1/2 cup (120 ml) cold whole milk or cashew milk for vegan/paleo
1 tablespoon (9 grams) cocoa powder (I used Dutch-process)
3-4 teaspoons granulated sugar or maple syrup for paleo (I used 4)
1 teaspoon pure vanilla extract
pinch of salt
Directions
Add all of the ingredients to an electric milk frother. Froth for 45 second or until it turns off if you have a frother that turns off automatically when it's done frothing. If you have different settings, choose one that heats and froths.
Serve immediately. If you have leftovers, cover and refrigerate for up to two days. The froth will have dissipated, but it'll still be yummy.
Notes
For vegan, use cashew milk or another plant-based milk.
For paleo, use nut-based milk that just contains water, nuts and salt and maple syrup.