This strawberry latte is a smooth and refreshing coffee drink made with a 3-ingredient strawberry sauce, your choice of milk, maple syrup, and vanilla. It's refined sugar-free and paleo and vegan with the right kind of milk.
Here's a quick recipe to help you combat those hot days! Is it weird? Kind of.
Strawberries + coffee is a but unusual. To be honest, I thought this drink would be pretty unappetizing, but I was wrong.
It's oddly refreshing and not as bizarre as you might think!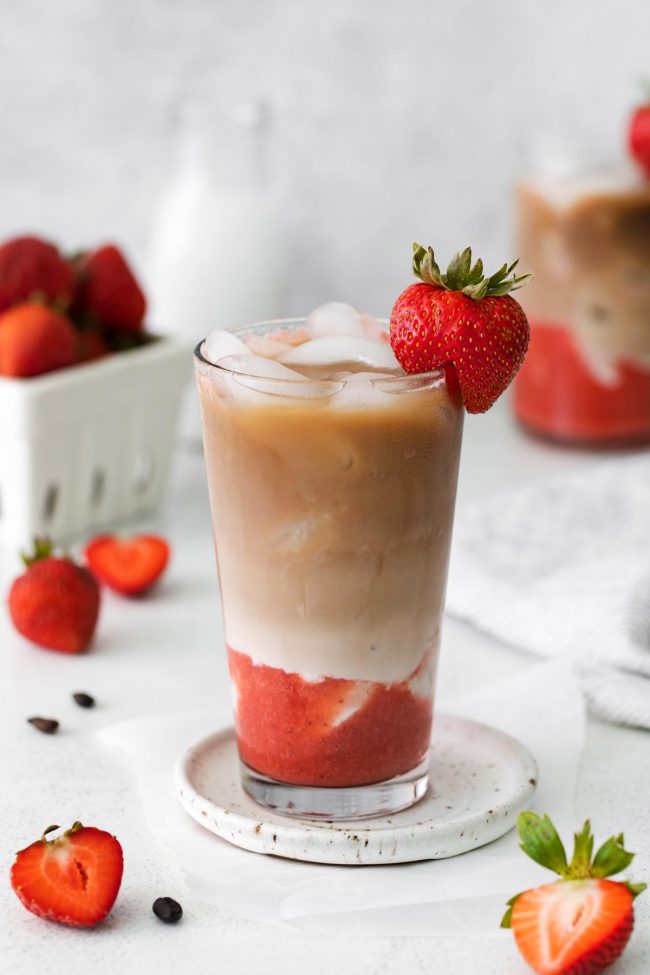 Strawberry sauce
For the bottom layer of the drink, you make a quick strawberry sauce. It's sweet but not overly sweet; so just right for this drink.
You just blend together strawberries, maple syrup and vanilla in a blender and then simmer for a few minutes to thicken the mixture. It goes from ultra runny to a sauce in just 3 minutes.
If you like the runny mixture you have after blending, feel free to already pour it into the bottom of your glass. But I think the latte is much better with the strawberries thickened a bit. It intensifies the strawberry flavor and makes the drink a little thicker.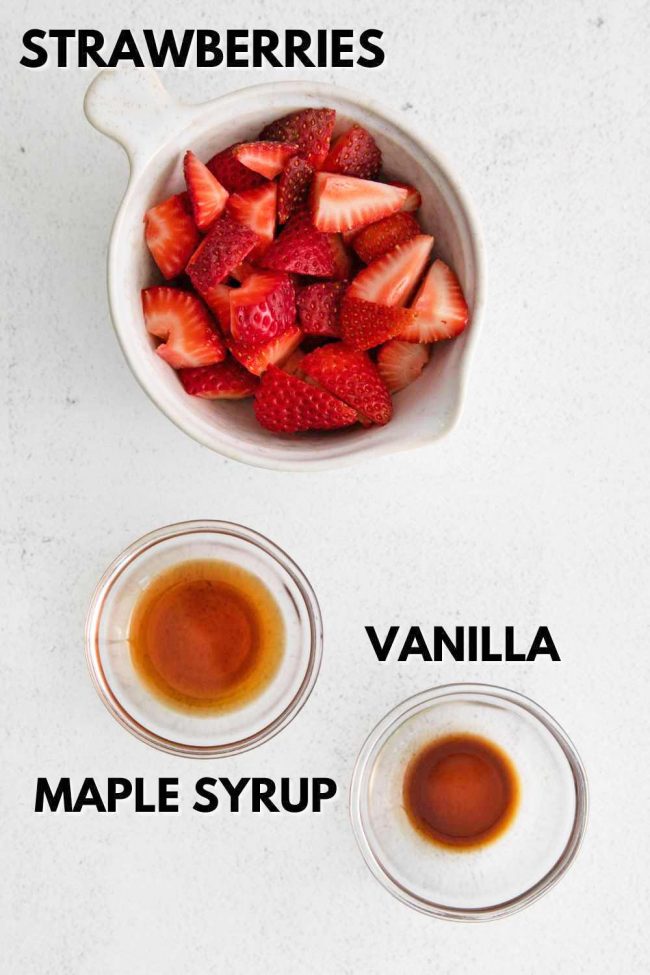 Not thickening the strawberry puree will also make it trickier to create a neat layered look.
If you use frozen strawberries, be sure to defrost them before blending. If you don't, it'll be difficult (or impossible, if not using a high-speed blender) to blend.
If you'd like to make a bigger batch, it'll keep for a few days in the fridge. It's great to use in smoothies and cocktails. You could perhaps add some to this Strawberry Frosé or Honey-Sweetened Lemonade for added strawberry flavor.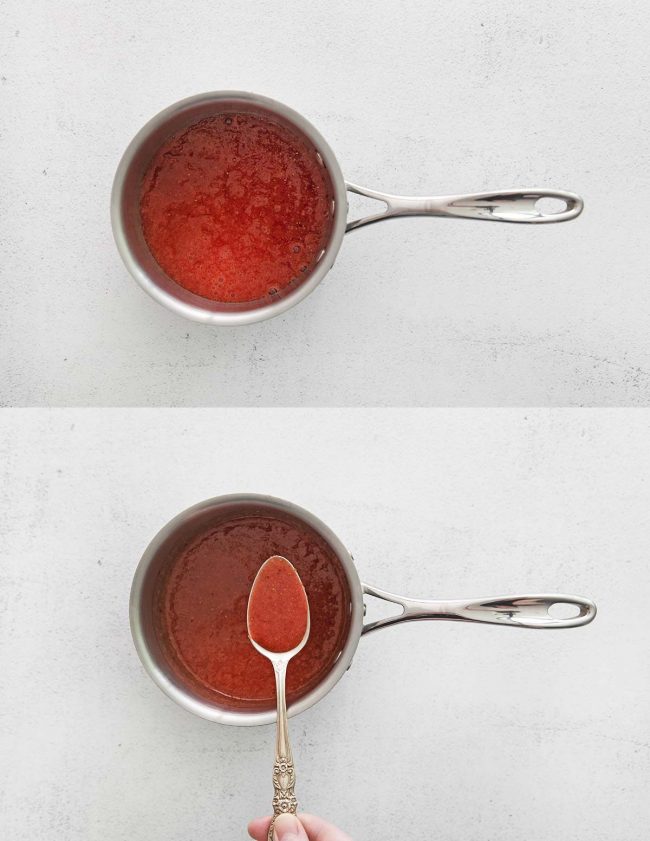 The strawberry sauce will thicken quickly, but don't let it thicken so much that it becomes jam. It'll be hard to stir in the drink if it's too thick.
And be sure to cool the sauce completely before using it in the drink. It yields a small amount, about 1/3 cup, so it'll cool quickly, especially if you pour what you need into your glass and place it in the fridge.
You only use 3 tablespoons in the latte, so you'll have about 2 tablespoons + 1 teaspoon leftover to spoon onto ice cream or whatever you'd like.
What else you need
You just need strong coffee and whatever milk you have on hand.
I go into more detail on both ingredients below.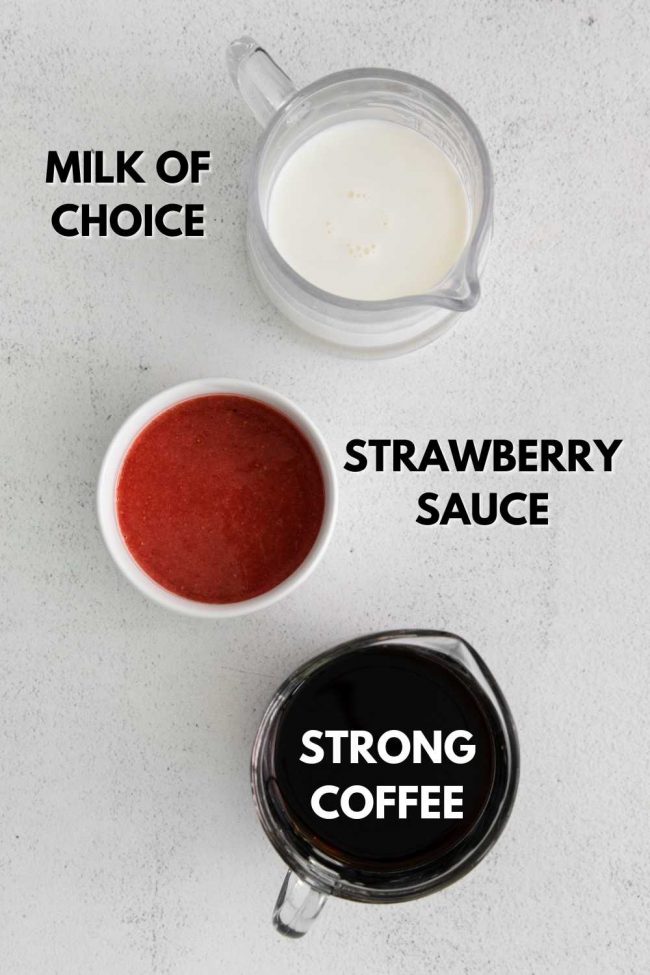 How to layer
If serving to guests, it's nice to serve this strawberry latte layered.
Using the back of a spoon helps disperse liquid over a wider surface allowing liquids to float on top of one another rather than sink into each other. It's not mandatory, but it sure makes the drink look striking.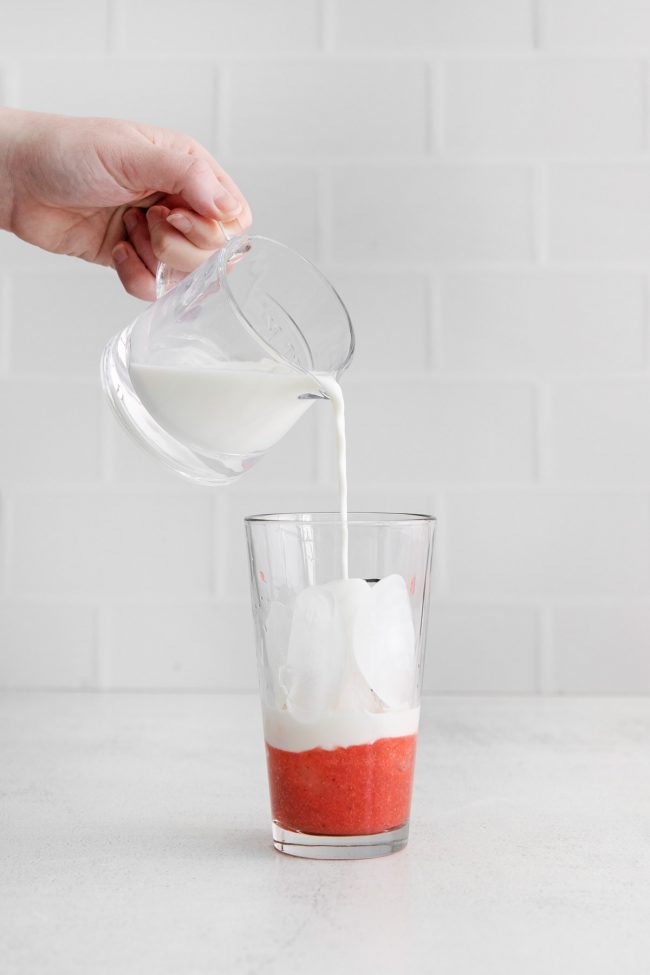 Each liquid has its own weight, so to layer drinks, start with the heaviest liquid first. It's usually the one with the highest sugar content. So we'll pour the strawberry sauce over the ice first.
Then place the spoon upside down near the strawberry layer and gently pour the milk over the back of the spoon. Then do the same for the coffee; don't rush it or it'll muddy the drink. As you can see in the photo below. 🤦‍♀️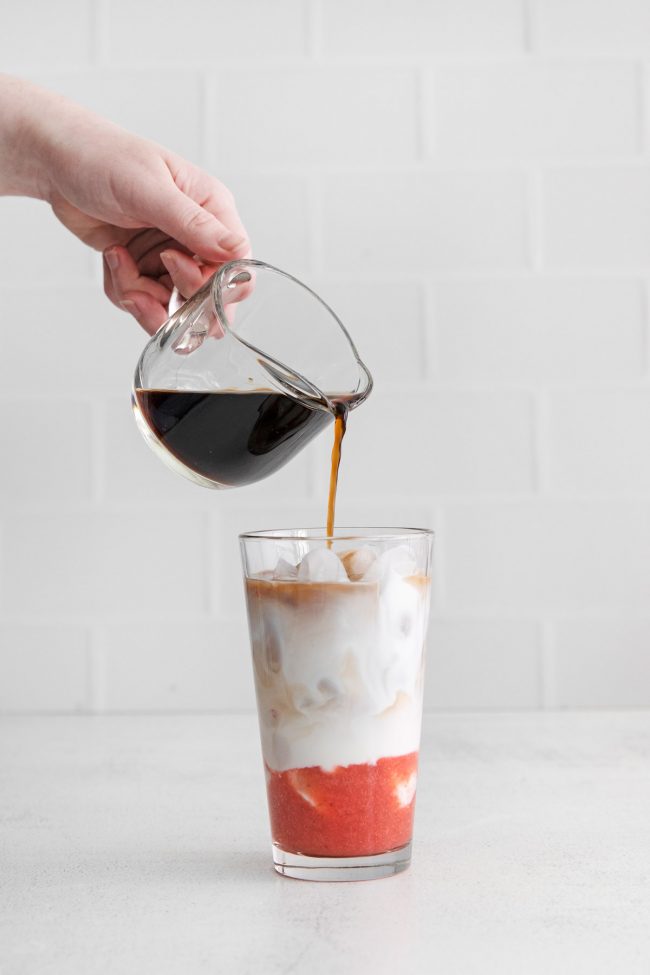 How to make strong coffee
If you have time, you can plan ahead and make this French Press Cold Brew or this Mason Jar Cold Brew. Cold brewing requires at least 8 hours, so making it the night before is best.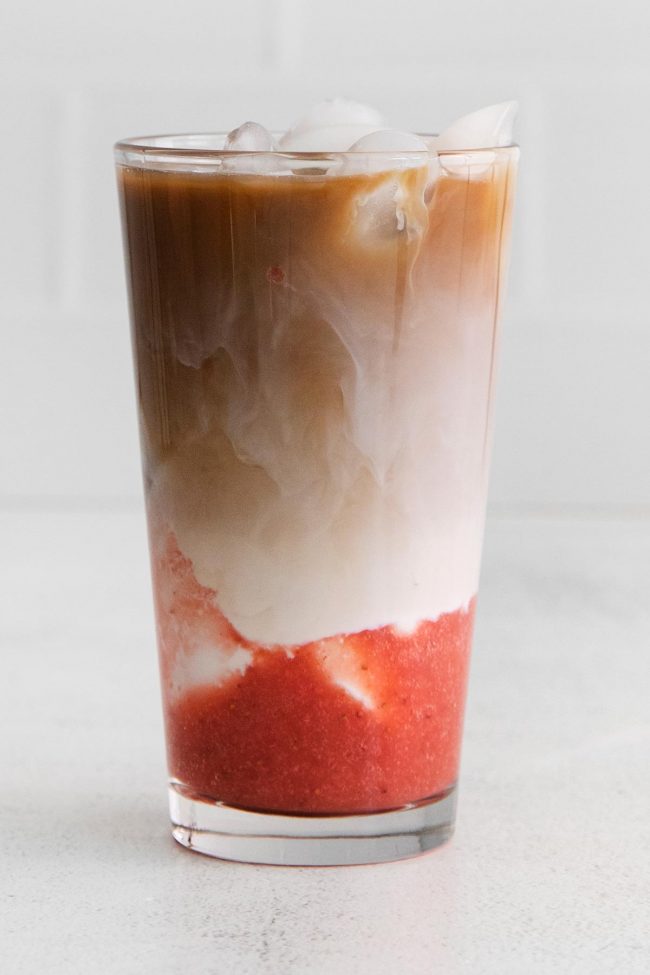 If you're wondering what kind of coffee beans to use in the French press, be sure to check out this Espresso Beans vs. Coffee Beans post.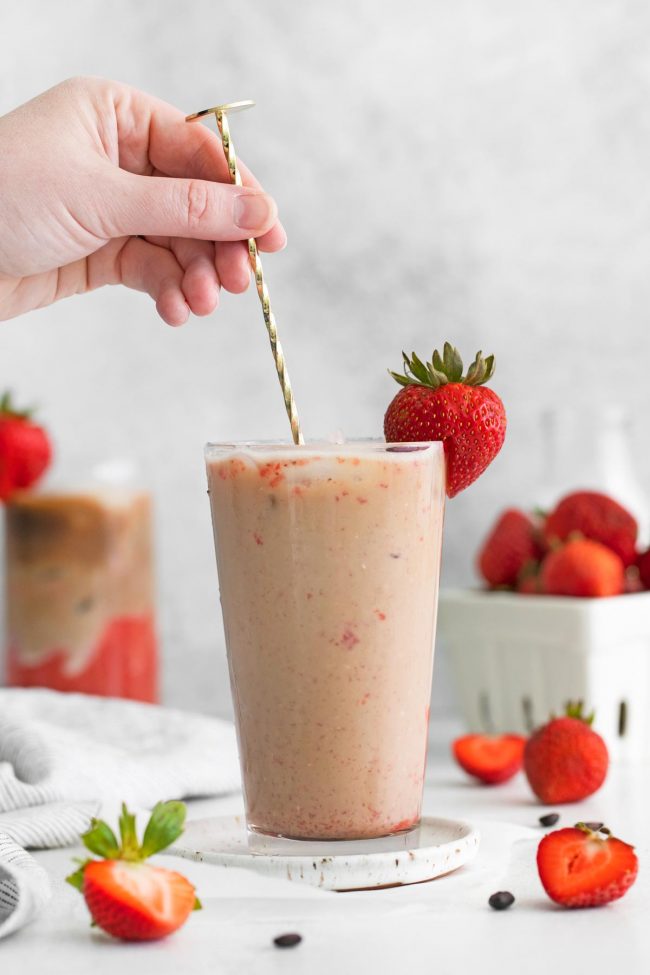 What kind of milk is best?
You can use whatever you'd like – dairy or plant-based. I always use unsweetened cashew milk, and it pairs nicely with the strawberries.
If you're paleo, make sure to use unsweetened plant-based milk without any additives or other funky stuff. The only ingredients should be nuts, water and possibly salt.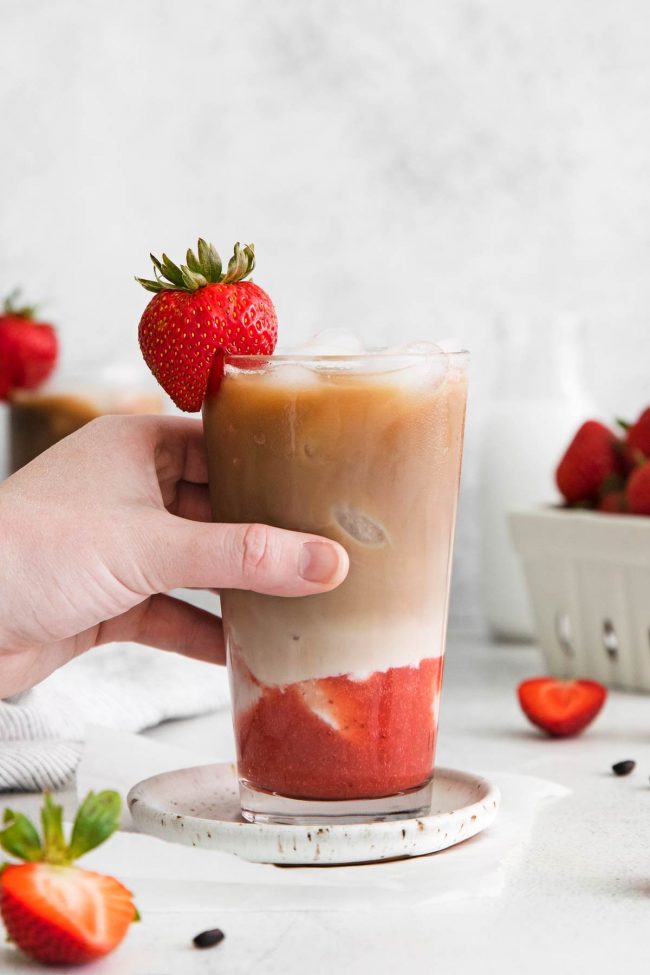 Other summer drinks
This Watermelon Refresher is a great place to start! Super healthy, too.
That's all for now. If you try this Strawberry Latte, I'd love to hear how you like it! Thanks so much.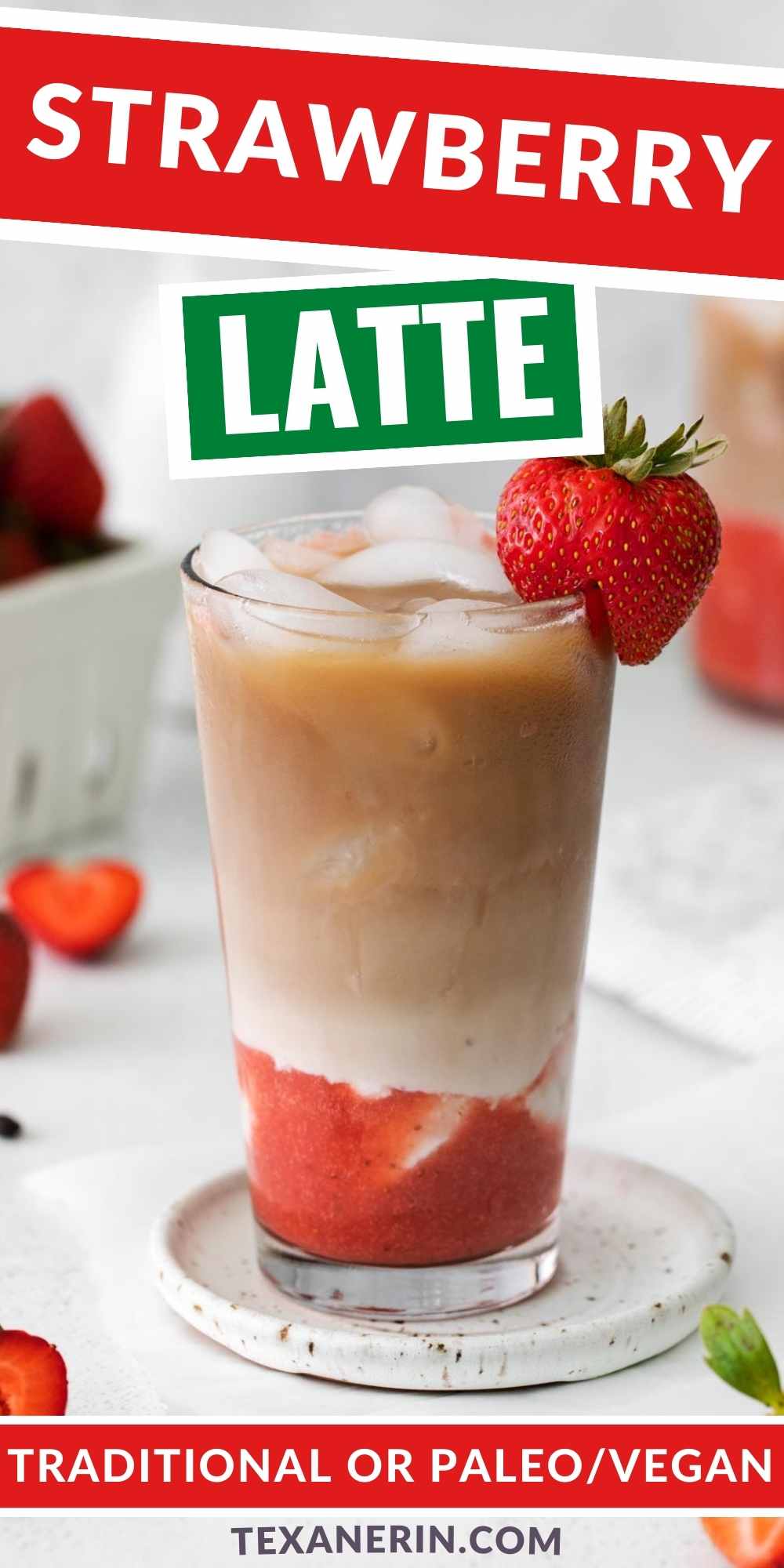 ❀
Strawberry Latte (traditional or paleo/vegan)
Prep Time:
Cook Time:
Ready in:
Yield:

1
Ingredients
Strawberry sauce:

1 cup (130 grams) fresh strawberries or defrosted frozen strawberries
2 tablespoons maple syrup
1/2 teaspoon vanilla extract

Assembly:

3 tablespoons of the above strawberry sauce
ice
1/2 cup (120 ml) milk of choice
1/2 (120 ml) cup strong coffee
sweetener, if desired (I use 2 tsp maple syrup)
Directions
Place all the strawberry sauce ingredients in a blender. Process until no large chunks remains (it doesn't need to be 100% smooth).
Pour into a small saucepan. Bring to a simmer over medium-high heat, stir frequently, and simmer for about 3 minutes. It'll thicken very quickly, but don't let it thicken so much that it becomes jam. If it's too thick, it'll be hard to stir in the drink. Cool completely before using in the drink.
Fill the glass about half-way with ice.
Pour 3 tablespoons strawberry sauce (the recipe yields about 1/3 cup) into the bottom of the glass. Refrigerate leftover strawberry sauce for up to 4 days.
To make neat layers, place a spoon upside down near the strawberry layer and gently pour the milk over the back of the spoon. Then do the same for the coffee; don't rush it or it'll muddy the drink.
Serve. I like to mix it and add 2 teaspoons of maple syrup.
Notes
If vegan, use plant-based milk.
If paleo, use unsweetened cashew or almond milk without any additives or other funky stuff. It should just be nuts + water + salt.