This Starbucks matcha latte is a light and energizing green tea drink that is ultra-creamy and made with just 4 simple ingredients in about a minute. It's naturally sweetened with maple syrup and super easy to make. Plus, it costs much less when you make it at home. It's paleo, vegan, gluten-free and dairy-free, but you can use regular dairy, if preferred.
This copycat of Starbucks Matcha Latte is as easy as blending the ingredients together and pouring over ice. You get a nice layer of foam when blended, and it's terrifically healthy.
To me, this matcha latte is even better than Starbucks; plus, you don't have to wait in lines to get this refreshing drink at home.
I have a couple of other Starbucks copycat drinks, so if you're a copycat fan, you might want to try some of these:
This matcha tea drink is the perfect way to start your day or give your afternoons a boost without the crash you might get from coffee. The same is true of this Matcha Protein Shake!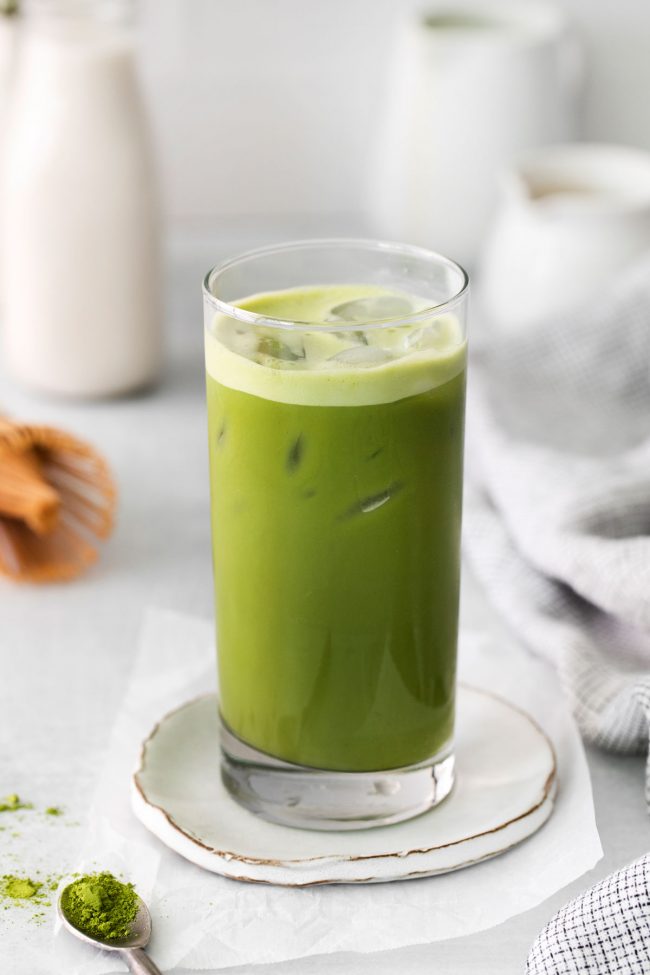 Tips
I used cashew milk in this drink because I prefer the taste. People say that almond milk and oat milk are the best plant-based milks for frothing. I've read cashew milk is difficult to froth, but I haven't had any issues.

By the way, if you're gluten-free, you might want to read this → Is Oat Milk Gluten-free?


I used cashew milk in a tetra pack and don't have an issue with it, but most people recommend using fresh almond or cashew milk as it froths up better.


If this is your first time drinking matcha, you should know that there are different qualities with different price tags. I recommend buying a small amount for a reasonable price, and if you love it, you can then buy a larger quantity. The good news is you can bake with it too!


I used 1 1/2 teaspoons of matcha green tea powder because I like the matcha taste. If you like a milder matcha taste, you can reduce the matcha powder to 1 teaspoon and also the sweetener to 1 tablespoon.


Using a blender is ideal as the matcha powder will dissolve without lumps.
What is matcha?
Matcha is a rich and nutritious green tea that is originally from Japan. Unlike regular tea, where you're steeping leaves, matcha is pulverized tea leaves and usually comes in powder form. It is a tea that has made its way to mainstream drinks and baked goods across the globe.
It is shade-grown which adds to its robust texture and earthy flavor. Being shade-grown, it produces more caffeine and L-theanine, an amino acid.
It's both nutritious and energizing without the crash you can get from coffee.
It can taste somewhat bitter (you can learn more about the taste here → What Does Matcha Taste Like?) but with the added milk, maple syrup and vanilla, this iced matcha latte is well-balanced with a hint of sweetness and frothy creaminess.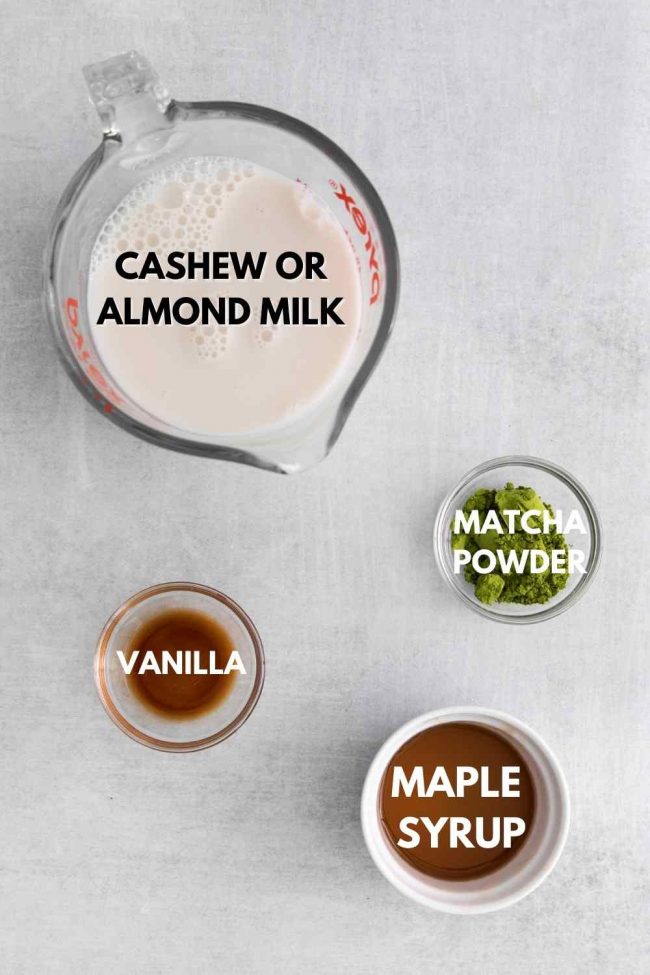 Different grades of matcha
Matcha can be consumed as loose tea leaves or in tea bags or pulverized into a fine dust that can be drunk hot or cold.
The two grades of matcha are ceremonial and culinary grade. Both come with a different purpose and a different price tag.
Ceremonial grade is of the highest quality and is ground into a fine powder with granite stone mills. It's the most expensive.
Culinary grade is lower in quality and cheaper. It can be quite bitter and gritty.
Costco carries a large bag of matcha that is certified vegan, gluten-free and non-GMO. And you get 225 servings from just one bag so you can drink up!
If you haven't tried matcha before, know that it has a distinctive taste that grows on you. It's earthy and somewhat grassy.
I think that using enough sweetener is important. Maybe it's just me, but without just the right amount of sweetener, I find matcha unpalatable.
You might want to start small with a nice ceremonial grade to try it until you know you like it enough to start buying bulk.
Just be sure to store it properly.
How to store
The best way to store matcha is in an airtight container that you can't see through and is out of direct sunlight.
Make sure to use a dry scoop or spoon when dishing it out. You don't want to add moisture to the tea powder as it will spoil.
You can tell if matcha has gone bad because it will lose its vibrant color and flavor.
Can I make it ahead?
You can easily double or triple the Starbucks matcha latte recipe, so it's ready to drink when you are.
Just blend and store it in the fridge, pour over ice and enjoy!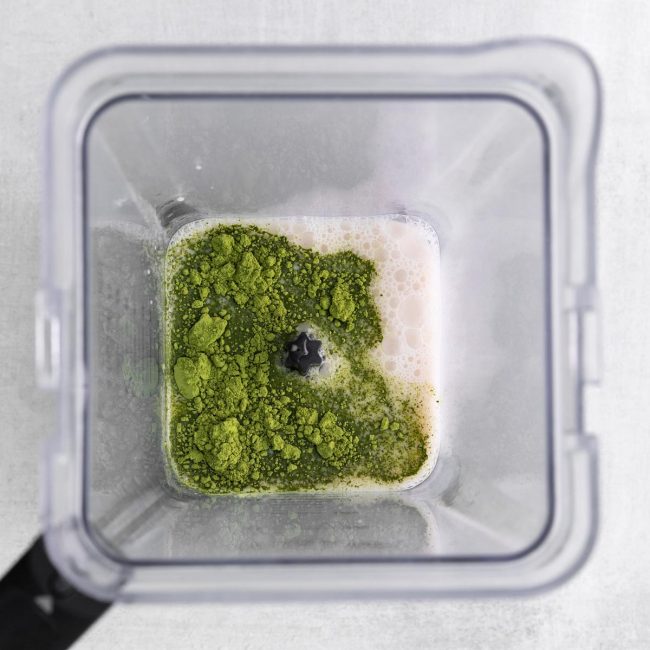 Can I use a different sweetener?
Yes, any preferred sweetener will be good in this drink. If you don't need it to be paleo or vegan, then feel free to use whatever you like.
I used 1 1/2 tablespoons maple syrup plus a touch of vanilla, but it's up to you how you prefer to sweeten this latte. If you don't want to use the vanilla, you can leave it out.
You can use sugar, simple syrup or honey if you prefer, and you can sweeten it to taste.
You can add more or less sweetener and adjust it to your taste!
Making this at home gives you the freedom to use the ingredients that best suits your dietary needs.
Do I have to use cashew or almond milk?
No, but as I mentioned above, almond milk is the best plant-based frothing milk. It has similar proteins to regular dairy and will froth nicely in the blender.
If you prefer a creamier drink, I definitely recommend cashew milk. And I find that it froths just fine in the blender! At least a high-speed blender.
If you don't need it to be dairy-free, then any milk you like will work. Again, if you like the froth, then using whole milk is better than skim milk.
Does matcha have caffeine?
Yes. 1 teaspoon of matcha powder has about ½ the caffeine as a cup of coffee.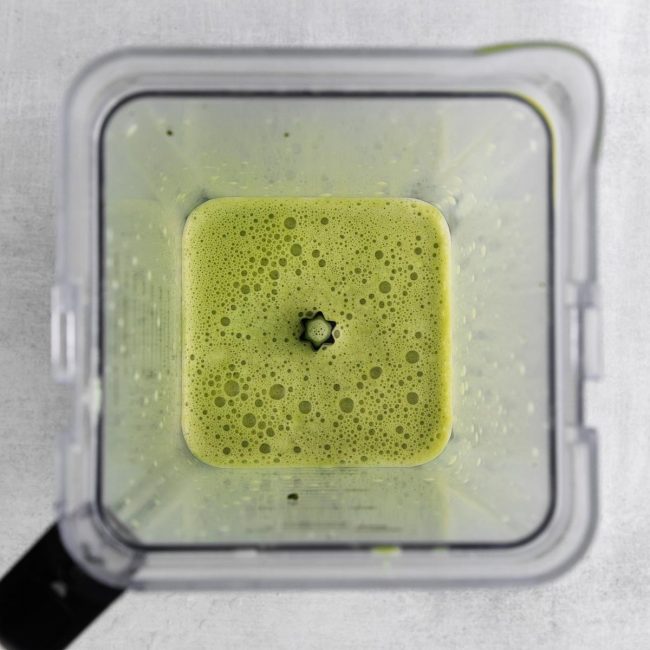 Is this latte healthy?
Yes! There are some amazing benefits you get from ingesting matcha.
Matcha tea is a powerhouse of nutrition. You're consuming pulverized tea leaves with potent nutrients that you just can't get with steeped green tea.
Matcha is rich in antioxidants and helps protect against cancer and heart disease.
It is packed with amino acids, and has loads of vitamins and minerals like vitamin C, selenium, magnesium, fiber and chromium.
It boosts metabolism and helps curb cravings.
Matcha also has more L-theanine than any other tea. This naturally occurring amino acid allows the body to slowly absorb the caffeine in matcha. This results in sustaining a 3 to 6-hour period of energy without the crash or jitters that come with other caffeinated drinks.
L-theanine can also trigger alpha wave activity in the brain which keeps you alert and stimulates dopamine, and gives you that feel-good feeling. So it increases focus and mood while reducing anxiety and stress!
It's higher in catechins than any other green tea because you're consuming the whole leaf instead of steeping and discarding them. Catechins are antioxidants that prevent free radicals from damaging human cells.
Studies indicate that matcha can have benefits for reducing the risk of heart disease, cancer, arthritis, high cholesterol, and high blood pressure while supporting skin health and the immune system. If you're interested in reading more, you can read here.
So with the benefits just from the matcha tea and making the latte at home, you're getting a powerhouse of nutrition that is less sweet and guaranteed gluten-free and vegan!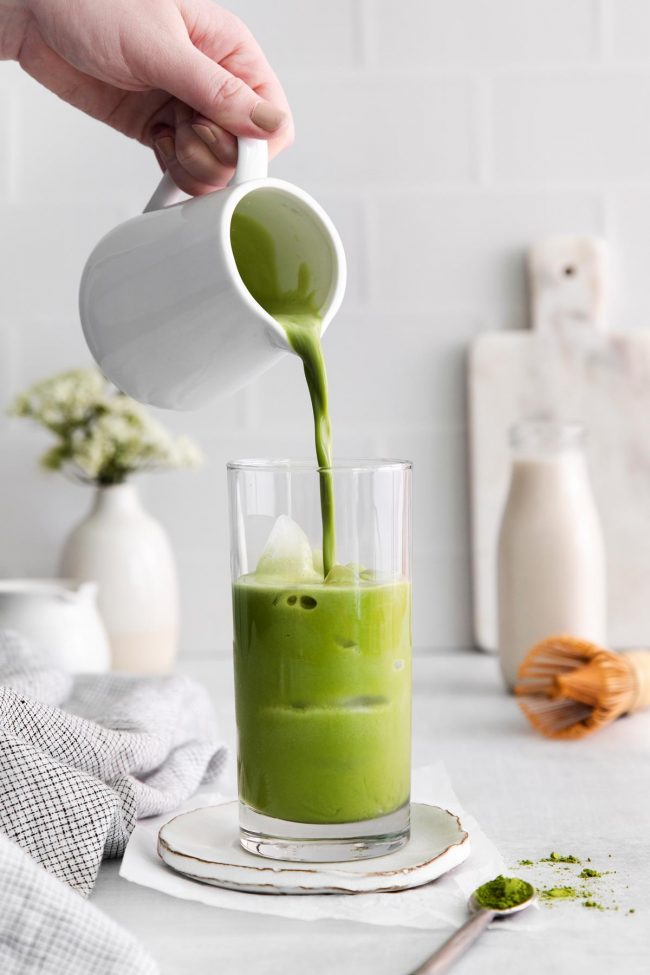 Comparing homemade to Starbucks matcha lattes
When comparing the two, the one from Starbucks is pretty sweet, making it less healthy. And if you're gluten-free or vegan, there are no guarantees as stated on the company website.
This matcha latte recipe here today is both paleo and vegan, healthy and nutritious.
On their website, they say, "We cannot guarantee that any unpackaged products served in our stores are allergen-free because we use shared equipment to store, prepare, and serve them."
So even if you're substituting almond milk for dairy, some might not consider it a vegan drink. The matcha they use is premixed with sugar, and if they are using refined white sugar, then that would make it a non-vegan drink.
As for gluten-free, if it is made with equipment or stored where gluten-containing products are stored and made, chances are the product can come into contact with gluten through cross-contamination.
So if you're on a gluten-free/vegan diet, making tasty drinks at home guarantees it fits within your dietary needs because you know exactly what is going into it.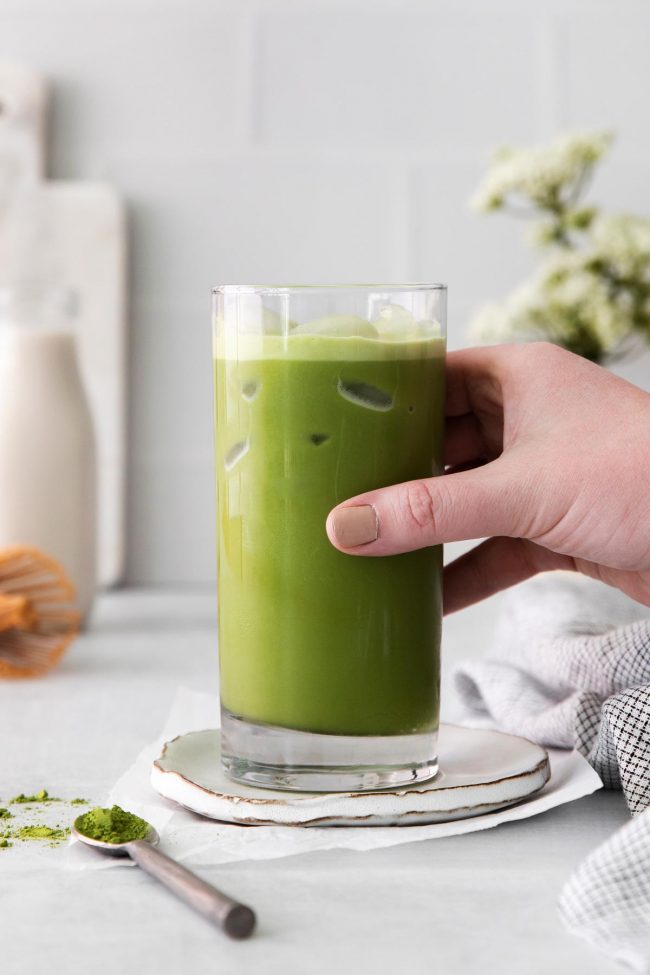 Other caffeinated drinks
I have loads of healthy drinks on the website, so be sure to check them out. Here are some of my favorite perk-me-up drinks for your drinking pleasure.
I hope you enjoy this Iced Matcha Latte! If you make it, let us know what you think! And if you are on Instagram, snap a pic and tag #texanerin so I can be sure to see it. Enjoy!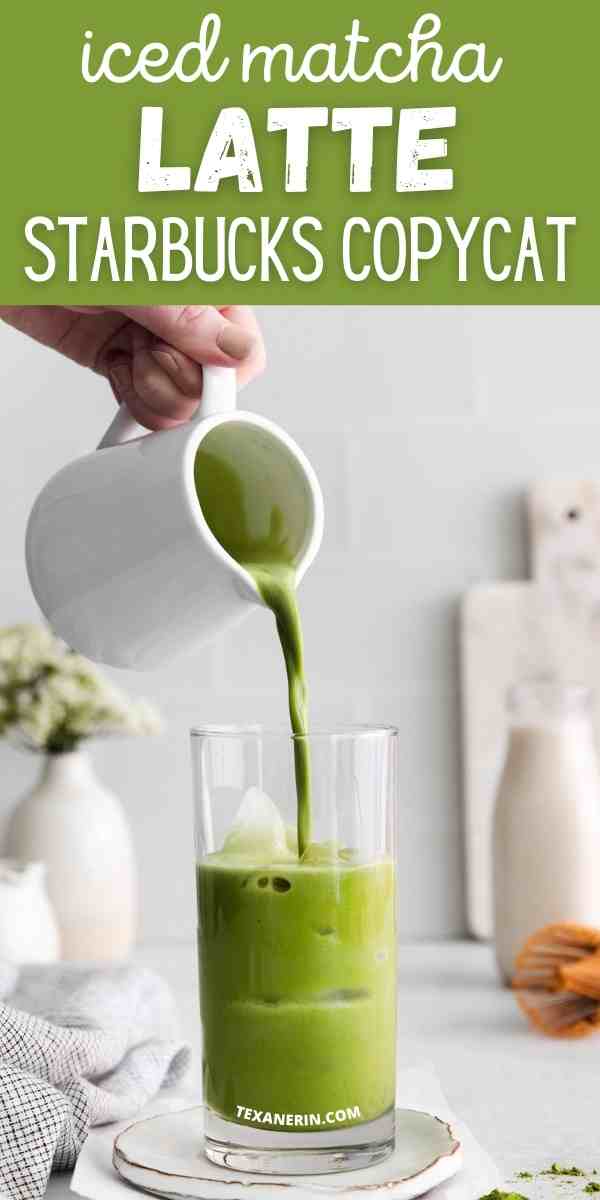 ❀
Starbucks Matcha Latte
Prep Time:
Cook Time:
Ready in:
Yield:

1
Ingredients
1 1/2 teaspoons matcha green tea powder
1 cup cold unsweetened cashew or almond milk
1/2 teaspoon vanilla extract
1 1/2 tablespoons maple syrup
Ice
Directions
Blend everything but the ice in a blender on high for about 30 seconds. It'll have a nice layer of foam.
Fill the glass halfway with ice.
Pour in the matcha latte.
Serve! Cover and refrigerate leftovers for up to 2 days.
Notes
For paleo, make sure your nut milk is free of sweeteners and additives! It should just be nuts, water and salt.