These cassava flour cookies are fantastic sugar cookies that can be rolled out into shapes or simply rolled into balls. These cookies are also AIP, vegan and paleo-friendly. Thanks to Bob's Red Mill for sponsoring today's post!
One might think that these cassava flour cookies don't look like much but they really are tasty. I only have one other sugar cookie recipe on the blog, these healthier sugar cookies, and that's because grain-free sugar cookies are so hard to get right. I'm thrilled to finally have a paleo sugar cookie recipe to share!
Cassava flour is often used on the AIP (autoimmune protocol) diet so I made sure to make the recipe fully AIP-compliant. It was easy to do using a gelatin egg instead of a regular egg.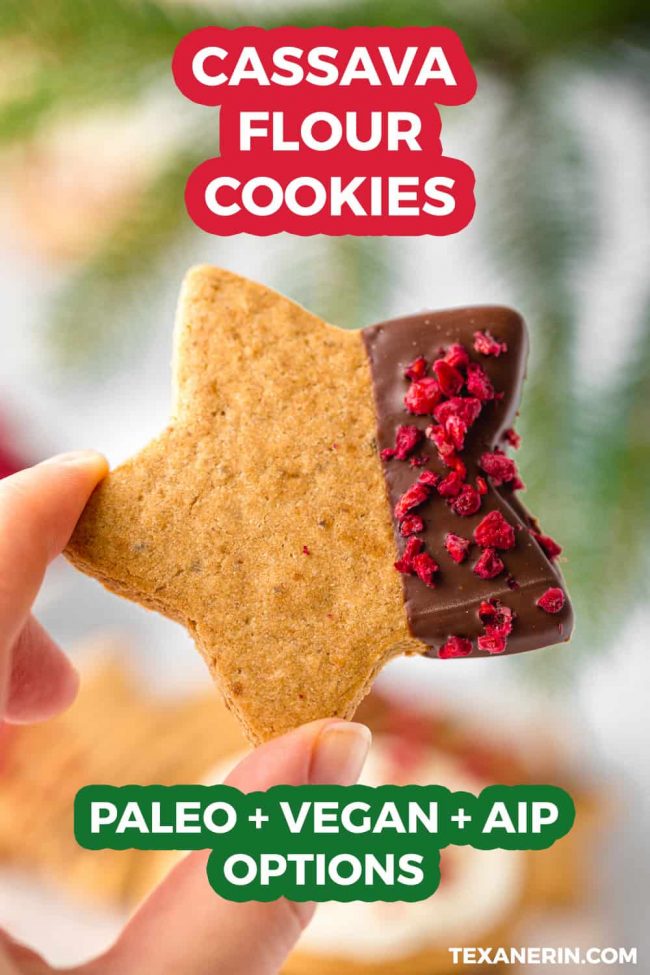 But regular eggs and chia eggs also work! I've tried. The ones in the photos use a regular egg but the other versions look exactly the same.
Now these cookies have a lot of sugar in them (though not more than traditional cookies) so if you're on the AIP diet, you shouldn't really go to town on them.
The chocolate coating you see also isn't AIP-friendly. What's in the pictures is plain chocolate melted with coconut oil.
Here's a recipe for an AIP carob coating you could try. And those cookies are delicious! I've made them at least 20 minutes with all kinds of add-ins.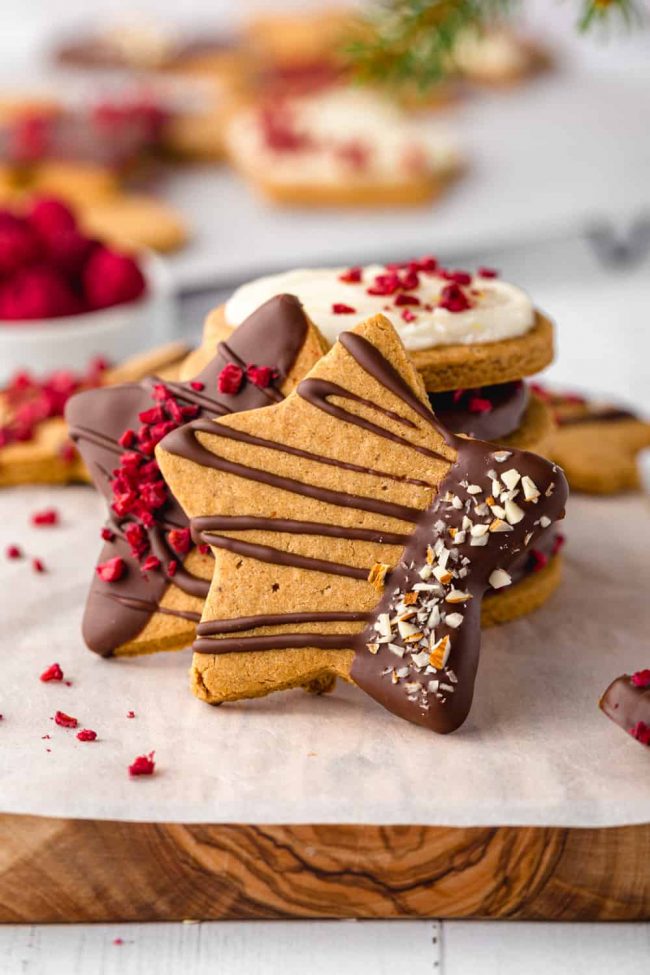 These cassava flour cookies are really tasty without any chocolate coating or frosting but I was going for festive here. So on went the chocolate, chopped nuts and freeze-dried raspberries. By the way, if you use refined coconut oil, they don't taste at all coconutty!
These cookies can be chewy or crisp. If you want them crisp, just bake them a little longer. I recommend doing a test cookie to find the right baking time for your shapes.
I'm sure when I said these cookies use cassava flour, most of you were thinking, "What can I sub?!" There's really no sub for cassava flour. And because cassava flour varies so much between brands, you really need to use the one I did, this Cassava Flour from Bob's Red Mill.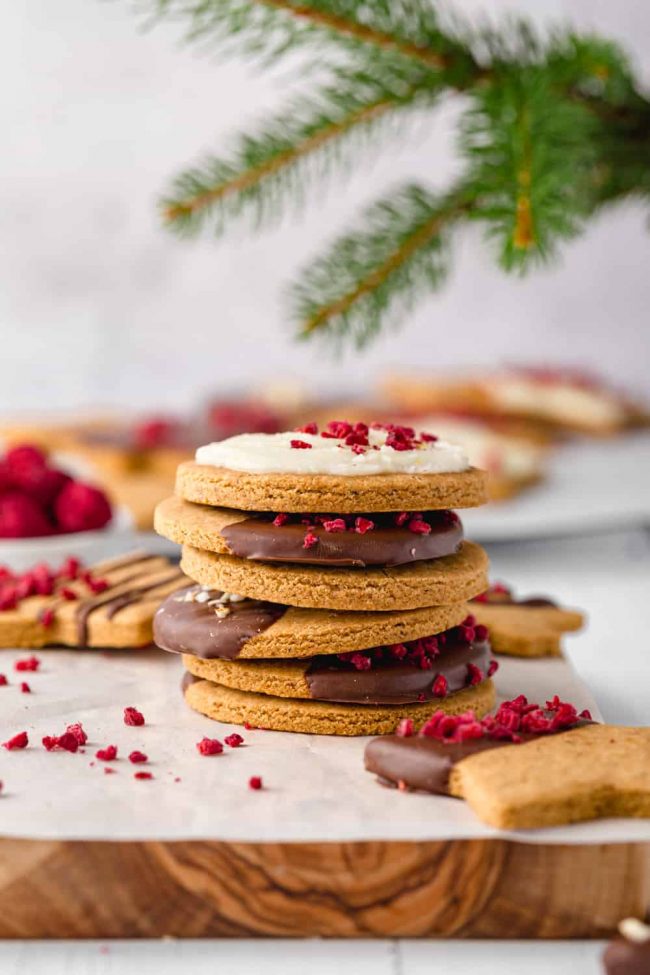 The difference is so huge that when I make cassava tortillas and the recipe recommends one type of cassava flour and I use another, I have something that's pourable rather than something that can be rolled out and transferred to a pan.
So I'm pretty sure that your cookies would not come out like the ones pictured if you use another brand (though I sure hope they would!).
I was SO happy when I found out that Bob's Red Mill now offers cassava flour because I sure love my Bob's Red Mill and I use a lot of cassava flour (it's one of the few flours that my son can have). You should definitely give it a try!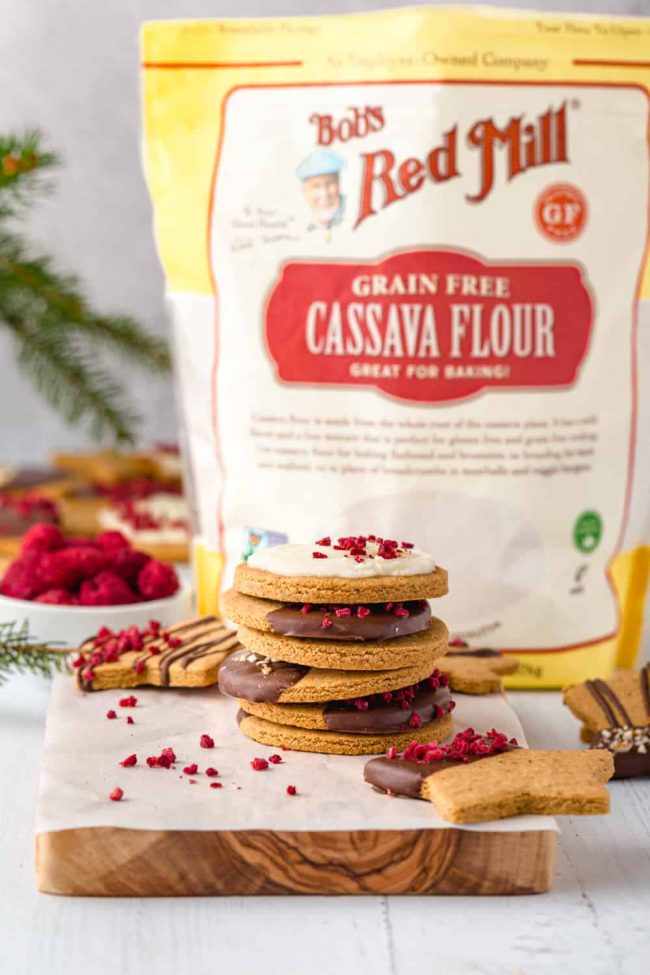 I recommend starting off your cassava flour baking experiments by using recipes that already call for their flour. Here's a bunch! I'm super excited to try these cassava gnocchi that use cauliflower instead of potatoes.
But back to this cookie recipe. Cut-out sugar cookies are not forgiving. You make one little change and then they don't hold their shape when baking.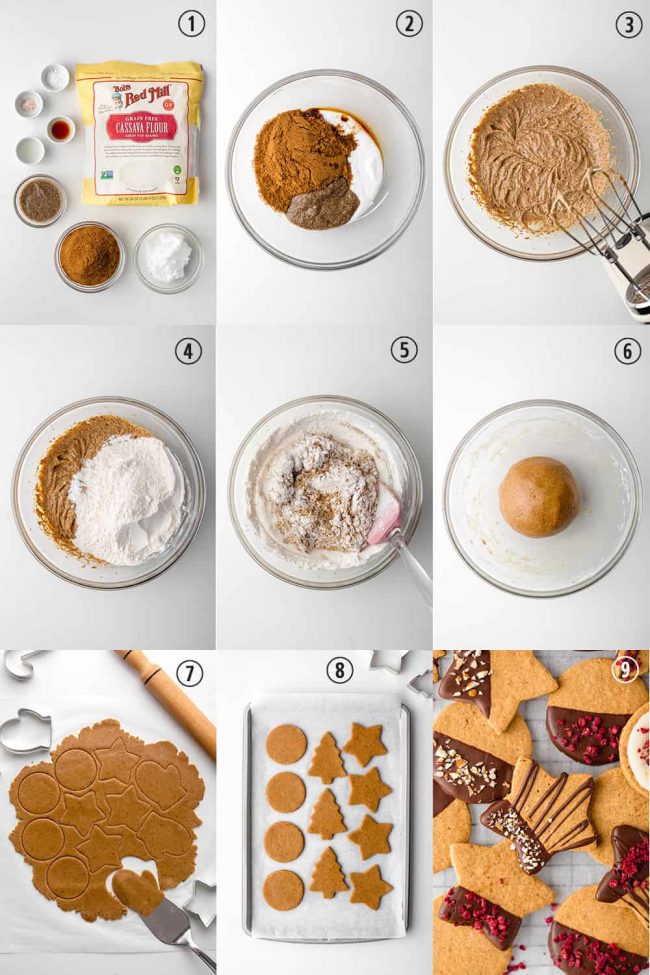 So in lieu of my usual substitutions questions section, I'll just say: no subs. Sorry, but I want your cookies to be successful. ;)
If you give these cassava flour cookies a try, I'd love to hear how they come out! They'd be awesome alongside some of this paleo vegan hot chocolate, which is also AIP-friendly. :)
❀
Cassava Flour Cookies (paleo, vegan, AIP options)
Prep Time:
Cook Time:
Ready in:
Yield:

24 circular small cookies or more / less depending on your cookie cutters
Ingredients
7 1/2 tablespoons (105 grams) coconut oil, room temperature (not melted and not so cold and firm that it's hard to blend) - I used refined so that there's no coconut taste
3/4 cup (150 grams, please weigh it!) coconut sugar, very tightly packed
1 teaspoon vanilla extract (use water for AIP + 1/4 teaspoon ground vanilla bean)
1 teaspoon almond extract (use water for AIP)
1 chia egg (1 tbsp ground chia seeds + 3 tablespoons water mixed together) for vegan, or 1 gelatin egg1 for AIP, or 1 large (50 grams, out of shell) regular egg
3/4 teaspoon baking powder (for paleo / AIP, use 1/2 teaspoon cream of tartar + 1/4 teaspoon baking soda)
1/2 teaspoon salt
2 cups MINUS 2 teaspoons (204 grams - please weigh it!) Bob's Red Mill Cassava Flour
For decorating: melted chocolate (make sure to use paleo / vegan chocolate, if needed) + coconut oil2, chopped nuts, or for AIP - freeze-dried raspberries
Directions
In a large mixing bowl, add the coconut oil, coconut sugar, vanilla extract, almond extract and egg. Beat with an electric hand mixer at low speed until well combined. Move up to medium speed if you can without spraying the mixture everywhere.
Sprinkle the baking powder and salt on top and VERY gently add the cassava flour (which flies everywhere!). Fold it in, very gently, until well combined. If it gets to a point where you can use the mixer on low without it flying everywhere, you can do that. You may need to use your hands to really combine it well. If the gelatin egg version is too dry, add 1/2 teaspoon of water to the dough at a time and combine it. Add more until it's dough-like and doesn't crumble. I had this happen only once in the many times I made them.
Chill for an hour. Preheat the oven to 325 °F (167 °C) and line a baking sheet with a piece of parchment paper. Set aside.
Roll the dough about 1/8" thick (I do this between 2 pieces of parchment paper and had no issue with sticking) and use cookie cutters to cut out shapes. Or you can roll the dough into 21-gram balls (the recipe yields 24) and place on the prepared baking sheet and smash them into shape (about 2" across). They don't really spread much.
Bake for 10-12 minutes. Please keep an eye on them! The baking time will vary depending on how thick they are / if you use a cookie cutter. They'll have browned lightly and evenly but they'll still be soft until they've cooled. Cool completely on the baking sheet. They should still be a bit soft (not totally hard) after they've cooled.
Once cool, dip in chocolate, if desired. I used about 1 1/2 teaspoons per cookie. Sprinkle with nuts / freeze-dried raspberries / whatever you want.
Store in an airtight container for up to a week.
Notes
Only prepare the gelatin egg once the first four ingredients are combined. The gelatin egg gets firm if you let it sit. Put 3 tablespoons of water in a small pot on the stove. Very slowly sprinkle the gelatin over the water while jiggling the pot to keep the water moving. You do not want clumps as they're difficult to dissolve. Do not rush the process! Turn the heat to medium and warm for about a minute, stirring occasionally, or until it's well combined and appears melted.
I recommend using 1 cup melted chocolate mixed with 1 tablespoon coconut oil and then make more if you need it