These gluten-free peanut butter cookies are flourless, super easy, and require just a few ingredients and minutes to make! They're also naturally grain-free and dairy-free. Recipe updated 12/15/20. See the post and recipe for notes!
Better than 3-ingredient peanut butter cookies
You know those 3-ingredient peanut butter cookies that are so popular? The ones with just peanut butter, egg and sugar? I'm not a huge fan.
I suppose the problem could be that I'm not using peanut butter like Skippy or Jif with added fat and sugar, but I've read people saying that you can use natural peanut butter in them, like in this recipe from Food Network, which specifically calls for natural peanut butter.
I tried that recipe but I thought it wasn't the best. Simple is nice, but with a few changes and a few extra ingredients, I think the cookies are hugely improved.
So here we have my take on 3-ingredient peanut butter cookies! I've been playing around with perfecting the recipe for the last half-year and people always ask for the recipe.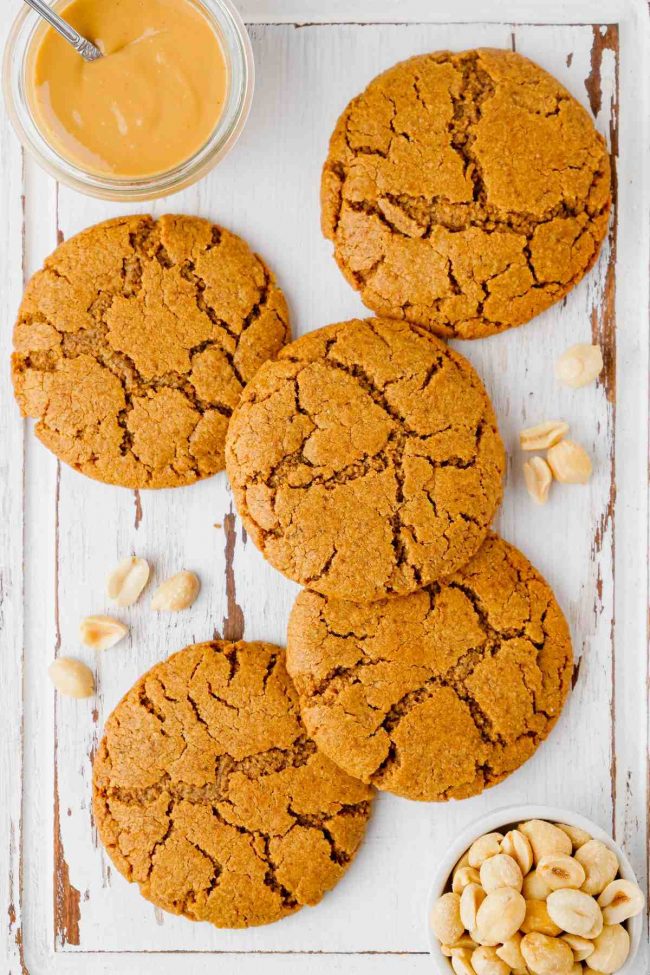 The BEST texture!
They're the peanut butteriest peanut butter cookies I've ever had! And the texture is so perfect.
They're so super chewy. These gluten-free and vegan peanut butter no-bake cookies are also awesome but they taste more like a mix of peanut butter and maple syrup.
This peanut butter fudge is also a mix of peanut butter and maple and so, so good! Would be perfect for Christmas. :)
The original 3-ingredient peanut butter cookies recipe tastes so strongly of sugar (at least in my opinion!) so I reduced the amount of sweetener and used coconut sugar instead of granulated sugar, and added some vanilla and baking soda.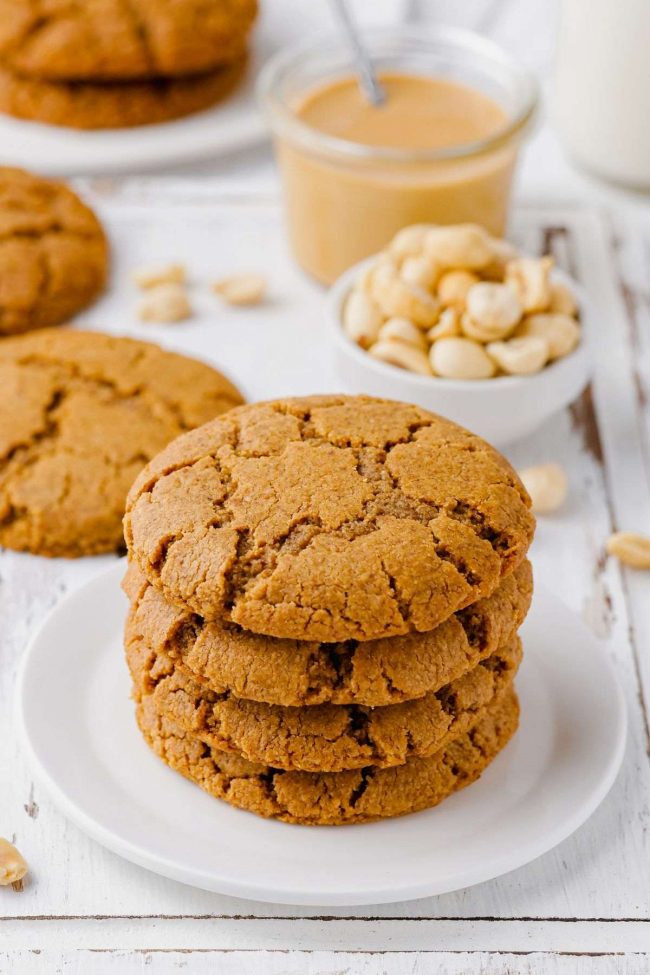 Substitutions
Sugar
I've made these gluten-free peanut butter cookies with brown sugar, but everyone agreed that the slightly caramel-like taste from the coconut sugar added a lot of great flavor to the cookies! With regular brown sugar, they again tasted too much like sugar.
No egg sub
I've tried these gluten-free peanut butter cookies loads of times with chia eggs to make a vegan version and the results were kind of funny.
Or more like sad. I don't recommend trying it. They were a disaster! I do have these vegan peanut butter cookies that I love as much as these.
Nut butter
I also tried these cookies with sunflower seed butter but they didn't work out. Same with almond butter.
Believe me, I tried. About 20 times. They were greasy, flat and spread a ton.
Like I've said before, nut butters aren't always interchangeable! Especially in a recipe like this where there are so few ingredients and every ingredient is important.
If you'd prefer cookies with almond butter, try these almond butter chocolate chip cookies from Lauren Kelly Nutrition! They sound great.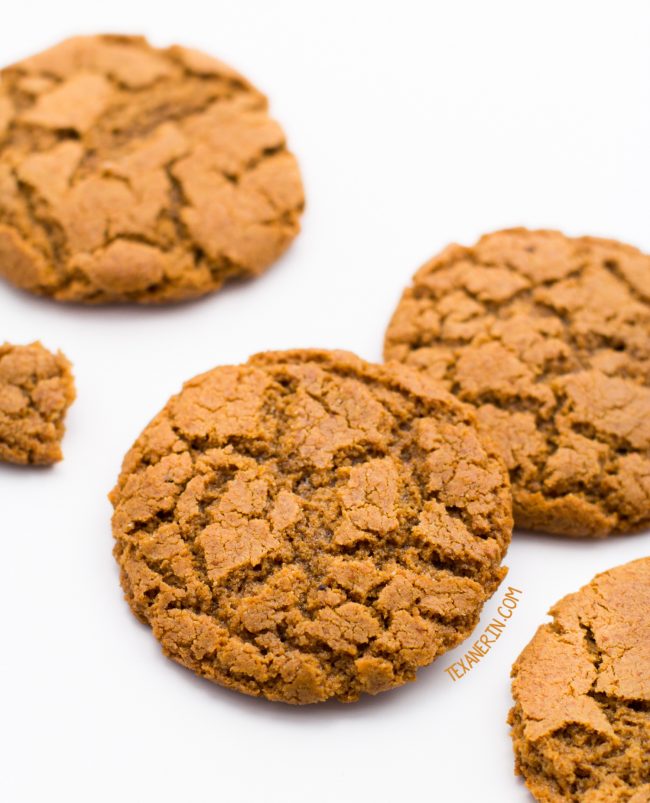 Update
I updated this recipe in December 2020. It previously called for 3/4 cup of peanut butter and it worked great. It had really positive reviews!
But I had been tinkering with the recipe and realized that 1 cup yields in even thicker peanut butter cookies. The above is what the cookies look like with 3/4 cup of peanut butter.
More gluten-free peanut butter desserts
I have a ton of peanut butter recipes and the following are some of my favorites.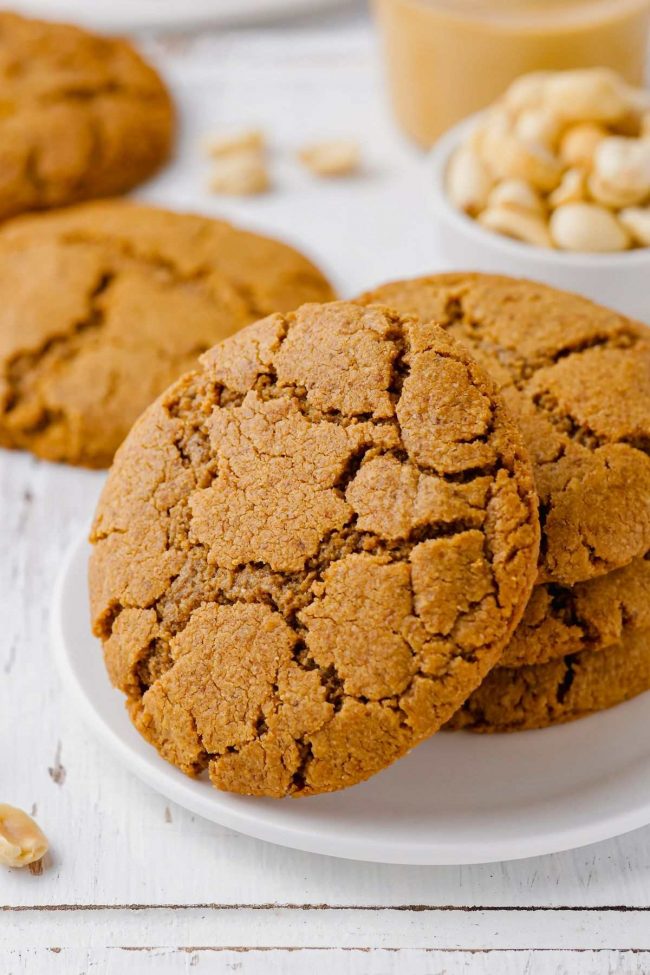 I tend to get the same questions asked over and over again (that I might add are answered in the post ;)) so I thought I'd put the answers all in one easy to read section!
Substitution questions for gluten-free peanut butter cookies:
Do I have to use homemade peanut butter? I've made these cookies with homemade peanut butter made in a Blendtec and homemade peanut butter made in a food processor.

I've also made them with two types of store-bought peanut butters (the only ingredients were salted and roasted peanuts).

They all came out the same.

BUT! Someone I know made these cookies (before I published this post) with store-bought peanut butter (the only ingredient was peanuts).

She did everything correctly, but the dough was greasy and the cookies spread super flat and looked nothing like these pictures. She made them again with homemade peanut butter and they came out exactly as you see here.

So the choice is yours. They'll probably work with store-bought peanut butter, but I can't guarantee it. If you DO make them with store-bought peanut butter, please leave a comment telling us how they came out! Update: Two commenters have used Kirkland (Costco's brand) of natural peanut butter with success!



Can I use another type of nut butter? I've tried these peanut butter cookies with almond butter and sunflower seed butter and they spread totally flat. I don't recommend experimenting unless you're prepared for failure.


Can I make these cookies vegan? A chia egg does not work in these. That's the only sub I've tried.


Can I use another granulated sweetener other than what's listed? I've made these with brown sugar instead of coconut sugar but the cookies then just tasted super sugary rather than peanut buttery. The coconut sugar adds a delicious, caramel-like flavor that's perfect with the peanut butter!


Can I use a liquid sweetener? That unfortunately won't work. You need a granulated one unless you feel like reworking the recipe to accommodate the additional liquid you're adding to the recipe.


How do I make these low-carb? I'm sorry to say that I have no idea! I've never had a good experience with low-carb sweeteners.


❀
Gluten-free Peanut Butter Cookies (grain-free, dairy-free)
Prep Time:
Cook Time:
Ready in:
Yield:

8 cookies
Ingredients
1 cup (256 grams) natural peanut butter (the kind with just peanuts and salt - no added fat or sugar) - see the post for more notes concerning peanut butter
3/4 cup (150 grams) coconut sugar, very tightly packed (it's best to weigh this)
1 1/2 teaspoons vanilla extract
1/4 teaspoon salt (add more if your peanut butter is unsalted)
1/2 teaspoon baking soda
1 large egg (50 grams, out of shell), cold
Directions
Preheat the oven to 350 °F (170 °C) and line a baking sheet with a piece of parchment paper. Position the oven rack to the lower third of the oven.
In a medium mixing bowl, add all the ingredients. Use an electric mixer on low to combine it. At first it will be very thin but after about 30 seconds of mixing, it should be firm enough to roll into balls. The dough may or may not feel oily.
Divide into 8 50-gram balls and place about 4" apart on the prepared cookie sheet. They spread a lot!
Bake immediately (it seems as though letting them sit for a while affects how they bake up). Bake for 11-14 minutes or until they've crackled nicely and no longer appear wet in the middle (I needed 14 minutes but you may need less if you use a dark pan, make smaller cookies, etc.). Let them cool completely on the baking sheet (where they'll continue to bake). If you don't let them cool on the baking sheet, the bottoms of the cookies likely won't be baked enough.
Store in an airtight container for up to 5 days.
Notes
Recipe and photos updated 12/15/20: Previously, the recipe called for 3/4 cup (192 grams) of peanut butter instead of 1 cup. See the post for an old photo so you can see the difference.