These banana pancakes are gluten-free, 100% whole grain and completely sweetened with bananas! Think of them as banana bread in pancake form.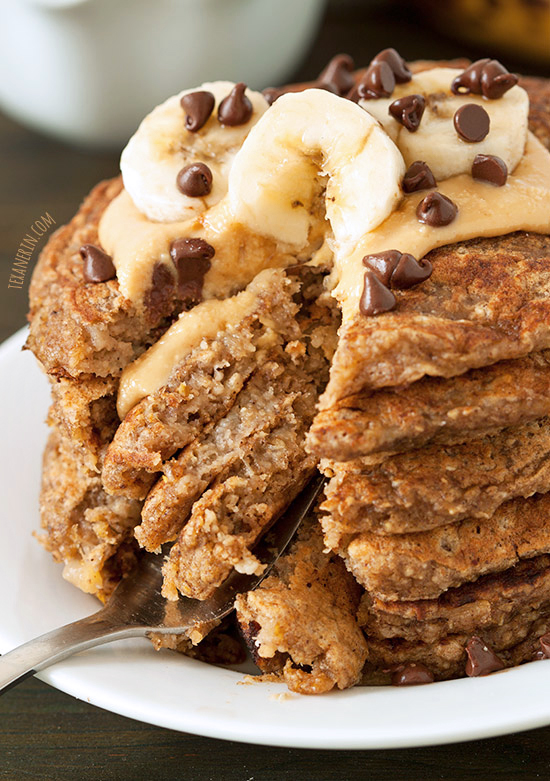 That's right. These banana pancakes have no added sugar, honey, maple syrup… nothing! If you've got some bananas that are about to turn moldy… this is what you want to do with them! These are nice and sweet and maple syrup is totally unnecessary (but it's always nice, isn't it? ;))
I used peanut butter and chocolate chips to top mine off but honestly, that was just to make them pretty.
And like always, my pancakes don't use any funky (or funky according to me) gluten-free flours. Just oat flour. Which is just ground up oats. If I could pick something made with whole wheat or whole spelt or oat flour, I'd pick oat flour. Every time. Things just taste less healthy with oat flour!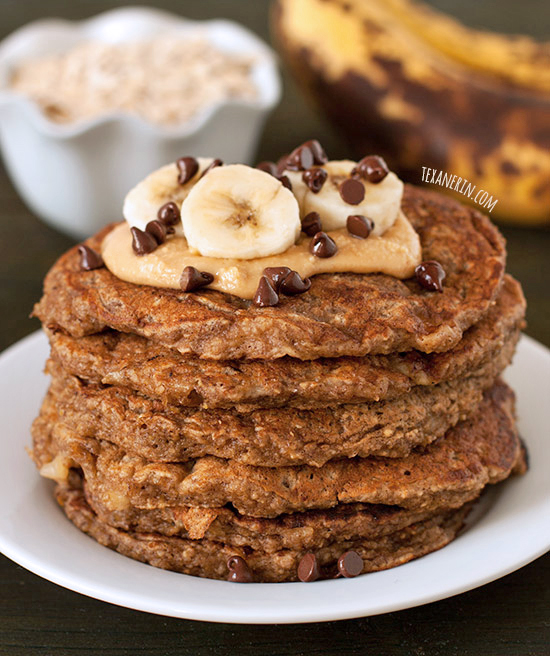 I'm pretty picky with my pancakes. I don't like bready ones. Especially whole grain bready ones. So fear not, these aren't your usual cardboardy whole grain pancakes! They're soft and slightly moist.
One thing I noticed is that these banana pancakes are pretty difficult to flip in a cast iron skillet. They weren't sticking; they just fell apart when I tried to flip them over. As soon as I switched to a regular non-stick pan, this wasn't an issue.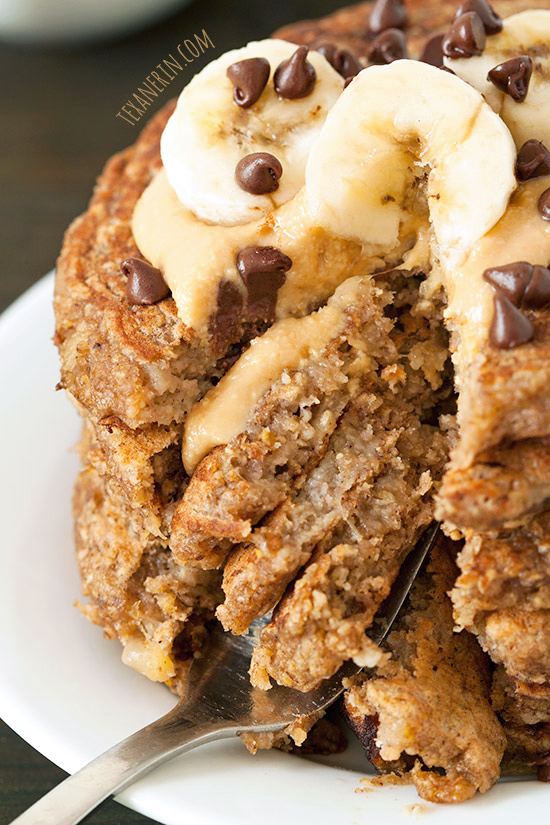 I know that a lot of kids are going back to school this week and next, and what better to prepare them for the day than with some healthy banana pancakes? They've got to get their potassium, after all! ;) These pancakes would go over well in the lunchbox as they're delicious both cold and reheated. They don't have to know that their dessert is lacking in the added sugar department!
Speaking of back-to-school, I have an amazing back-to-school themed post planned for Monday so be sure to check back! And the entire week will be lunchbox themed. Even if you don't have kids, I think you'll like it. :)
❀
Banana Pancakes (gluten-free, 100% whole grain, dairy-free)
Prep Time:
Cook Time:
Ready in:
Yield:

8-9 medium pancakes
Ingredients
3 small or 2 medium overly ripe bananas (270 grams / 9.5 ounces total, without the peel), mashed
2 tablespoons coconut oil or butter, melted
2 teaspoons lemon juice
2 teaspoons vanilla
2 eggs
1/2 teaspoon baking soda
1/2 teaspoon salt
1 teaspoon ground cinnamon
1/4 teaspoon ground nutmeg
Directions
In a large bowl, combine the wet ingredients (bananas through eggs) and stir until well combined.
In a medium bowl, mix together the remaining ingredients.
Pour the dry ingredients over the wet and stir just until combined. There might still be some lumps.
Let the mixture sit for 10 minutes.
Meanwhile, heat a non-stick pan over medium-low heat. Spray it lightly with cooking spray or lightly butter it.
Pour 1/4 cups of batter onto the pan and cook for 3-4 minutes until bubbles start to form around the edges of the pancake.
Flip it and cook for another 90 seconds or until golden brown on the bottom.
Continue with the remaining batter and serve the pancakes immediately.
Cover and refrigerate any leftovers for up to 4 days.
Notes
To make your own oat flour, grind quick or rolled oats in a coffee grinder or food processor until it resembles flour.
Adapted from King Arthur Flour Whole Grain Baking, as seen on Banana Oat Pancakes – Cookie + Kate