Chocolate cherry smoothie made with yogurt, banana, cocoa powder and tart frozen cherries! Vegan and dairy-free option and naturally gluten-free. Thanks to Born Sweet Zing™ Organic Stevia Sweetener – Zero Calories for making today's post possible!
I've been obsessed with all things tart cherry for a while. I eat dried tart cherries by the handful (I bought a 10-pound bag because it was such a good deal :D) and I recently found frozen tart cherries at a nearby shop. It was a SUPER exciting day!
With warmer months ahead, I thought this refreshing chocolate cherry smoothie would be in order. We were surprised by how refreshing it was. I don't normally have that association with chocolate drinks. Like, I love my chocolate avocado smoothie, but it's pretty heavy and filling, similar to pudding.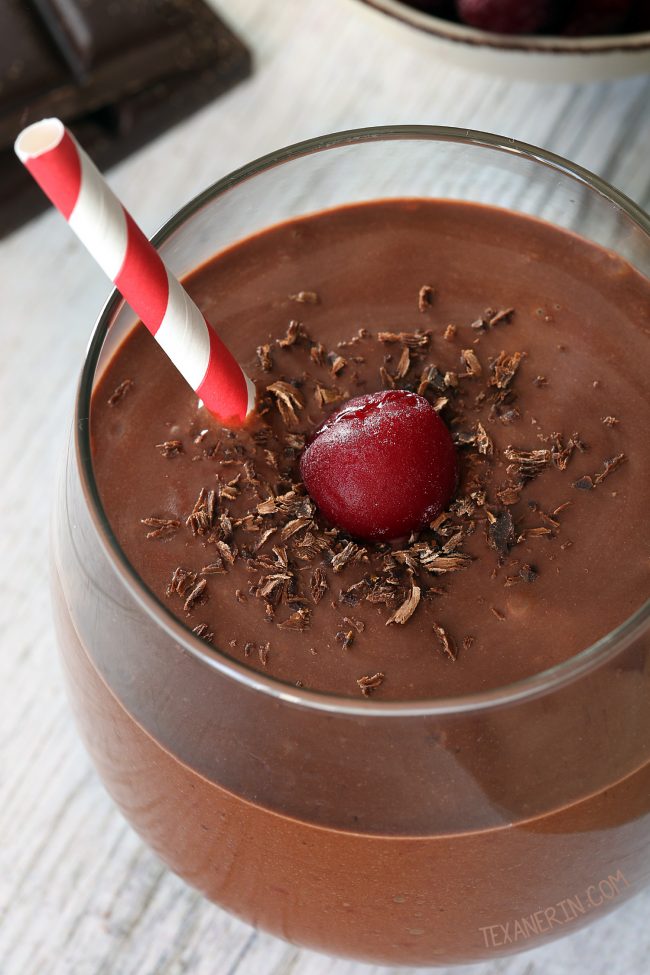 You can use coconut milk yogurt, which is what I used, for a vegan version, or unsweetened Greek yogurt or regular unsweetened yogurt for a version with dairy.
With the cocoa powder, tart cherries and unsweetened coconut milk yogurt, the smoothie was a little lacking in the sweetness department.
In this smoothie, I used 1 packet of Born Sweet Zing™ Organic Stevia Sweetener – Zero Calorie, which is equivalent to the sweetness in 2 teaspoons of sugar. It was just enough!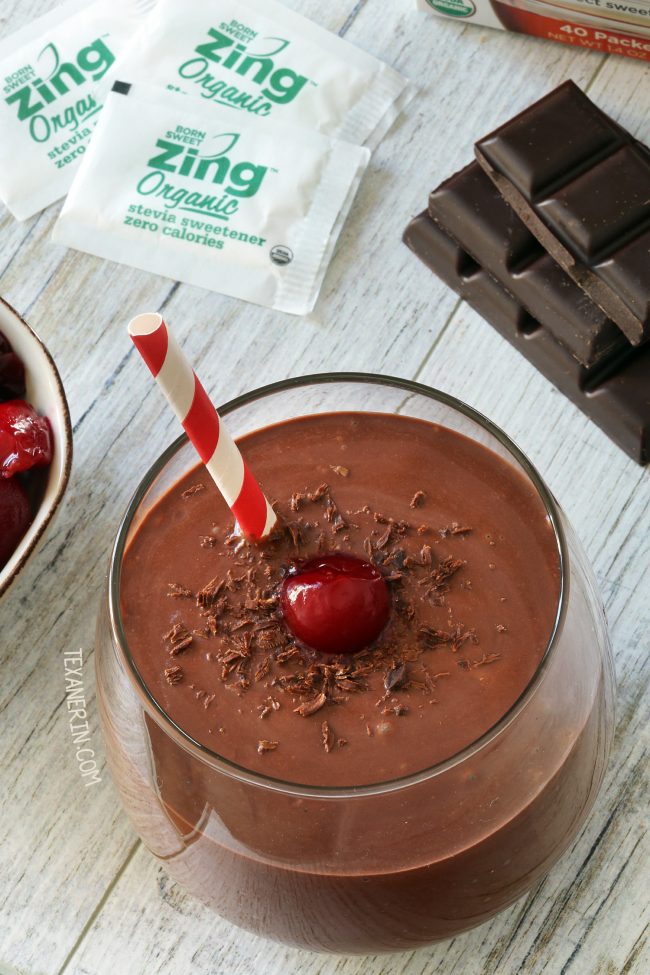 It's certified organic with a delicious, clean sweet taste that's perfect for sprinkling into your coffee, tea or over fruit – or you can try it in homemade smoothies, like this chocolate cherry smoothie.
You can find it in 40-count or 80-count carton of single-serve packets, which makes it perfect for bringing with you on-the-go. Check out their giveaway and get a complimentary sample just for entering!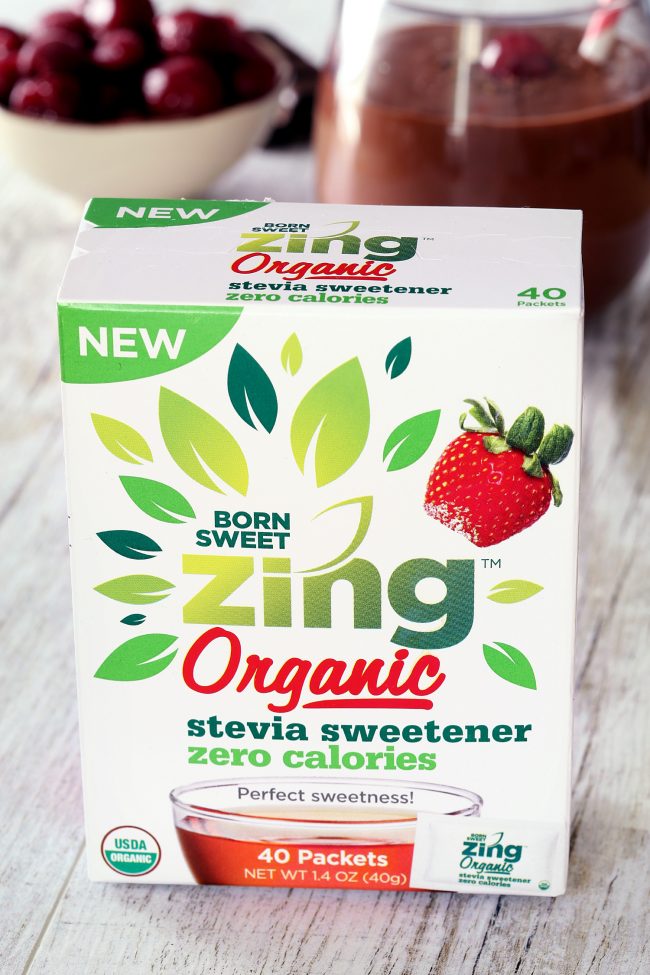 For another chocolate + cherry treat, try my cherry brownies! They can be made gluten-free or with whole wheat.
This is a sponsored conversation written by me on behalf of Born Sweet™ Zing Organic Stevia Sweetener. The opinions and text are all mine.
❀
Chocolate Cherry Smoothie (vegan option, gluten-free, grain-free)
Prep Time:
Cook Time:
Ready in:
Yield:

1 smoothie
Ingredients
1/2 cup (120 grams) yogurt (I used coconut milk yogurt for a vegan and dairy-free version)
1/4 cup (35 grams) pitted tart cherries (I used frozen)
2-3 tablespoons cocoa powder1
1 small or medium banana (mine was 147 grams with the peel and 95 grams without the peel)
1 packet Born Sweet Zing
1/2 teaspoon vanilla extract
pinch of salt (this enhances the chocolate flavor!)
Directions
Blend everything (start off with 2 tablespoons cocoa powder) together in a blender until smooth. Add more cocoa powder, if desired. Serve.
Notes
How much cocoa you use will depend on exactly which cocoa powder you use and how dark you like your chocolate. I used raw cacao powder and 2 tablespoons + 2 teaspoons cacao was perfect for me. If you use Dutch-process cocoa powder, you may need less. Also note that if you use Dutch-process, your smoothie will be a much darker brown, more like the color of dark chocolate, and not reddish like mine.