These spiderweb brownies are super fudgy when refrigerated, gooey at room temperature, and topped off with chocolate ganache and white chocolate spiderwebs. They can be made traditionally with all-purpose or whole wheat flour, but there are also several well-tested gluten-free options. They're also easy to make dairy-free, if desired.
This year, I'm going all out for Halloween. My kid has spent most of his Halloweens in Covid quarters without much fun. But not this year!
I'm starting my planning early and will have loads of Halloween recipes ready to share soon(ish).
I know I'm about three months too early with this recipe, but I'm already so excited about Halloween that I just had to share these brownies.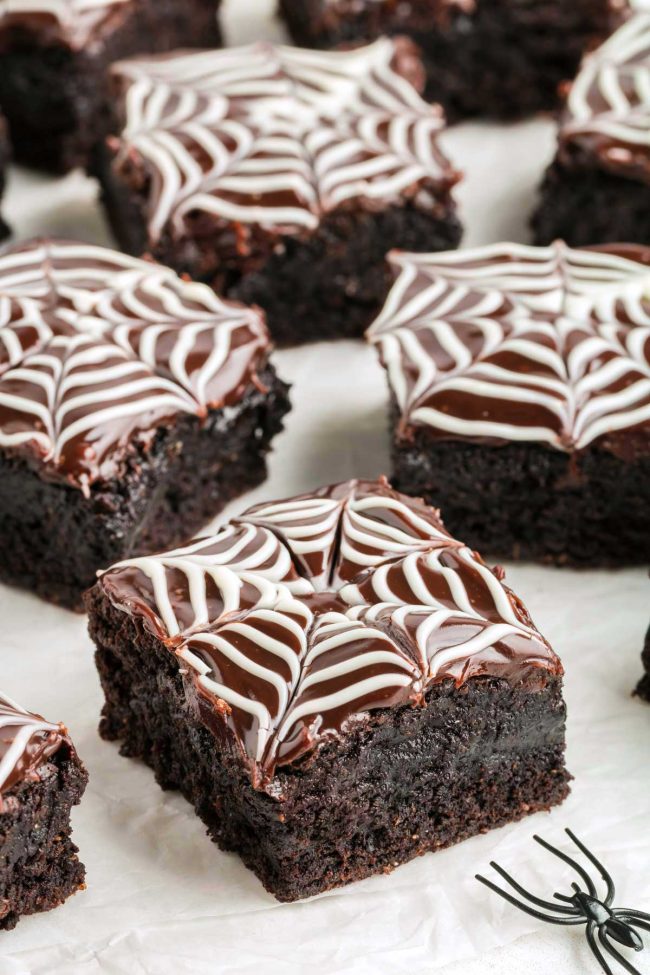 I just got done working on a three-layer Halloween cake that I'll be posting in a few months. It really put me in the Halloween mood. When I should be falling asleep, I'm just thinking up new Halloween recipes. :D
So let's get started with these brownies! Just in case there are a few of you out there who are also over this hot weather and dreaming of chilly, spooky days.
They were adapted from my Gluten-free Brownies. They use cocoa powder rather than melted chocolate in the batter and couldn't be any easier to make. I think that they look like they require some decorating skills, but they really don't.
And this is coming from someone who isn't good at decorating sweets.
Another reason to love them: they don't require any food coloring! So many Halloween desserts use all kinds of artificial stuff. The only processed ingredient in these brownies is chocolate. But I can live with that.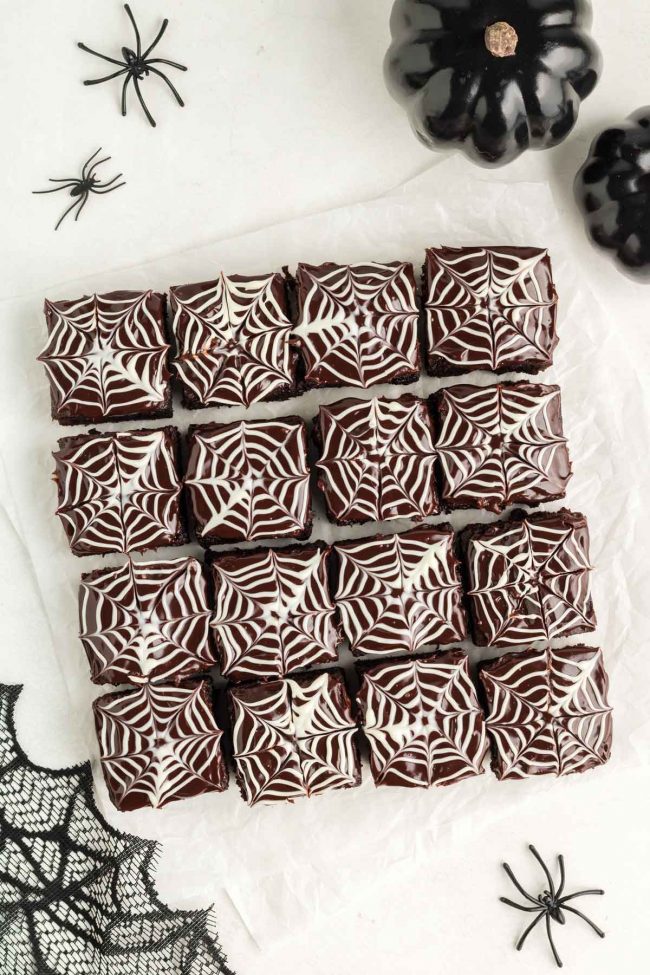 Ingredients
I talk about each ingredient in the sections below, but here's an overview of what you need.
For the brownies
Flour – I've tested this recipe with 8 types of flour. Read below for more on that.


Cocoa powder – I like Dutch-process, but you can use regular natural cocoa like Hershey's.


Oil or butter – I always use refined coconut oil, but you can use a liquid oil like canola or vegetable oil. If you're wondering about using olive oil, check out my Olive Oil Brownies. Butter also works.


Granulated sugar or coconut sugar – keto and liquid sweeteners don't work here.


Eggs – no subs possible for this recipe.
For the decoration
Semi-sweet chocolate – you can use chocolate chips or chopped chocolate. You can use dark chocolate if you prefer, but I wouldn't use milk chocolate as it'd be too sweet in combination with the brownies.


Heavy cream – you can also use light whipping cream. For dairy-free, use canned full-fat coconut milk.


White chocolate – if you're dairy-free, make sure to use dairy-free white chocolate! Enjoy Life makes dairy-free white chocolate chips, and they're super yummy. Your semi-sweet chocolate should also be dairy-free, but that's pretty easy to find.
Different flour options
You've got so many choices with this recipe.
Traditional options
All-purpose flour
Whole spelt flour
White whole wheat flour
Regular whole wheat flour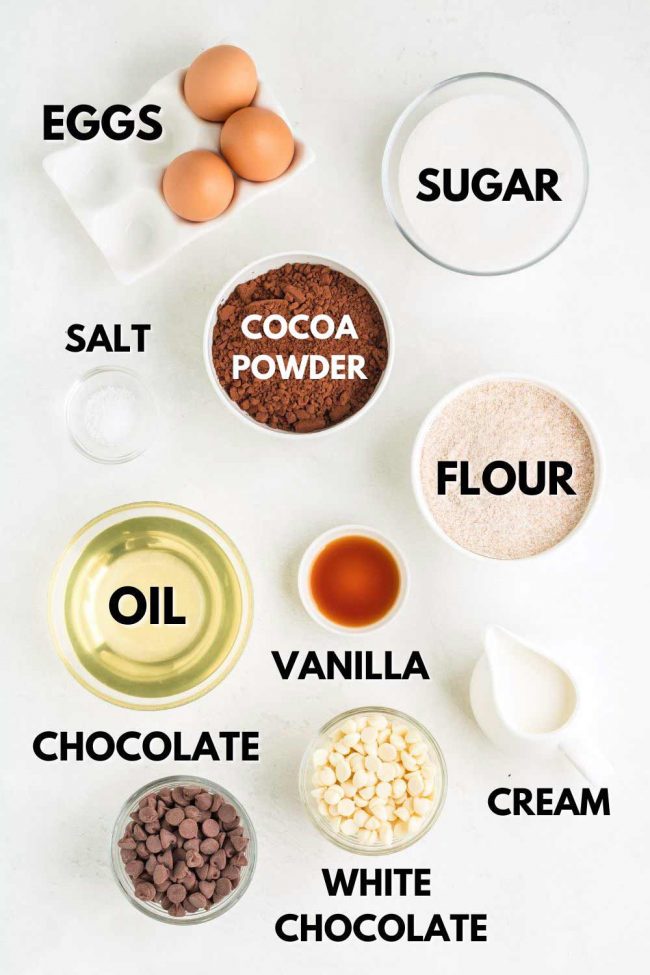 Gluten-free flour options
A gluten-free flour blend that's a 1:1 sub for all-purpose flour – Bob's Red Mill Gluten-free 1-to-1 Baking Flour and King Arthur Flour Measure for Measure Gluten-free Flour both work great. Commenters have said that Pillsbury, Namaste and several other brands have worked great for the brownie base.


Teff flour – teff comes in different varieties, from white to ivory to dark. The dark variety is earthier and tastes a lot like buckwheat.

I've used both white and dark teff flour, and I don't think you can detect any difference in these brownies. The Dutch-process cocoa powder does a great job of hiding that earthy/healthy flavor!


Light buckwheat flour – this is what I always use. I live in Germany and buy the baking blends from Bob's and King Arthur Arthur from the US. So I save them for recipes where that light type of flour is really the only option, like this Christmas Tree Cake and this Matcha Cake. Buckwheat flour is easy to find, cheap and is great in these brownies. Just as tasty as the other options.

I've also use dark buckwheat flour, but that adds a bit of grittiness that I don't like. That's why I'm recommending light buckwheat flour.
If you taste the gluten-free brownies while warm, the buckwheat and teff versions might have a bit of a weird texture, but once they cool, they're perfect.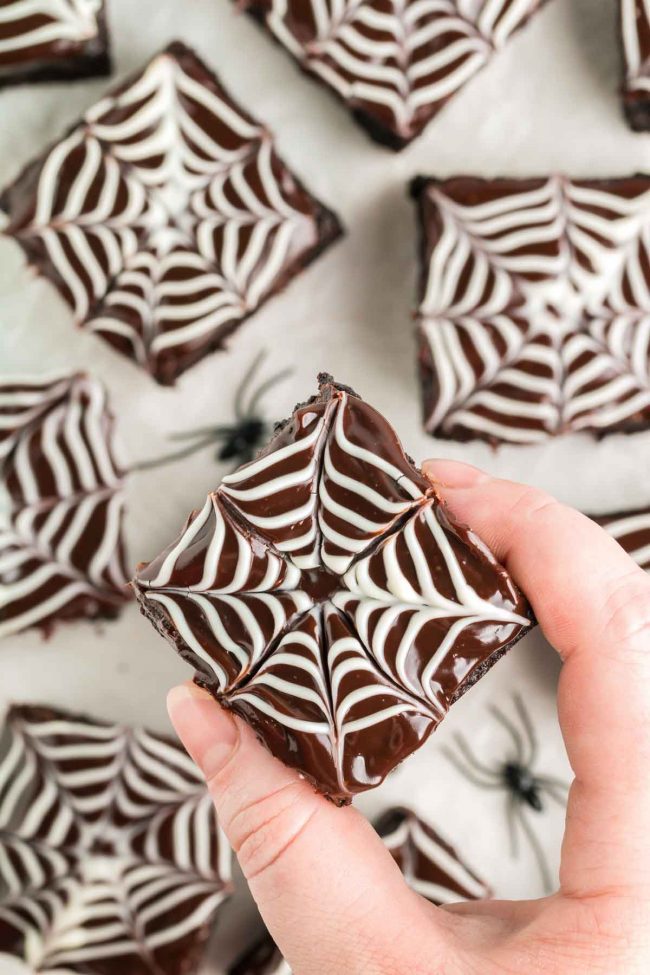 How to make these spiderweb brownies
It's a basic brownie recipe. You just mix the dry ingredients together in one bowl, the wet in another, and then fold in the dry mixture to the wet.
The only way to really mess up is if you overmix or overbake them.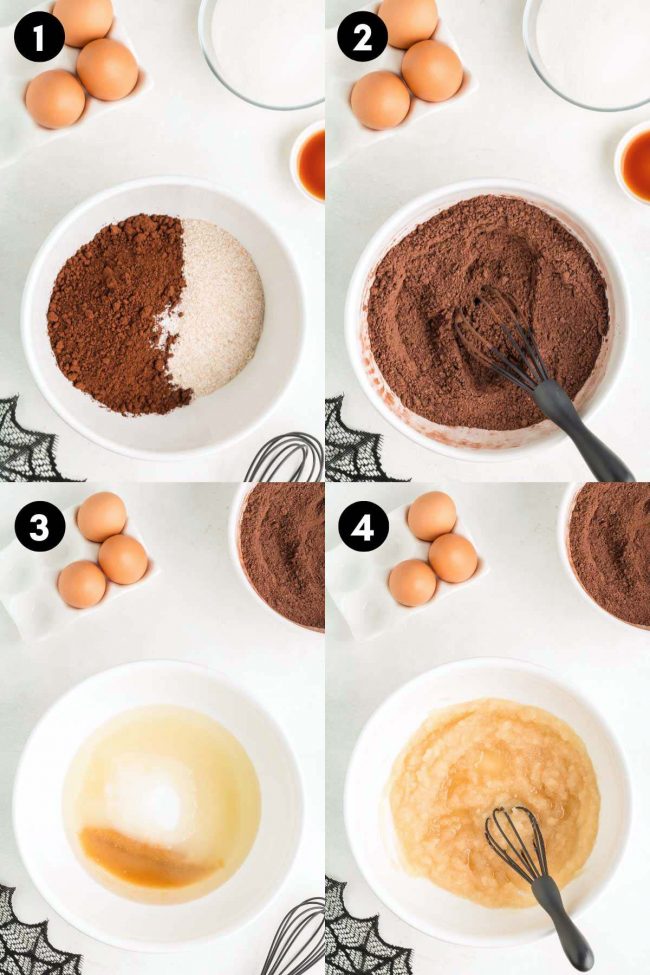 If you've never baked brownies before, please note that brownies don't look like cake when they're done. They're still going to be SUPER gooey and wet! They shouldn't look like totally liquid batter, though.
A few commenters have said that they bake the brownies much longer than recommended. I've made these brownies over 50x since posting them. The baking time is correct.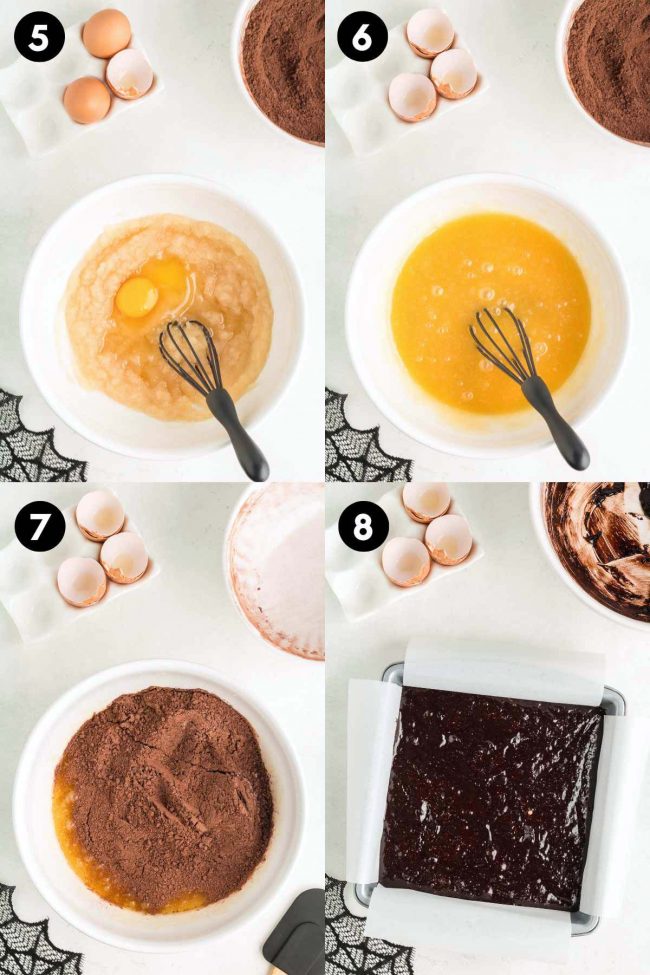 If you bake them much longer than recommended, they'll be cakey. If you do bake them much longer than recommended, and they're not dry, then I would highly recommended using an oven thermometer to check your oven's temperature.
Also be sure to let the brownies cool completely before you cut into them! They're easiest to cut neatly once they've chilled in the fridge.
If you just want to eat them from the pan, that's understandable. Just wait a few minutes so you don't burn yourself. :)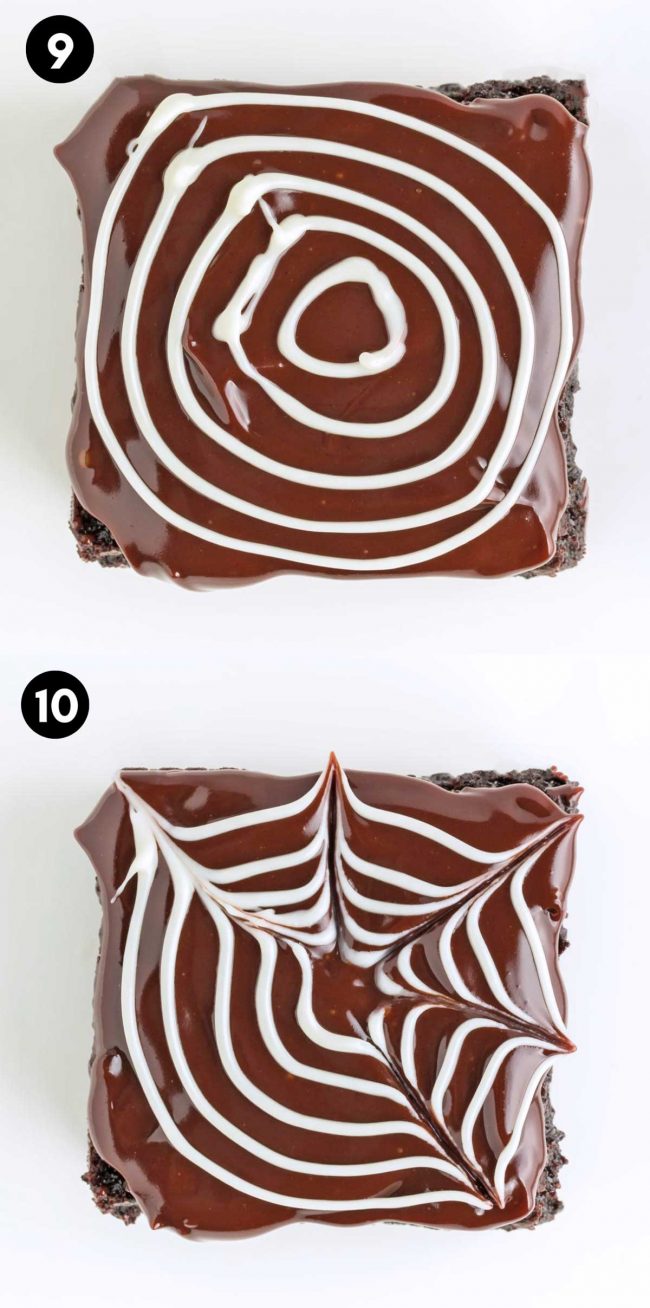 The photo labeled as Step 9 above is actually incorrect. While you can make concentric circles, like you see above, I think it's much easier to make a spiral.
Then you don't have to keep picking up the piping bag and moving it, risking making a mess.
Questions?
Do I have to use Dutch-process cocoa powder?
No, but the brownies might not be as chocolaty as you would like. They may turn out cakey. I know some have used regular cocoa powder, and to my knowledge, no one has complained. I'm guessing it was fine, but I haven't tried it.
Do they taste like coconut if I use coconut oil?
Not if you use refined coconut oil. They'll taste 100% normal.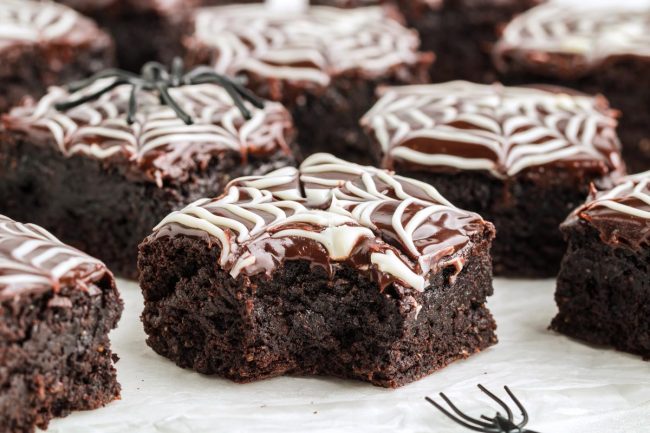 Do they taste like olive oil if I use olive oil?
I've used extra-virgin olive oil, and you can definitely taste it. I recommend a lighter-tasting olive oil with a more neutral taste.
Can I use something instead of coconut sugar or granulated sugar?
Subbing a liquid sweetener for a granulated one won't work. There's no liquid to reduce to make up for adding liquid, so the brownies would either be cakey or a liquidy mess.
Can I reduce the sugar?
The less sugar you add, the cakier and less gooey the brownies will be. They will more than likely fall apart as sugar is a binder.
I had one commenter say they reduced the sugar to almost nothing, and they were still gooey. But that's not possible. I guess our definitions of gooey are different.
You might be able to knock off 1/4 cup of sugar, but don't be surprised if they look different than the pictures.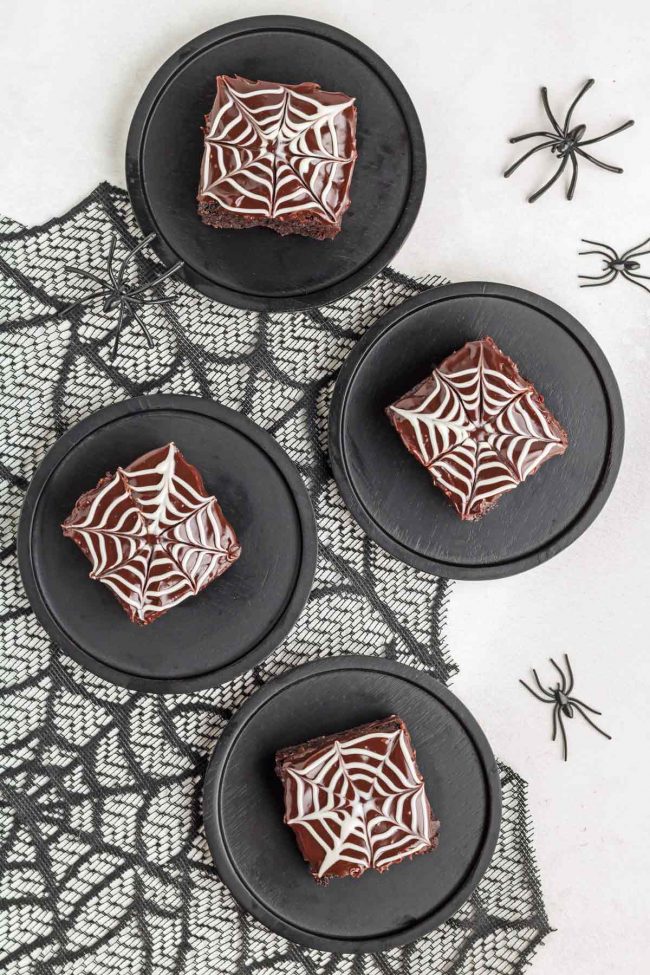 What can I use instead of eggs?
I've tried egg replacers so many times in this recipe and failed. These Paleo Vegan Brownies are my egg-free adaptation of this recipe. They use almond flour, and you definitely can't tell that they're vegan.
Can I double this recipe?
Yes! You can use a 9″x13″ pan. The baking time is just a bit longer than the single recipe. Just keep a close eye on them.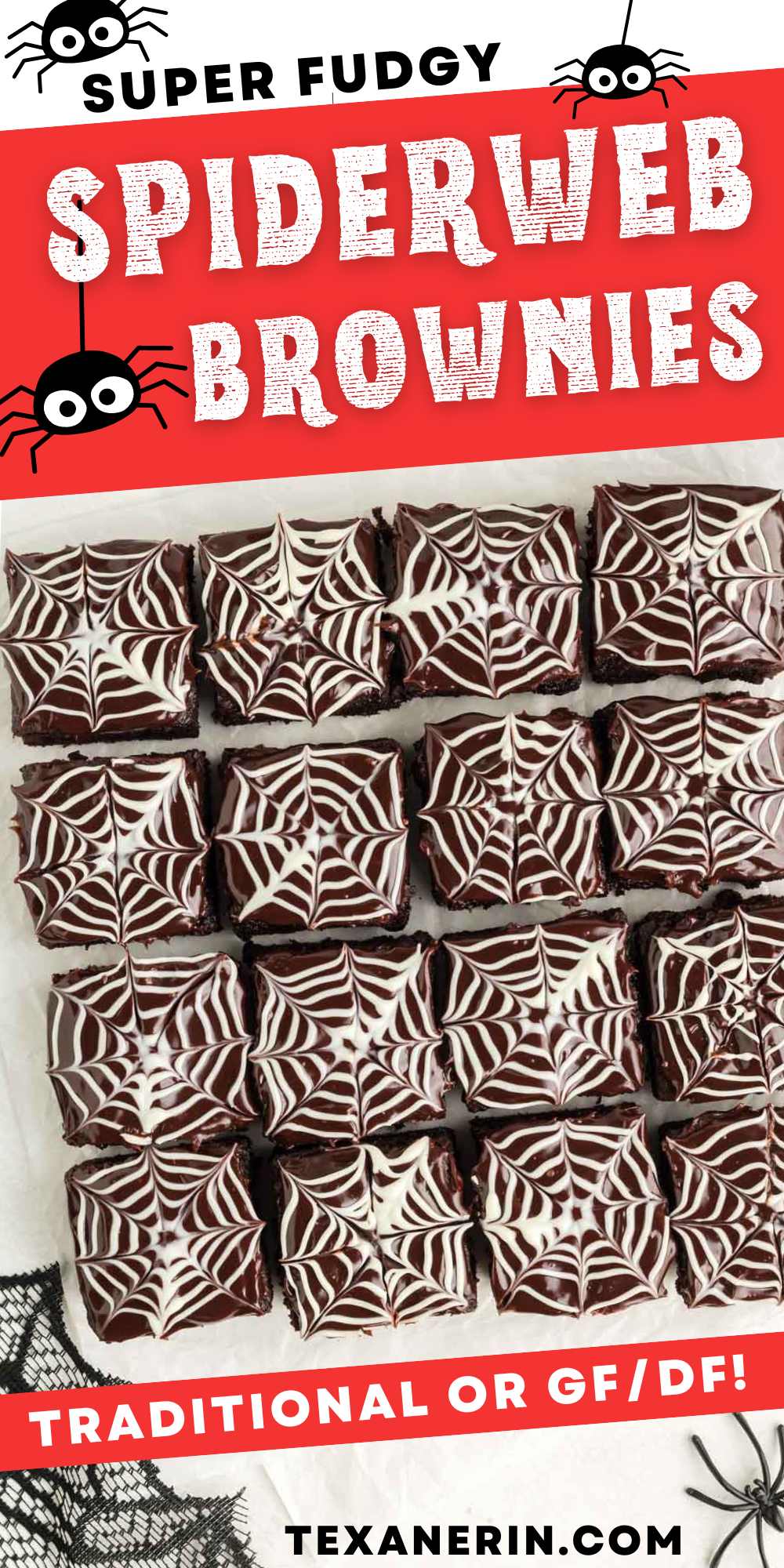 Healthier Halloween treats
I hope you'll enjoy these spiderweb brownies! Please let me know in the comments if you try them out. Thanks! :)
❀
Spiderweb Brownies
Prep Time:
Cook Time:
Ready in:
Yield:

16 brownies
Ingredients
Brownies:

1 cup (125 grams) all-purpose flour, whole wheat flour or for gluten-free, see the notes1
3/4 cup (86 grams) Dutch-process cocoa powder
1/4 teaspoon salt
3/4 cup + 2 tablespoons (196 grams) refined coconut oil or butter, melted and cooled slightly
1 1/2 cups (300 grams) granulated sugar or coconut sugar
1 tablespoon vanilla extract
3 large eggs (50 grams each, out of shell), room temperature

Topping (see notes for dairy-free)2:

1 cup (170 grams) semi-sweet chocolate chips or chopped chocolate
1/2 cup (120 ml) heavy cream, whipping cream or full-fat canned coconut milk
1/2 cup (85 grams) white chocolate chips or chopped white chocolate
Directions
Brownies:

Preheat the oven to 350 °F (175 °C) and line an 8"×8" (20cmx20cm) pan with parchment paper.
In a medium mixing bowl, stir together the flour, cocoa powder, and salt. Set aside.
In a large mixing bowl, stir together the melted coconut oil or butter, sugar, and vanilla extract. Once combined, add the eggs one at a time, and stir just until combined.
Add the dry mixture to the wet and stir just until almost no streaks of flour remain. Do not overmix!
Bake for 15-20 minutes. A toothpick inserted into the center will come out wet. A toothpick inserted into the sides will come out with some moist crumbs on it, but not totally raw batter. The brownies will continue to bake as they sit in the pan and will firm up as they cool.
Let cool completely, about 1 hour at room temperature and then chill for another hour. Cut into 16 brownies.

Decoration:

Make the ganache. Put the chopped chocolate in a heatproof bowl. Place the heavy cream in a small saucepan over medium heat. Heat until it's hot and steamy but not bubbly. Do not let it boil!
Pour the hot cream over the chocolate. Let it sit for 10 minutes. Do not cover. After 10 minutes, stir until the chocolate is smooth.
Meanwhile, melt the white chocolate in a microwave-safe bowl at half power in 30 second increments, stirring after every 30 seconds. Or melt in a small saucepan over low heat.
You have to decorate the brownies one by one. Spread the semi-sweet chocolate on a brownie or dip the brownie into the chocolate.
Transfer the melted white chocolate to a piping bag fitted with Wilton Tip 2 or something similar. Starting from the center and working towards the edge of the brownie, pipe the white chocolate over the glaze in a spiral.
Use a toothpick to drag the white chocolate from the center of the spiral to the edge of the brownie. Do this multiple times in order to create a spiderweb.
Clean the tip of the toothpick between each brownie.
Let the chocolate firm up, cover, and refrigerate for up to 5 days. They freeze great for up to 3 months.
Notes
If you're gluten-free, use one of the following flours. You can use 1 cup (158 grams) teff flour or 1 cup (125 grams) light buckwheat flour that's labeled as gluten-free or 1 cup (138 grams) Bob's Red Mill Gluten-Free 1-to-1 Baking Flour or 1 cup (125 grams) King Arthur Flour Gluten-free Measure for Measure Flour. I've had dozens of commenters use other gluten-free baking blends that are meant as a 1:1 sub for all-purpose flour, and they all seem to work.
If dairy-free, make sure to use oil and not butter in the brownies and dairy-free chocolate. Enjoy Life makes dairy-free white chocolate and dairy-free semi-sweet chocolate is pretty easy to find. Also use canned full-fat coconut milk in place of the heavy cream.