These chocolate hazelnut fudge bites are raw and naturally grain-free and gluten-free with paleo, vegan and dairy-free options! Can be put together in less than 5 minutes.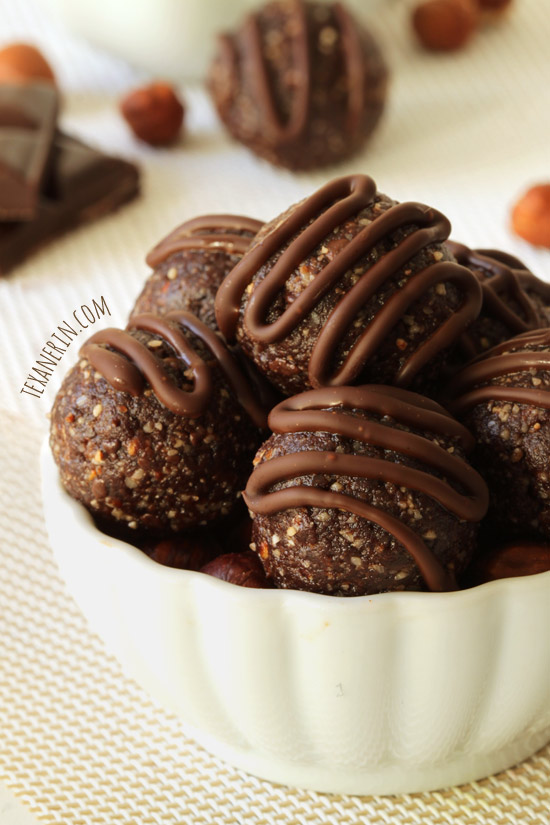 I had no idea what to call these things! Chocolate hazelnut was clear. But brownie bites? Fudge bites. Brownie balls. I dunno.
I wanted to make something healthier for Valentine's Day but I don't really do the pink food coloring thing. That leaves heart-shaped brownies and chocolate stuff, right? ;)
Unlike the usual "brownie bites," these don't taste healthy (although, they don't actually taste like fudge or brownies!) That's because I added a little chocolate. I've tried adding more cocoa powder and coconut sugar or honey but it's just not the same.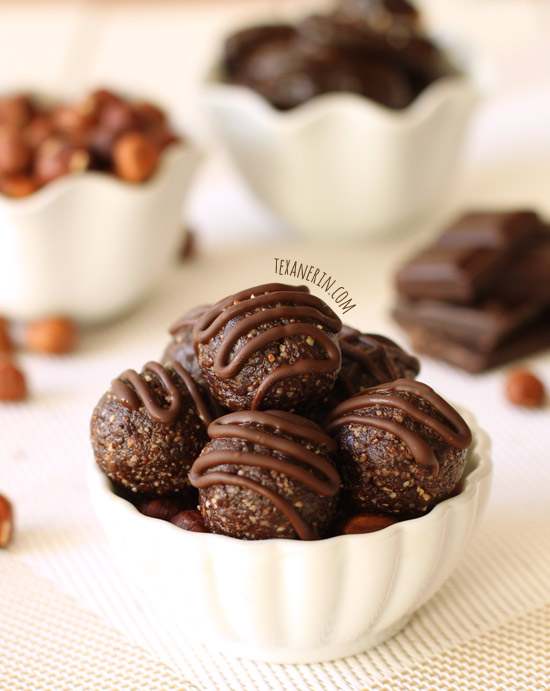 These are mostly date sweetened but I also used a tiny bit of honey here but you could also use agave for a vegan version. I used honey and not coconut sugar because I needed something sticky to help hold everything together. And it worked out just fine!
All you do for these is blend everything together in a food processor and then roll into balls. It's super quick and easy!
For whatever reason, I can buy roasted blanched chopped hazelnuts at every store for the same price as whole hazelnuts. This makes life so much easier! Roasting hazelnuts and removing the skin is SO time consuming, messy and just plain annoying.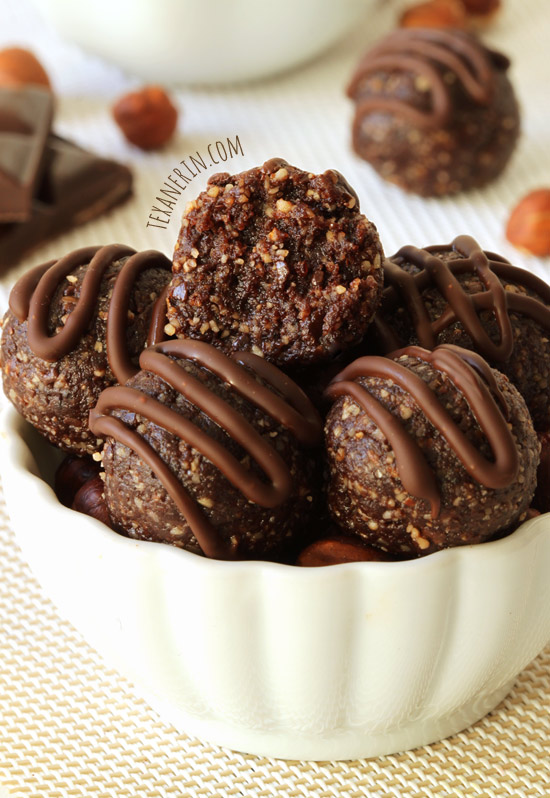 After doing some research, it seems like hazelnuts are pretty expensive in the US. And blanched are ridiculously expensive! If you love baking with hazelnuts like me, you might want to check out Amazon where you can buy them in bulk and save a little money. Or you can use almonds in place of the hazelnuts!
I've tried different methods for blanching hazelnuts, but this is the least annoying: how to peel hazelnuts.
And despite these chocolate hazelnut fudge bites being dairy-free, grain-free, gluten-free and vegan… they're pretty awesome. I'm telling you, the added chocolate makes all the difference!
Don't forget to enter the Berlin goodies giveaway! Plus there are some pretty mindblowing raspberry cheesecake brownies in that post. :)
❀
Chocolate Hazelnut Fudge Bites (paleo, vegan, gluten-free, grain-free, dairy-free)
Prep Time:
Cook Time:
Ready in:
Yield:

36 3/4" balls
Ingredients
1 1/2 cups (230 grams) blanched hazelnuts
100 grams dates (this is about 16 normal-sized dates)
2 teaspoons honey (or agave for a vegan version)
2 tablespoons cocoa powder
1/4 cup (45 grams) semi-sweet chocolate chips (use Enjoy Life chocolate chips for dairy-free / vegan / paleo)
2 teaspoons vanilla extract

For piping:

1/3 cup (60 grams) semi-sweet chocolate chips, melted
Directions
In the bowl of your food processor fitted with an S-blade, grind the hazelnuts until they resemble flour. If you blend too long, it'll turn into hazelnut butter.
Remove the hazelnuts from the food processor and set aside.
Add the dates to the food processor and pulse until a paste forms.
Add the remaining ingredients (except for the piping chocolate) and pulse until fully combined and then add the pulsed hazelnuts. Pulse a few times until well combined.
Press the dough into 3/4" balls (or whatever size you like). They will appear to be greasy at first but once they're formed, they won't taste or feel at all greasy.
Pipe or drizzle on some semi-sweet or dark chocolate, if desired.
Place the balls in an airtight container and store in the refrigerator for up to a week. Freeze any leftovers after that.
The post is linked to Allergy Free Wednesdays.
As an Amazon Associate, I earn from qualifying purchases. For more info, see my disclosure.