These olive oil brownies are super gooey and especially easy to make. You can make them with all-purpose, whole wheat or with several different gluten-free flours, and because they use olive oil, they're naturally dairy-free.
I based this recipe on my Gluten-free Brownies. I always keep a stash in my freezer as they freeze great, and they're my go-to for bake sales, parties, etc. Absolutely everyone loves them.
The only change I made for today's recipe was to specifically use olive oil instead of coconut oil or butter. Everyone I make these brownies for asks for the recipe, and one person asked if they could use olive oil and if you'd be able to taste it.
I wasn't sure of the answer, so I tried it out. This recipe is definitely for oil oil lovers!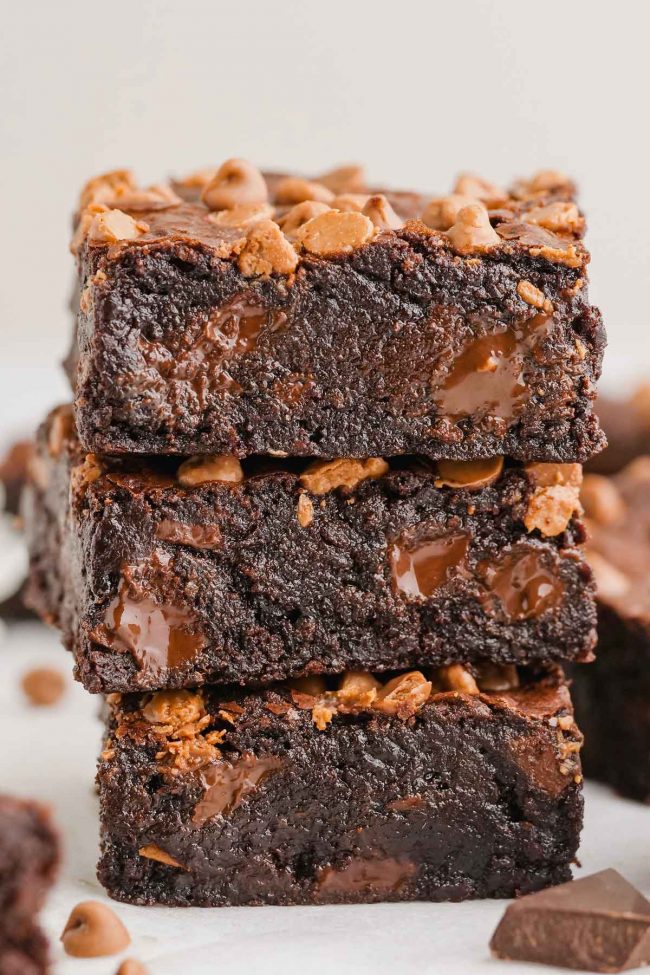 Ingredients
Flour — more details below.


Dutch-process cocoa powder — makes these brownies extra chocolaty, but Hershey's Special Dark cocoa powder would also work.


Olive oil — or a neutral oil if you don't want olive oil flavor.


Sweetener — you can use granulated sugar, raw sugar or coconut sugar.


Vanilla extract & salt — for more flavor enhancement.


Eggs — no sub for these in this recipe.


Semi-sweet chocolate chips — you can omit them if you wish. We don't have chocolate chips here, and I'm usually in too much of a hurry to chop chocolate. So I usually leave them out, and they're still great.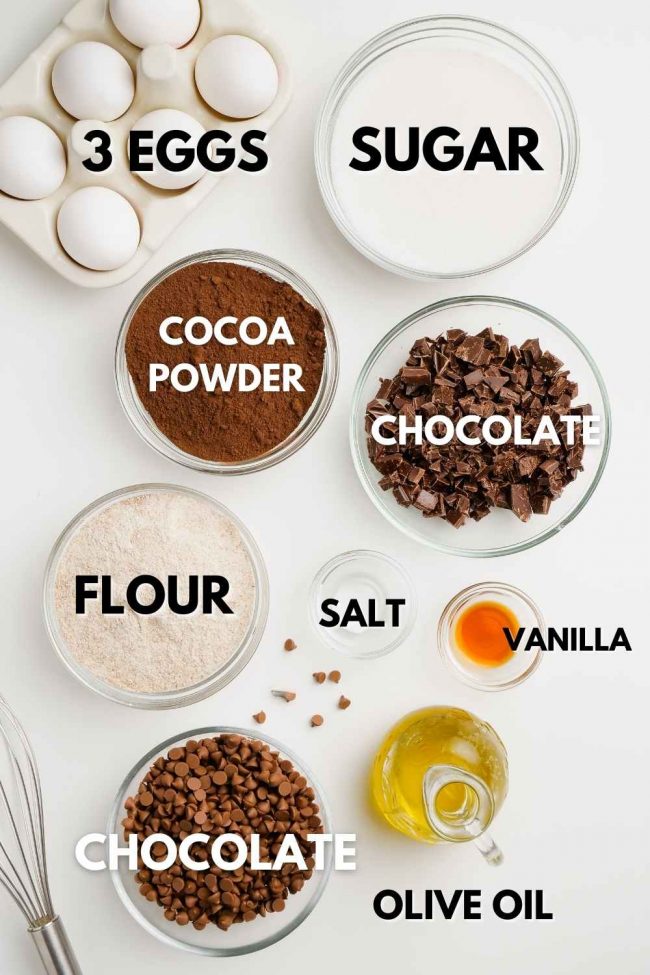 Flour options
I've tried this recipe with all of the following flours:
All-purpose flour
Whole spelt flour
White whole wheat flour
Regular whole wheat flour
They're all equally as tasty, and you can't taste any difference between the whole wheat/spelt brownies and the all-purpose flour brownies.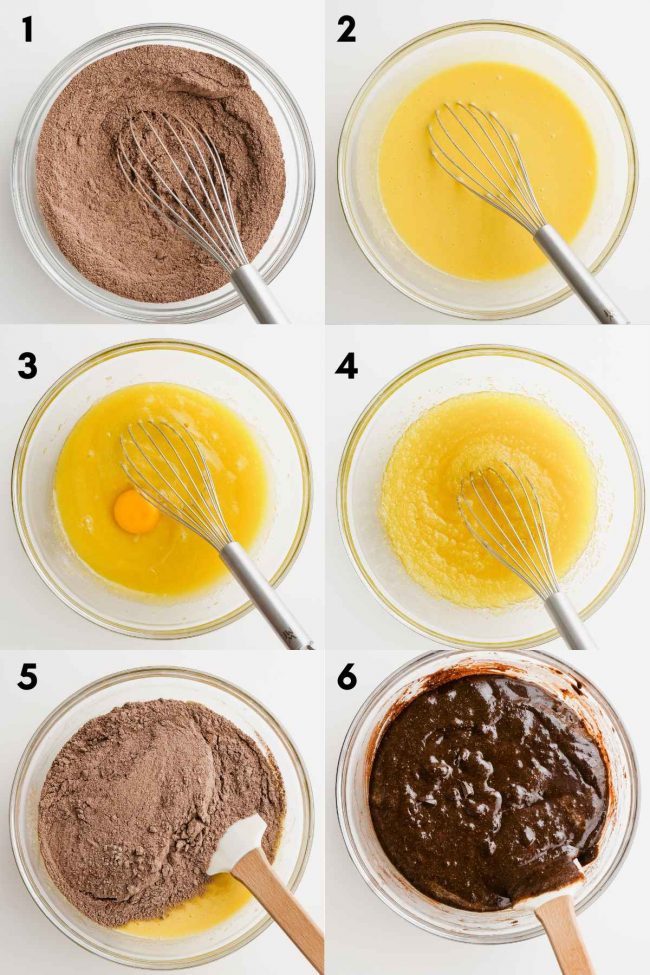 Gluten-free version options
Gluten-free baking flour — you can use a gluten-free flour blend that's meant as a 1:1 sub for all-purpose flour, like Bob's Red Mill Gluten-free Baking Flour in the blue bag.

These brownies also come out great with King Arthur Flour Measure for Measure Gluten-free Flour, but it's more expensive. So I save that flour for recipes where the result is much better than with Bob's, like this Christmas Tree Cake or Matcha Cake.

Commenters have said they've successfully used other gluten-free flour blends from Pillsbury and Namaste, and many others, so if you have a different brand that works as a 1:1 sub for all-purpose flour, it'll probably work in these brownies.

I haven't had anyone say that the recipe didn't work for them. Unless they did something like omit all the sugar. And there are loads of reviews on my original gluten-free brownie recipe!



Buckwheat flour is my favorite option. It's related to the rhubarb plant and is a versatile pseudo-grain that's naturally gluten-free. It's a great source of protein and has high levels of fiber.

If you're gluten-free, make sure to use a bag that's labeled as gluten-free. Bob's Red Mill is not.

Some people also dislike that one because it's dark buckwheat flour, meaning that it's been milled from whole buckwheat groats, which includes the husks.

Some bags of buckwheat don't mention which kind they are, which is pretty dumb, I have to say. But if there are dark specks in the flour, then you know it's dark.

If it's all a uniform color, a light beige, then it's light buckwheat flour. What you see in the ingredients photo above is light buckwheat flour.

It's easy to get here and quite cheap, so it's what I always use.

When you look at reviews of light buckwheat online, you see some negative ones saying that it's "not really" buckwheat flour and doesn't taste like buckwheat flour.



Then you see negative reviews on dark buckwheat product pages with people saying that it tastes like dirt and is terrible.

So I guess you just have to try it and decide for yourself! I personally much prefer light buckwheat.



Teff flour — this is a healthier whole grain option like buckwheat flour. Teff comes in white/ivory or dark, which is earthier tasting. I've used white and dark teff flour; you can't detect a difference in this recipe. It might not be the easiest to find in the stores, but you can surely find it online.
The Dutch-process cocoa powder does an excellent job covering the healthy / earthy flavors.
I will say that if you try the light buckwheat or the teff version while hot, they'll have a strange texture, but not once they've cooled. If you use dark buckwheat, there'll be a bit of sandiness to the brownies even after cooling.
Coconut flour doesn't work as a direct sub, but I have these Coconut Flour Brownies which is based off of today's recipe. The same is true of these Almond Flour Brownies. Both recipes are paleo.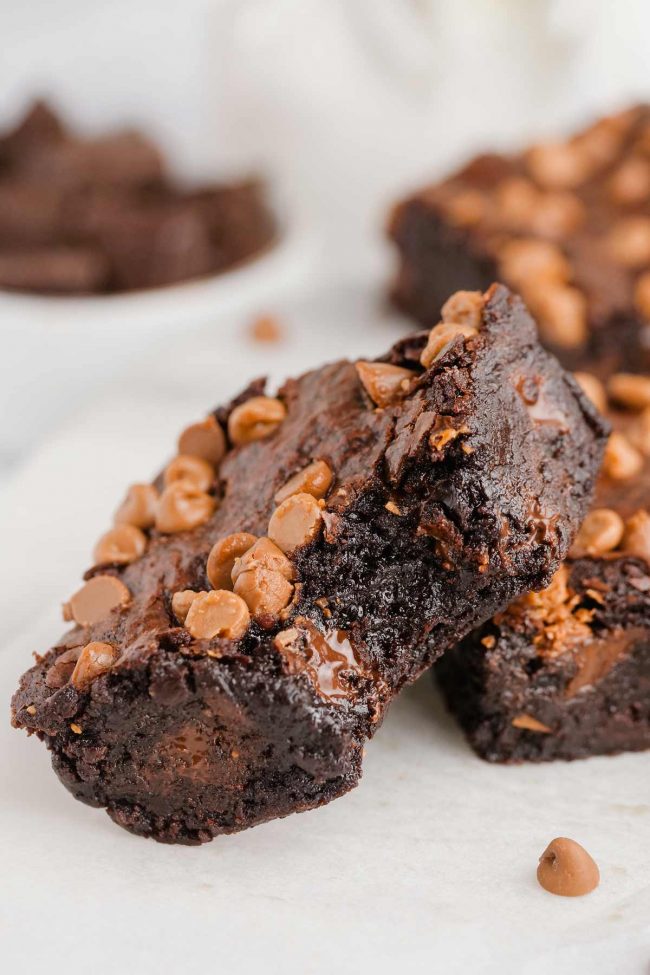 Can you taste the oil?
I use store brand organic extra-virgin olive oil from Aldi or Lidl, and you can definitely taste the olive oil in these brownies. It's pretty strong.
I found that pretty weird because I usually use the same oil in my Dairy-free Chocolate Cake, Vegan Chocolate Cake and many other chocolate recipes, and you can't taste the olive oil at all.
But brownies have a much higher proportion of oil, so I guess it does make sense.
Do not make these brownies with olive oil unless you're okay with them tasting of olive oil!
You could alternatively use light olive oil, which refers to the taste rather than the calories. I haven't tried it in these brownies, so I can't say how light the olive flavor taste would be, and if you can taste it at all.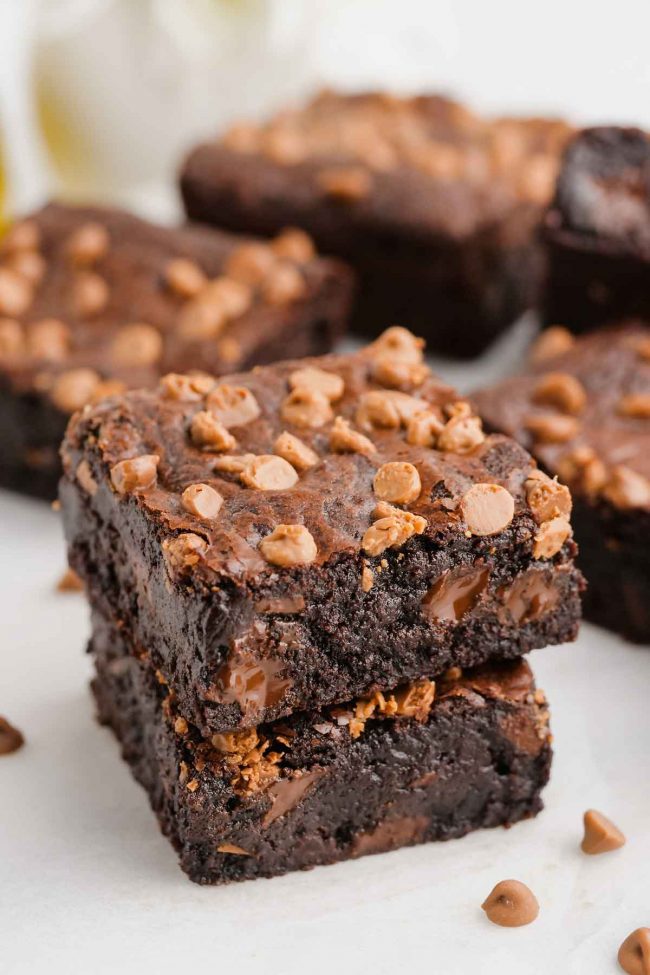 Light olive oil is refined and produced using heat after the first pressing of virgin oil. So rather than that deep green, you'll notice light olive oil has a golden yellow hue.
Light olive oil lasts longer and has a higher smoke point, so it's great for for cooking.
If you don't want to use that, you can use any other neutral oil in these brownies. Melted and cooled refined coconut oil, canola oil, vegetable oil, grapeseed oil, etc.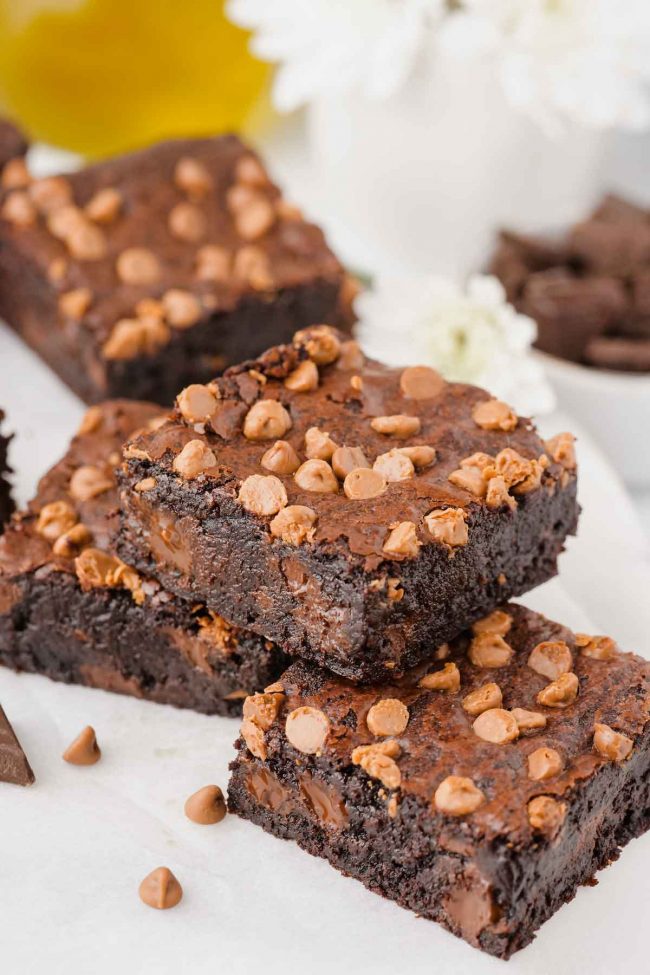 Benefits of olive oil
Olive oil is one of the best fats to consume, made of mainly monounsaturated fat and omega-9 fatty acids, which help protect against hypertension, inflammation, oxidative stress and cholesterol.
Plus, the polyphenols in olive oil are extremely rich in antioxidant, anti-inflammatory, antiviral and antimicrobial content. In fact, it contains 500% more antioxidants than other oils, including avocado and coconut oil.
And it's a good source of vitamins C, E, and K and has a fair amount of iron.
And what's good to know is that olive oil retains health benefits, including antioxidant levels, during cooking, so it's considered one of the safest oils.
Can I make a smaller batch?
If you're like me and can't handle uneaten brownies around the house, try these Air Fryer Brownies. They're basically this recipe but scaled down.
For a paleo version, you can try these Air Fryer Paleo Brownies.
And if you want to have chocolaty, gooey brownies at midnight, this Vegan Mug Brownie recipe is just for you! It's made in the microwave in a minute and has a gluten-free option.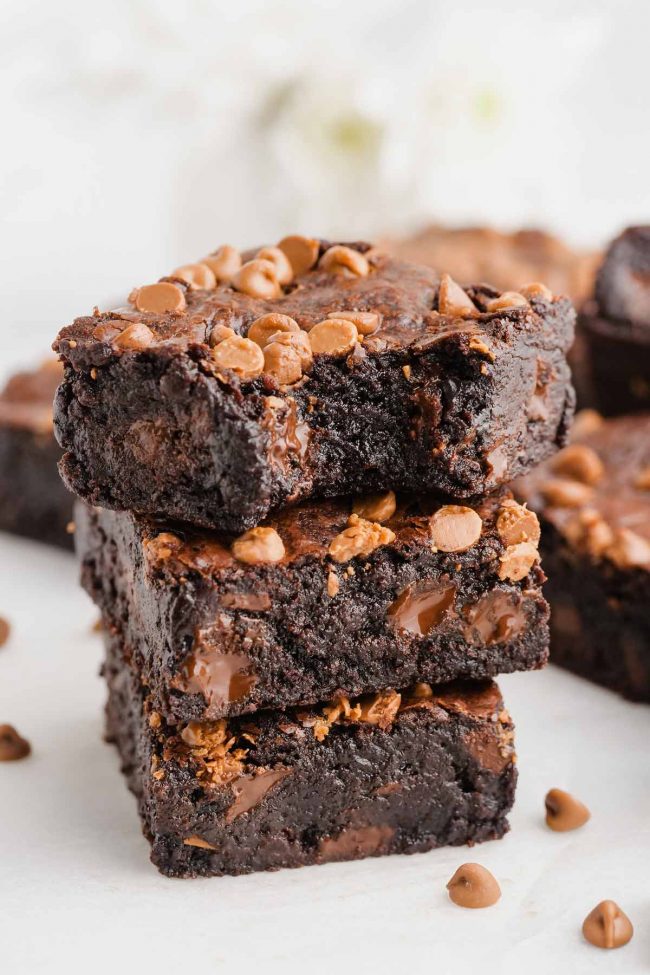 Questions?
Can I reduce the sugar? — Only if you like cakier, less gooey brownies that won't hold together well.

If you had to, you could knock off 1/4 cup of sugar, but they won't have the same texture as you see in the photos.


What can I use instead of eggs? — I've tried egg replacements many times without much success. I have a paleo vegan brownie recipe listed at the bottom of the post, but I recommend using the ingredients listed for this recipe.


Do I have to use chocolate chips? — No, these brownies are sweet enough without them, but I love extra chocolate in my brownies.


Can I double the recipe? — Yes! You can use a 9"x13" pan. Unfortunately, I forgot to write down the baking time, but it's not much more than a single recipe.


Can I use a different sweetener? — Subbing a liquid sweetener won't work. There's no liquid to reduce to compensate for the added liquid, so the brownies would either be a cakey or a liquid mess.

You could possibly use a different granulated sugar, like maple sugar, but I haven't tried it to say 100% sure.


Do I have to use Dutch-process cocoa powder? — No, but the brownies might not be as chocolaty and could be cakier. That said, I've not had anyone complain about these brownies, and I'm assuming people have used regular cocoa powder. Based on that, it might work.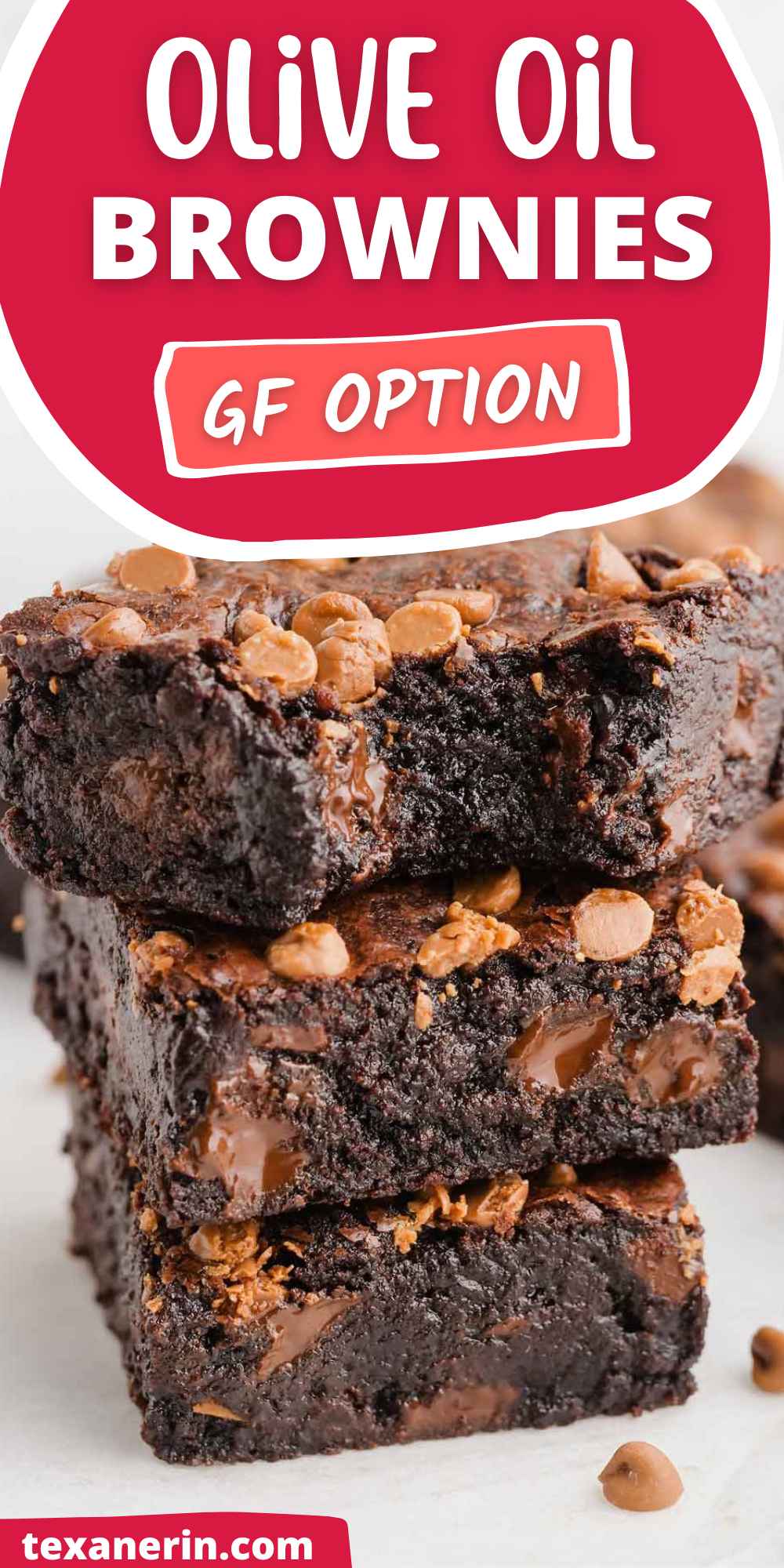 More fudgy brownies
I hope you'll enjoy these olive oil brownies! Please comment below if you try them. We'd love to hear how they turned out. :) Thanks!
Sources
❀
Olive Oil Brownies
Prep Time:
Cook Time:
Ready in:
Yield:

16
Ingredients
1 cup (125 grams) all-purpose flour, whole wheat flour, or for gluten-free, see the notes1
3/4 cup (86 grams) Dutch-process cocoa powder (or Hershey's Special Dark cocoa powder)
1/4 teaspoon salt
3/4 cup + 2 tablespoons (210 grams) olive oil
1 1/2 cups (300 grams) granulated sugar, raw sugar or coconut sugar
1 tablespoon vanilla extract
3 large eggs (50 grams each, out of shell), room temperature
3/4 cup (128 grams) semi-sweet chocolate chips + an additional 1/4 cup (43 grams) to sprinkle on top, if desired (I used mini chocolate chips on top)
Directions
Preheat the oven to 350 °F (175 °C) and line an 8"×8" (20cmx20cm) pan with parchment paper.
In a medium mixing bowl, stir together the flour, cocoa powder, and salt. Set aside.
In a large mixing bowl, stir together the olive oil, sugar, and vanilla extract. Once combined, add the eggs one at a time, and stir just until combined.
Add the dry mixture to the wet and stir just until almost no streaks of flour remain. Do not overmix! Fold in 3/4 cup (128 grams) chocolate chips.
Pour the batter into the prepared pan and sprinkle the remaining 1/4 cup (43 grams) chocolate chips on top, if desired.
Bake for 15-22 minutes (the time varies so much do to all the different flour and sugar options). A toothpick inserted into the center will come out wet. A toothpick inserted into the sides will come out with some moist crumbs on it, but not totally raw batter. The brownies will continue to bake as they sit in the pan and will firm up as they cool.
Let cool completely and then cover and store at room temperature for up to 4 days. You can also refrigerate them to give them a fudgier texture. They also freeze great for up to 3 months.
Notes
If you're gluten-free, use one of the following flours. You can use 1 cup (158 grams) teff flour or 1 cup (125 grams) light buckwheat flour that's labeled as gluten-free or 1 cup (138 grams) Bob's Red Mill Gluten-Free 1-to-1 Baking Flour or 1 cup (125 grams) King Arthur Flour Gluten-free Measure for Measure Flour. I've had dozens of commenters use other gluten-free baking blends that are meant as a 1:1 sub for all-purpose flour, and they all seem to work.
If you're dairy-free, make sure to use dairy-free chocolate chips.