These heart-shaped chocolate chip cookies are a breeze to make with the help of a jellyroll pan and a cookie cutter! You can make them traditionally or with white whole wheat flour, and there are tested gluten-free, dairy-free and vegan options.
This isn't so much a new recipe as a fun idea for Valentine's Day, and it's great for those of us who aren't skilled in the decorating arena.
While I have some tasty Valentine's Day recipes, none of them are explicitly for Valentine's Day. Except these!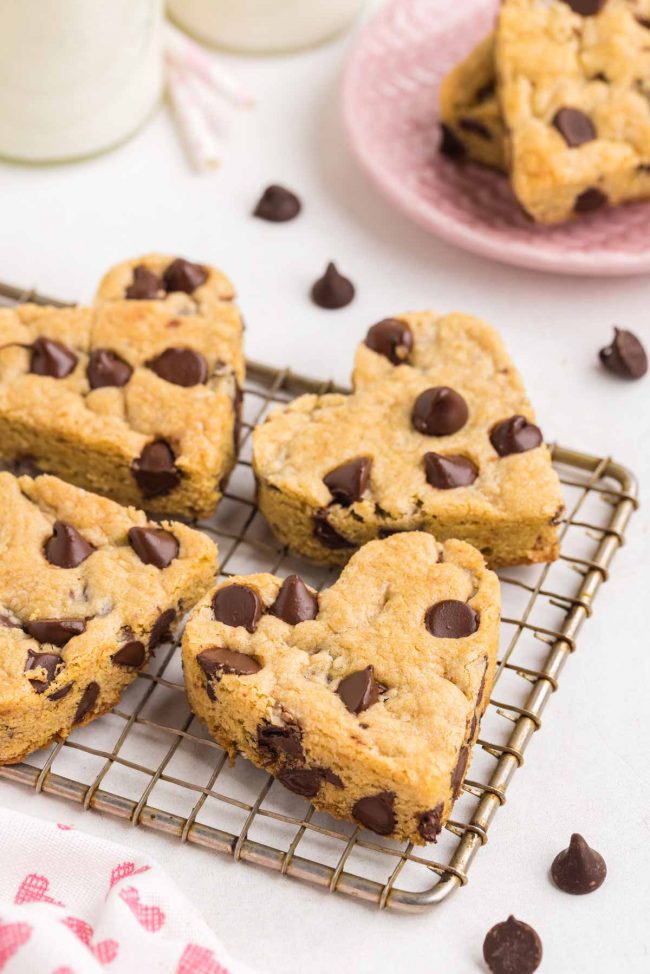 Ingredients
You only need basic chocolate chip cookie ingredients for these.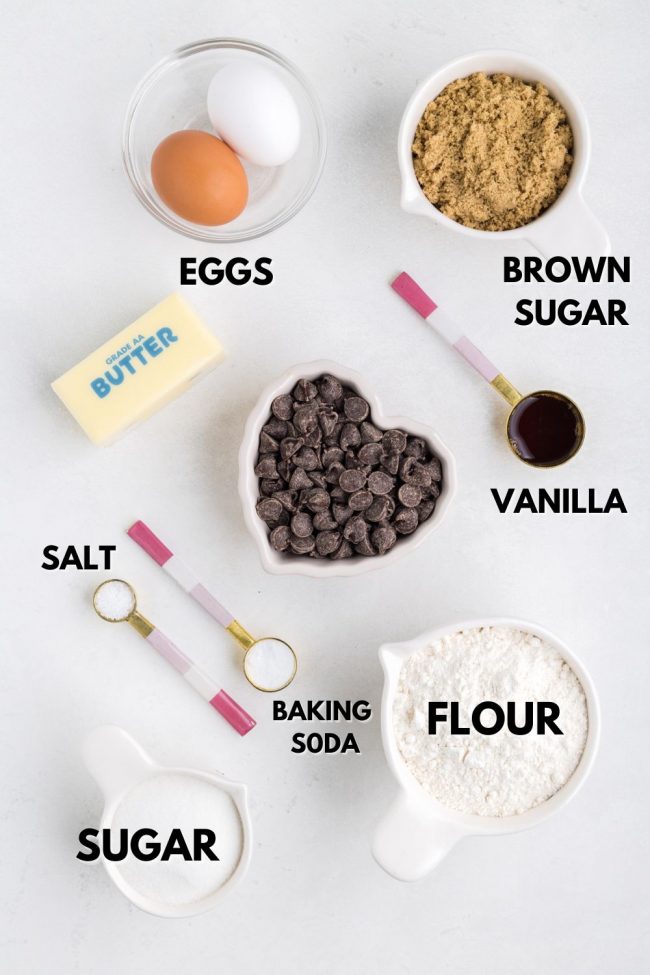 How to make them
All you do for these heart-shaped chocolate chip cookies is bake a batch of chocolate chip dough in a jellyroll pan, let them cool completely, and then use a heart-shaped cookie cutter to cut out hearts.
Some people make heart-shaped chocolate chip cookies by forming heart-shaped cookie dough balls and baking them up. But that usually doesn't result in perfectly shaped hearts.
This way is quicker, results in prettier hearts, and, best of all… you get to eat the leftover cookie bits when you're done cutting out the hearts!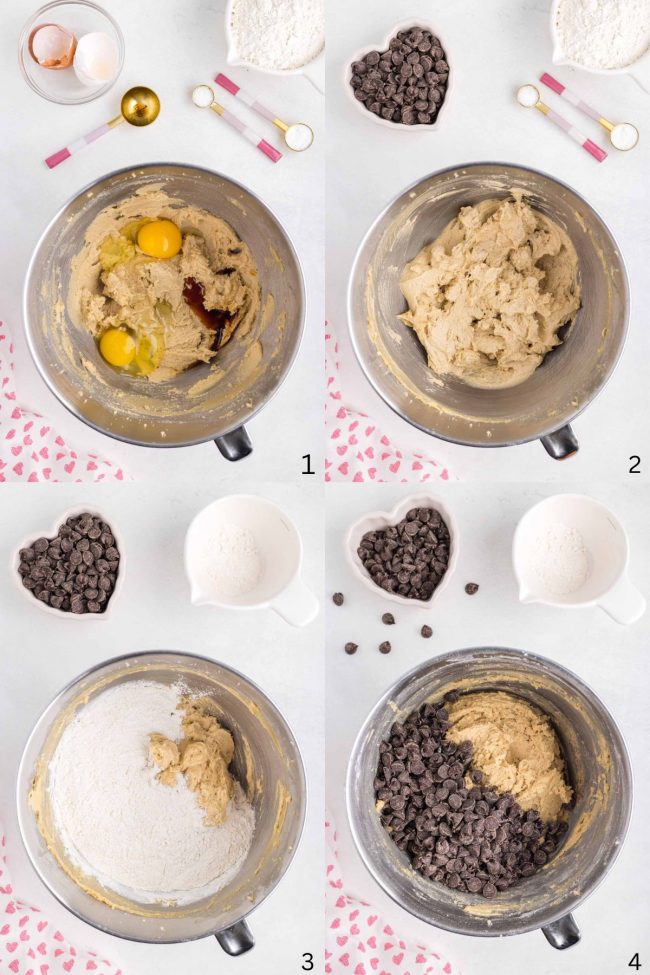 Cookie dough recipe
I used my Air Fryer Chocolate Chip Cookies as the base. If you're paleo, you can double my Perfect Paleo Chocolate Chip Cookies.
That's one of my favorite recipes for crowds. Even gluten-eaters love them and request them. I don't recall the baking time, but I'd start checking at 14 minutes.
For both recipes, you need to let the cookies cool completely before you cut the hearts out. Otherwise, you'll have ugly, broken hearts.
The texture
These are my favorite traditional chocolate chip cookies ever. They'e thick, chewy and just perfect all-around.
Just look at how thick they bake up in a jellyroll! No dinky hearts here. :)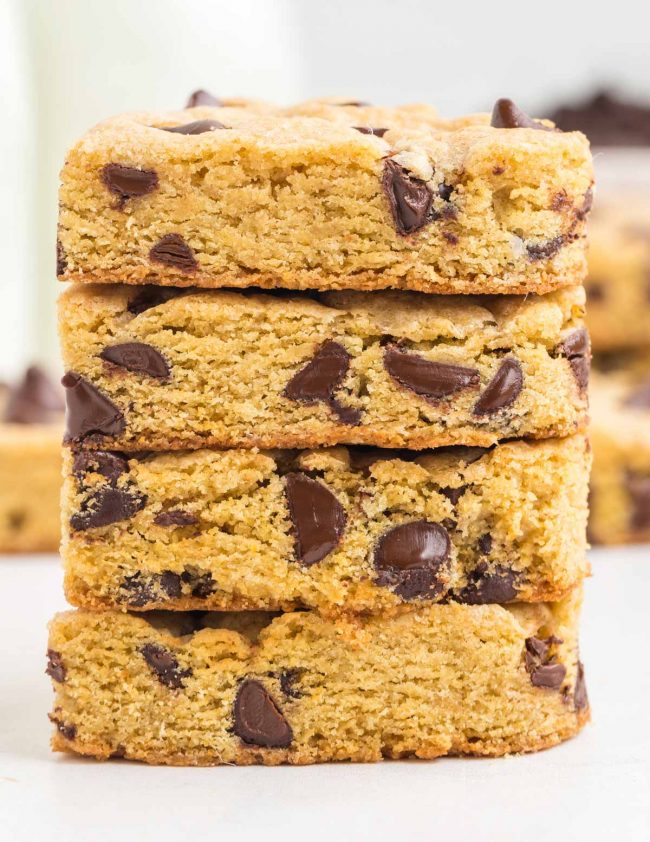 Can I use a different cookie base?
You can use any chocolate chip cookie dough base as long as it's enough to fill a jellyroll pan. To give you an idea of how much dough that is, the recipe below yields 3 pounds of dough.
3 pounds! So that's 48 oz or 1360 grams of cookie dough.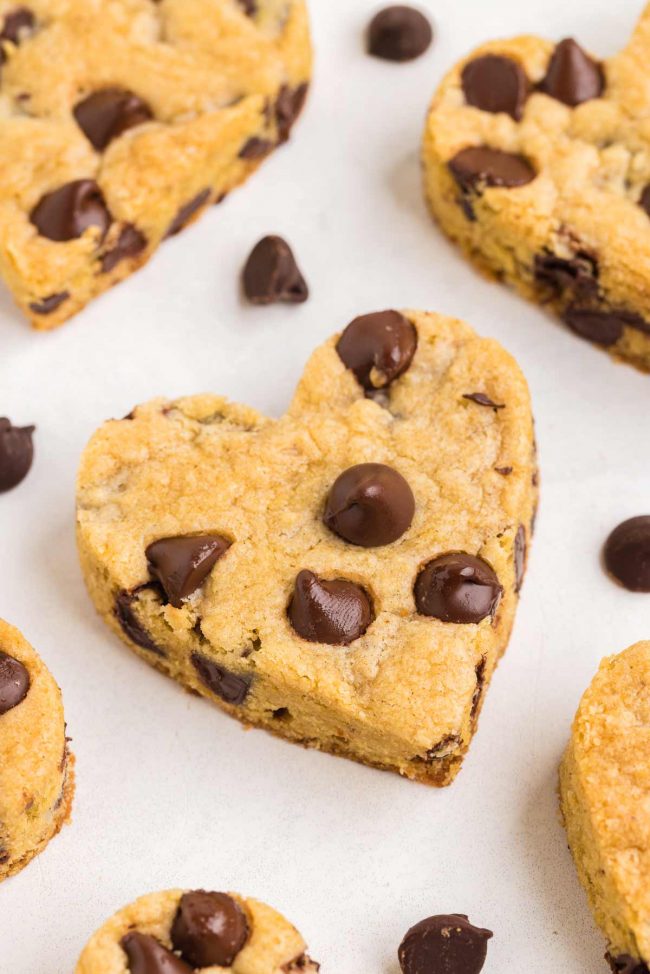 Cookie cutter and yield
The cutter I used is 2 3/4″ at its widest part and 2 1/2″ from the center of the heart to the bottom tip. I was able to get 16 hearts from the pan with this cutter.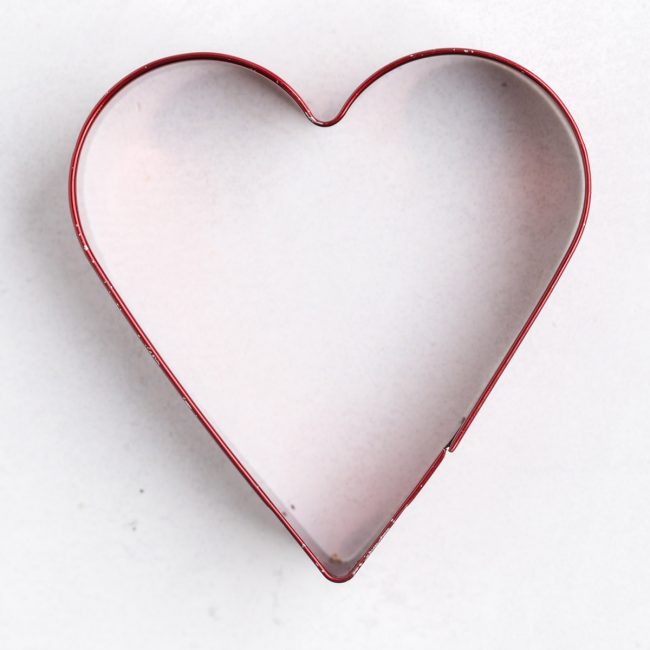 Great as gifts
The beauty of these cookies already being heart-shaped is that they don't need any decorations. Decorations often get destroyed when stacking. If you do want to decorate your cookies, check out these Sheet Pan Cookie Bars for some cute ideas.
They're also super sturdy and don't have crackly edges that will break off.
If you'd like to give these away, you can simply package them up in a pink cellophane bag or tie them with some pink string to give them a Valentine's Day touch.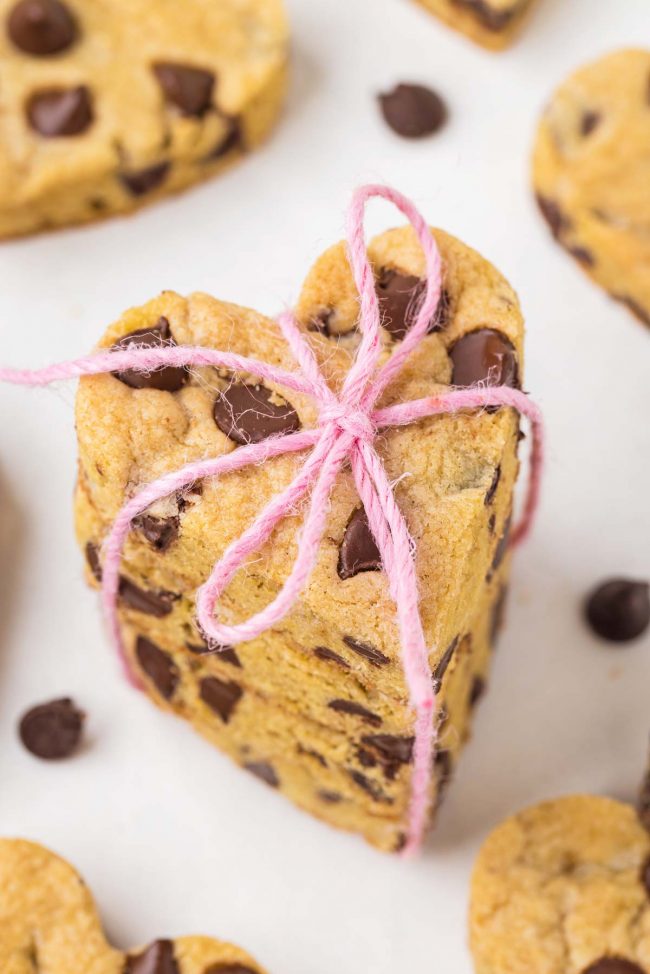 Vegan option
You need to use coconut oil or vegan butter in place of the butter and an egg sub. I've only tested chia eggs in these, but it worked out great!
If using coconut oil, you'll probably want to use refined coconut oil unless you'd like some coconut flavor in your cookies.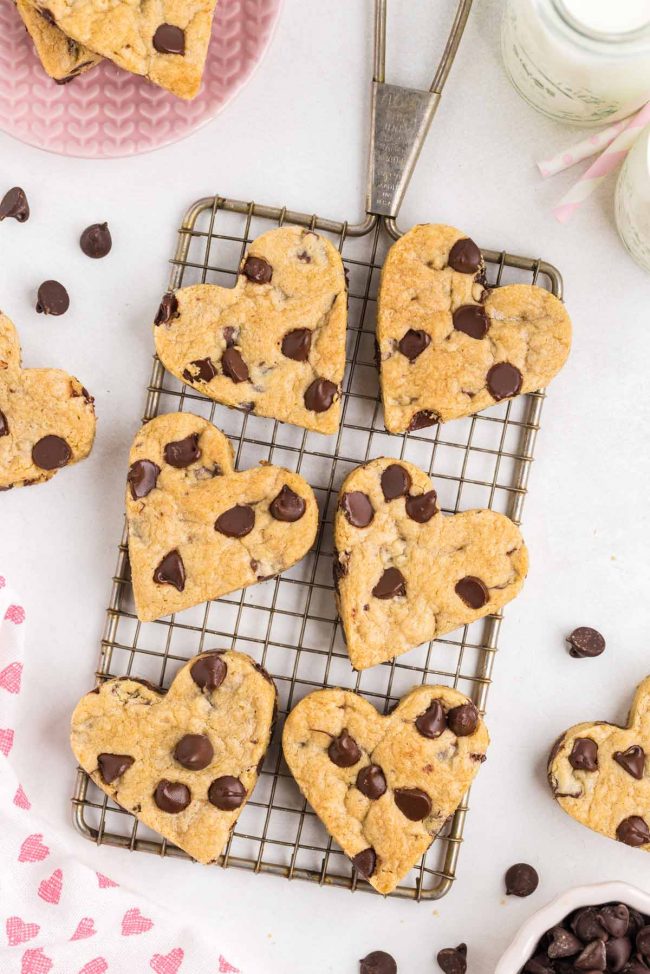 Gluten-free option
They come out great with King Arthur Gluten-free Measure for Measure Flour and Bob's Red Mill 1-to-1 Gluten-free Baking Flour. I think the texture is a little better with KAF, but they're both great!
Other brands meant as a 1:1 sub for all-purpose flour might work, but since I haven't tried them, I can't say for sure.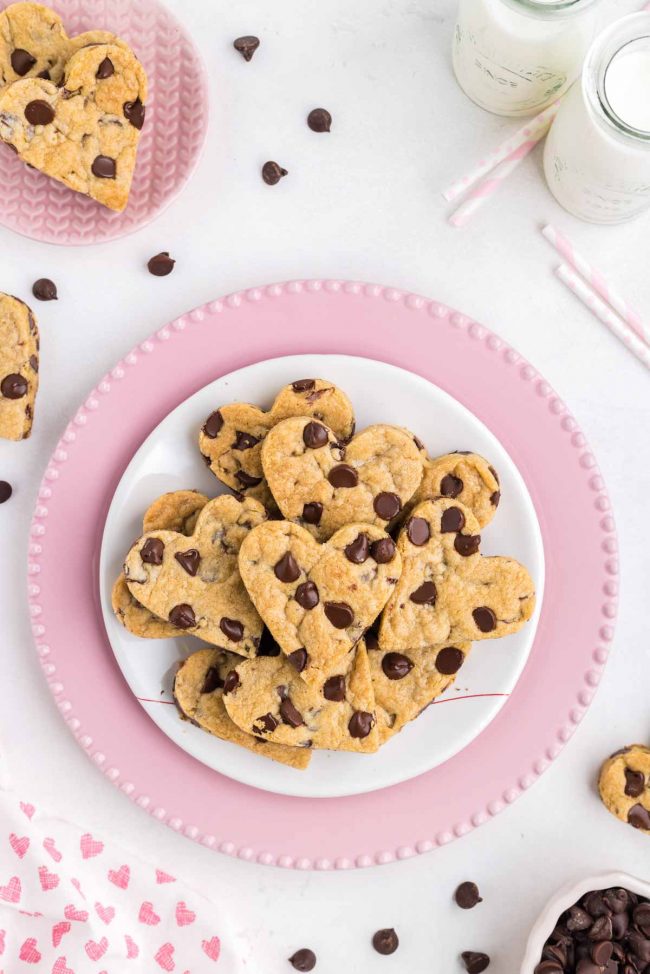 If you don't want to use a baking blend, you can make a double batch of the paleo chocolate chip cookies I linked to above or a single batch of my Paleo Air Fryer Cookies.
They're a paleo version of the recipe below. They're absolutely amazing, but you need 4 types of flour: almond, coconut, arrowroot and tapioca.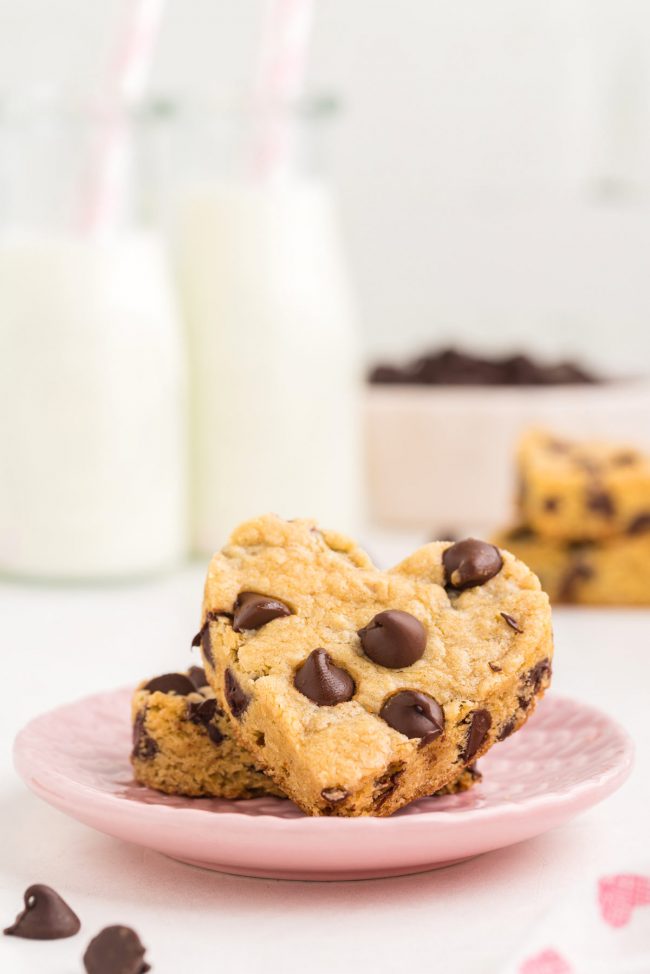 Source
This recipe was adapted pretty heavily from this Epicurious recipe. I used 1 cup less sugar (the cookies still have a normal sweetness!), 1 fewer egg, and 1/2 teaspoon less baking soda and salt. And I doubled the vanilla because it seemed the right thing to do. ;)
Those changes resulted in a thicker, chewier and more delicious cookies.
Other Valentine's Day recipes
I hope you'll enjoy these heart-shaped chocolate chip cookies! If you make this recipe, I'd love to see photos. Please hashtag them #texanerin so I can find them. :) Thanks!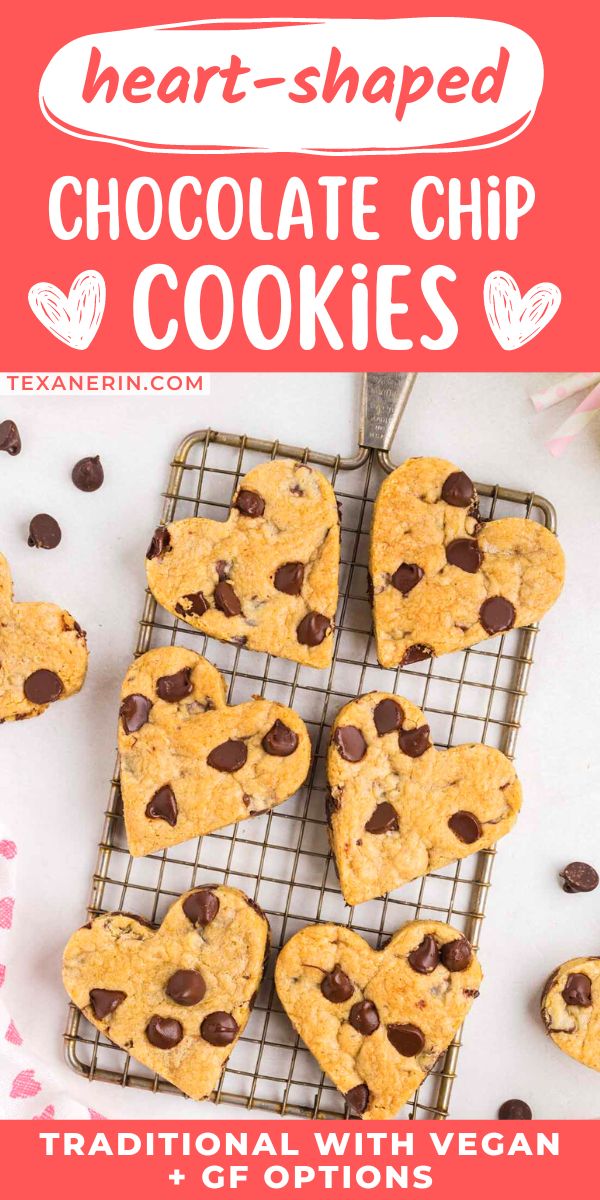 ❀
Heart-shaped Chocolate Chip Cookies
Prep Time:
Cook Time:
Ready in:
Yield:

16
Ingredients
1 cup (225 grams) unsalted butter, softened or 15 tablespoons (210 grams) refined coconut oil, softened but not melted for dairy-free/vegan1
1/2 cup (100 grams) granulated sugar
1 cup (200 grams) brown sugar
2 large (50 grams each, out of shell) eggs, room temperature, or 2 chia eggs for vegan2
1 tablespoon vanilla extract
1 teaspoon baking soda
1 teaspoon salt
3 cups (376 grams) all-purpose flour or white whole wheat flour, or for a gluten-free version, see the notes3
2 1/4 cups (383 grams) semi-sweet chocolate chips, divided (use vegan chocolate chip, if desired)
Directions
Preheat the oven to 350 °F (175 °C). Line a 10x15" jellyroll pan with a piece of parchment paper.
In a large mixing bowl with a stand mixer, beat together the butter, sugar and brown sugar until light and fluffy. Beat in the eggs and vanilla until well combined.
Sprinkle the baking soda and salt on top, beat until combined, and then add in the flour on low speed.
Stir in 1 3/4 cups of chocolate chips until combined.
Press into an even layer in the prepared pan. Press in the remaining ½ cup chips on top.
Bake for 17-22 minutes or until lightly browned.
Cool completely in the pan, for about 1 hour, and then remove them, using the parchment paper, to a cutting board.
Use a heart-shaped cookie cutter to cut out as many hearts as you can. The cutter I used is 2 3/4" at its widest part and 2 1/2" from the center of the heart to the bottom tip. I was able to get 16 hearts from the pan with this cutter.
Store in an airtight container for up to 5 days.
Notes
The coconut oil should be soft enough that it can be blended in with the other ingredients but should not be melted or even melty because then the dough will be very greasy.
To make the chia eggs for this recipe, mix together 2 tablespoons of ground chia seed with 6 tablespoons of water until well combined. Let sit for about 1-2 minutes or until goopy like regular eggs.
For a gluten-free version, use 3 cups (376 grams) King Arthur Flour Gluten-free Measure for Measure Flour or 3 cups (414 grams) Bob's Red Mill 1-to-1 Gluten-free Baking Flour.