These chocolate peanut butter macaroons are incredibly delicious and are gluten-free, vegan, and 100% whole grain!
Lauren is the queen of macaroons. The only other macaroon recipe I've posted was also adapted from her recipe. Why go elsewhere when she's got in down?!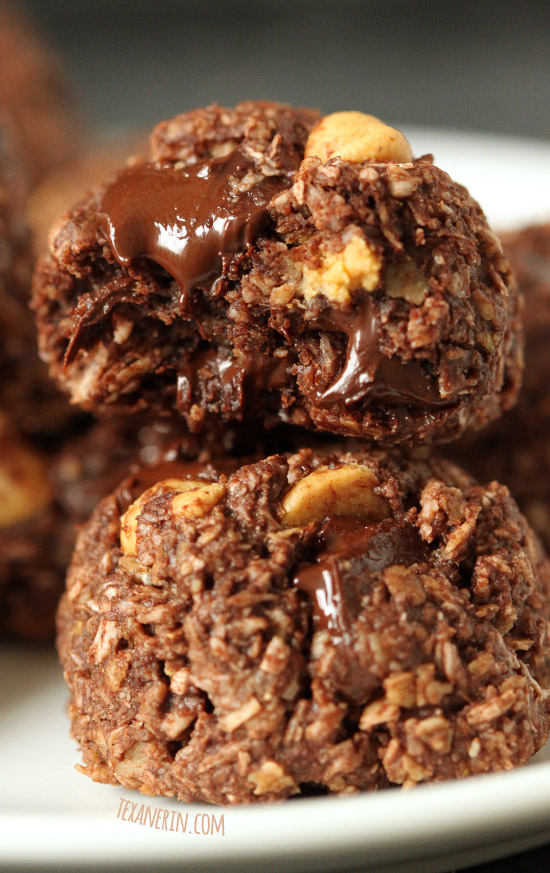 She recently posted some double chocolate macaroons and I just had to get some peanut butter involved in there. So I replaced half of the coconut butter with peanut butter. And these chocolate peanut butter macaroons? Awesome! I just had to make them the next day to see if using all peanut butter would work, and it did. So there you go. No need to buy expensive coconut butter or make it yourself. Just please, use natural peanut butter. These will not come out well if you use the regular stuff!
Don't like peanut butter or have allergies? Go check out the original. It's peanut butter free! And I'm not so sure about using other nut butters here but now that I think about it, I'm so trying these with hazelnut butter.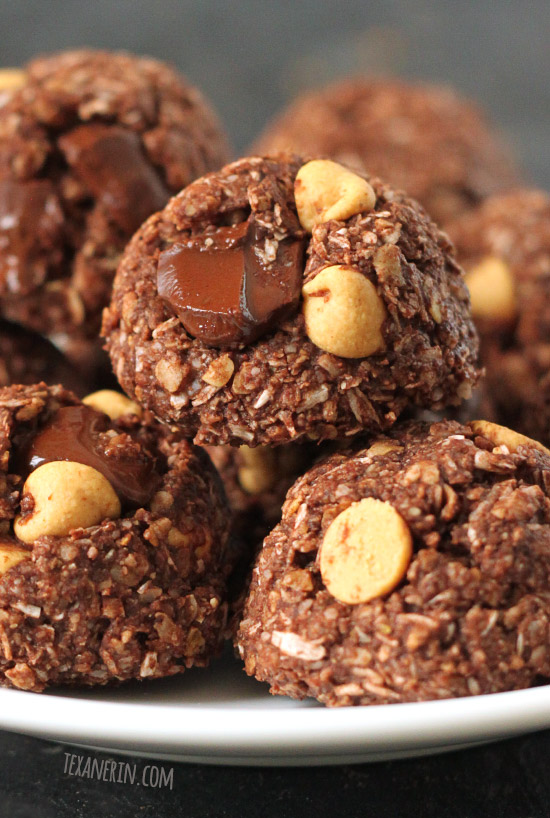 I used 1/2 cup of maple syrup and it was enough for me, but I imagine these would be even tastier with the 3/4 cup called for in Lauren's recipe. And because I recently found a few bags of peanut butter chips in my cupboard, I threw some of those in, too. So I guess I basically added the sugar back in peanut butter chip form, but that's so much more exciting than in maple syrup form, right? I suppose you could leave them out, but that'd just be plain silly. And plus the peanut butter flavor isn't really strong without them.
And they're super allergy friendly, if you leave out the peanut butter chips! I love making cookies that most people can enjoy and it doesn't get much more inclusive than gluten-free, vegan, whole grain, dairy-free. :)If you don't have any dietary restrictions, make them anyway! These peanut butter macaroons just taste like little balls of happiness.
For some more peanut buttery goodness, try these gluten-free peanut butter blossoms from What the Fork!
❀
Chocolate Peanut Butter Macaroons (gluten-free, vegan, 100% whole grain)
Prep Time:
Cook Time:
Ready in:
Yield:

24 cookies
Ingredients
8 ounces (225 grams) natural peanut butter (the kind with just peanuts and salt)
1/2 cup - 3/4 cup (118-177ml) maple syrup
1 teaspoon vanilla extract
1/4 cup (29 grams) Dutch-process cocoa powder
1 cup (85 grams shredded unsweetened coconut
1 cup (90 grams) old-fashioned / rolled oats (use certified gluten-free oats, if necessary)
1/4 teaspoon salt
1/2 cup (90 grams) semi-sweet chocolate chips or chunks (for dairy-free / vegan, use Enjoy Life Chocolate Chips)
1/4 cup (45 grams) peanut butter chips, optional (leave out for dairy-free / vegan / gluten-free)
Directions
Preheat the oven to 325 °F (163 °C) and prepare a baking sheet with a Silpat or a piece of parchment paper.
Using a hand mixer, mix all the ingredients through salt together in a large bowl. Add in the chocolate and peanut butter chips.
Using a 1 tbsp measuring spoon, scoop out tablespoons of dough and place about 1" apart on the prepared baking sheet. They will not spread very much.
Bake for 12 minutes or until the surface no longer appears wet. When you remove them from the oven, they'll be very soft but will firm up as they cool.
Store in an airtight container for up to one week.
Adapted from Healthy Food for Living - Double Chocolate Macaroons (thanks Lauren!)