This chai tea latte is a Starbucks copycat that's warm and comforting with chai spice and tea, maple syrup, and milk. It's paleo and vegan but can easily be made traditionally as well.
I hope you've been enjoying the healthy drinks I've been posting lately like this Matcha Protein Shake and these Turmeric Ginger Shots. It's still terribly cold here, so here's a hot drink to warm up with!
Should it already be warming up in your neck of the woods, try this Iced Chai Latte. It's simply an iced version of today's recipe. :)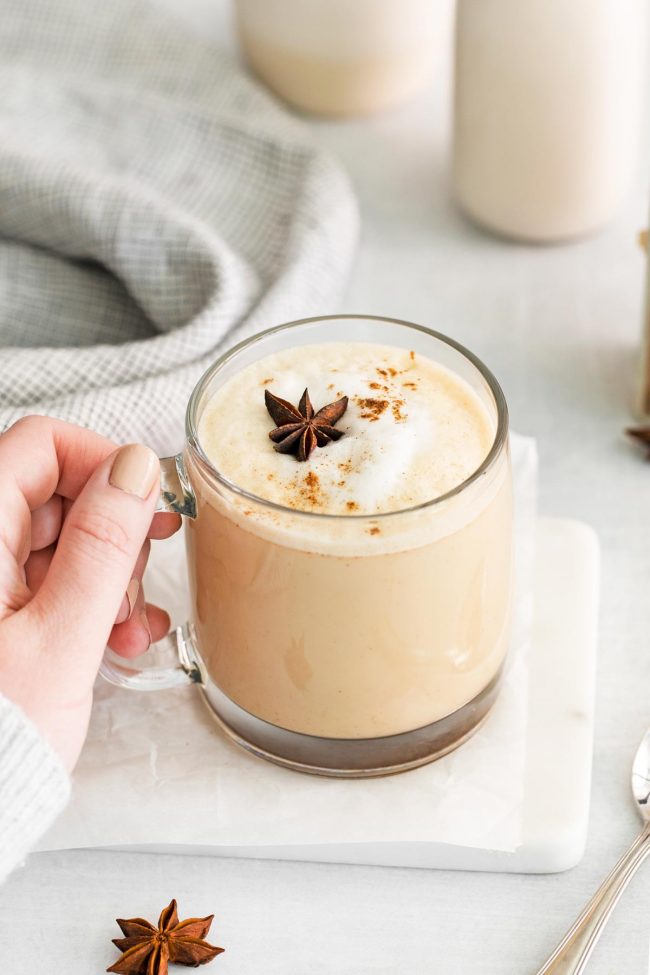 Ingredients
You only need 4 ingredients and boiling water to make this.
Boiling water — is used to steep the tea bags to create our chai concentrate. Make sure it's very hot!


Chai tea bag — I used a chai tea bag for this latte, but you could make it with a winter spice or earl grey tea.


Chai spice — is a great way to add even more chai flavor to your latte.


Milk — I used cashew milk to make this latte, but any milk will work.


Sweetener — maple syrup, honey or brown sugar work.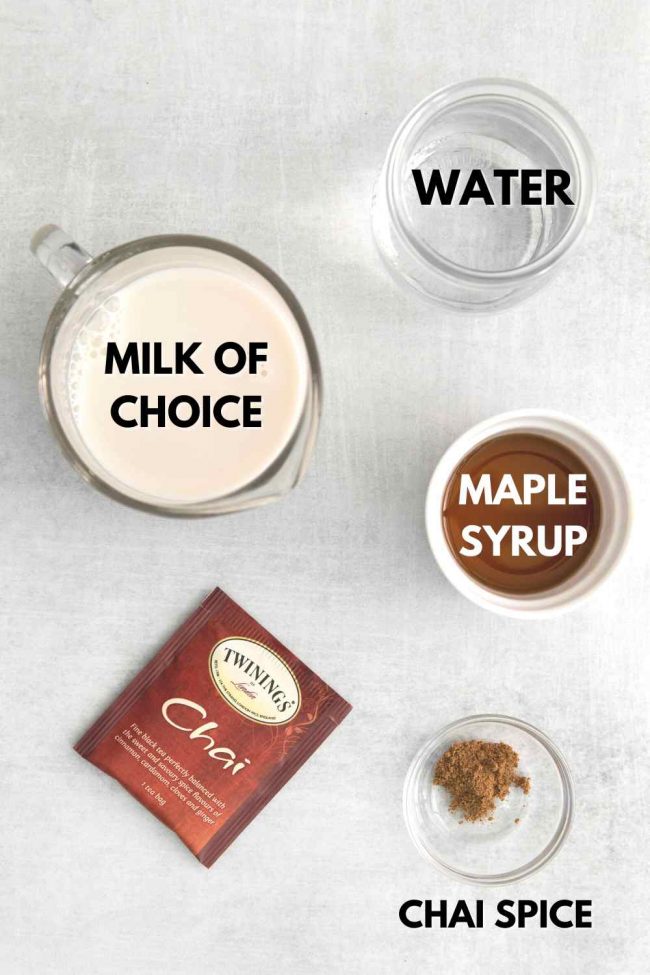 How to make in advance
You can make it ahead by making a big batch of chai concentrate and keeping it in your fridge so you have it ready for the week! Just warm it for 30 seconds in the microwave before making a hot latte or use it cold for an iced latte.
I use 1 cup of boiling water, 4 tea bags, and 1 teaspoon of chai spice.
What is chai?
The Hindi word for tea is chai. It refers to a mix of spices like cinnamon, cardamom, ginger, cloves, and black pepper that is steeped like tea and is considered a healing beverage.
Each ingredient in chai spice contributes to health benefits that make you feel good with each sip.
Black pepper and ginger help stimulate digestion and much more. You can read more extensively on the benefits of ginger here.
Cloves have natural painkilling and antibacterial properties, cardamom has been used as a mood elevator and cinnamon helps to support circulation and respiratory functions.
And that's just the tip of the iceberg.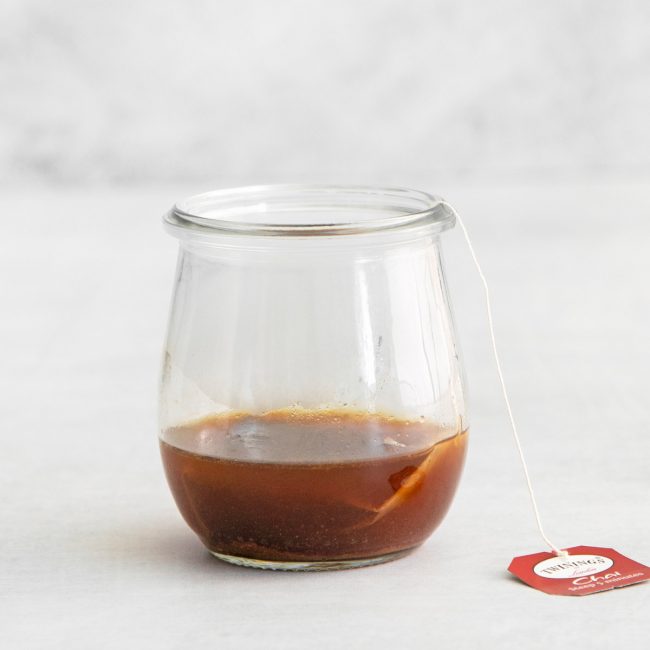 What does chai taste like?
Chai has earthy notes like tea spiced with zingy ginger and sweetened with cinnamon with fragrant herbal notes of cardamon and cloves. It can be spicier with more ginger and pepper or less spicy with more cinnamon.
Its warming spices are robust and soothing.
Chai spice powder
Morton and Basset is my favorite chai spice, but if you can't find it in your grocery store, you can make your chai spice mix or swap it for cinnamon.
I also like this Spicewalla Masala Chai Spice which contains ginger, cinnamon, green cardamom, black pepper, clove and allspice. It's a finely ground powder mix that is needed for this drink.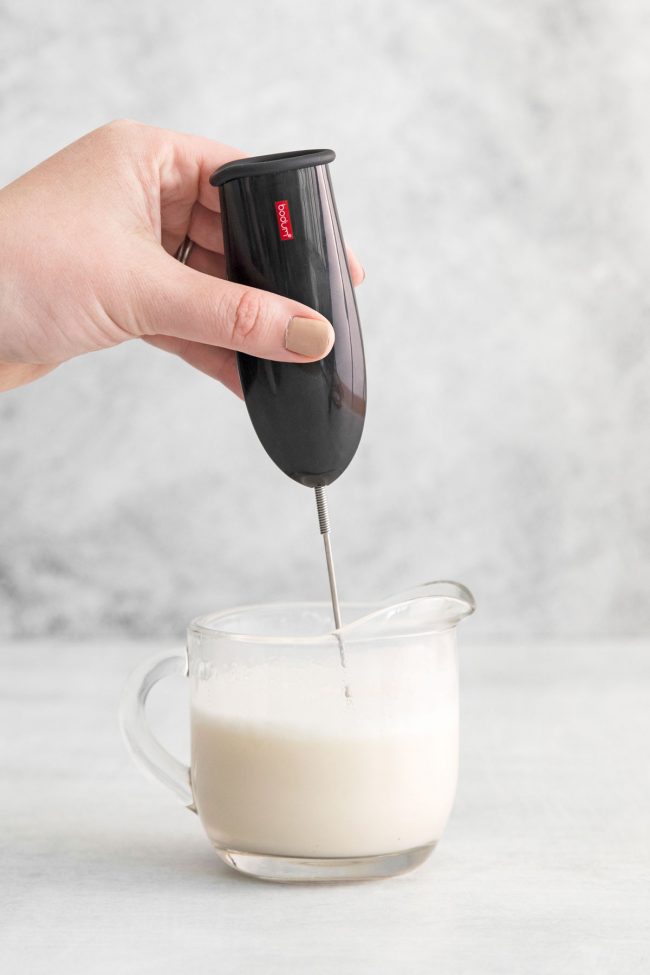 Often, when you search for chai spice powder, you get spice mixes but not finely ground powders, so you definitely want the fine powder mix for this drink.
If you're vegan or have dietary restrictions, watch out for milk powder and sugar in the ingredients list. You definitely don't want that for this recipe.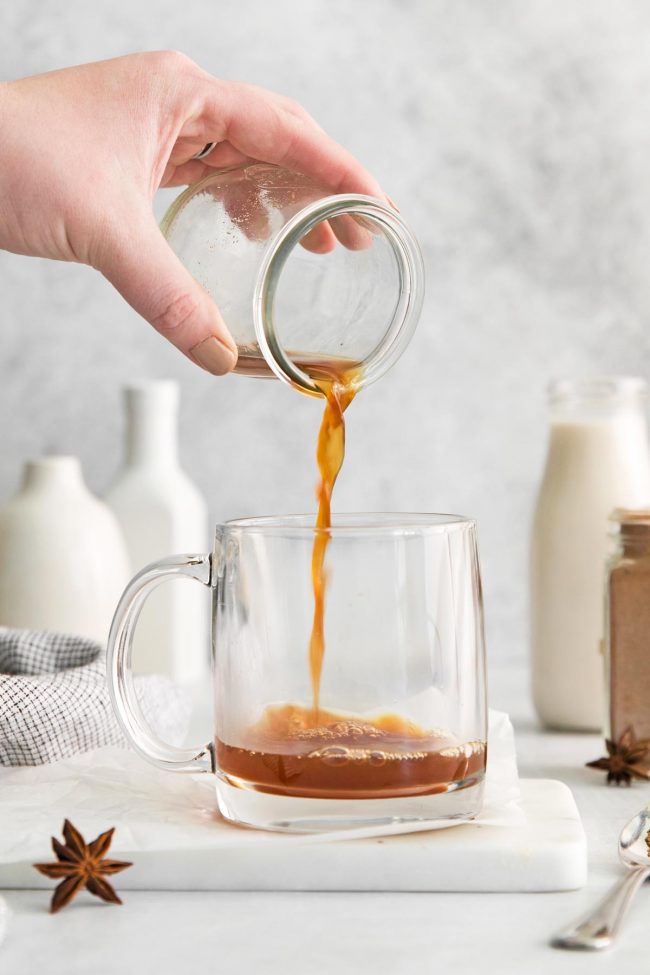 Paleo and vegan
This chai latte recipe is both vegan and paleo. But before you buy chai spice powder or chai tea bags, you should check for funky additives like artificial coloring, flavorings or sweeteners. You'll also want to avoid products with any milk powders.
For paleo, you'll want to use unsweetened cashew or almond milk that doesn't contain additives.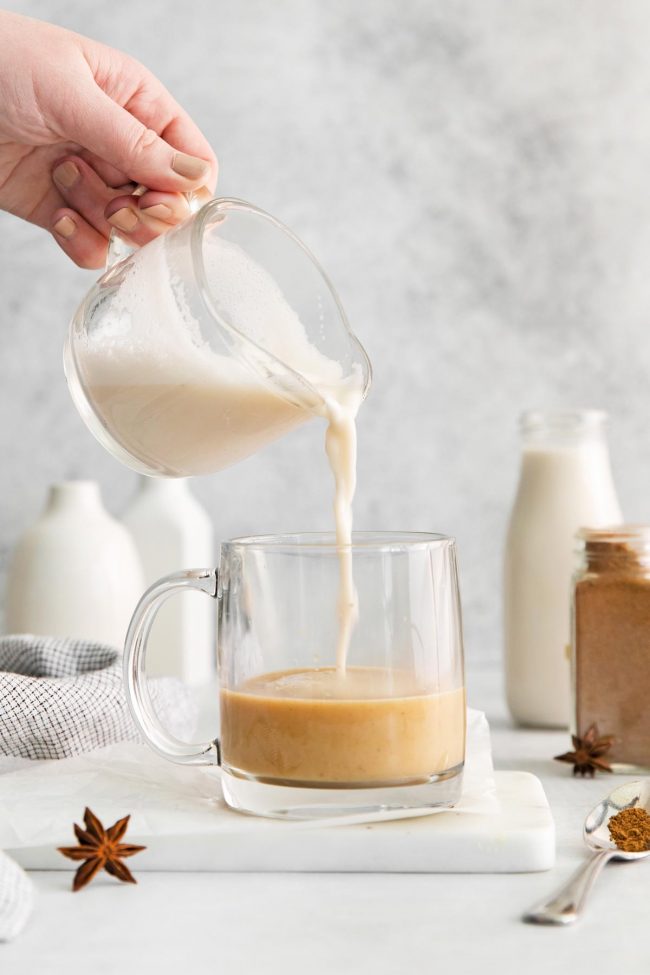 Can I use a different sweetener?
Yes, but it depends on your dietary restrictions. If you don't have any limits, you can use whatever type of sweetener you'd like.
I use maple syrup to sweeten my drinks and have close to 200 baked treats that are sweetened with maple syrup. I think maple syrup complements the flavors in this drink perfectly, but again, it's up to you.
Honey would also be nice if you're not vegan, and I think maple sugar would be nice. It might be more difficult to dissolve, but I think it would taste great.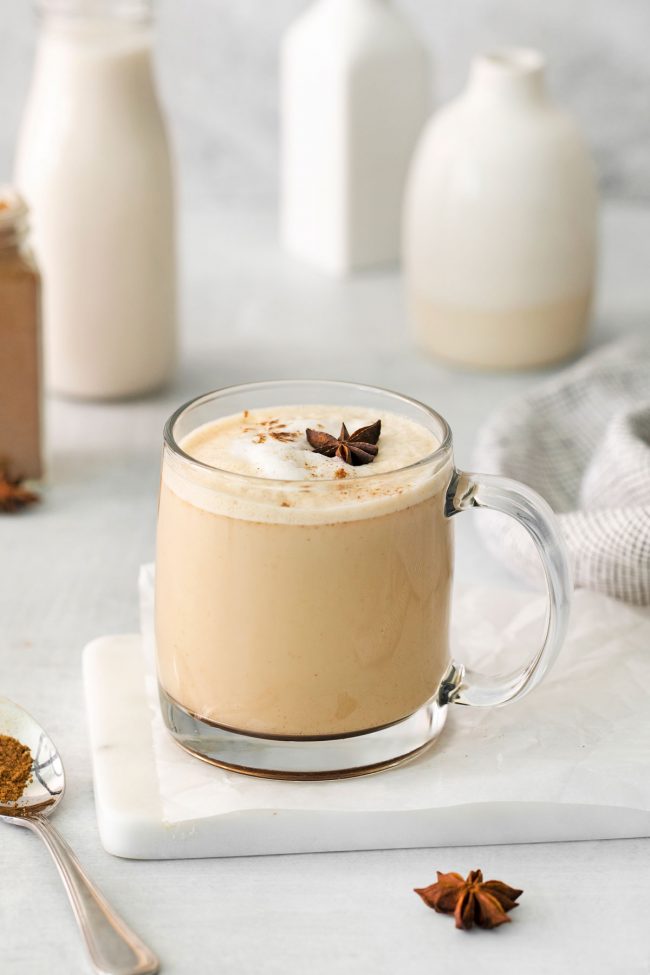 Do I have to use cashew milk?
Nope! I almost always used cashew milk because it's creamy, but you can use whatever milk you want.
Almond milk is a good alternative for a paleo or vegan diet. But Can you Froth Almond Milk? Yes, you can, and if you read the post, you'll learn the best ways to froth plant-based milk for all your lattes.
Soy and oat milk are also good options, and to make a traditional latte, use whole milk.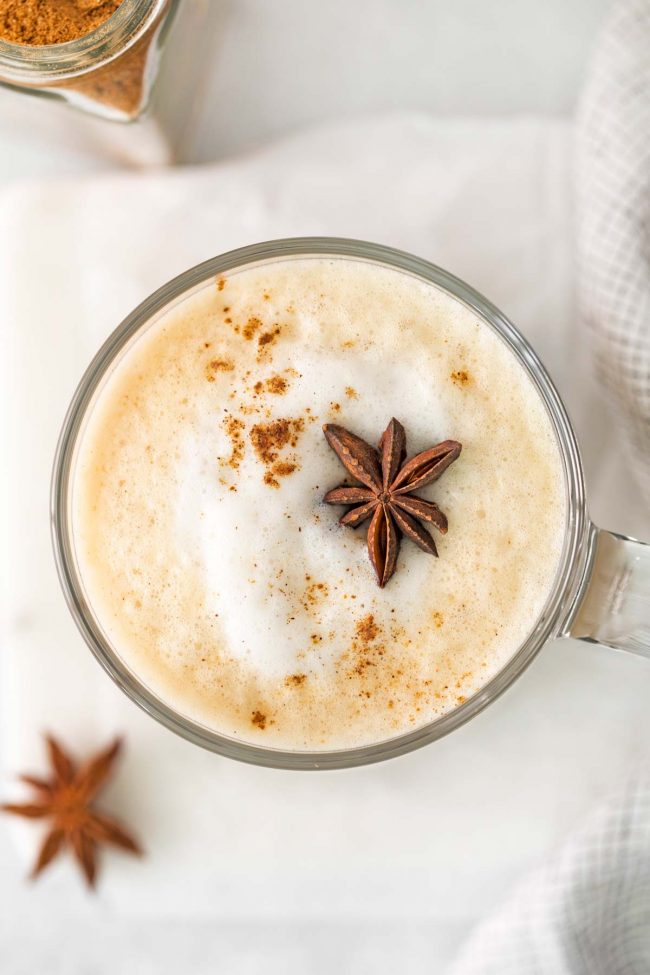 Does chai have caffeine?
If you're using black tea with chai spice, it has caffeine. You can make non-caffeinated chai by mixing the chai spice in hot water and adding sweetener and milk.
You can also find chai tea bags that don't contain black or green tea, just the spice mix, that are non-caffeinated.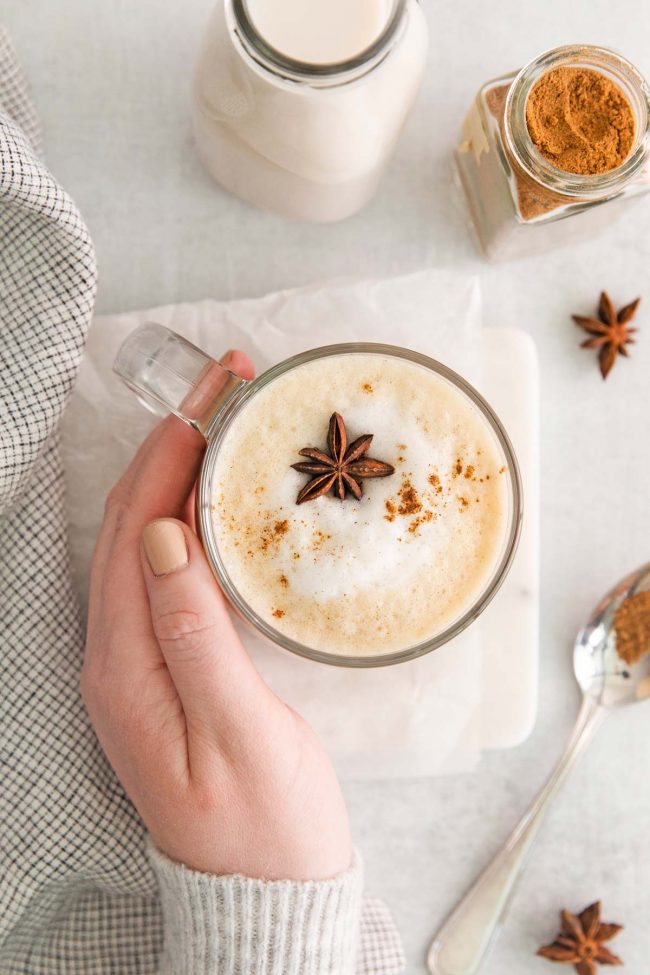 Other chai treats you might like
I hope you'll love this chai tea latte! I'd love to see your photos if you share them on social media. Please tag #texanerin so I can be sure to see them. Thanks. :)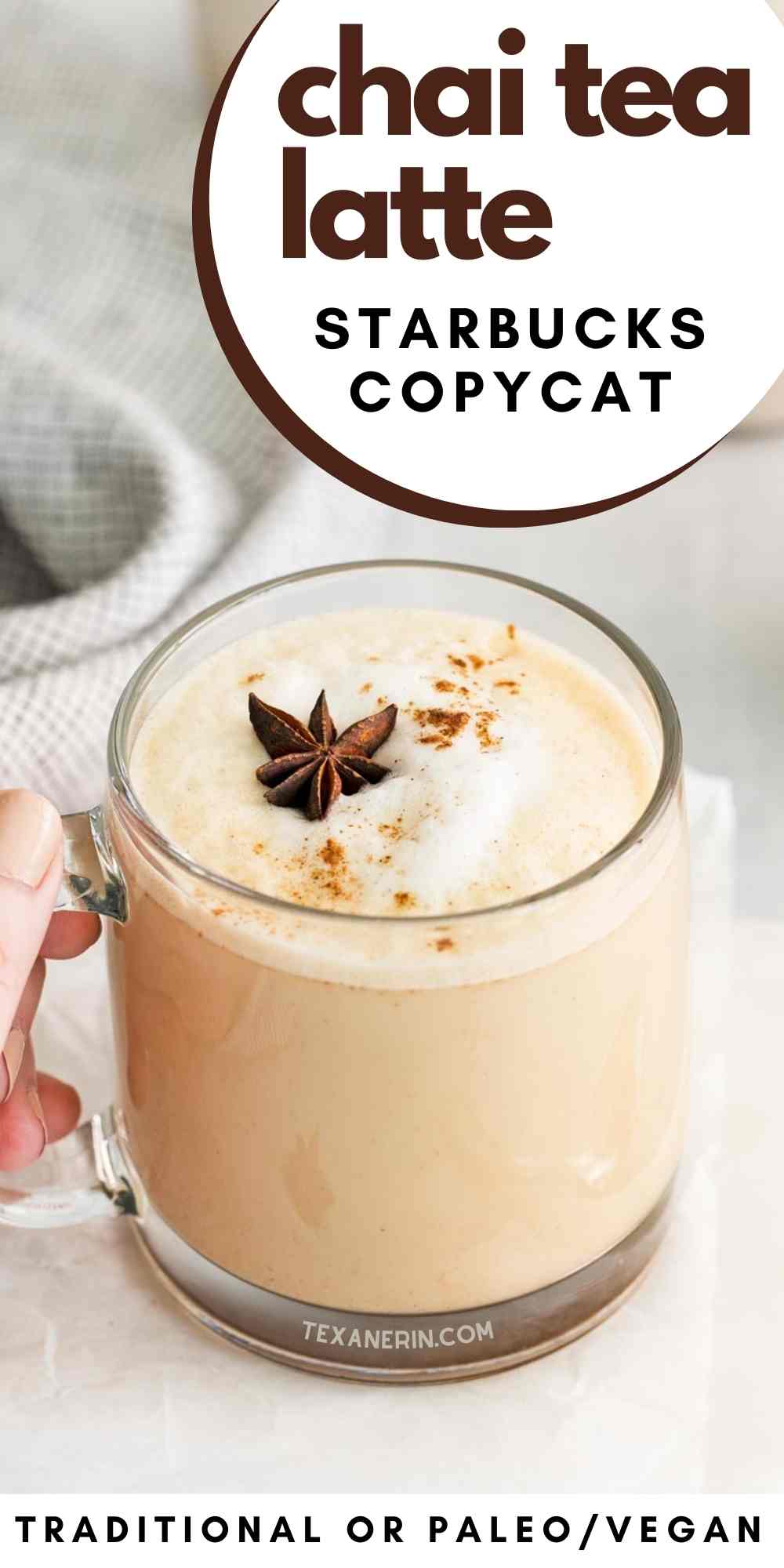 ❀
Chai Tea Latte (Starbucks Copycat)
Prep Time:
Cook Time:
Ready in:
Yield:

1 drink
Ingredients
1/4 cup (60 ml) cup boiling water
1 chai tea bag
1/4 teaspoon chai spice
1/2 cup (120 ml) milk of choice (I used cashew)
1-2 tablespoons maple syrup, to taste
Directions
Place the boiling water in a small bowl with the chai tea bag and chai spice. Allow the chai concentrate to steep for 10 minutes.
Carefully squeeze the tea bag (be careful as it'll be hot) to extract all of its flavors, and whisk the chai concentrate to ensure the spices are fully combined.
Warm the milk and maple syrup (either in the microwave or a small pot over medium heat on the stove) just until it begins to steam. For dairy milk, the best temperature for frothing is 140-155 °F (60-68 °C) and for plant-based milk, it's 150 °F (65 °C).
Froth the milk using your favorite method – a handheld frother, a wand, in the blender, etc.
Add the chai concentrate to your mug and top with frothed milk. Garnish with a sprinkle of chai spice and enjoy immediately.