This naturally sweetened vegan blueberry crisp is made healthier with 100% whole grains and is also dairy-free!
I actually made this blueberry crisp way back in January when I was desperate for anything summer-like. It was heaven. Maple syrup, cinnamon and blueberries is truly a magical combination and so, so comforting. I also tried a variation with lemon juice and lemon zest and while nice and zingy, it didn't come close to this version!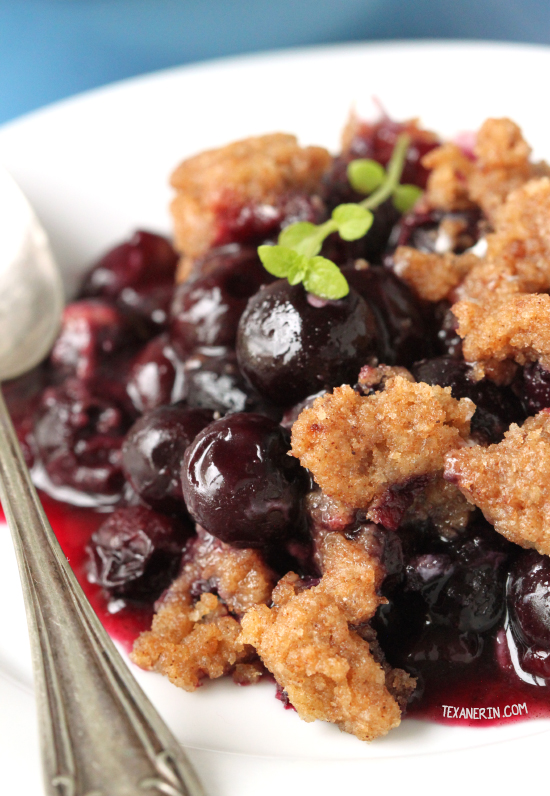 This recipe is perfect for when you have a blueberry overage. Whenever summer fruit is on sale, I always get overly excited and buy way too much. The past few weeks, peaches have been 44 cents a pound. How am I supposed to resist that?! And they're not the subpar peaches you'd expect at that price. They're the best peaches I've ever had.
By the way, if you find yourself with too many peaches and blueberries, try this gluten-free + whole grain blueberry peach crumble!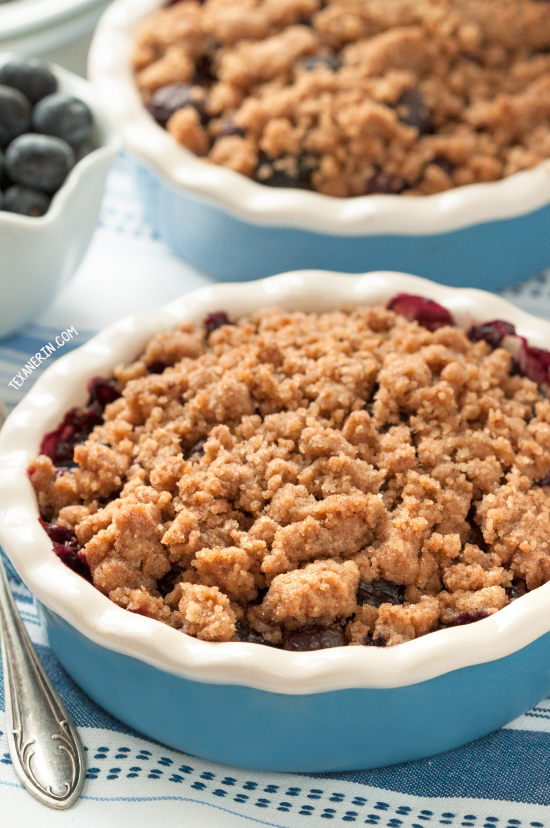 I used ivory whole wheat in this blueberry crisp but you can also use regular whole wheat flour. The cinnamon does a great job of covering up the whole wheat taste so it's just a slight hint!
You probably know I'm all about giving people options so for this blueberry crisp, you can use butter – which I personally prefer in crisps, crumbles and streusel toppings in general due to the buttery taste – or coconut oil for a vegan and dairy-free alternative!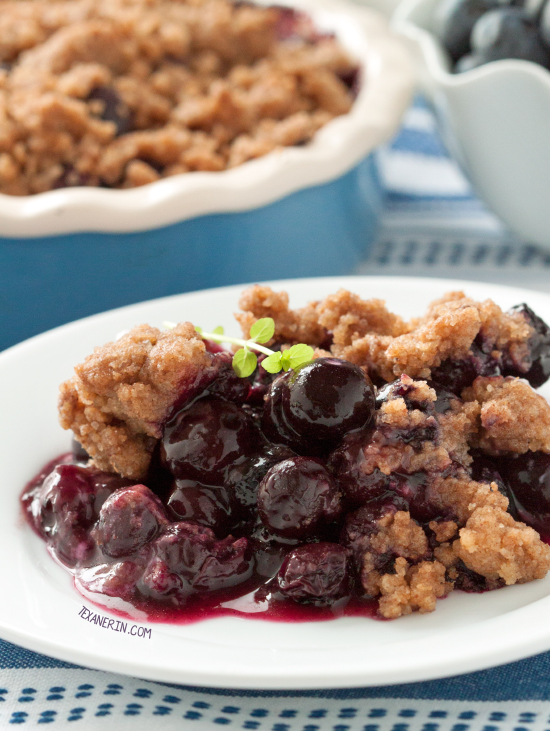 I used two 4.75″ mini pie dishes but you could also use a small baking dish or what I'm guessing would be four ramekins. If using pie dishes with sides that aren't very high (like mine), then you'll likely have to mound the berries quite a bit. I was worried that the blueberries would bubble over the sides but it wasn't an issue at all. But still – place them on a baking sheet just to be safe.
It's fantastic warm, cold, room temperature and with or without ice cream (like this maple ice cream!) or vanilla sauce. I preferred mine plain as I didn't want anything competing with the maple + cinnamon + blueberry bliss. But really, however you serve it – you really can't go wrong here. :)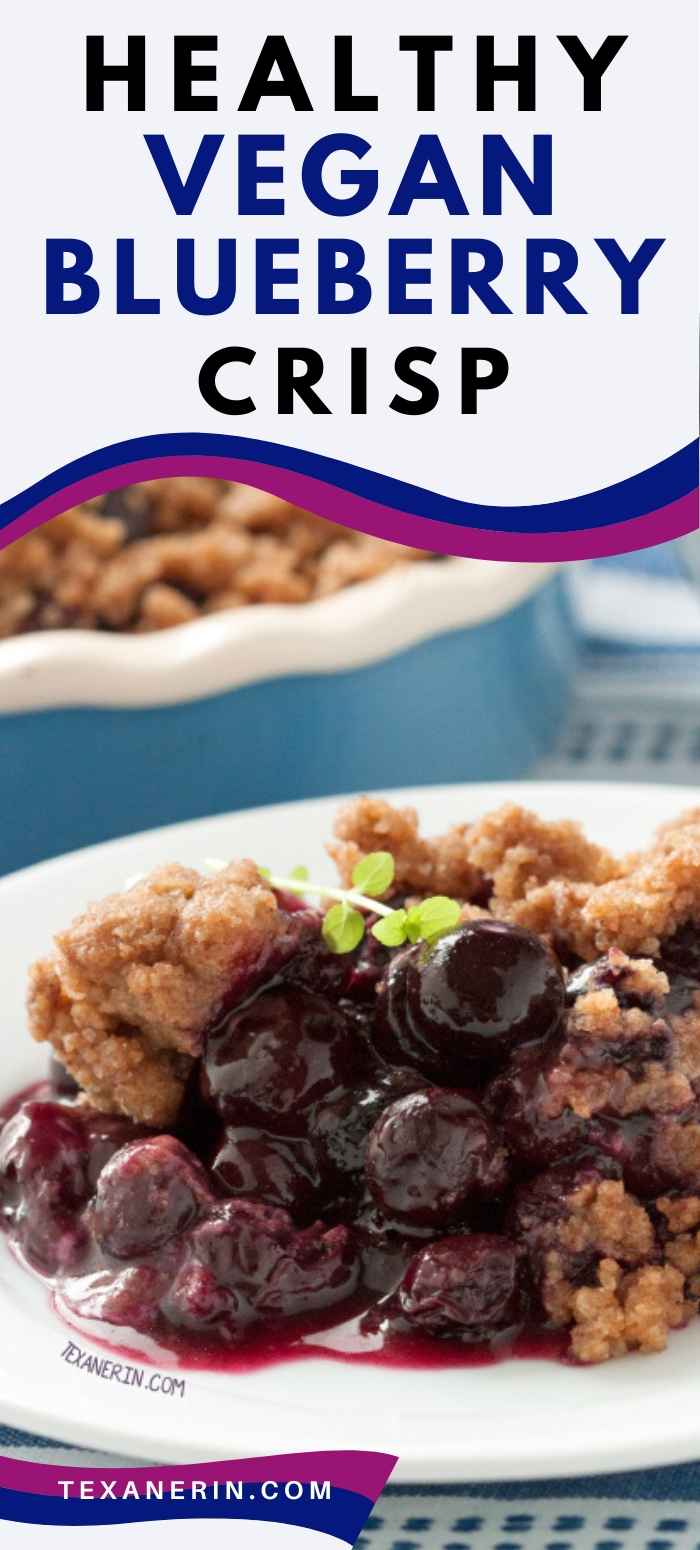 alt="This naturally sweetened vegan blueberry crisp is made healthier with 100% whole grains and is also dairy-free!" />
❀
Healthier Vegan Blueberry Crisp (100% whole grain, dairy-free)
Prep Time:
Cook Time:
Ready in:
Yield:

2-4 servings
Ingredients
For the topping:

1/2 cup (62 grams) white whole wheat flour (I used Bob's Red Mill's ivory whole wheat)
1/4 cup (50 grams) raw sugar or granulated sugar
1/8 teaspoon salt
1 teaspoon ground cinnamon
3 tablespoons (42 grams) coconut oil1 or 3 1/2 tablespoons (49 grams) unsalted butter, melted and cooled slightly (use coconut oil for vegan / dairy-free)

For the blueberry filling:

2-3 tablespoons maple syrup (use 3 tablespoons if your blueberries aren't sweet)
1 1/2 teaspoons vanilla extract
2 teaspoons cornstarch
1/2 teaspoon ground cinnamon
pinch of salt
3 cups (427 grams) blueberries, rinsed and patted dry
Directions
Preheat the oven to 350° F (175 °C) and grease two 4.5" or 5" mini pie dishes. If you don't have mini pie dishes, use something with an area close to 40" or use ramekins (I'm guessing you'd need 4).
In a medium mixing bowl, stir together all the topping ingredients. Set aside.
In another medium mixing bowl, stir together the the filling ingredients except the blueberries. When well combined, gently stir in the blueberries and coat in the liquid mixture.
Divide the blueberry mixture between the two baking dishes. Depending on the size of your dishes, the blueberries may be mounded well over the top of the dish edge. That's fine as the blueberries will cook down.
Distribute the topping evenly over the blueberries.
Place the dishes on a baking sheet to catch any spills and bake for 28-32 minutes or until the topping is firm and the blueberries are bubbling.
Let cool for 5-10 minutes before serving.
Notes
I used refined coconut oil, which has no coconut taste. If you use unrefined coconut oil, the topping may have a mild coconut taste.