I made these within a few hours of reading Heidi's post over at
Food Doodles
. I couldn't get them out of my head. They looked so quick and easy! And they are.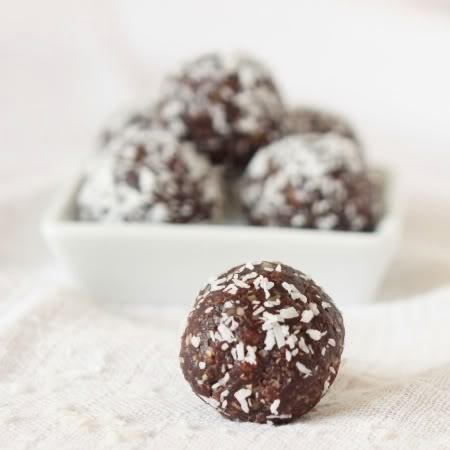 After my
king cake post
with its bright colors, posting these pictures is killing me. They're not very inspiring. In fact, they kind of depress me.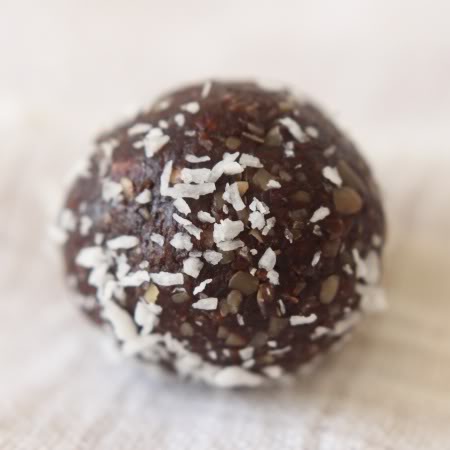 But don't let the pictures depress you. These truffles are really yummy! So you have to make them. You just have to.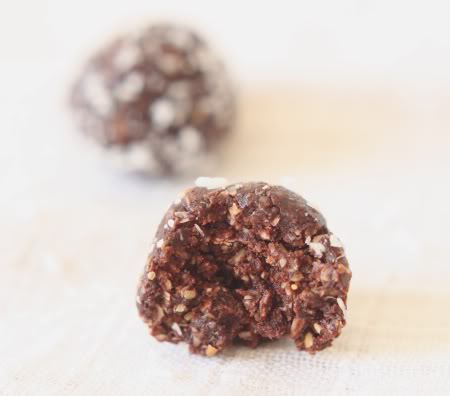 Ingredients:
1/2 cup (~128 grams – each nut butter is different) nut butter (I used maple cinnamon almond butter)
1/3 cup (105 grams) honey
1/4 cup (20 grams) unsweetened cocoa powder
1 teaspoon vanilla
a pinch of sea salt
1 cup (80 grams) rolled oats, non-contaminated for gluten-free
3/4 cup (70 grams) oat bran (or coconut, ground flax, wheat germ, ground nuts – gram measurement would be different, make sure you use a GF option if needed)
1/2 cup of add-ins (I used chocolate chunks)
Directions:
Warm the nut butter and honey over low heat in a small pot. Once it has liquified, take the pot off the heat and stir in the cocoa powder, vanilla and salt. Once it's well combined, stir in the oats, oat bran and add-ins. Chill until the mix isn't warm anymore, and then roll into small balls. If the truffles are too dry, squeeze the balls together (instead of rolling them). Roll in coconut or nuts or whatever you like. Can be stored at room temperature or in the fridge.
Source:
Chocolate No Bake Energy Bites
from
Food Doodles