These 6-ingredient peanut butter protein balls only take a few minutes to throw together and are full of healthful ingredients! Naturally gluten-free, whole grain, dairy-free and with a vegan option.
Just basic ingredients
There's loads of good stuff in these protein balls. Tons of natural peanut butter plus a bit of raw honey (or brown rice syrup for a vegan option), oats and coconut.
And of course, some mini chocolate chips because… why not? ;) Feel free to omit them if you want to limit your sugar.
Make sure to use the kind of peanut butter that just contains peanuts and salt. If you use a brand that has added fat and sugar, these peanut butter balls likely won't turn out well. You'd also be adding a ton of fat (and probably not the healthy kind) and sugar!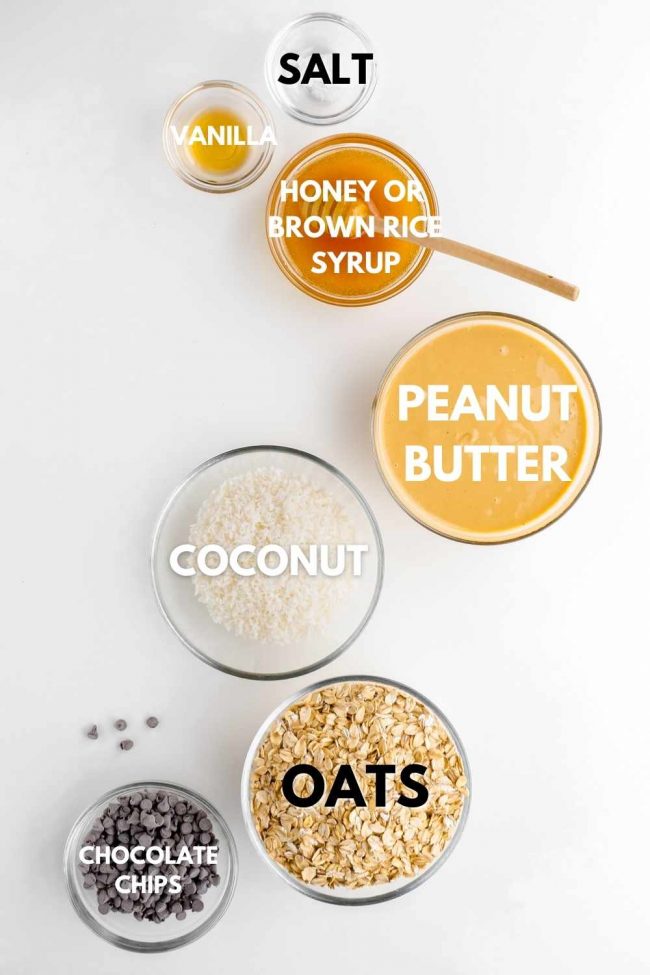 So easy that kids can make them alone
To make these peanut butter protein balls, all you do is dump the ingredients into a bowl and roll the mixture into balls. It's not an especially sticky mixture so you'll have to squeeze them together to get the balls to hold together.
I've made these peanut butter protein balls a number of times with the exact same ingredients (as in from the same package) and the very small amount of water I needed to add to hold the mixture together varied each time (hence the range in the measurement given).
also discovered that instead of using additional water to bring together the mixture, vanilla extract's a tasty alternative!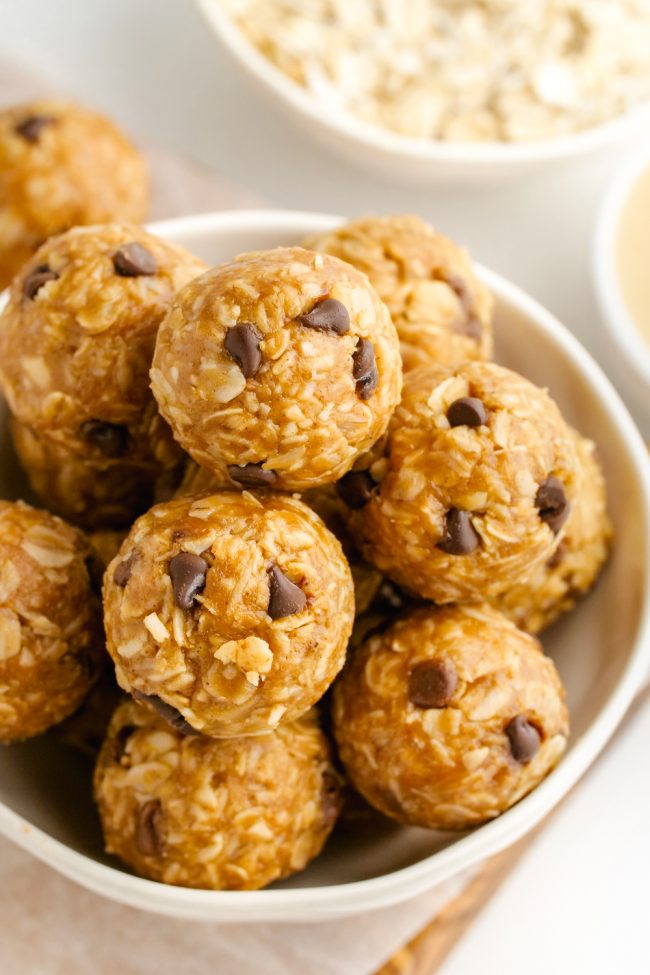 Prefer something more cookie-like but don't want to turn on the oven? Try these no-bake oatmeal cookies! They're also 100% whole grain and naturally gluten-free + vegan. And seriously – they're one of my favorite recipes.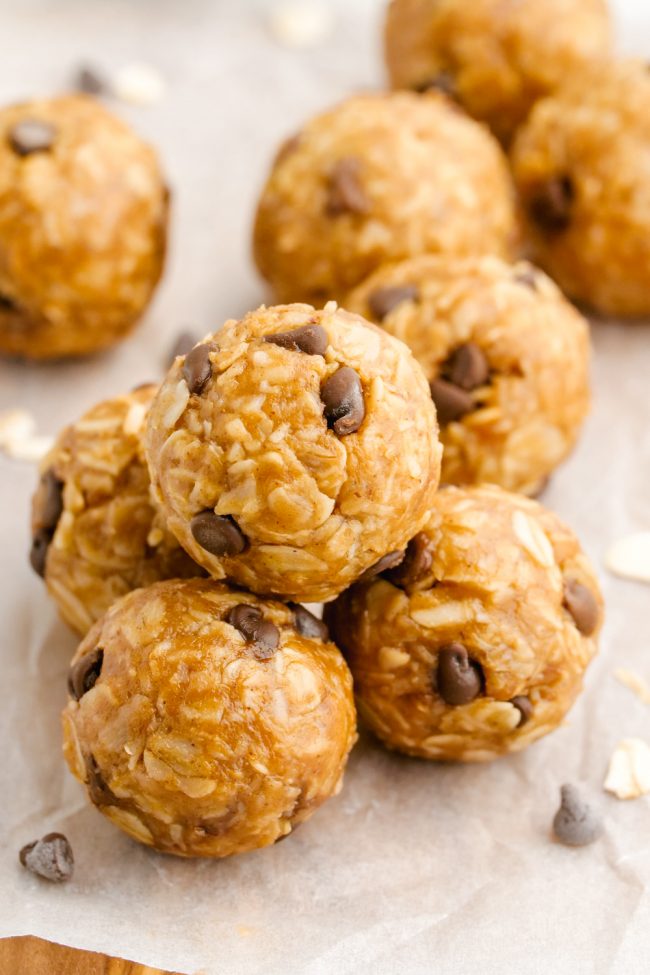 Peanut butter sub?
Wondering how to make peanut butter? All you need is 1 ingredient and a food processor!
But if you can't have or don't have peanut butter or peanuts on hand, you can experiment with other nut butters. I've tried today's recipe with sunflower seed butter and it worked great. But I'm not sure about other nut butters.
They're not always 100% interchangeable so I can't say for sure if other types would work in these protein bites. That's why I called it an experiment. ;) But I'm quite sure they'd be fine wth other types.
I can tell you that almond butter works amazingly well in these bliss balls, as does sunflower seed butter for a nut-free option. They're like a chocolate version of this recipe and truly so delicious.
For a grain-free chocolate version, try these chocolate peanut butter protein balls. If you use cashew butter, then you've got youself some paleo protein balls. :)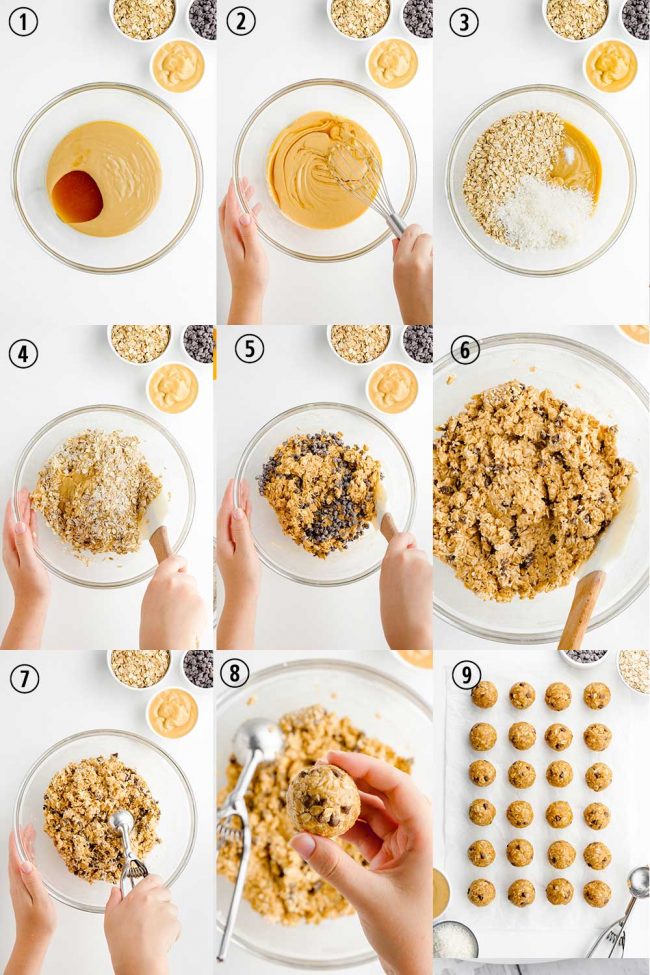 Vegan option
Honey is quite a bit stickier and thicker than maple syrup and that's why I only have brown rice syrup listed as a honey sub for this recipe.
I tried these balls with maple syrup but they fell apart more easily. So that's why I recommend brown rice syrup.
If you give these peanut butter protein balls a try, I'd love to hear what you think!
And here are some resources if you're new to the vegan or gluten-free diet:
❀
Peanut Butter Protein Balls (gluten-free, vegan, whole grain, dairy-free)
Prep Time:
Cook Time:
Ready in:
Yield:

24 1" balls
Ingredients
1 cup (256 grams) natural peanut butter or sunflower seed butter for nut-free (the kind with just peanuts / seeds and salt)
1/4 cup (80 grams) honey or 1/4 cup brown rice syrup for a vegan version
2 teaspoons vanilla extract
1 1/2 cups (135 grams) rolled oats (use gluten-free oats, if needed)
1/2 cup (42 grams) unsweetened shredded coconut
pinch of salt
1/3 cup (57 grams) mini chocolate chips (use vegan chocolate chips, if needed)
2-4 teaspoons water or additional vanilla extract
Directions
In a medium mixing bowl, stir together the peanut butter, brown rice syrup or honey and vanilla extract.
Stir in the oats, coconut and salt until well combined and then add the chocolate chips. If the mixture doesn't hold together well when pinched together, add the additional water or vanilla, a teaspoon at a time until the mixture holds together well when pinched.
Form 1" balls by pressing about 1 tablespoon of the mixture together.
Store at room temperature for up to 3 days or refrigerate for 1 week.