This super moist coconut rum cake is soaked in a coconut rum syrup and has all-purpose, gluten-free, whole grain and dairy-free options. Thanks to Nordic Ware for making today's post possible!
Like I mentioned in my Apple Bundt Cake recipe, I used to have some serious issues with Bundt cakes sticking to the pan. It got to the point that I was afraid to even make them. Then I bought this Nordic Ware 60th Anniversary Bundt pan and all my Bundt woes went out the door! Since then, I've bought some other Nordic Ware pans and I love them all. Nobody makes Bundt pans as well as they do!
I'm so happy to have Bundt cakes back in my life because I don't do layer cakes. For this non-decorator, they're such a hassle and never come out looking like I hope. Bundt cakes, though, are ridiculously easy and always turn out beautifully!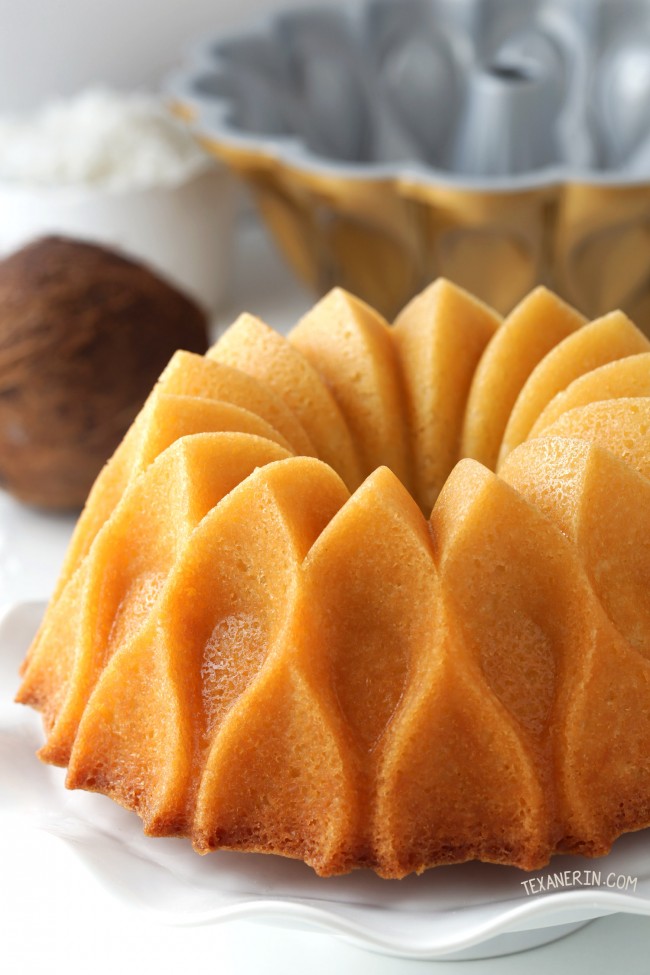 Nordic Ware recently sent me their stunning Crown Bundt, which is a new and exclusive Bundt design produced for their 70th Anniversary. It expresses the essence of their proud Scandinavian roots and pure elegant design by combining old world patina with bold and beautiful panache. It's one of three new pans in their 70th Anniversary Collection, all of which feature a never seen before gold-metallic finish. It's such a show stopper! I actually gasped when I took it out of the box. And I haven't put it up yet. It's just too pretty to be hidden away!
Nordic Ware has been making high-quality kitchenware in the US for 70 years. With their huge variety of collections and hundreds of products, Nordic Ware has also become known internationally, with millions of fans around the world. We even have them here in Germany! Does anyone else have a hard time passing by their Bundt pans in kitchen stores without buying one?! I know I do. And even after all this time, they're still a family owned and operated company. Along with the new collection, they're launching contests and other events throughout the year to celebrate! Be sure to follow Nordic Ware on Facebook to be kept up to date.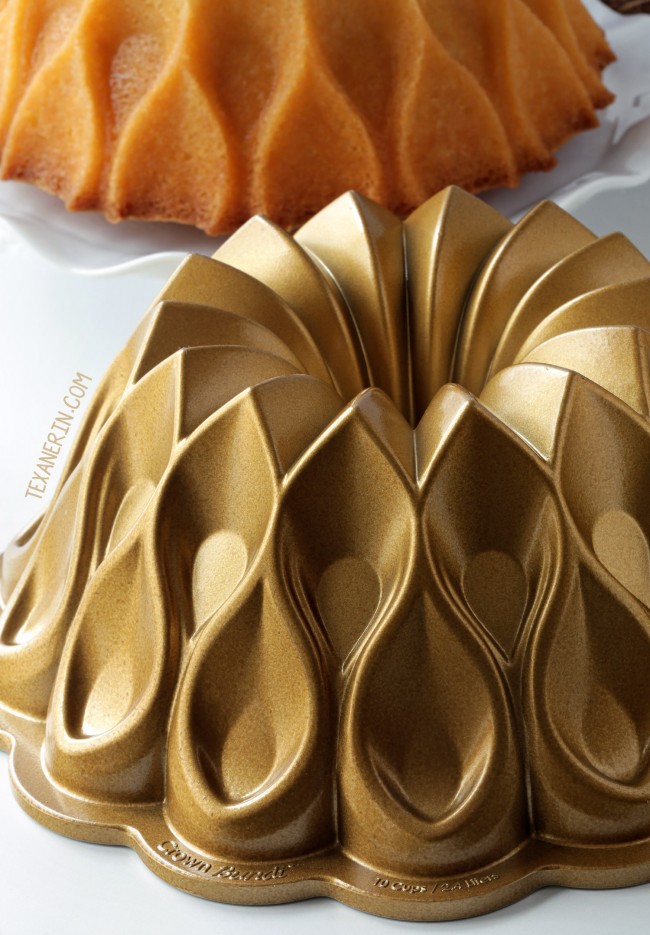 When I first saw the Crown Bundt, I knew that I had to make something without any kind of frosting or glaze that would just detract from the gorgeous shape. I originally wanted to make a Scandinavian-inspired cake and decided on lemon cardamom. It was good but not mind-blowingly delicious. So I kept at it and came up with this Coconut Rum Bundt Cake! I first made this recipe as cupcakes and they were great. I was almost tempted to skip the coconut rum syrup. But I had gone to the trouble of getting the coconut rum so I tried it and yup – it was a definite improvement!
For the gluten-free version, I used this 1-to-1 baking flour. Hot from the oven, you can notice a textural difference but nobody could tell a difference between the two versions once the gluten-free version had cooled!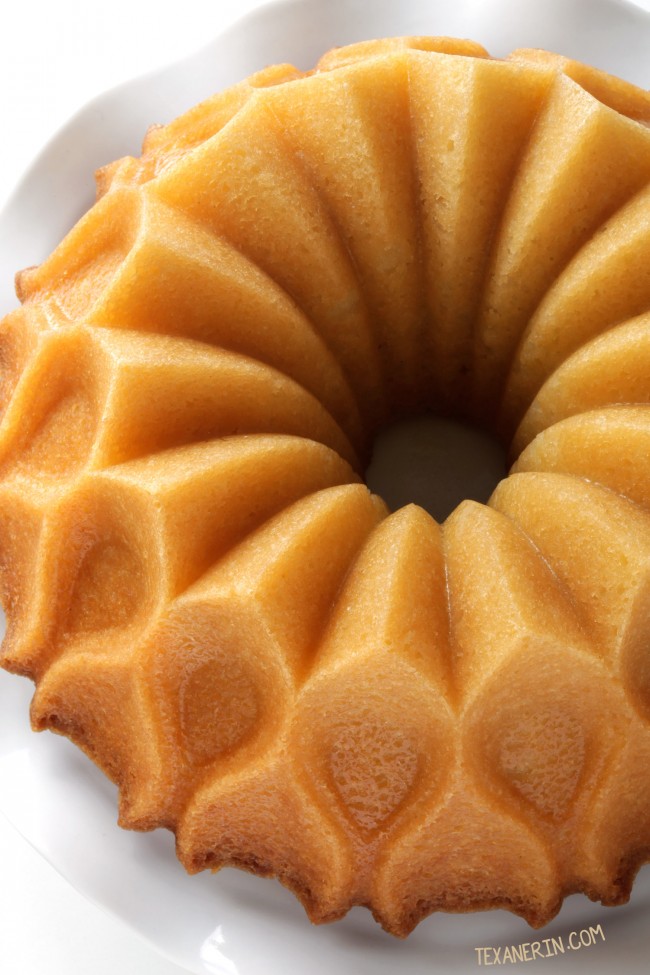 I have to admit that I was pretty scared when it came time to turn this cake out onto a plate. After years of cakes falling into pieces, I suppose it'll take time to get over that. But this Coconut Bundt cake came out just as easily as with my other Nordic Ware pans!
I've made rum cake before, but this coconut rum cake recipe is totally different. Except for the syrup, which I adapted to use less sugar and coconut rum in place of regular rum. In contrast to the rum cake, you can't taste the alcohol all that much. It's much more subtle here! If you want more of a boozy taste, perhaps you could try a mix of coconut rum and regular rum. If you only use rum, you won't be able to taste much coconut at all (I know because I've tried!).
The syrup recipe yields a lot. As I was pouring it over the cake, I hesitated, thinking that perhaps I should only use half of it. But I finally decided to just use it all and there was practically a pond of syrup on top of the cake. I was so nervous about it being too much that I sat down and watched the cake suck it all up. It only took about 5 minutes, for the record. :D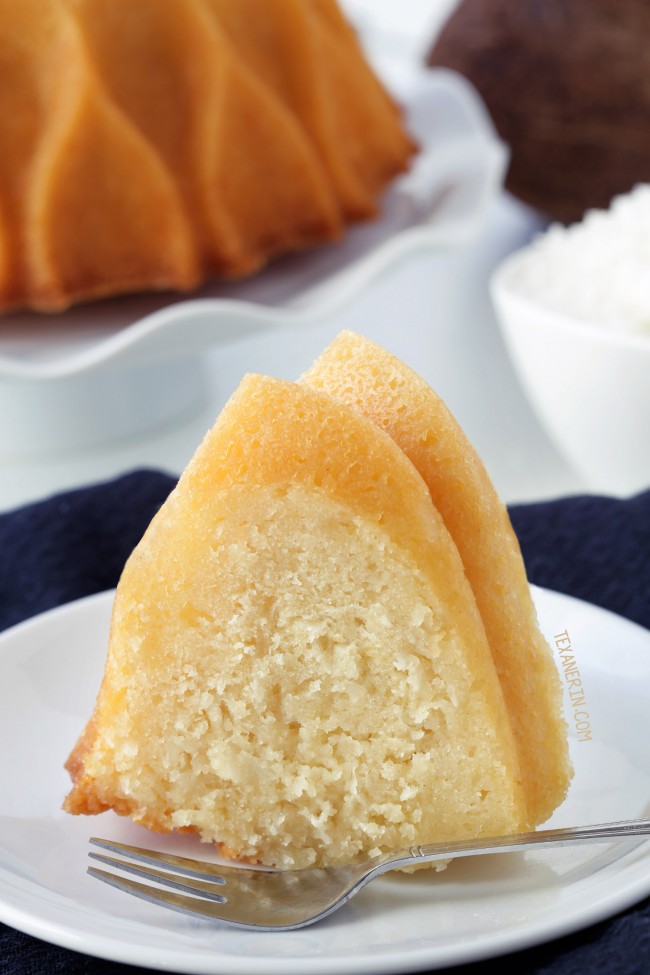 The coconut rum syrup uses butter, but for the dairy-free option, you can use dairy-free / vegan butter or coconut oil. I have to admit that I preferred the butter version over the coconut oil version. There's already so much coconut flavor so the butter was a nice addition! If you want you could skip the syrup all together. While the cupcakes were nice and moist without the syrup, I haven't tried the Bundt cake without it but I'm assuming and hoping it'd also be nice and moist.
I've mentioned this before, but I was an exchange student twice in Sweden and I've gone back there and Iceland, Norway and Denmark about 15 times. I guess you can say I love Scandinavia? ;) The Crown Bundt just screams Scandinavian design and I seriously adore it. Even the cut pieces are pretty!
Thanks again to Nordic Ware for sponsoring today's post! As always, all opinions expressed are my own.
❀
Coconut Rum Cake (gluten-free, dairy-free, whole grain options)
Prep Time:
Cook Time:
Ready in:
Yield:

12-15 slices
Ingredients
For the cake:

2 1/4 cups (281 grams) white whole wheat flour, all-purpose flour or 1-to-1 gluten-free baking flour
2 1/4 teaspoons baking powder
1/2 teaspoon salt
1 3/4 cups (350 grams) granulated sugar or raw sugar
9 tablespoons (126 grams) coconut oil, melted
4 large eggs, room temperature
3/4 cup (177 milliliters) canned coconut milk
1/2 cup (118 milliliters) coconut rum
1/2 teaspoon vanilla extract
2 teaspoons coconut extract
2 cups (170 grams) coconut flakes (I used sweetened but unsweetened should be fine)

For the coconut rum syrup:

1/2 cup (112 grams) unsalted butter (for dairy-free, use vegan / dairy-free butter or coconut oil)
1/2 cup (120 milliliters) water
1/2 cup (100 grams) granulated sugar or raw sugar
1/4 teaspoon salt
1/2 cup (118 milliliters) coconut rum
Directions
Preheat your oven to 350 °F (176°C). Brush the pan with solid vegetable shortening and dust with flour or use baking spray with flour in it to grease the pan.
In a medium bowl, combine the flour, baking powder and salt. Set this aside.
In a large bowl, mix together the sugar, melted coconut oil, eggs, coconut milk, coconut rum, vanilla and coconut extracts until well combined. Fold in the flour mixture, just until no more streaks of flour remain. Fold in the coconut flakes.
Pour the batter into the prepared Bundt pan and bake for 40-50 minutes, or until a toothpick inserted in the middle comes out clean. The cake will crack around the top - stick the toothpick into this area to test.
Let the cake cool in the pan for 10 minutes and then invert onto a wire rack. While the cake is cooling, prepare the coconut rum syrup. In a large saucepan over medium heat, heat the butter, water, sugar and salt until the sugar has dissolved, stirring occasionally. Take the saucepan off the heat and stir in the coconut rum (it'll bubble).
Wash and dry the Bundt pan and place the cake back into the pan. Poke holes into the cake (I used a meat thermometer to do this), about every 3/4" or so. If using the Crown Bundt, make sure to poke your holes at an angle instead of poking straight down. Pour the syrup slowly over the cake. It will look like WAY too much syrup but don't stop pouring! It will get absorbed. Let soak for 2 hours and then invert the cake back onto a serving platter. Cover and store at room temperature for up to 3 days. General tip: if you have issues with the syrup-drenched cake not coming out of its pan, place the Bundt pan in a large bowl or pot. Very carefully fill with very hot water, but make sure that no water gets in the pan. Or you can fill a pot with hot water and submerge 2/3 of the pan in the water and hold it there for 30 seconds. The heat and steam will help loosen the cake from the pan. If it doesn't plop right out, give the top of the pan a good whack.
Let the cake cool completely. Cover and store at room temperature for up to 3 days.
As an Amazon Associate, I earn from qualifying purchases. For more info, see my disclosure.