These peanut butter bliss balls only call for 5 ingredients and are a super quick and relatively healthy treat for kids and adults alike! They're oat-based snacks that are high in protein and fiber! They're naturally gluten-free, refined sugar-free and dairy-free with a vegan option.
These energy balls are great on-the-go snacks that are full of protein and perfectly sized for the lunch box. Energy balls, raw balls, protein balls and bliss balls – there are so many ways to describe these incredible bites.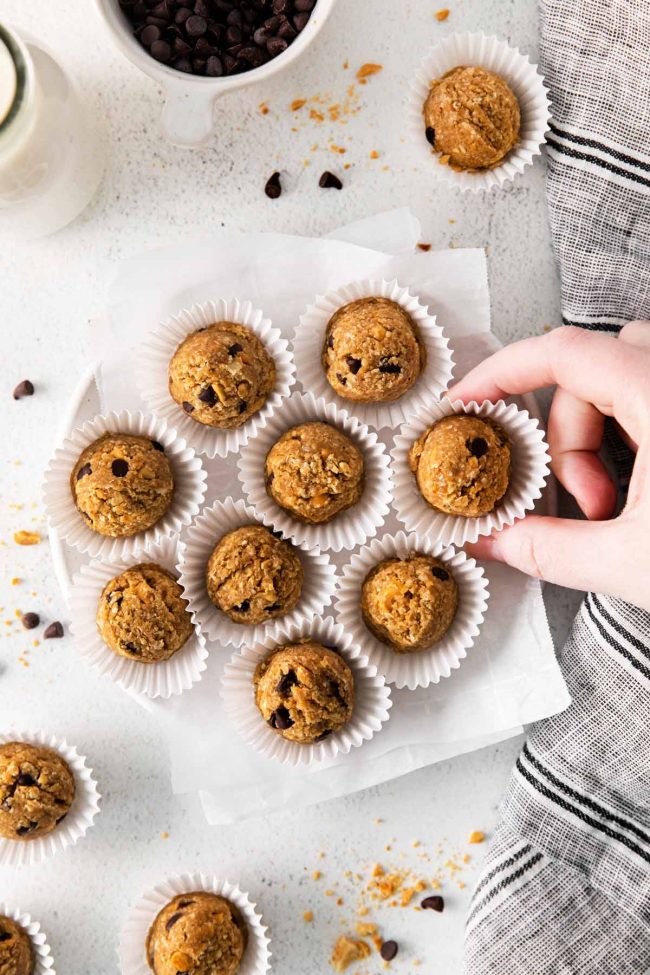 If you need a super quick energy snack, then you have to give these peanut butter bliss balls a try.
Ingredients
Peanut butter – almond butter also works


Honey – you can use brown rice syrup for a vegan version


Oats – I used quick oats (not instant oats), but you can also use rolled/traditional oats if you decide to use a food processor to make these balls. If you go with the "just mix everything in a bowl" method, then I think that they'd be too chewy with rolled oats.


Vanilla + salt


Optional: mini chocolate chips + chopped peanuts
How to make them
You've got two options.
The quicker and easier way is to simply mix everything together in a bowl and roll it into balls. This yields the texture of your typical bliss ball or protein ball.
They're so easy, you can even get the kids to make them!
Or if you'd prefer a fudgier texture, you can blend the oats a bit first in a food processor or a high-speed blender like a Blendtec or Vitamix.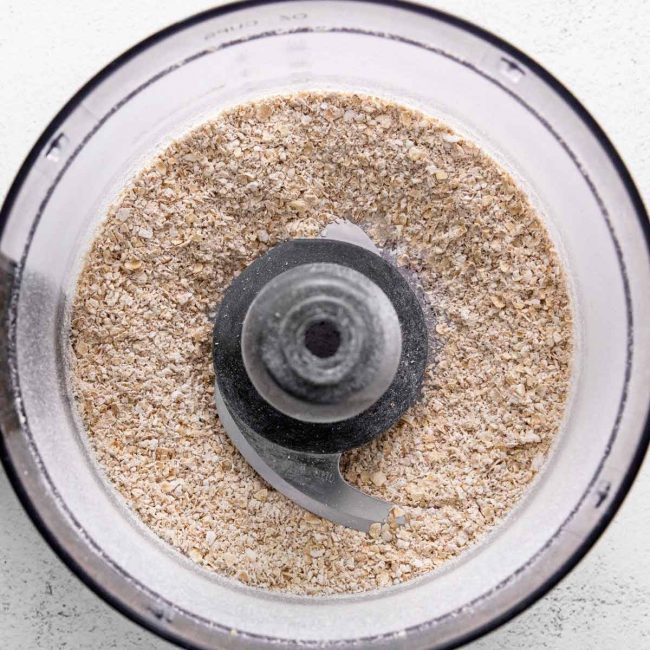 Pulse them until they're broken down quite a bit, but not like oat flour, which is a fine powder. Oat flour is too fine!
Then dump that into a bowl and put the wet ingredients in the food processor.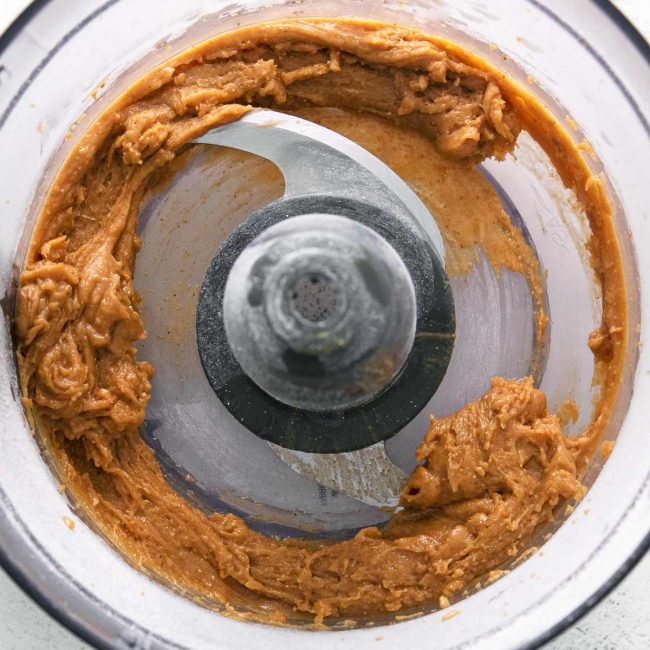 Pulse until combined. Add the oats and pulse a bit more. Roll into balls!
Because the oats are more finely processed, you'll get a more fudgy texture. But they're not like straight-up fudge. If you like that idea, try this Vegan Peanut Butter Fudge!
I love them both ways.
How to store bliss balls
These peanut butter balls are perfect to eat straight away. You can then store the raw balls in the fridge in an airtight container for up to a week. Or you can put them in the freezer.
I like to separate layers of snack balls with parchment paper to avoid them sticking together.
Then when you're ready for a treat, just let them sit out on the counter for a few minutes and they're ready when you are.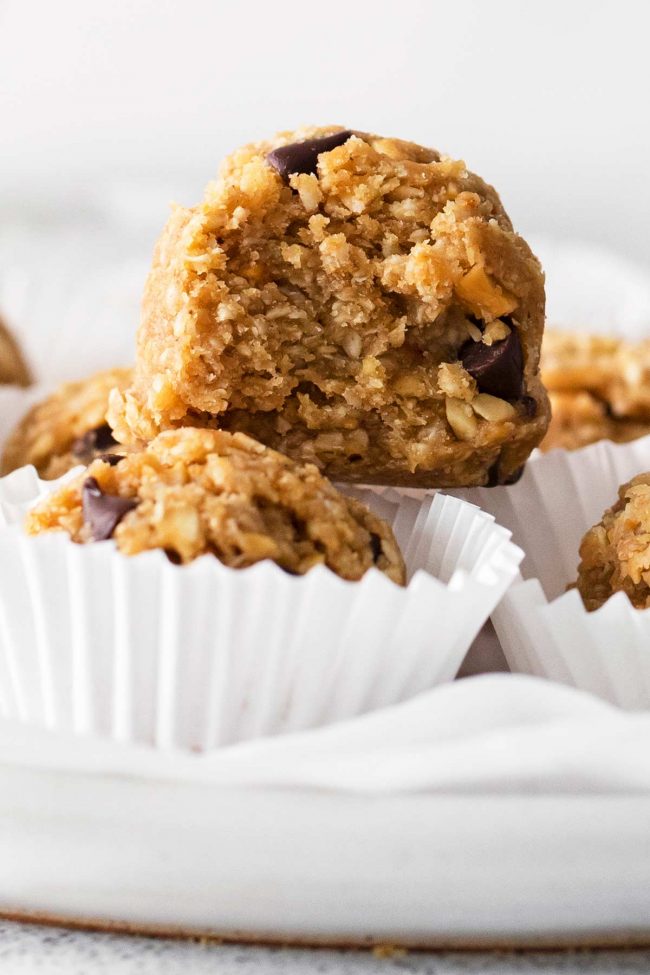 Can I use other nut butters?
I've made them with both peanut butter and almond butter with great results. I much prefer them with peanut butter.
You definitely want to use natural peanut butter with no added sugar or additives for these snack balls. Use peanut butter that has only peanuts and salt.
If it has salt you don't need to add any more. If you want to make homemade peanut butter, it's great in this recipe. And here's a recipe with a ton of tips → How to Make Peanut Butter
If you make your own, you'll have some left over to make this Healthy Peanut Butter Ice Cream or these Raw Peanut Butter Chocolate Chip Cookie Dough bites!
With almond butter, the flavor just isn't WOW! Adding some cinnamon helps, though.
I would say that sunflower butter is too runny, cashew butter is too firm, and walnut butter might work.
But you'd have to really like the taste of the walnuts.
And pistachio butter? That could be interesting!
Can I use something other than oats?
Nope. There isn't a good sub for oats in this kind of recipe.
Quinoa flakes, rice flakes, etc. all have a very different texture and taste and almost definitely wouldn't work here.
I've tried using coconut in place of the oats in ball recipes, but the result is always greasy.
If you're wondering are oats gluten-free? – the short answer is yes, if you buy the right oats. If you're sensitive to gluten, and especially if you have celiac disease, be sure to take a look at the article so you can be sure to avoid mistakes when you buy oats – if you decide to use them.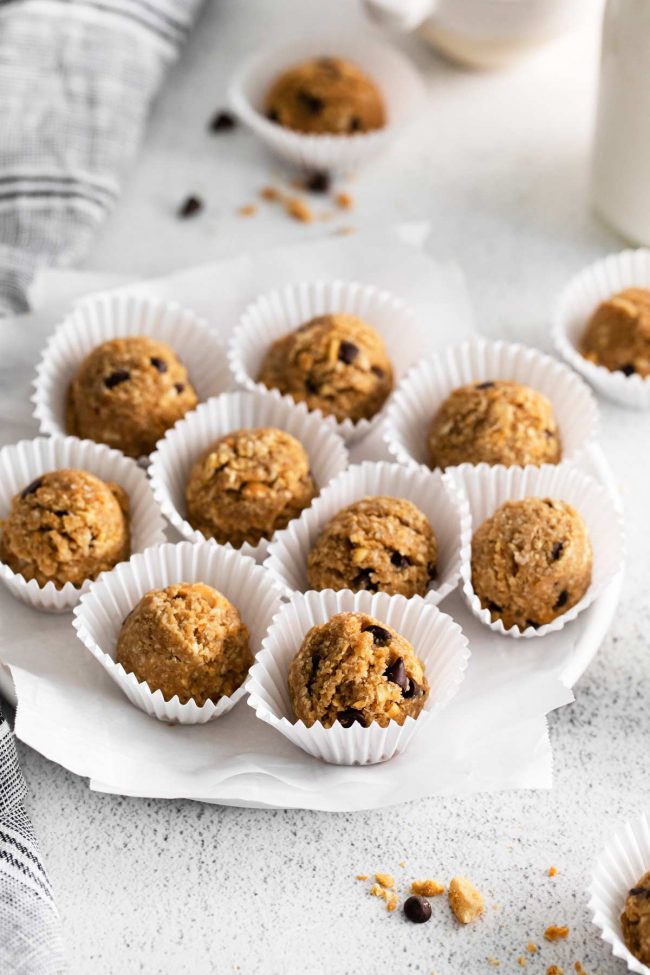 Can I use maple syrup?
I usually test my honey recipes with maple syrup. I figured it wouldn't work here but tried anyway.
You really need to use honey or something similar with a thick, gooey texture.
Think about it like this. If you pour honey over oats, it won't make them soggy.
If you pour maple syrup on top, it will. It does the same things in the balls.
I doubt anyone is pouring honey or maple syrup on top of plain oats, but that's the best way I can think of to describe it, no matter how odd it is. 😆
Point is – the texture is all wrong with maple syrup.
Brown rice syrup is your vegan option.
Can I add coconut or other stuff?
Chopped dried nuts or fruit? That would probably work.
Ground chia or flaxseed or coconut flakes? I don't think it would because those things would absorb moisture, and I believe make the bliss balls crumbly.
It's just a guess, though.
If you want to use coconut, check out my recipe for Peanut Butter Protein Balls. They're very similar to this recipe, but they also call for coconut.
If you are determined to add coconut, you could roll the balls in coconut after you've rolled them into balls which helps keep them from sticking to your fingers. They may become a little drier but still taste good. Or roll them in some cocoa for a chocolaty taste.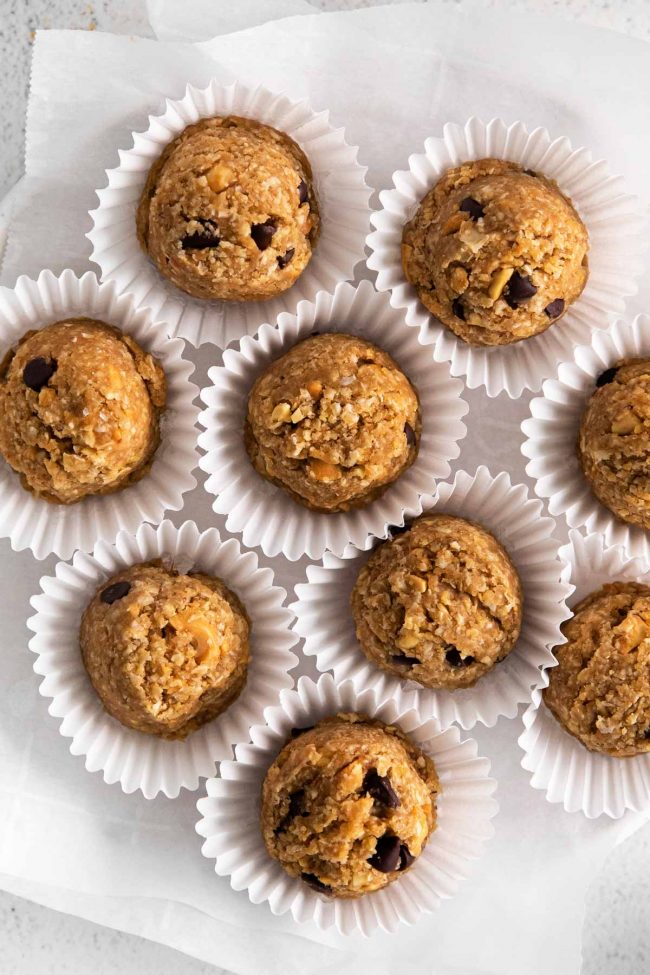 Other bliss ball recipes
So tell me which is your favorite? If you make these peanut butter bliss balls, please drop a comment below and let me know what you think. :)
And here are a few resources if you're new to the vegan/gluten-free diets:
❀
Peanut Butter Bliss Balls
Prep Time:
Cook Time:
Ready in:
Ingredients
1 1/3 cups (109 grams) quick oats
1/3 cup (85 grams) natural peanut butter or almond butter (no added salt/sugar)
1/4 cup (80 grams) runny honey1 or brown rice syrup
1 1/2 teaspoons pure vanilla extract
if using unsalted nut butter: 1/8 teaspoon salt
3 tablespoons mini chocolate chips, optional
3 tablespoons finely chopped peanuts, optional
Directions
For a typical protein ball texture:

In a medium mixing bowl, stir together the peanut butter, honey, vanilla (and salt, if using).
Stir in the oats until combined and then the chocolate and peanuts, if using. Roll into 3/4" balls.

For a fudgier texture:

In a food processor fitted with an S-blade, pulse the oats a few times until they're broken down a bit more, but not fine and powdery like oat flour. You can also use the small jar meant for making nut butter of a high-speed blender (like a Blendtec or Vitamix, not a normal blender).
Dump the pulsed oats into a bowl and mix the peanut butter, honey, vanilla (and salt, if using) in the food processor.
Once combined, add the oats, and pulse a few times until a dough forms. If using the chocolate and peanuts, remove the dough to a ball, stir those in, and roll into 3/4" balls. If not adding them, you can just roll them into balls from the food processor.

For either version:

Refrigerate in an airtight container for up to a week or freeze for up to 2 months.
Notes
I don't recommend using honey that has crystallized. Even if you melt it, it might re-crystallize and make the bliss balls crumbly.
If you're gluten-free, make sure to use gluten-free oats.
If you're vegan, make sure to use brown rice syrup and vegan chocolate.