Super moist chocolate spiderweb cupcakes that are made grain-free and dairy-free – perfect for Halloween!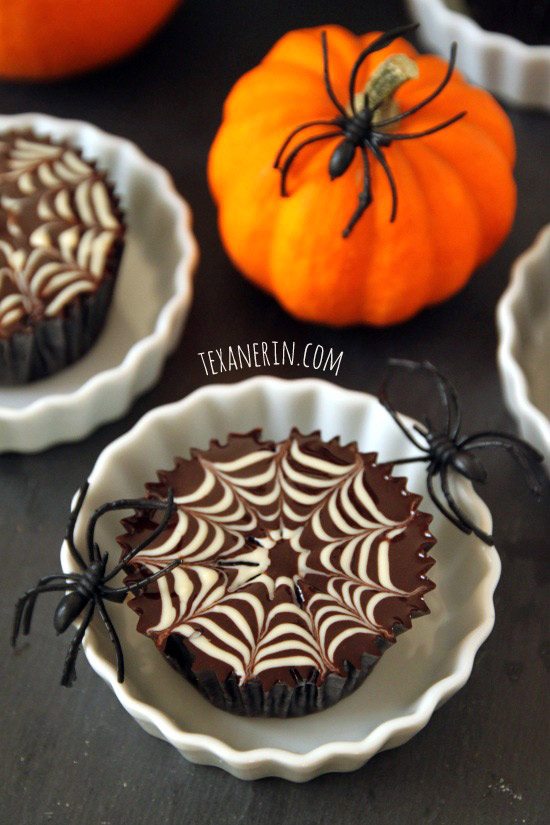 Halloween baked goods are so cute, but often so processed. Not here! Except that pesky white chocolate. I just can't quit it. And the frosting? Made with coconut oil, cocoa powder, honey and peanut butter. Yeah! :D
I love chocolate and peanut butter (like I guess the rest of the world?) but if you don't, feel free to use any other nut butter. And if nut butter is a no-go, perhaps coconut butter would work! Not coconut oil, the fat, but coconut butter, which is the meat of the coconut!
You know what's really neat? These chocolate spiderweb cupcakes are grain-free, but my test testers didn't even think they were "healthified." HA! I think any baker can tell, though. Although with the chocolate peanut butter fudge topping, it's pretty hard to tell. The texture is slightly different than a normal cupcake, but it's the closest I've ever gotten with anything gluten-free. Much less grain-free. And they're super, super moist.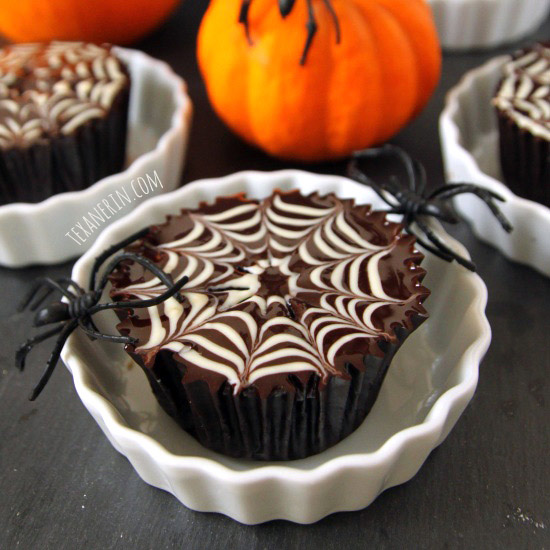 By the way, here's a tutorial for the spiderwebs. It was super simple. I promise!
I originally wanted to make skeletons for my cupcakes, and after four days of dipping pretzels in white chocolate, not being able to resist them and then having to remake them day after day, I had to give up. I put on their heads this morning and somebody told me that they looked like something "constructed at the playground." So in a fit of rage (not really) I ate all the white chocolate covered pretzels this morning and tried to think of something Halloweeny to do with my cupcakes.
I think these chocolate spiderweb cupcakes are pretty simple as far as Halloween goodies go and most definitely healthier! And they're kind of cute, right? ;) I brought them to a party and they were a bit hit! And nobody asked if they were gluten-free or somehow "special." They were too busy inhaling them. :)
❀
Gluten- and Grain-free Chocolate Spiderweb Cupcakes with Chocolate Peanut Butter Fudge Frosting
Prep Time:
Cook Time:
Ready in:
Yield:

8 cupcakes
Ingredients
Cupcakes:

40 grams (1.4oz, ~1/3 cup but please weigh!) almond flour or almond meal
3/4 teaspoon baking powder
1/8 teaspoon salt
1/2 cup (52 grams) Dutch-process cocoa powder
1 teaspoon espresso powder
65 grams (2.2oz / ~ 4 1/2 tablespoons) coconut oil, melted
1/3 cup (106 grams) honey
5 tablespoons unsweetened applesauce
2 eggs
1 1/2 teaspoons vanilla extract

Chocolate Peanut Butter Fudge Frosting:

3 tablespoons (42 grams) coconut oil
1/4 cup (~64 grams) natural peanut butter
1/4 cup + 1 tablespoon (~25 grams) Dutch-process cocoa powder
2 tablespoons (40 grams) honey
Directions
Preheat your oven to 350°F / 175°C and line 8 muffin cups with liners.
In a large bowl combine the wet ingredients and set aside. In a medium bowl, combine the dry ingredients and add this to the wet ingredients. Stir in just until combined. Do not over mix!
Pour evenly into the muffin liners. If you want to make spiderwebs like I did, you need to be careful to not put too much batter in the liners because I'm guessing it'll be more difficult if you have a slightly domed cupcake. My liners were a little less then 2/3 full.
Bake for 16 minutes. A toothpick inserted in the middle should come out mostly clean. A few moist crumbs or a little stickiness is okay, just not raw batter. These are super moist so if it comes out totally clean, they're probably overdone.
For the frosting, melt the coconut oil, natural peanut butter and cocoa powder together in a pot or pan over low heat. When it's completely melted and smooth, take it off the heat and add the honey and stir until well combined. Let the cupcakes and frosting cool completely before icing. These are much better stored at room temperature and it's okay to keep at room temperature even after frosting. My favorite way to enjoy them is to reheat them a little in the microwave. The topping melts and it gets so gooey. Definitely the most "regular" cupcake tasting in this form. :)