These gluten-free chocolate zucchini muffins are also paleo, full of almond butter and use just a little coconut flour for a fudgy texture. They're also dairy-free and have a vegan option.
It's that time of year when people lucky enough to have zucchini growing in their garden are asking, "What do I do with all of this?!"
This recipe only calls for 2 cups of grated zucchini so it won't make a huge dent in your zucchini supply but you can always double the batch and freeze the muffins for later. Same goes for these zucchini brownies!
I'm kind of nervous about posting this recipe. I rarely post zucchini recipes because the water content in them varies so much and I hate variables in baking.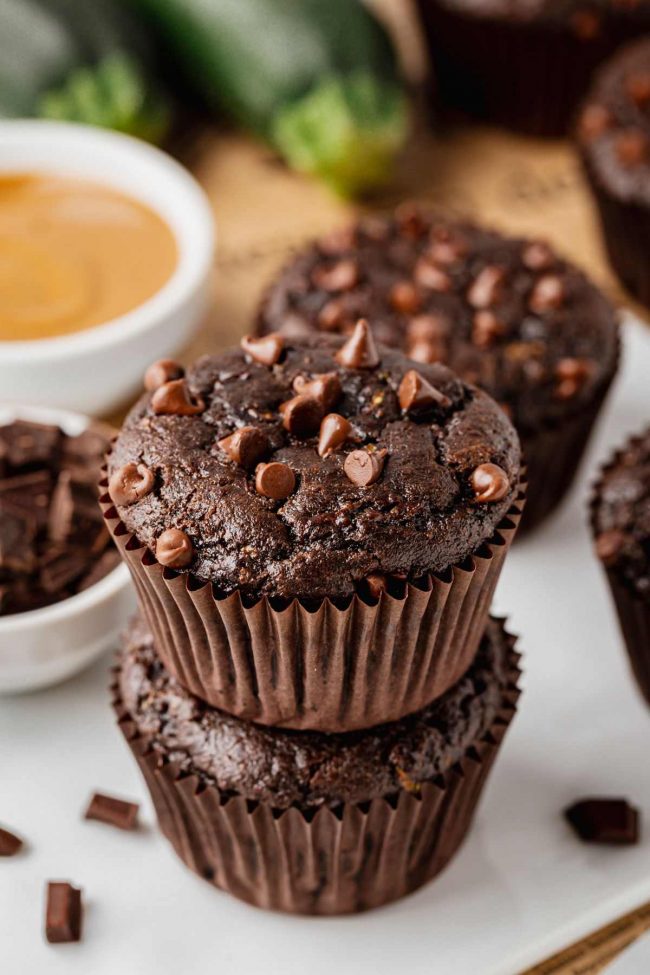 I've made these muffins with really old and dry zucchini, fresh (from the grocery store) zucchini, and zucchini that wasn't very fresh or old.
The result was always similar. Super moist! I just hope the garden-fresh zucchini won't yield muffins that are too moist.
This is such an unusual recipe. I actually had to remake it after looking at the recipe just now because I thought that the amounts were off and something must be wrong.
It calls for 3/4 cup of almond butter and just 2 tablespoons of flour. It is coconut flour, which is super absorbent, but I still thought it was weird.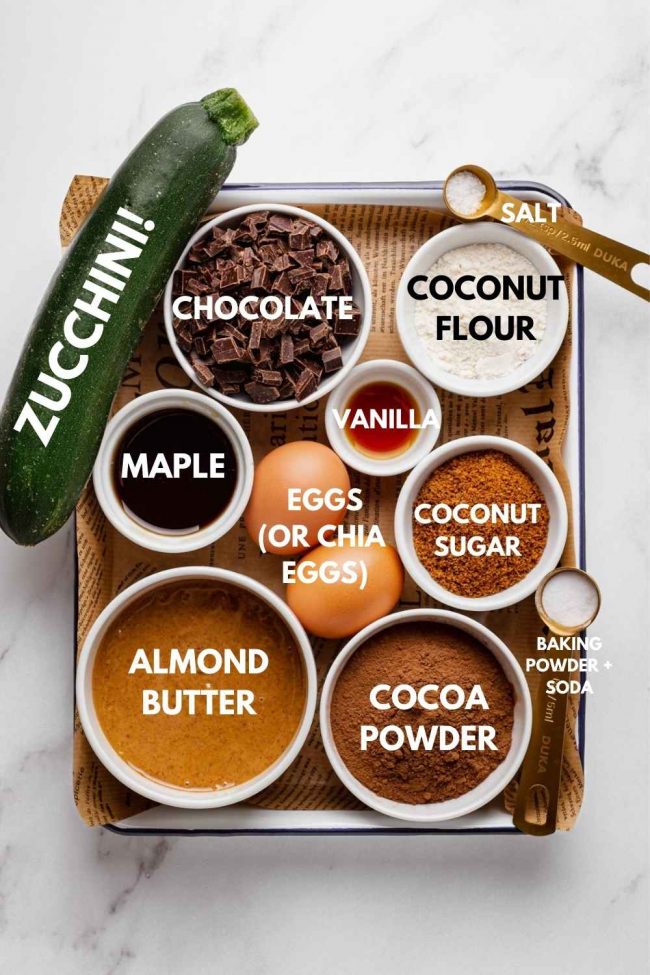 So I made these paleo chocolate zucchini muffins again and yes, I can promise you that the recipe below is correct. :D
One thing you can't tell by the photos is what a nice texture they have. They're nice and fudgy and not dry.
There's not that much sweetener in them so I was surprised by their fudgy texture. They were just sweet enough for me with the chocolate chips.
They're not like brownie fudgy kind of level but more like my chocolate banana muffins, which I know some of you are still making regularly after years.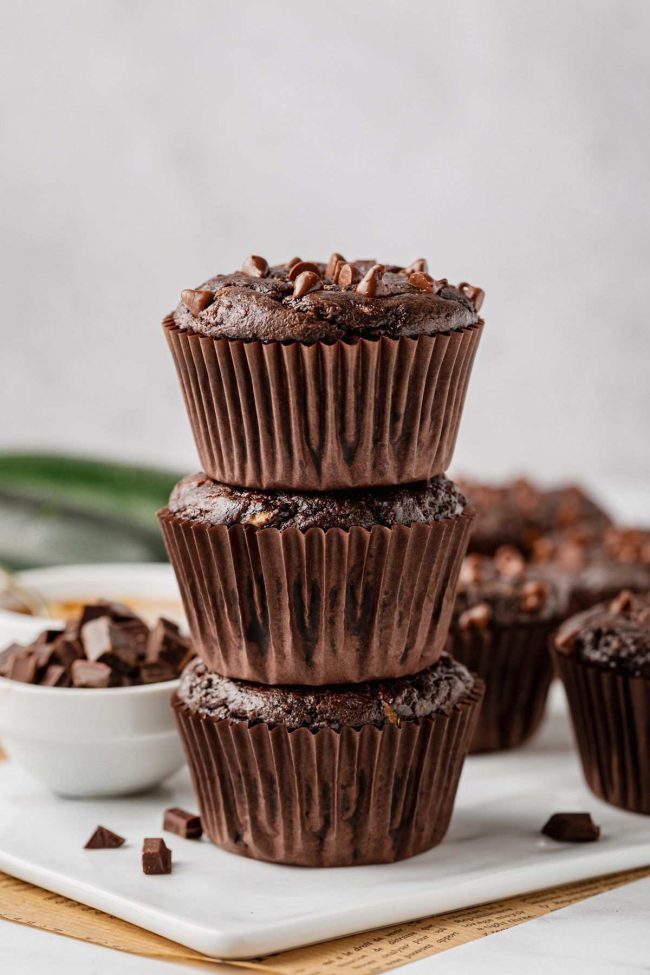 You can omit the chocolate chips if you want but then the muffins really won't be very sweet. I'm sure someone will make them like that and say they were still plenty sweet, though. Someone always does. :)
The muffins you see in the photos were made with eggs. If you make the chia egg version, they're more brownie-like. My husband even asked if he was eating brownies or cake.
Note that you need to make modified chia eggs. If you use 2 tablespoons ground chia seeds + 6 tablespoons of water, which are the usual proportions for 2 chia eggs, the muffins will never cook fully.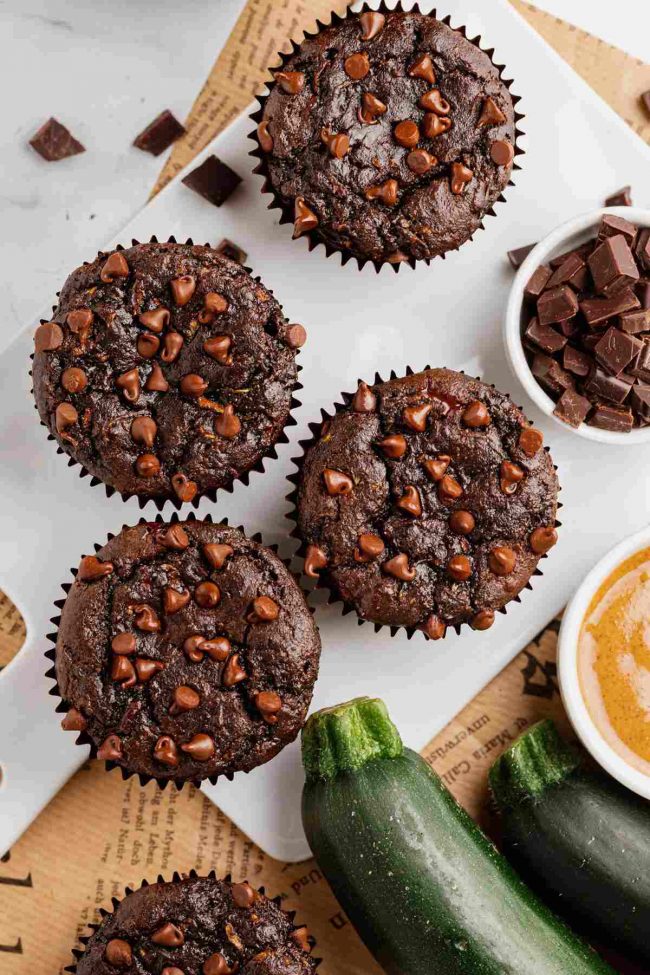 They're just a soggy mess. You just need 5 tablespoons of water.
I think paleo muffins are so hard to get perfect and that's why this is only the fourth paleo muffin recipe I've posted in the last four years.
My favorite paleo muffin recipe is still this recipe for paleo blueberry muffins. I am obsessed with their angel food-like texture!
Prefer a chocolate version? Check out these paleo chocolate chip muffins! Or if you've got hazelnut flour on hand, try these paleo hazelnut muffins.
And if you need another zucchini recipe, try this great-looking almond flour zucchini bread.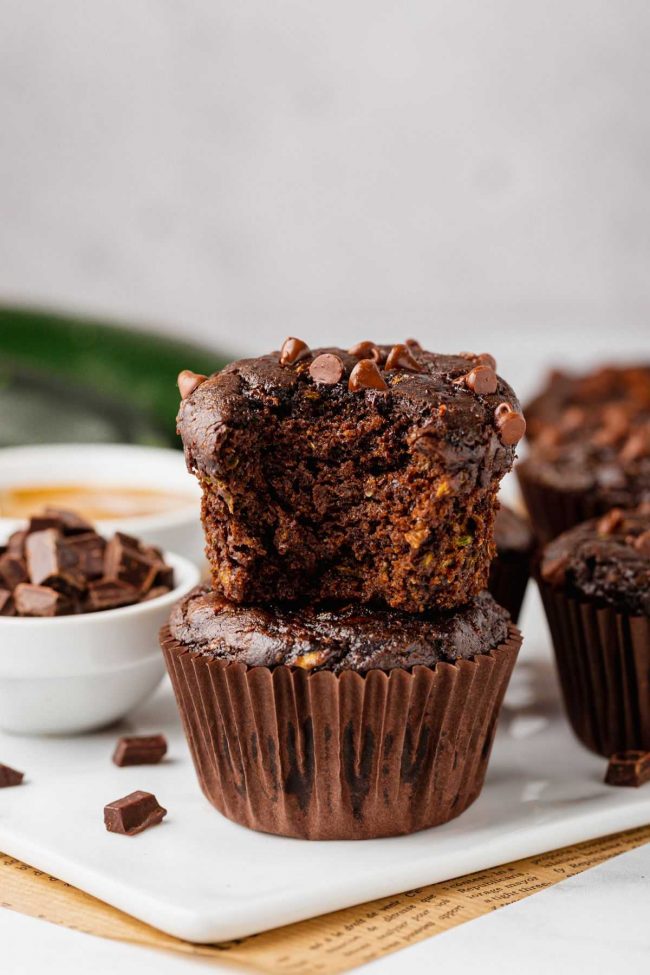 Questions about this recipe?
Can I use X type of cocoa powder?

I'm pretty sure you can use whatever unsweetened cocoa / cacao powder you'd like.

Can I omit the cocoa powder?

Nope. If you want plain zucchini muffins, you need to find a recipe for plain zucchini muffins. Omitting the cocoa would require reworking the entire recipe.

Can I omit the coconut sugar?

I tried the muffins with and without the coconut sugar and they weren't sweet enough for me without the sugar. You can use another granulated sugar in its place.

What can I use instead of coconut flour?

There's not really an exact sub for coconut flour as it absorbs so much more liquid than other flours. I've read about people using oat flour in place of coconut flour but I haven't tried it.

I'm guessing that since there's so little flour in these, it could work, but since I haven't tried it, I'm not sure.

Using almond flour, regular flour, a gluten-free 1:1 baking flour will not work!

Can I use a different type of nut butter?

I wouldn't recommend it. Natural peanut butter might work as the texture is so close to almond butter but sunflower seed butter is more runny and cashew butter is much less runny.

Can I use almond butter with added fat and sugar?

You need natural almond butter without added fat or sugar. If your runny almond butter has a little sugar but not much, it should still be fine.

What can I use in place of the honey or maple syrup?

I think any liquid sweetener that you'd normally use in place of honey or maple syrup should work. I'm thinking brown rice syrup or agave (for non-paleo).

Using a granulated sweetener probably wouldn't work.

Can I omit the zuchcini?

Please find a recipe for plain chocolate muffins if you don't want to use the zucchini. Grated carrots might work but I really have no idea without first trying it myself.

Can you taste the zucchini?

I coarsely grated them, didn't peel them and still couldn't taste anything but chocolate!

What can I use instead of chocolate chips?

You can use any dried fruit or chopped nuts that you think would go well with chocolate.
If you try these gluten-free chocolate zucchini muffins, I'd love to hear how they come out! And for something a bit more heart, try this delicious looking Instant Pot Breakfast Casserole.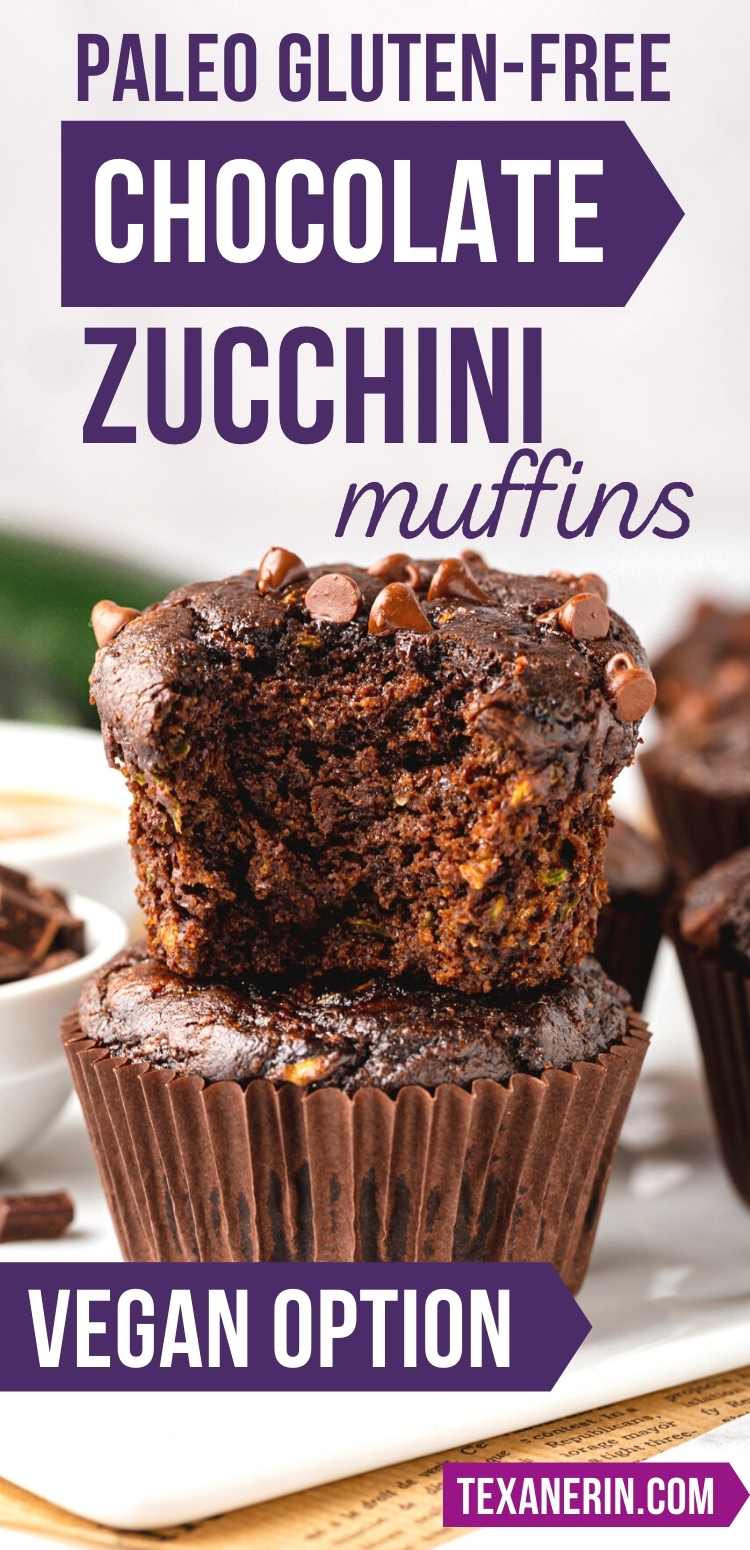 ❀
Gluten-free Chocolate Zucchini Muffins (paleo, vegan options)
Prep Time:
Cook Time:
Ready in:
Yield:

12 muffins
Ingredients
5 tablespoons (36 grams) cocoa powder
2 tablespoons (25 grams) packed coconut sugar
2 tablespoons (16 grams) coconut flour
1/2 teaspoon baking powder (use paleo baking powder, if needed)
1/2 teaspoon baking soda
1/4 teaspoon salt
2 cups (about 240 grams) grated zucchini, unpeeled
3/4 cup (192 grams) almond butter (the kind with just almonds in it)
2 large eggs (50 grams each, out of shell) or 2 modified1 chia eggs for vegan
1/4 cup (60 milliliters) maple syrup or honey for non-vegan
1 teaspoon vanilla extract
1/2 cup (85 grams) chocolate chips or chunk (use paleo / vegan chocolate, if desired)
6 tablespoons mini chocolate chips to sprinkle over the tops of the muffins (use paleo / vegan chocolate, if desired)
Directions
Preheat the oven to 350 °F (175 °C) and line a muffin tin with 12 muffin liners.
In a medium mixing bowl, stir together the dry ingredients (cocoa powder through salt).
Squeeze excess water out of the zucchini. You can use a kitchen towel or paper towels. You don't have to wring it dry - just get rid of excess water. If you're using older zucchini that has dried out a little, it may not be necessary.
Mix together the almond butter, eggs, maple syrup and vanilla. Stir in the zucchini until combined.
Add the remaining ingredients except for the chocolate and stir until well combined.
Stir in the 1/2 cup chocolate chunks.
Pour the batter into the muffin liners, sprinkle each with 1/2 tablespoon of mini chocolate chips and bake for 18 minutes or until a toothpick comes out clean (making sure not to mistake it for chocolate chips).
Let cool for 5 minutes in the pan and then carefully remove to a wire rack to cool completely.
These are so moist I think they're best kept refrigerated. They're fine for a day or two at room temp.
Notes
Use 2 tablespoons ground chia seeds + 5 tablespoons of water. Mix them together until totally combined and let sit for about a minute.
As an Amazon Associate, I earn from qualifying purchases. For more info, see my disclosure.