These paleo chocolate chip muffins have a great texture similar to angel food cake! Scroll down for a how-to recipe video.
So. Things have been slow around here! I don't really get the chance to bake much. Today's muffin recipe is really just my paleo blueberry muffins but with a few changes.
I feel kind of like a cheater with posting these. Or just lazy. But creating a totally new recipe that I have to try a dozen times before perfecting just isn't in the cards right now.
I am close to getting down a paleo chocolate cheesecake recipe! Can't wait to share it.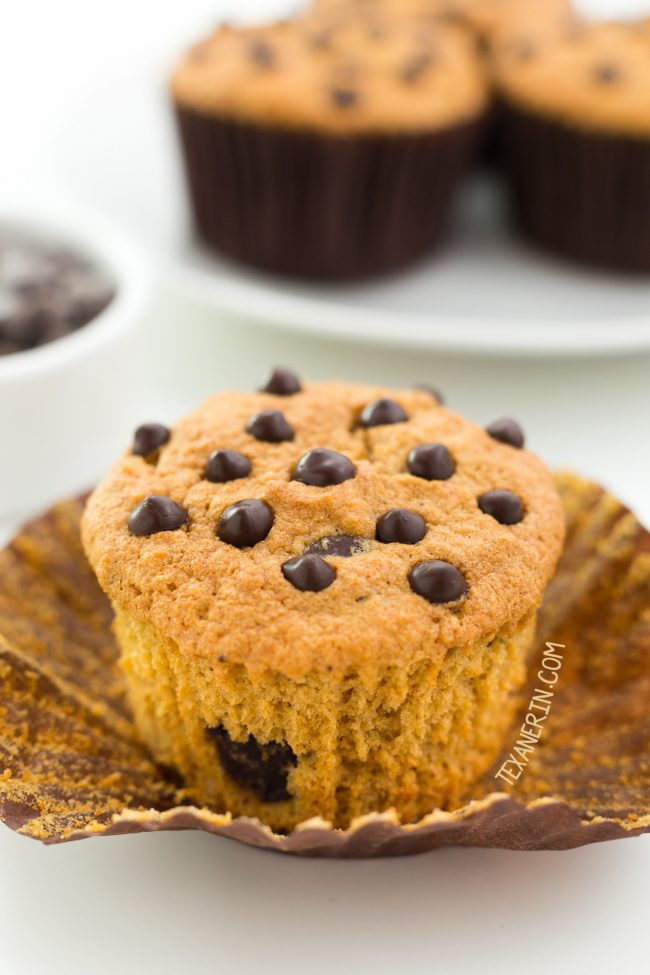 I've made these gluten-free chocolate chip muffins so many times and one time, they sank a bit. I really think it had something to do with the weather.
It was a bit humid on that day and given you have to beat egg whites, I think that would explain it. They were still delicious! Just kind of sad that they sank.
I call for mini chocolate chips for the tops of the muffins just to be safe. If you don't have any on hand, you can just omit them! I've also made them with regular-sized chocolate chips on top with no problem but figure it's best to play it safe.
For some more chocolaty paleo muffins, try these chocolate banana muffins. They're so fudgy!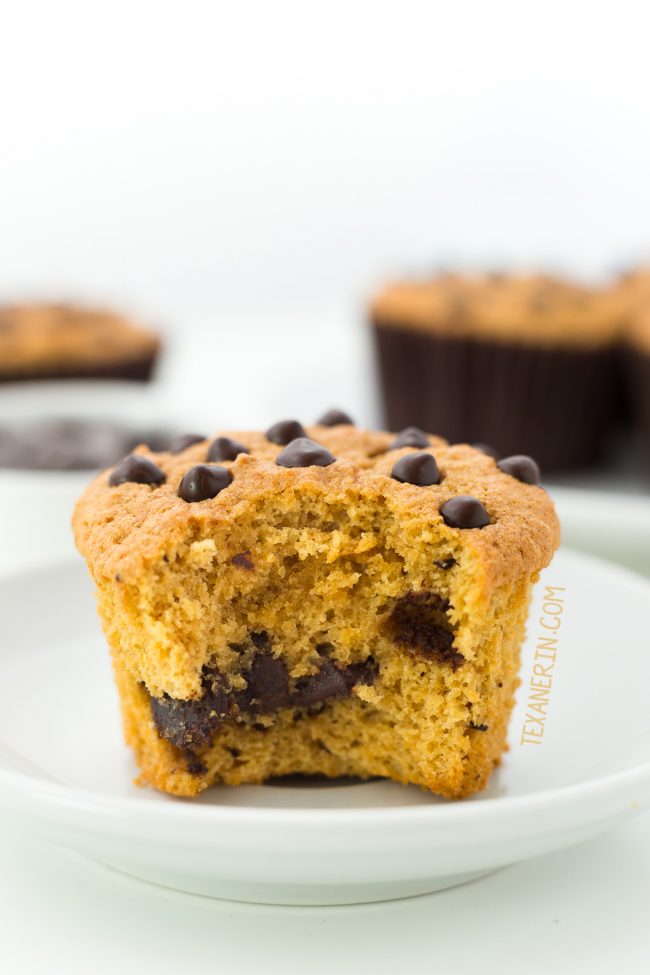 So now for why things are so slow on the blog! Björn is now 10 weeks old and doesn't like to be put down.
We can put him on the play mat or in his swing for 10 minutes max. I usually take that opportunity to shove some food down my throat. And just putting him in his crib and having him go to sleep doesn't work, either.
A few months ago, I read some food bloggers giving advice to pregnant food bloggers, saying things like, "You'll be surprised by how much work you'll get done! I was able to work so much those first few months!" Bahaha. No. Not with this baby. It took me over 2 weeks just to write the text for this post.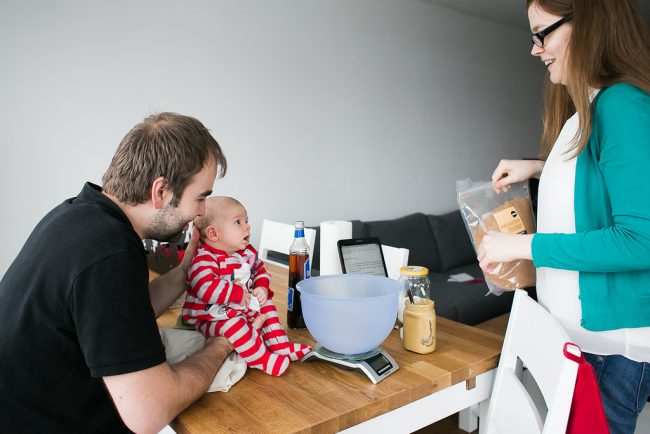 He may be fussy but he is fun! Here we are baking my gluten-free peanut butter cookies for Christmas (if you don't do peanut butter, check out my paleo peanut butter cookies recipe!).
Look how carefully Björn listened before starting to mix. :D By the way, the vodka bottle in the background is homemade vanilla. Just in case anyone was wondering. ;)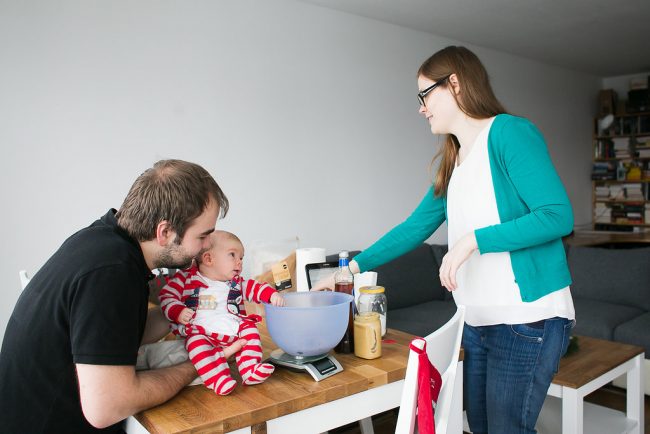 Our next baking attempt will be these paleo cupcakes and then my paleo chocolate chip cookies, or rather a new variation of those because they're such a great base!
Substitution questions for these paleo chocolate chip muffins:
Can I omit the eggs / use an egg replacement? Nope. You're beating the yolks and whites separately for this recipe and it's important for the texture.


Can I use another type of flour? I've only tried these with hazelnut meal, which worked great. Almond meal would work, too. Another type of nut flour / meal might work but I can't say for sure since I haven't tried it.



All-purpose gluten-free flour, wheat flour, rice flour, etc. will not work here. If you want something with whole wheat, try these triple chocolate muffins from RecipeGirl!




Can I use something else in place of the chocolate chips? You can use fresh blueberries. I think frozen ones would make the batter too soggy and it's a delicate batter – I wouldn't want to take the chance!

I'm thinking other types of fruit would be too juicy and have the same effect on the batter but I haven't tried it.


Can I use something else in place of the coconut sugar? You can use granulated sugar (which means they're no longer paleo). Liquid sweetener won't work. I also have no idea how to make these low-carb.
For something a bit healthier, try these amazing looking Breakfast Sweet Potatoes with Berries!
Enjoy! :)
❀
Paleo Chocolate Chip Muffins (gluten-free, dairy-free, grain-free)
Prep Time:
Cook Time:
Ready in:
Yield:

8 muffins
Ingredients
4 large eggs (50 grams each, out of shell), room temperature
1/2 cup (100 grams – I really recommend weighing this) coconut sugar
3 1/2 teaspoons water
1 1/4 teaspoons vanilla or almond extract
160 grams (this is about 1 cup + 9 1/2 tablespoons) blanched almond flour
1/8 teaspoon salt
1/2 cup (85 grams) semi-sweet chocolate chips + additional mini chocolate chips for sprinkling on top (make sure to use paleo chocolate chips)
Directions
Preheat the oven to 325 °F (167 °C) and line a muffin pan with 12 liners.
Place the egg whites in a medium glass or stainless steel mixing bowl and the egg yolks in a large mixing bowl (glass or plastic is fine). If you don't have a glass or stainless steel bowl for the egg whites, make sure your plastic mixing bowl is super clean and free of any oil residue as this can interfere with beating the egg whites.
Beat the egg whites and 2 1/2 tablespoons (31 grams) coconut sugar at high speed until stiff peaks form (about 30-60 seconds). Keep the beaters in the mixer.
In the bowl with the egg yolks, add the remaining 69 grams coconut sugar, water and extract. Beat for about 30-90 seconds at high speed or until thickened and lighter in color. Mix in the salt and then use a silicone spatula to fold in the almond flour.
Fold in the egg white mixture to the egg yolk mixture just until combined. Do not over mix but make sure it's thoroughly combined.
Stir in the chocolate chips. Fill each liner almost all the way full and then sprinkle a few mini chocolate chips on top, if desired.
Bake for 18-23 minutes or until a toothpick inserted in the center comes out clean and the tops of the muffins no longer appear wet.
Immediately remove the muffins from the pan and cool completely on a wire rack. Let sit for 2 hours before serving for best taste and texture.
Cover and store at room temperature.
Notes