These gluten-free M&M cookies are thick and chewy and can also be made with all-purpose flour or whole wheat flour.
I've posted a lot of paleo recipes as of late so here are some gluten-free and whole wheat cookies for my grain-loving friends! If you want healthy cookies, then look elsewhere. ;) These cookies are absolutely loaded with sugar and even more sugar in the form of M&Ms.
I first posted these M&M cookies over on My Baking Addiction and wanted them to be really pretty so I went with regular M&Ms rather than the naturally colored, kind of drab looking ones from Aldi (do y'all have those at Aldi in the US?). If I had had enough time, I would have ordered Unreal candy coated chocolates for a much less junky version!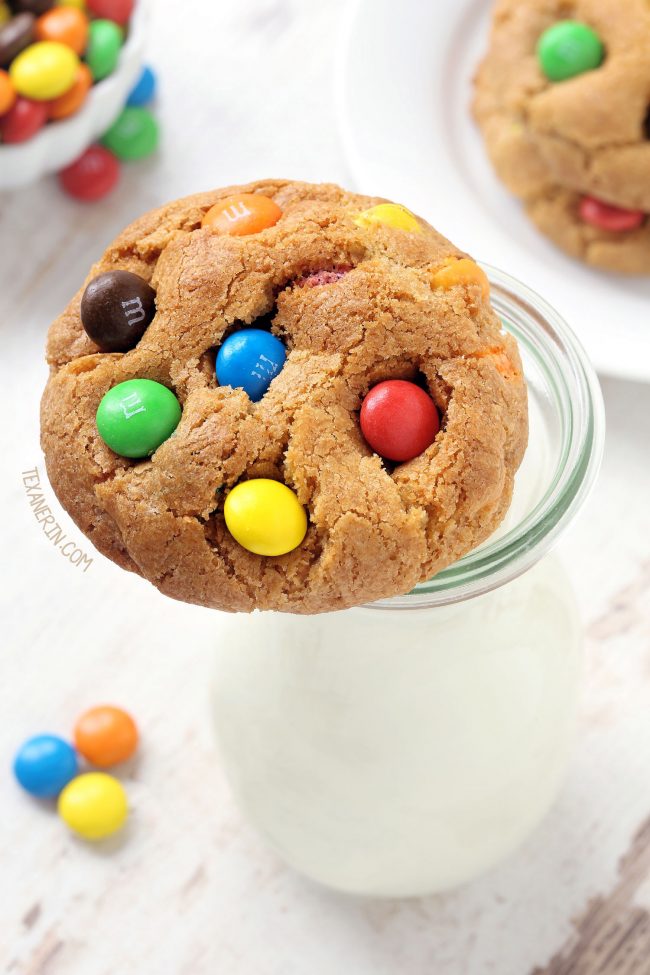 If you need your cookies to be gluten-free, make sure your M&Ms (or whatever candy you use) are actually gluten-free. The original M&Ms in the US are gluten-free, at least at the time of writing, but I've heard that they're not in some other countries.
If you don't want to use M&Ms, here are some other gluten-free cookies you could try!
If you use white whole wheat flour, these cookies do taste kind of whole wheaty. And I most definitely wouldn't recommend regular whole wheat!
M&M cookies have always been a favorite of mine (as have gluten-free sugar cookies). I always just mixed the M&Ms into the dough and baked them up. One thing that nagged at me is that they never looked as pretty as the cookies from my childhood.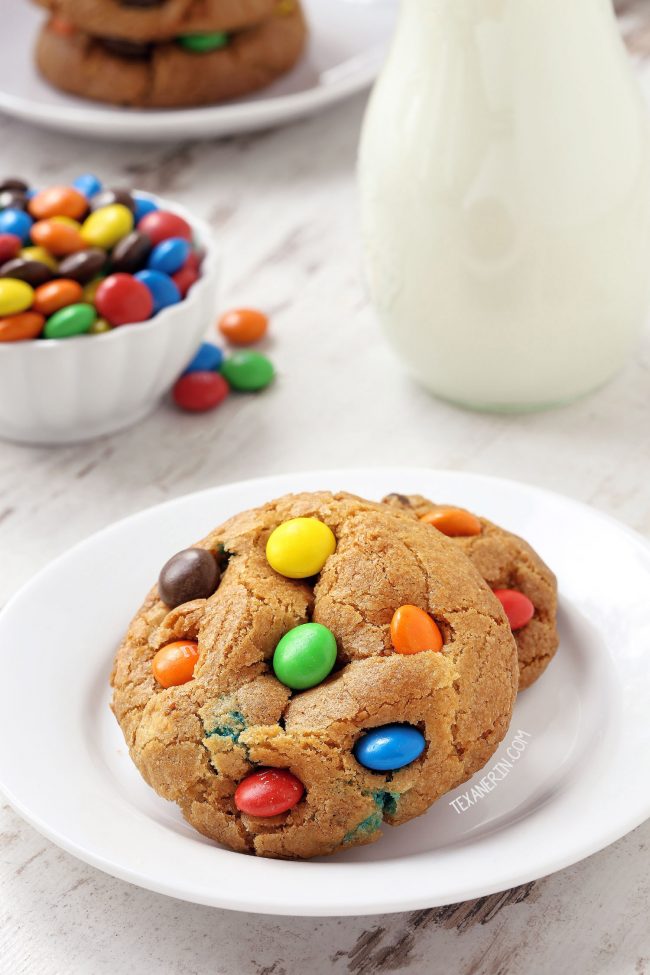 So this time, I experimented with the best way of incorporating the M&Ms. I made them every way imaginable and finally found the best method.
You add the M&Ms to the dough, roll into balls with as few M&Ms peeking out of the dough as possible, bake and then add more M&Ms post-baking. A few M&Ms may still bleed, which you can see in the pictures, but even with that, it's a huge improvement over the other methods I've tried!
I like my M&M cookies to be loaded with M&Ms and so my recipe calls for a lot more M&Ms than other recipes I've seen. These cookies are actually 1/3 M&Ms by weight! And that's before you press almost an additional cup on top of the cookies after baking. You can absolutely use fewer M&Ms or toss in some other add-ins like chocolate chips or walnuts.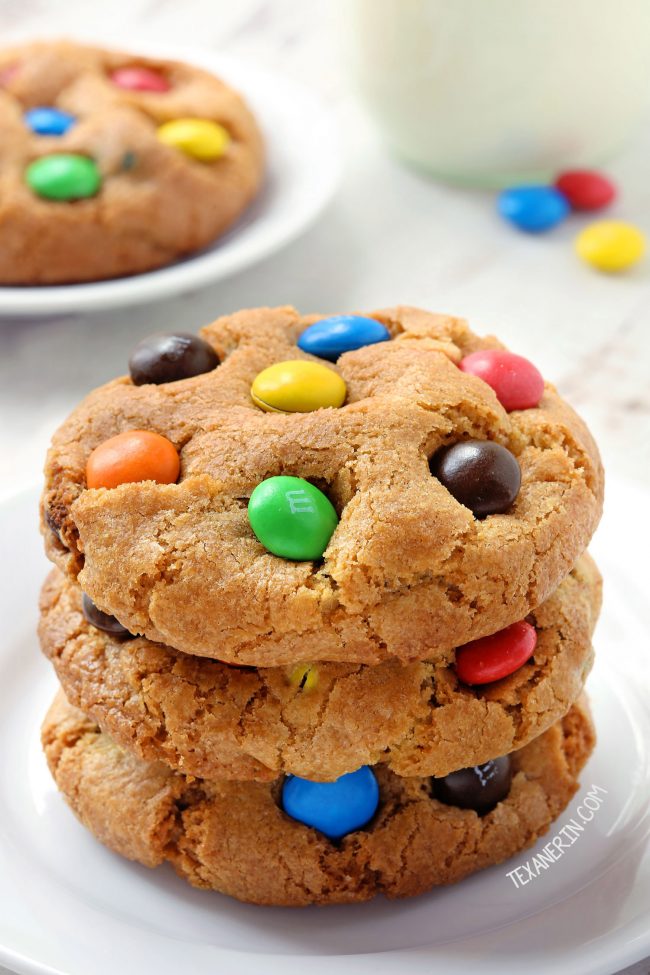 I originally tried making these much larger. I wanted huge bakery-style cookies, like my healthier New York Times chocolate chip cookies but the middles were underdone while the edges were a little too browned. One-and-a-half inch (65 grams) balls seem to be the ideal size for these to bake up properly!
The cookies pictured are the gluten-free version. If you make the cookies with whole wheat or all-purpose flour, the cookies are a little less thick and crinkly looking. I actually prefer how the gluten-free version came out!
Going to a holiday party this weekend? Use red and green M&Ms on these and bam! Christmas cookies. :D
❀
M&M Cookies (gluten-free, all-purpose and whole wheat flour options)
Prep Time:
Cook Time:
Ready in:
Yield:

24 cookies
Ingredients
3 1/4 cups (406 grams) white whole wheat flour, all-purpose flour (for a non-GF version) or the gluten-free baking mix listed below1
1 teaspoon baking soda
1/2 teaspoon cream of tartar
1/2 teaspoon salt
1 cup (225 grams) unsalted butter, softened
1 cup (200 grams) brown sugar
3/4 cup + 2 tablespoons (175 grams) granulated sugar
2 large eggs (50 grams each, out of shell), room temperature
1 tablespoon vanilla extract
2 1/2 cups (500 grams) M&Ms (or Unreal candy coated chocolates), plus an additional 3/4 cup + 2 tablespoons (175 grams) to press on top, if desired2
Directions
In a medium mixing bowl, stir together the flour, baking soda, cream of tartar and salt. Set the bowl aside.
In a large mixing bowl using a stand mixer or electric hand mixer, beat the butter, brown sugar and granulated sugar at medium speed until light and fluffy. Beat in the eggs and vanilla at low speed until well combined.
On low, gradually add the flour mixture and beat just until combined. Beat in the M&Ms on low.
If making the whole wheat / all-purpose flour version, roll into 1 1/2" balls (about 65 grams) - pushing any M&Ms that stick out back in. If your dough is too soft to roll into proper balls, refrigerate for about 30 minutes or until firm. Freeze dough balls for 2 hours, or until firm.
If making the gluten-free version, freezing is not necessary. Wrap the dough in plastic wrap and refrigerate for at least two hours. Then roll into balls.
Preheat the oven to 350°F for the all-purpose flour version or 375° degrees F for the gluten-free version.
Line a baking sheet with a piece of parchment paper. Place the dough balls 4" apart on the prepared baking sheet. Bake the cookies for 16-20 minutes or until lightly and evenly browned.
Remove from the oven and immediately press 7 more M&Ms on top of each cookie, if desired. Let the cookies cool completely on the baking sheet.
Store in an airtight container for up to 4 days.
Notes
While the all-purpose flour version uses 3 1/4 cups of flour, this mixture, which yields 3 cups of flour, works beautifully in this recipe:

2 cups (280 grams) white rice flour
2/3 cup (103 grams) potato starch
1/3 cup (40 grams) tapioca flour
1 teaspoon xanthan gum

Original M&Ms in the US are gluten-free but some of the other varieties are not. They're also not GF in every country.
Source: My post on My Baking Addiction – M&M Cookies
As an Amazon Associate, I earn from qualifying purchases. For more info, see my disclosure.