This vegan chocolate cake is fudgy, super moist, ultra chocolaty and is topped off with an easy whipped chocolate ganache frosting! Can be made gluten-free, whole wheat or with all-purpose flour.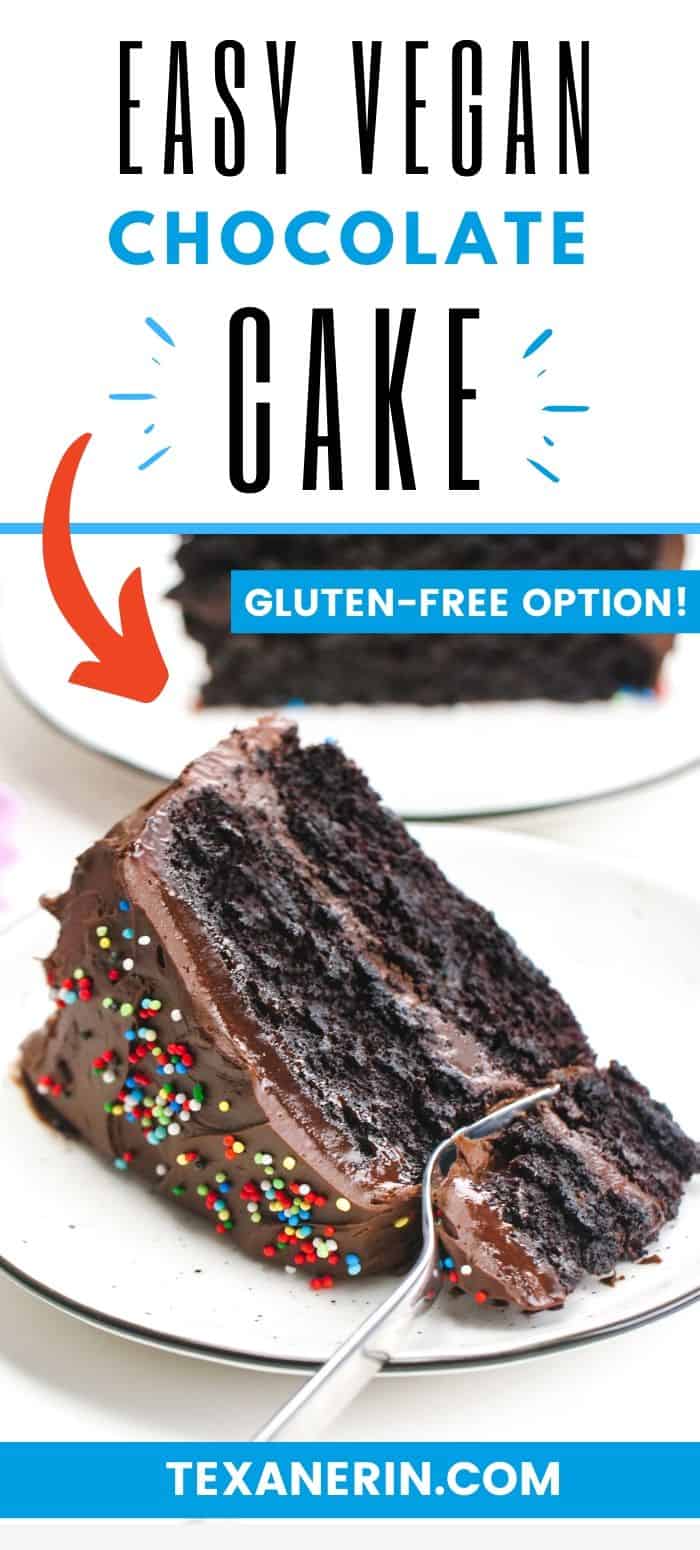 Today my little boy turned one year old! In celebration, I'm posting this vegan chocolate cake.
If you're here just for the cake, scroll down past the baby picture to where it says All About The Cake. If you're one of my followers who has been wondering what's been up with the serious lack of recipes the last year, keep on reading!
I've reposted a lot of old recipes this year. I've mentioned this in a bunch of other posts, but when I'm working on a new recipe, I usually make it 10+ times before I think it's perfect. And I don't want to post something unless I think it's absolutely perfect.
Up until Björn was about 9 months old and became more mobile, he was what you would describe as a very fussy baby. He was rarely happy and everything was a challenge.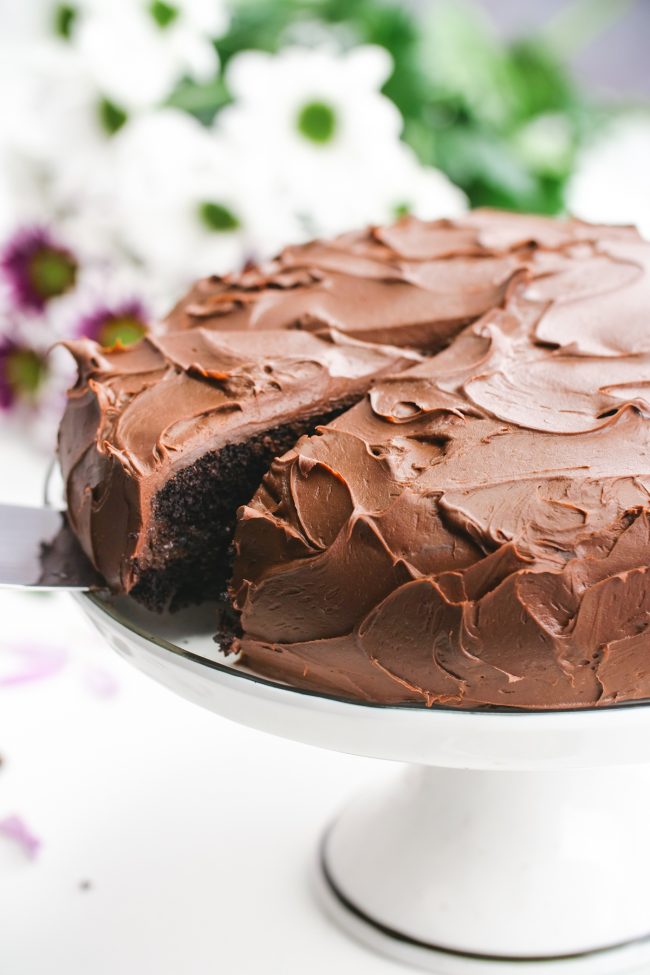 So I've pretty much taken the year off as maternity leave. If you've left a blog comment and it took me a while to reply, I'm sorry. And I haven't even looked at Instagram in half a year. If you've tagged me and I didn't reply, I'm really sorry. :/
Things are so much better now but I'm still far from having time to develop totally new recipes (starting in February, that'll change!).
When Björn was a few months old, he started to get eczema. So we did some allergy testing and the number of foods he wasn't supposed to eat was really hard to deal with. Same with me.
Other than one brand of jam, there's nothing we can buy premade from the store. I make everything from scratch.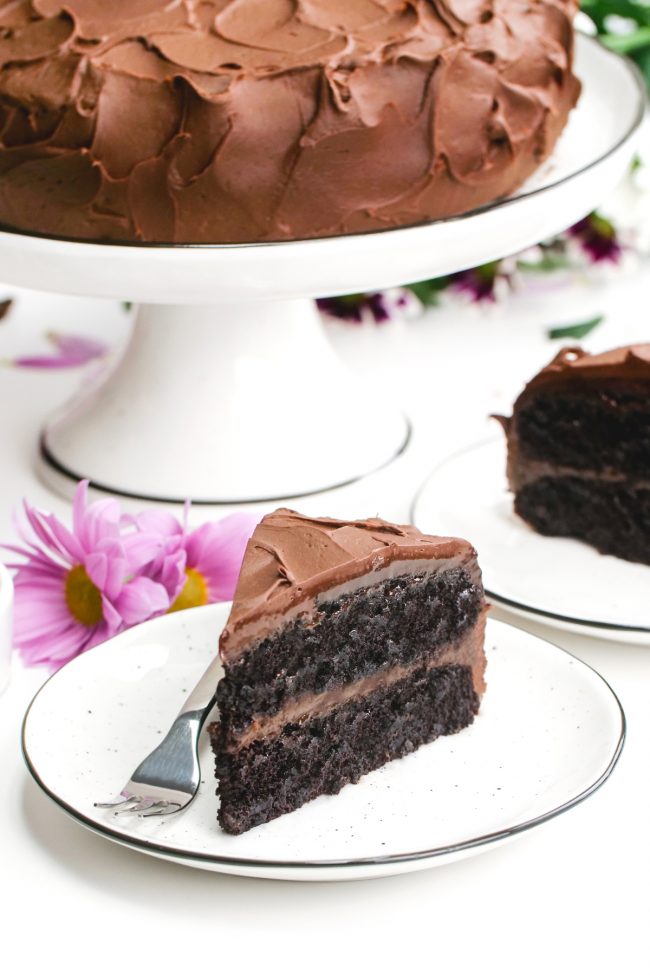 It wouldn't be that bad if I could work in the kitchen when he's awake. But if I'm in the kitchen, he stands at my leg, crying and tries to pull down my pajama pants.
So yeah. I don't get anything done with him around! But I'm not complaining. We had a really tough start and I'm thrilled that things are getting better and better.
Warning! Some people might consider the next part unappetizing in a post about a dessert recipe. Scroll past the baby picture if you just want cake.
So – on to the cause of our difficult beginning. I had undiagnosed placenta accreta, which is when the placenta grows too deeply into the uterine wall and can't detach as it is supposed to after childbirth.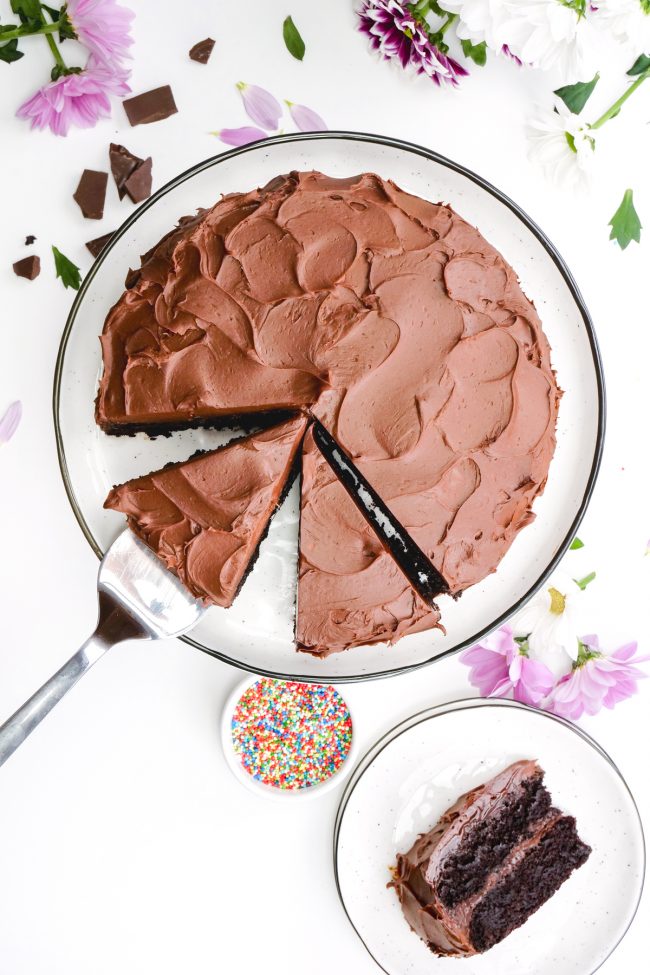 With placenta accreta, part or all of the placenta remains attached. It can even grow onto other organs.
It's sometimes diagnosed at some point during the pregnancy and from what I understand, you would then have a planned C-section at 34-36 weeks, with a team of doctors prepared for the hemorrhage that most patients have, often followed by a hysterectomy.
Pretty much the entire staff came running in the room while they tried scraping it out. I could feel it all. It was so much worse than the birth! It was chaos. But that didn't work so they put me under and then I had a 3-hour surgery. I lost a lot of blood but had a transfusion, which helped a ton. The images I had from the part where I was still awake were hard to deal with for a long time. But it's easier to handle now.
I'm really lucky and thankful to be celebrating Björn's birthday with him today! I decided to make myself this vegan chocolate cake in celebration. :D Mr. Texanerin got one piece.
Björn didn't get any. He won't be partaking in a cake like this for a while if I can help it.
Today we had a little birthday party for Björn and we ate this Healthy Vanilla Chocolate Cake from Feasting on Fruit. She has a ton of vegan, date-sweetened + oat flour based recipes and I've made and loved so many of them.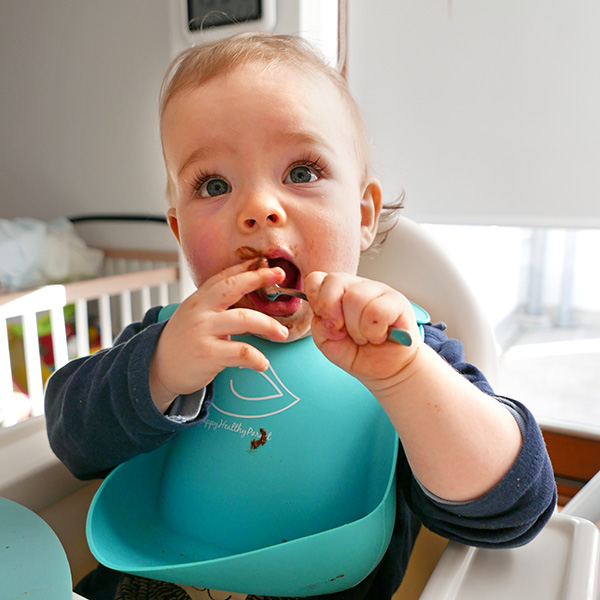 All About The Cake
This vegan chocolate cake is seriously the most delicious chocolate cake ever. I think I even prefer it over this whole wheat chocolate cake recipe.
And amazingly, nobody can tell that this cake is vegan or gluten-free! If you prefer, you can use whole wheat flour or even all-purpose flour. White whole white or whole spelt also work.
I've also tried this cake with buckwheat flour and found it pretty strange. It tasted floral somehow.
One thing I love about this vegan chocolate cake is that it doesn't require any usual ingredients. You don't even need chia or flax seeds to make egg replacements.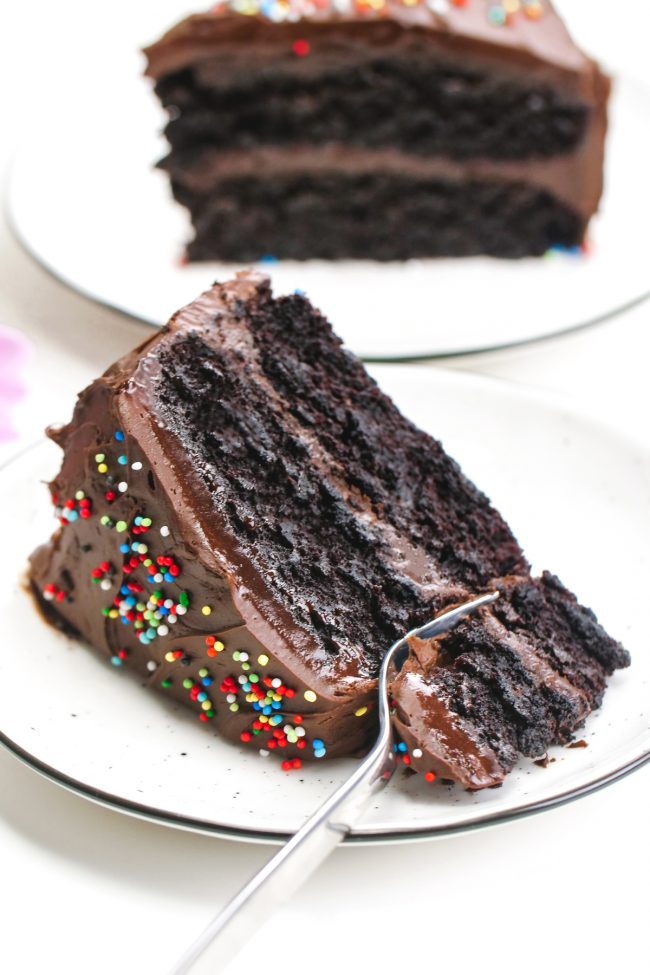 If you're vegan or egg-free, you most likely already have these at home. But for someone who is looking for a dessert recipe to make their vegan friend, this is a great option!
And the frosting is super easy and not too sweet like buttercream usually is. I used a vegan chocolate ganache that's just chopped chocolate and coconut milk.
All you do is melt it together, chill and then beat until fluffy. Then you have yourself some whipped ganache frosting!
Oh, and there's salt in there. 1/4 teaspoon salt. I haven't really seen that in many ganache recipes but I think a bit of salt makes it even more delicious! Feel free to omit that or only use 1/8 teaspoon.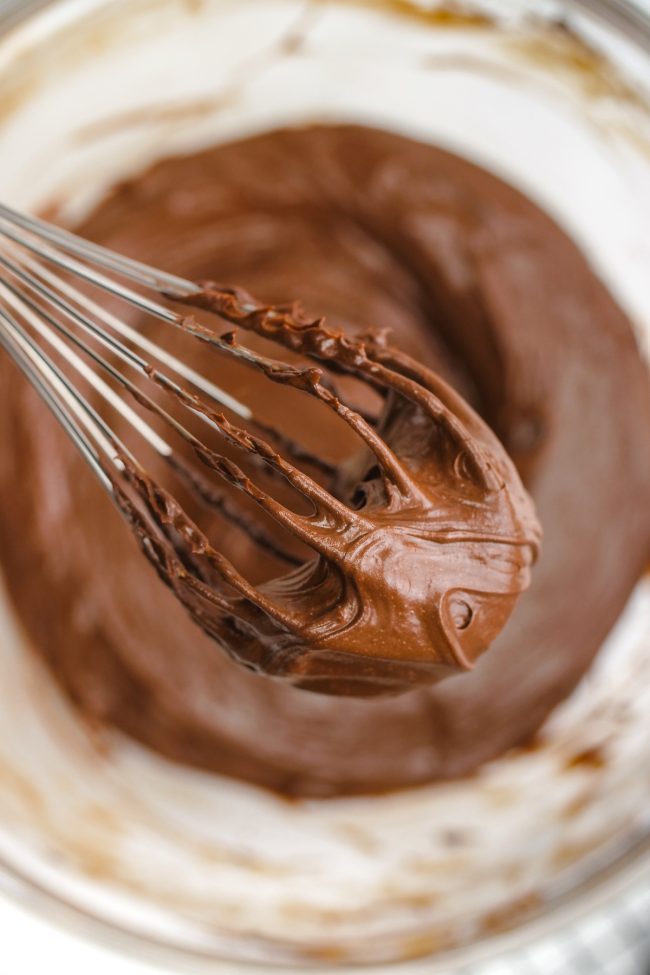 This vegan chocolate fudge frosting would be another delicious option if the whipped ganache frosting doesn't sound your speed.
If you've got any substitution questions, check out the below section! Just one last note.
This recipe uses 1 1/2 cups of water but if you have milk that needs using up, you can definitely use that in place of the water. I wouldn't say that the cake tastes any different with it so I wouldn't buy it just for this cake.
The batter will be super runny. Don't be alarmed! It's normal.
Questions about this vegan chocolate cake?
Can you taste the olive oil? I used extra-virgin olive oil and you can taste it in the batter and while the baked cake is still hot. Once it cools, you can't taste it. If you're worried about it, use light olive oil (the light refers to the taste and not calories).

Can I use another oil other than olive? You can use canola oil, vegetable oil, grapeseed oil, etc. Anything neutral tasting. Coconut oil also works.

Can I use butter? I bet you could use butter in this cake for a non-vegan version but it wouldn't be as moist (butter is 80-82% fat and oil is 100% fat). Same goes for vegan butter.
Can I use a different gluten-free flour mix? I used this 1-to-1 gluten-free baking flour. If you have another brand that works as a sub for all-purpose flour, then you could probably use it here. I can't say the texture would be as perfect as with the flour mix I used, though.

Does the gluten-free version taste gluten-free? This vegan chocolate cake honestly tastes like it was made with all-purpose flour. At least with the gluten-free flour mix I used and after it's cooled a bit.

Can I use almond / coconut / other flours? Unfortunately not. If you want to use other flours like rice flour, buckwheat, whatever – you'll have to experiment. There's no direct sub for gluten-free flour mixes.

Can I use a liquid sweetener? Unfortunately not without experimenting! You could use a little honey or maple syrup for part of the sugar, but you'd have to reduce the liquid in the cake.

Can I reduce the sugar? You could probably get away with reducing it by 1/3 cup. Reducing sugar also reduces moist-ness so unless you want a dry cake, don't go overboard and reduce it to 1/2 cup or some small amount.

Does the frosting pipe well? I haven't tried it but it's pretty firm. It should work but I can't guarantee it.

Can I use a different sized pan?

Here's a pan conversion chart that should help. Looks like a 9″x13″ would work, though I haven't tried it.

Can I make this recipe into cupcakes? Yes! This recipe will yield 16 cupcakes. Fill the liners slightly more than half-way full and bake for 16-18. The frosting yields just under 2 cups so that'd be enough for 2 tablespoons of frosting per cupcake.

Can I freeze the layers / frosted cake? Freezing the layers would definitely work. I haven't experimented with the time but maybe up to 1 month? Freezing frosted layers, though? I think it'd work but I'm not 100% sure.
I hope you'll love this vegan chocolate cake! If you try it out, I'd love to hear what you think. :)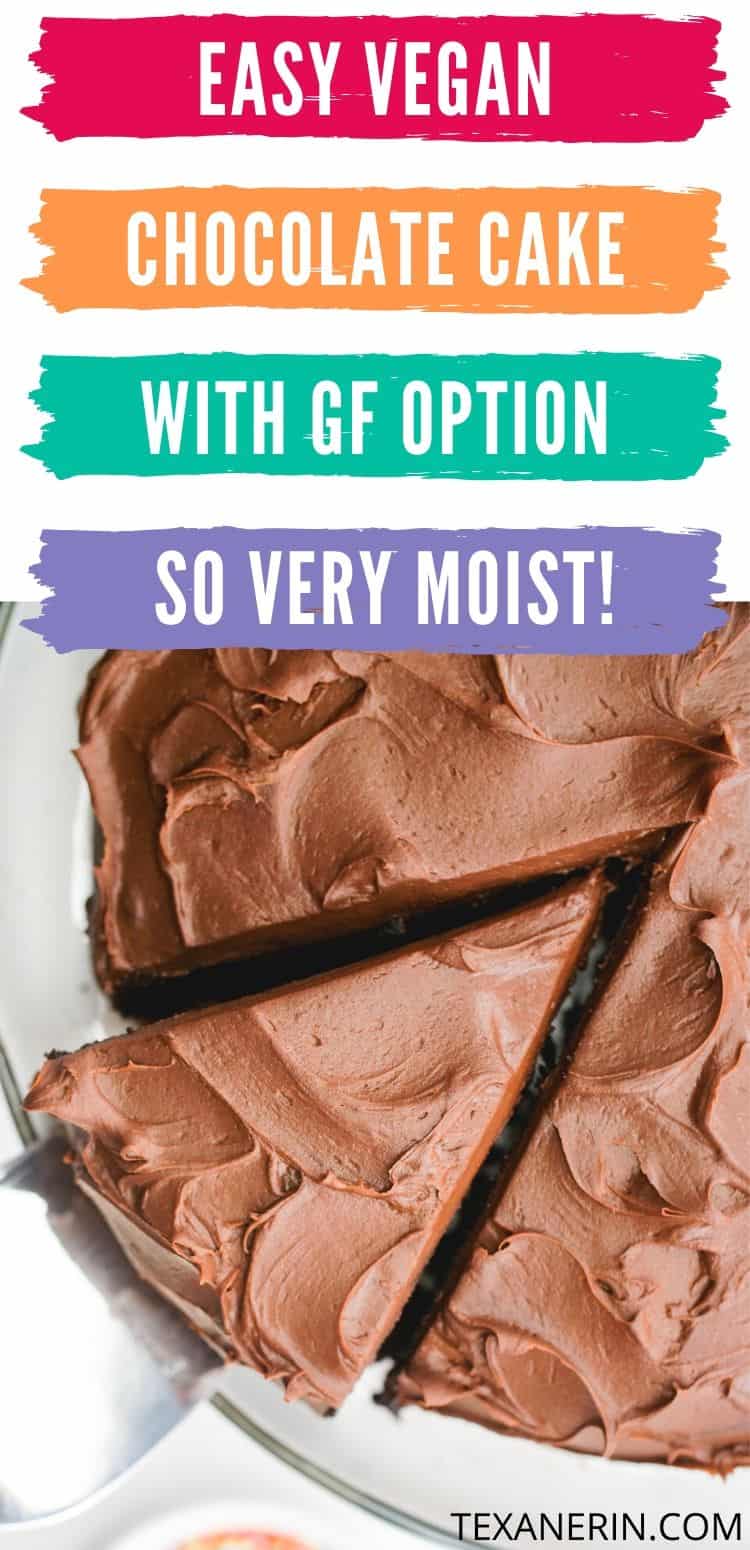 ❀
Vegan Chocolate Cake (gluten-free, whole wheat, all-purpose flour options)
Prep Time:
Cook Time:
Ready in:
Yield:

12 slices
Ingredients
For the whipped ganache frosting:

1 2/3 cups (283 grams) semi-sweet chocolate, chopped or chips (make sure to use vegan chocolate like Enjoy Life)
1 cup (240 milliliters) canned full-fat coconut milk
up to 1/4 teaspoon salt

For the cake:

1 1/2 cups (355 milliliters) water
1 1/2 teaspoons white vinegar or apple cider vinegar
1/2 cup (120 ml) oil (like canola, vegetable, or olive) or 1/2 cup (113 grams) melted refined coconut oil
2/3 cup (133 grams) brown sugar or coconut sugar
1/2 cup (100 grams) granulated sugar or raw sugar
2 teaspoons vanilla extract
1 1/2 cups (207 grams) Bob's Red Mill Gluten-Free 1-to-1 Baking Flour for a GF version or 1 1/2 cups (188 grams) whole wheat flour, white whole wheat flour or all-purpose flour for a non-GF version
1/2 cup (58 grams) cocoa powder
1 1/4 teaspoons baking soda
3/4 teaspoon baking powder
1/2 teaspoon salt
Directions
Note that the frosting needs about 2 hours to chill.

Prepare the frosting:

In a medium or large sauce pot (one big enough for you to use your mixer in), mix together the chopped chocolate and coconut milk. Turn the heat to low and while stirring occasionally, melt the mixture. When no more lumps remain, stir in the salt (I like 1/4 teaspoon but you may want less). Place the pot on a trivet and put in the refrigerator to chill for 1 1/2 - 2 1/2 hours or until the mixture is cold and has thickened quite a bit (so that it's no longer pourable).

Prepare the cake:

Preheat the oven to 350 °F (175 °C) and line two 8" (20-cm) round cake pans with a piece of parchment paper on the bottom. Grease the sides of the pans with baking spray or coconut oil.
In a large mixing bowl, stir together the water, vinegar, oil, brown sugar, granulated sugar, and vanilla extract.
In a medium mixing bowl, stir together the flour, cocoa powder, baking soda, baking powder and salt. Add this to the wet mixture and stir just until combined. It will be almost as thin as water.
Divide the batter between the two pans (about 495 grams of batter in each pan) and bake for 20 minutes or until a toothpick inserted in the middle comes out clean or with some moist crumbs (not raw batter). Let cool for 5 minutes and then turn out onto a wire rack to cool completely.
Once cooled, finish making the frosting.
Remove the chilled ganache from the refrigerator and using an electric mixer (you could also transfer it to a stand mixer), beat the ganache until light and fluffy, about 2 minutes.
Spread about 2/3 cup of frosting between the two layers of cake, 1/2 cup on top and the remaining on the sides. There's about 2 cups of frosting.
Keep covered and refrigerated for up to 3 days.
As an Amazon Associate, I earn from qualifying purchases. For more info, see my disclosure.