This gluten-free pie crust recipe is perfect for a variety of pies. Its buttery, melt-in-your-mouth texture makes it the best gluten-free pie crust I've ever tried. It takes just 5 minutes to mix together and 30 minutes to bake – making it an easy and delicious gluten-free dessert option. Once you've tried this crust, you'll never go back to store-bought again!
After 11 years of experimenting during the holiday season, I've finally crafted a flaky pie crust recipe that I absolutely love!
Yesterday, I shared my Cocoa Pecan Pie and realized that this outstanding crust shouldn't be confined to just one pie recipe that not everyone may be interested in.
For years, I've expressed my disdain for regular, flaky pie crust, finding it mundane and not worth the calories. However, this particular crust is a game-changer! I cringe whenever I see food bloggers use that word, but here, it's true. 😬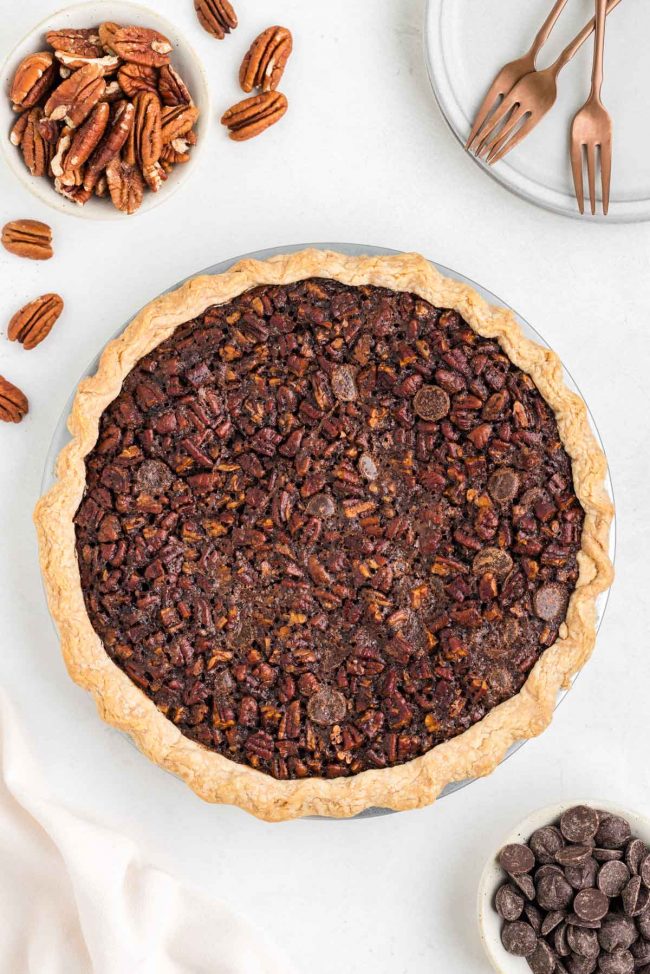 To add flavor, I added vanilla, a little sugar and a bit more salt than usual.
Does it taste gluten-free? Absolutely not. If you change anything at all about the recipe, it probably will. You need to follow the directions and ingredients list exactly.
Once I finally nailed the recipe and prepared my first pie with it, it sounded like I was crushing a bag of chips as I cut through it. I couldn't help but laugh maniacally.
After cutting a few slices, the pie slid around the pan, and I could pick up the entire pie in my hands. Not that this is something anyone ever needs to do!
It was just a test. It was a rare achievement after numerous trials with bad pie crusts that stuck, were greasy, and more.
Ingredients
Here you can see what you need. I talk about each ingredient below.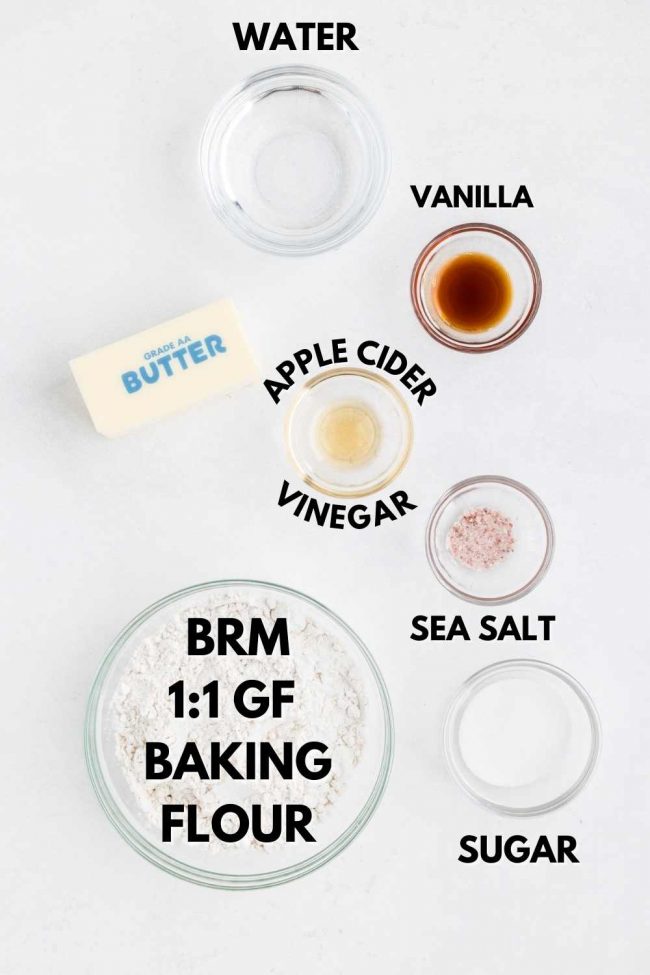 What pies can I use it in?
Besides the cocoa pecan pie, I've successfully used it for apple hand pies (it would be great in these Gluten-free Mummy Hand Pies!), an upcoming apple pie that won't be ready until after Thanksgiving, this Paleo Chocolate Fudge Pie, and pumpkin pie.
I normally would have waited until I had proper photos for all of these pies before posting the crust recipe, so you could see what it looks like with different filling recipes, but I wanted to post this ASAP for people in need of a crust recipe for Thanksgiving.
For the pumpkin pie, I blind baked it and used the filling from my Crustless Pumpkin Pie recipe, resulting in the best pumpkin pie I've ever had. However, determining the ideal baking time and temperature remains a work in progress.
I initially baked it following the crustless pie directions (I apparently wasn't thinking, as crustless pies need to be baked at lower temps) but had to increase the temperature to 350 °F (175 °C) for an additional 15 minutes when it remained overly jiggly after 55 minutes at 300 °F (150 °C).
For the next attempt, I plan to bake it at 350 °F (175 °C) for 45-55 minutes.
But to actually answer the question – you can use it in any type of pie you'd like! I think graham cracker crusts work better for things like this No-bake Pumpkin Cheesecake Pie pie, other cheesecake-like pies, peanut butter pies, etc. – but if you'd prefer a flaky, butter pie crust, you can certainly use this recipe.
I'll definitely be using it in this Caramel Pecan Cheesecake Pie next week!
What flour to use
As an Amazon Associate, I earn from qualifying purchases. For more info, see my disclosure.
It's astonishing how well this gluten-free pie crust turns out using Bob's Red Mill 1-to-1 Gluten-free Baking Flour. Despite my expectations, King Arthur Flour Gluten-free Measure for Measure Flour didn't yield comparable results. The latter produced a crust that lacked the desired flakiness.
I was actually shocked by the results with Bob's. I thought I had grabbed the wrong bag!
So I immediately made it again with Bob's, got the same results, and have since made it another 10+ times with perfect results.
Then I tried it with the King Arthur GF flour, and the results weren't anywhere near as good. Not flaky and not nearly as tasty.
Can I use another brand?
I think pie crust is the absolute most finicky thing in the world of baking. Minus fancy pastries I don't even bother with. ;)
I really don't recommend using a different brand.
I usually have better results with King Arthur Flour than with Bob's Red Mill, but in this recipe, it was the opposite! And it was a huge difference.
I'm sure you could come up with an amazing crust recipe using King Arthur, but this isn't it.
If you feel like experimenting and aren't expecting a fantastic crust, then you can certainly experiment.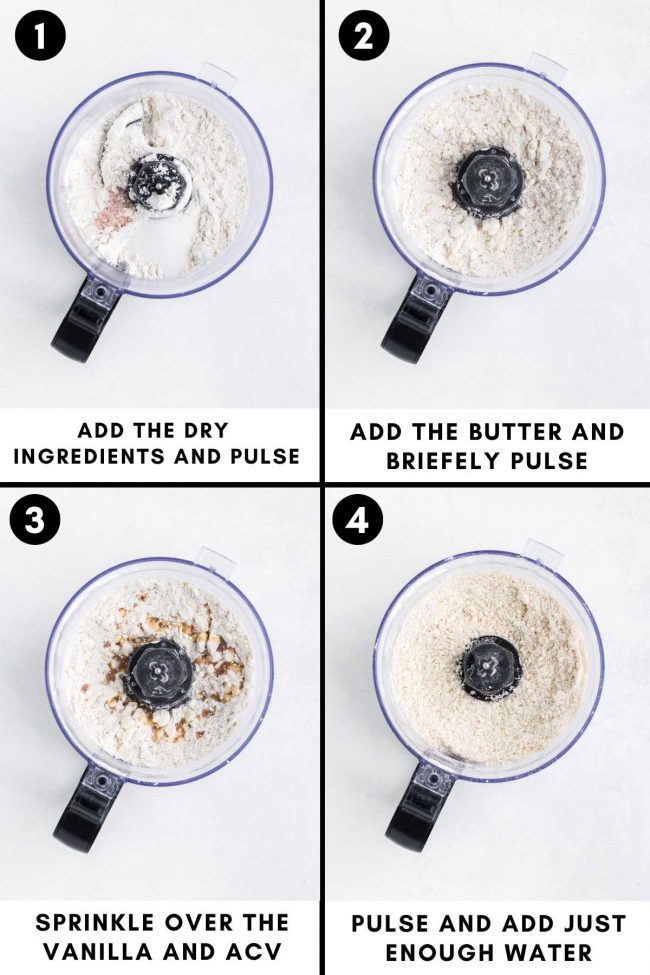 Can I use oat/almond/coconut/etc. flour?
Nope! You need to find a recipe that already calls for those types of flour. This one specially uses the Bob's flour I talk about above.
I would recommend the oat flour pie crust in my Gluten-free Pecan Pie recipe, but it's the weirdest thing. It works PERFECTLY in this recipe, but not in any of the others I've tried.
Like I said, pie crusts are finicky!
What kind of pie pan to use?
When you chill or freeze pie crust dough and then place it in a hot oven, it's important to ensure that your pie dish is suitable for this.
Most ceramic pie dishes can handle the transition from the fridge or freezer to the oven, but it's always a good idea to check the manufacturer's instructions. Ceramic dishes heat up slowly and evenly, and are resistant to sudden temperature changes.
With Pyrex or glass bakeware, it's best to avoid extreme temperature changes as it can cause the dish to break or shatter. Glass pie dishes are great because you can easily check if the bottom has browned, but it's not recommended to put them directly from the freezer into a hot oven.
Modern oven-safe glass pans are designed to handle moderate temperature changes, so it's generally safe to transfer them from the fridge to an oven set at 350 °F (175 °C). However, if you're using an older dish, it's better to err on the side of caution and avoid sudden temperature changes unless you're confident it can withstand it.
Metal pie dishes, typically made from aluminum or aluminized steel, are excellent heat conductors. They are perfect for blind baking or prebaking pie crusts to achieve a crispy texture.
Metal dishes can endure extreme temperature changes, allowing you to put them straight from the fridge or freezer into a hot oven. Just keep a close eye on them, as they can heat quickly and cause the crust to overbrown. I have this Norpro one, which is stainless steel, and love it.
If you notice the crust browning too fast, you can use foil strips or a pie shield to protect the edges.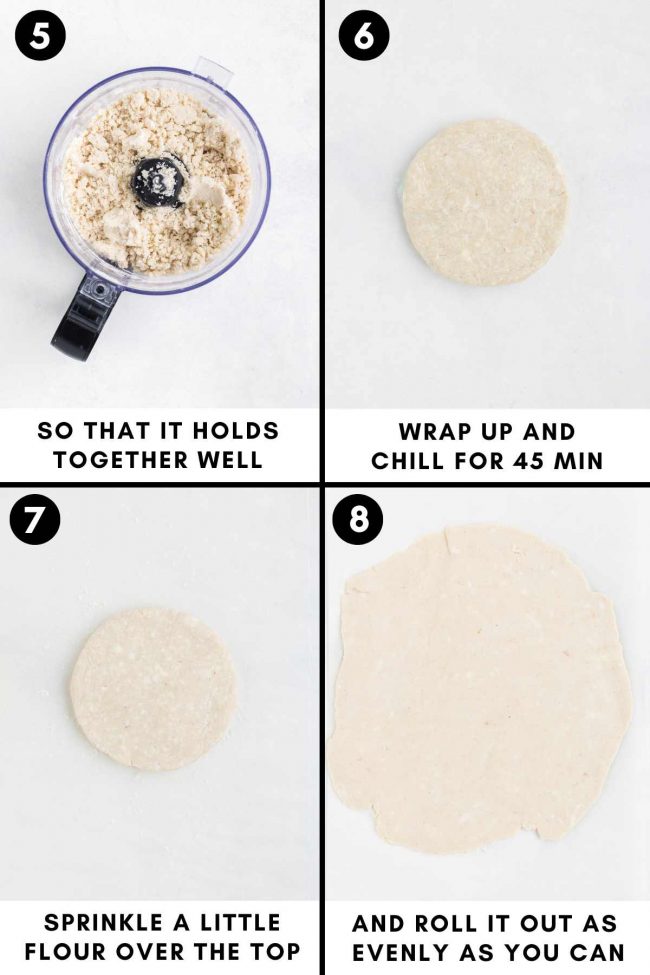 Type of butter
This pie tastes worlds better with European butter.
My photographer used US butter in the photos here. She then made it with Kerrygold, and the crust is more yellow, as to be expected, and it's a little bit greasier, which is also to be expected due to the higher percentage of fat.
If you use Kerrygold, Plugra, or another brand of European butter, I recommend using 110 grams of butter instead of 113. That's what I do with my German butter, which is the same fat percentage as Kerrygold, and the crust comes out perfectly every time.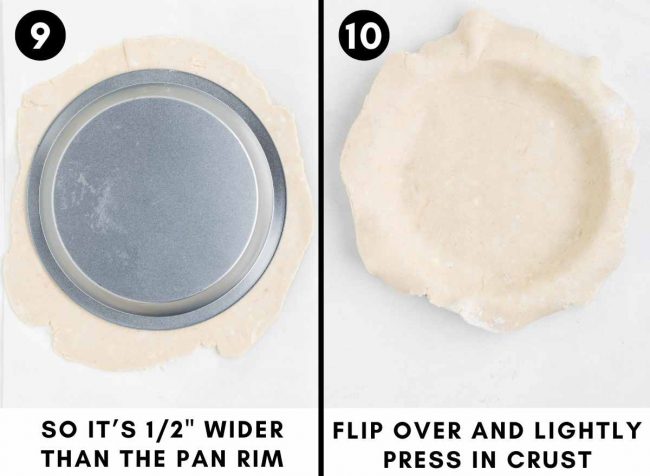 Can you taste the apple cider vinegar in the crust?
Absolutely not. If you don't have any on hand, you can use white vinegar.
Some people say the vinegar inhibits the gluten (if you're using all-purpose flour), which tenderizes the crust, making it flaky. I've seen people claim the same is true for gluten-free pie crust, although it doesn't have gluten.
I used vinegar in pie crust for the first time with today's recipe. Then I read this experiment. And they said it didn't have an effect.
Vodka, however, seems like a great addition! I'll definitely try that next time. For now, I'm thrilled with this crust, exactly as it is, for the first time ever making a flaky pie crust, so I've included the vinegar in the recipe.
Does it work in a deep dish pan?
Yes, but there's not enough dough to crimp the edges. It's just the perfect amount for crimping with a standard 9″ pan.
Do I have to chill the dough?
A great pie always starts with an exceptional crust. One way to achieve perfection is by chilling the dough and allowing it to rest briefly before rolling it out.
Although this may seem like an insignificant step, it's actually the secret to achieving the best crust, even when using gluten-free flour.
Refrigerating the pie dough, whether it's gluten-free or not, solidifies the fat, preventing it from overmixing into the flour. This helps maintain the structure of the crust as it bakes. Additionally, the flour absorbs the moisture in the dough, resulting in a flakier texture.
Non-chilled dough also tends to be less smooth and crumbly, making it more difficult to roll out. It also has a tendency to brown quickly and become tough.
Therefore, it's crucial not to skip this step, as it's really the best way to achieve a super flaky crust.
Should I blind bake the pie crust?
While blind baking isn't mandatory, it yields an extra-crisp crust bottom. The process involves freezing the crust, preheating the oven, covering the crust with parchment paper and pie weights/beans, and baking until lightly browned.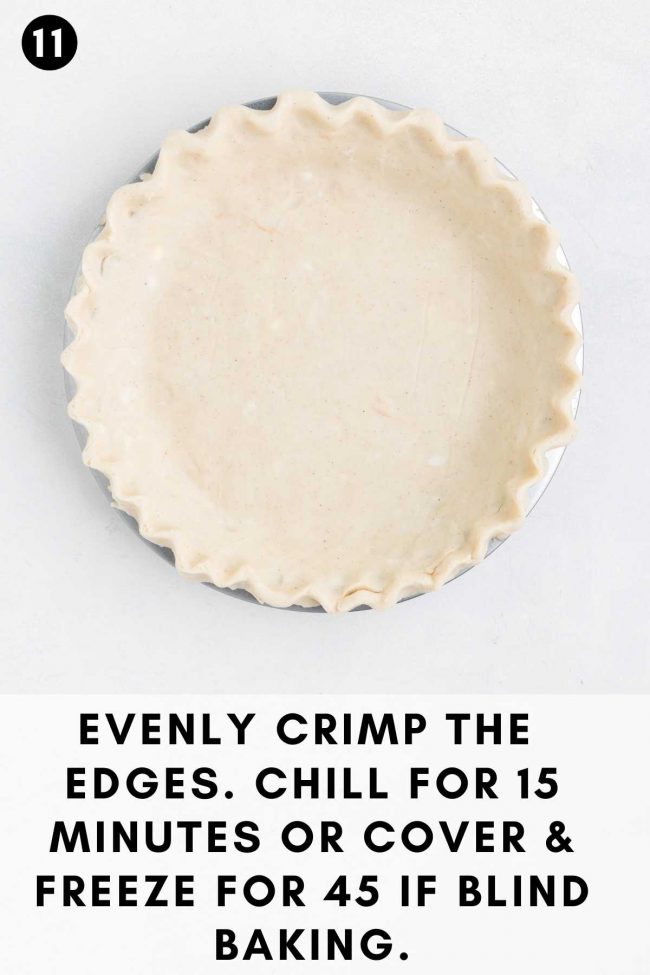 Full instructions are below in the recipe!
What kind of pies to blind bake
Blind baking is typically recommended for pies with wet or custard-like fillings, as it helps set the crust before adding the filling.
Here are some types of pies that are commonly blind baked:
Custard pies – pies with custard fillings, such as quiche or pumpkin pie, benefit from blind baking to ensure the crust is fully cooked and doesn't become soggy. Because a soggy crust is really a sad, unfortunate thing.


Cream pies – pies featuring luscious, creamy fillings, such as chocolate cream or banana cream pies, often have a blind-baked crust to maintain its crispness.


Pies with no-bake fillings – you need to prebake your flaky, traditional pie crust if you're not going to be putting it in the oven to cook the filling. For a fully prebaked pie crust, you need to bake it just a few minutes longer than a partially blind baked crust.


Tarts – both sweet and savory tarts often call for blind baking to achieve a crisp, flaky crust, especially if the filling is moist.
Can I just dock (poke holes in) the dough instead of using pie weights/beans?
Docking the pie dough is an alternative method to using pie weights or beans, and it's effective in certain situations. It doesn't work in all recipes, though.
Docking means pricking the bottom of the crust with a fork to create small holes, which helps prevent the crust from puffing up during baking.
However, it's important to note that docking may not be appropriate for all types of pies, especially those with very liquid or heavy fillings. In such cases, using pie weights or beans are recommended to provide additional support and prevent the crust from slumping or bubbling up excessively.
If you're making something with a no-bake filling, like strawberry pie, and you need a fully baked pie crust, then docking is fine. If you're going to be partially or mostly baking your pie crust before returning the crust with its filling to the oven, then blind baking with pie weights is much more preferable.
Then you don't have to worry about the wet pie filling saturating the holes and making the crust soggy.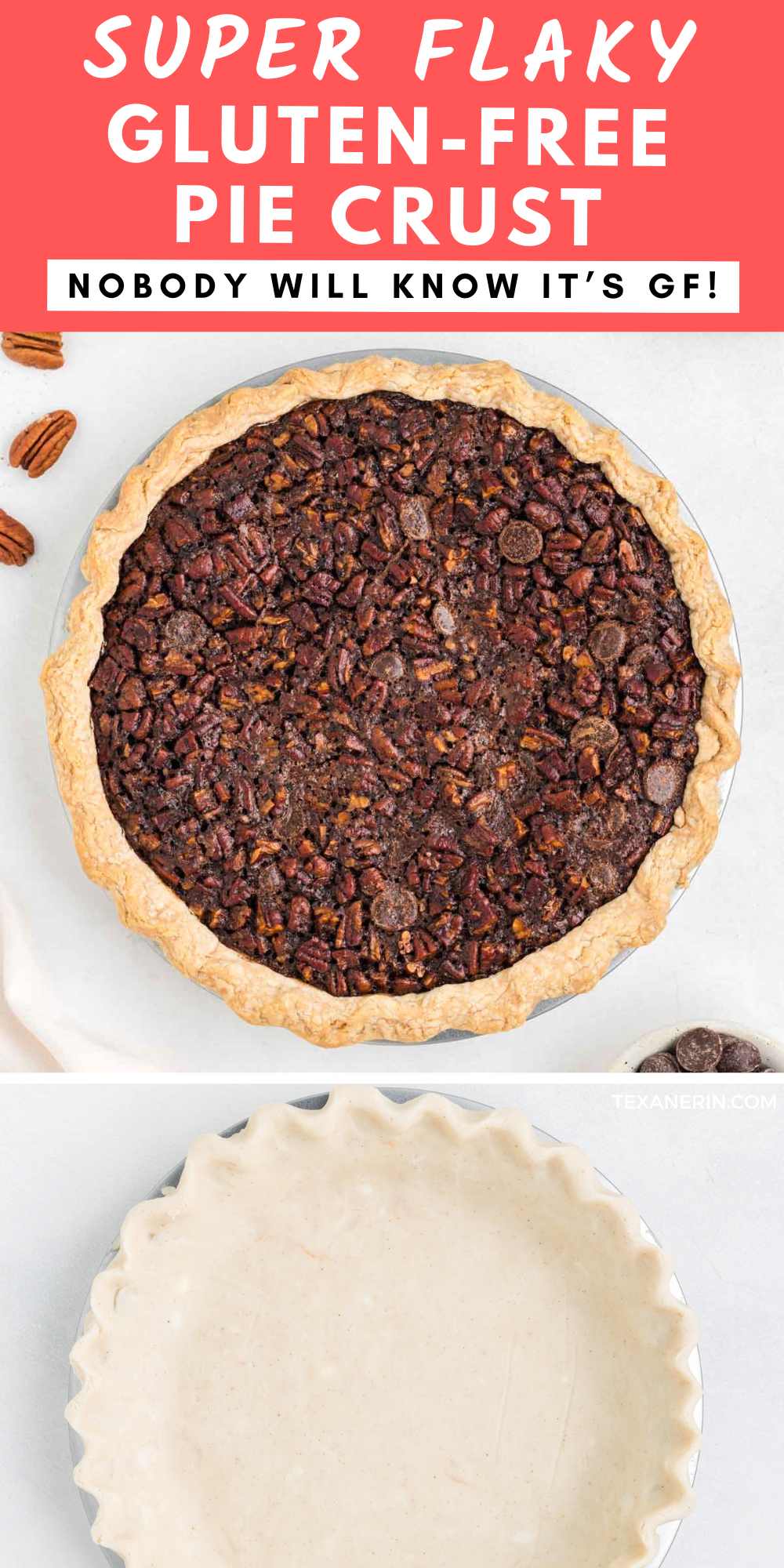 What kind of beans can I use?
When using beans as pie weights for blind baking pie crust, use dry, uncooked beans. The type of beans doesn't significantly impact their effectiveness as weights, so you have the flexibility to use lots of different varieties. Some commonly used beans for blind baking include:
Chickpeas, lentils, black beans, and pinto beans.
It's important to designate a set of beans specifically for this purpose, as they can't be cooked and eaten after being used as pie weights. Once you've used them for blind baking, store them in a separate container for future use with your next pie.
Do I have to bake the pie crust on a baking sheet?
No, but it'd be extremely silly not to. This is why:
It's much easier to remove the pie from the oven when placed on a baking sheet.


I've made this pie crust loads of times over the past few months, and I've never had issues with butter melting from the crust. However, individual variations, such as a slightly smaller pie pan or differences in butter brands, might come into play.

Imagine the disappointment of having to pull a pie out of the oven after just 10 minutes of baking because of burned butter at the bottom of your smoke-filled oven. Cleaning up the mess becomes necessary before returning the pie to the oven, potentially compromising the crust and the entire pie.

Using a baking sheet entirely avoids this frustrating and unfortunate situation.


Cook's Illustrated conducted an experiment. They baked a cherry pie directly on the oven rack, resulting in a soggy, juice-soaked crust. In contrast, the pie baked on a baking sheet had a solid, non-soggy crust. You can find the detailed explanation at the provided link (as this post is already quite long!).
Look at the crust below. This wasn't even blind baked, and it's far from soggy! I implore you to bake the pie on a baking sheet. :)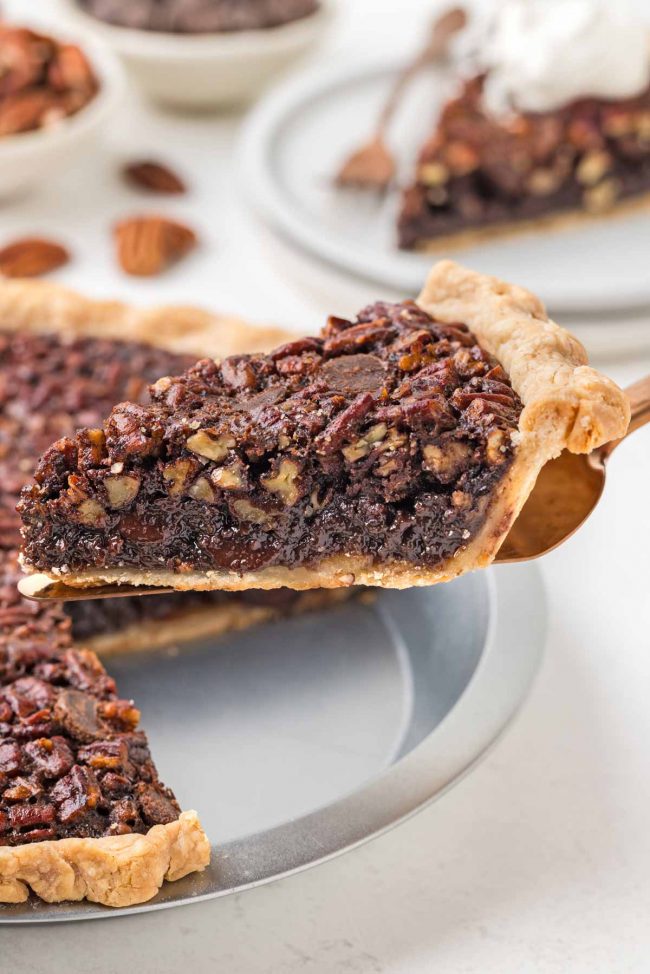 How to store a prebaked pie crust:
Allow the prebaked pie crust to cool completely at room temperature in order to help prevent condensation inside the storage container.


Wrap the pie crust securely in plastic wrap or aluminum foil, and then place in a Ziploc bag. Make sure it's well covered to prevent exposure to air and moisture.


It can sit at room temperature for up to 3 days or be frozen for up to 2 months.


When you're ready to use the prebaked pie crust, thaw it in the fridge for a few hours or overnight. Thawing at room temperature can lead to sogginess.
Dairy-free and vegan version
Update! As requested, I tried this out with vegan butter.
Violife is the only plant-based butter brand that we have in Germany that is also sold in the US, so that's what I was able to test it with. I have no idea how other brands will do because I haven't tested any other brands.
I used 113 grams Violife. I only need 3 tablespoons of water, and it was just as easy to work with as the butter crust. I only needed to blind bake it for 20 minutes before removing the parchment paper and pie weights, and then I baked another 5 minutes. I made an apple pie with a lattice top. I used real butter for the top so I could compare the two.
The flavor is definitely better with real butter, but if you like the taste of Violife, then I think you'd like this crust. It somehow reminded me a bit of popcorn, which I didn't like so much, but eating the crust with the filling was something else. It was really amazing!
I made a caramel apple pie (recipe's not ready), so the filling is kind of gooey. I don't know if the crust would be as great with something not gooey.
I tried Violife on its own, and the taste weirded me out a bit, so I think that may be my issue. With butter, the crust is so delicious that I couldn't stop picking at the lattice crust. I definitely didn't do that with the Violife crust.
It wasn't as flaky, but almost there. With real butter, you can see the layers in the baked crust. With Violife, it was like you could almost see them. But they didn't quite form. Violife crust was just as crisp as the butter one.
And the bottom crust is super crisp! I'm amazed.
We don't have Miyoko's here, so I can't compare it with that. If anyone tries it, please report back here! Or if anyone tries with any other brands. Are there any brands that really taste just like butter?
I hope you'll enjoy this pie crust! I would absolutely love to hear what you think if you try it out. Thanks so much! :)
❀
Gluten-free Pie Crust
Prep Time:
Cook Time:
Ready in:
Yield:

1 pie crust
Ingredients
1 1/4 cups (173 grams) Bob's Red Mill 1-to-1 Gluten-free Baking Flour + a tiny bit more for flouring
1 tablespoon granulated sugar
1/2 teaspoon fine sea salt
1/2 cup (113 grams) unsalted butter (taste is better with European butter like Kerrygold or Plugra - if using that, reduce butter to 110 grams)1, cut into 8 pats
1 teaspoon cold2 vanilla extract
1/2 teaspoon cold apple cider vinegar
2.5 to 5.5 tablespoons (37-81 grams) cold water
Directions
Prepare the dough:

Get out a 9" (23cm) pie plate that's oven-safe and suitable for transitioning from the fridge or freezer to a hot oven (refer to the post for additional information - I use this one). Do not grease.
In the bowl of a food processor equipped with an S-blade, combine the flour, granulated sugar, and salt. Pulse a few times.
Switch the processor to the lowest speed and add the butter. Process until you have pea-sized bits of butter; avoid overprocessing.
Evenly drizzle vanilla extract and apple cider vinegar over the mixture.
At the lowest speed, pour in 2.5 tablespoons of water. The required water quantity depends on factors like the temperature of your ingredients and kitchen. Through multiple trials with the same brand of ingredients, I've found a range between 2.5 and 5.5 tablespoons.
Process briefly until the dough starts coming together; it should have a shaggy appearance rather than forming a uniform ball. Pinch some together, and if it holds without being excessively crumbly, it's ready. Be cautious not to add too much water, as an excess leads to a non-flaky pie crust. If needed, add more water, 1 teaspoon at a time. If you can form a disc without it crumbling apart, it's another indication that it's ready.
Place the dough in the center of a large piece of plastic wrap and shape it into a flat disc, approximately 1" (2.5cm) or slightly less. If it remains crumbly and doesn't form a disc, it requires a touch more water.
Chill the dough for a minimum of 45 minutes and up to 2 days.

How to roll it out:

Lightly flour a piece of parchment paper and place the unwrapped dough on it. Sprinkle a small amount of flour over the dough.
Cover the dough with plastic wrap or another piece of parchment paper and roll it out to be approximately 1/2" (1 1/4 cm) wider than the top circumference of your pie plate.
Remove the plastic wrap or parchment covering the pie crust, place the ungreased pie pan on top of the dough, and flip over the dough and pan. Press the dough down around the edges at the bottom of the pan, then remove the parchment paper.
Fold the dough so that it aligns with the edges and crimp the rim.
If your recipe calls for baking the filling in an unbaked pie crust, then chill the crust, uncovered, for 15 minutes before filling and following your pie recipe instructions.

How to blind bake:

Cover the pie crust loosely with plastic wrap and transfer it to the freezer (not the fridge!) for 45 minutes.
While it chills, preheat the oven to 400 °F (205 °C) and position a baking sheet on the lower third baking rack.
Line the crust with parchment paper and fill it with pie weights or beans. Many suggest filling them to the top, but I found success just filling the bottom.
Gently place the pan on the now-hot baking sheet and bake for 20-23 minutes or until the crimped edges lightly brown.
Remove the weights and parchment paper and continue baking the crust for an additional 5-7 minutes or until the crust's bottom is dry and beginning to brown. If you need a fully baked pie crust (like for a pie with a no-bake filling), bake until the bottom of the crust is a nice golden brown - about 1-3 minutes more.
Remove the pan from the oven and let it cool on a wire rack for about 30 minutes before filling. Letting it cool for at least 30 minutes ensures a crisp crust.
Notes
If you live in Europe, use 110 grams butter to replicate US butter for the pie crust. Instead of 84 grams of butter in the filling, use 82 grams (and no water). Also use medium EU eggs instead of large eggs.
I put the vanilla and apple cider vinegar together in a tiny bowl in the freezer for about 10 minutes, and the same with the water. I don't put the vanilla/ACV and the water together in the same bowl because you might not use all the water.