This gnocchi with lighter tomato cream sauce only takes about 10 minutes to prepare and is so simple, quick and delicious.
I'll get back to actual baked stuff next week, but for now, I just had to share this gnocchi with you.
Gnocchi is something I only discovered recently and I love it. What I do not love is my failed attempt at making it. So many people say it's really easy, but mine was just a disaster. So this recipe uses the kind you find in the refrigerated or frozen section. Hooray!
This cream sauce recipe is so quick and easy that Mr. Texanerin made it for me. This was actually supposed to be one of his Even He Can Do It! posts but he's a bit tied up. Hopefully next week, you'll find out why. ;)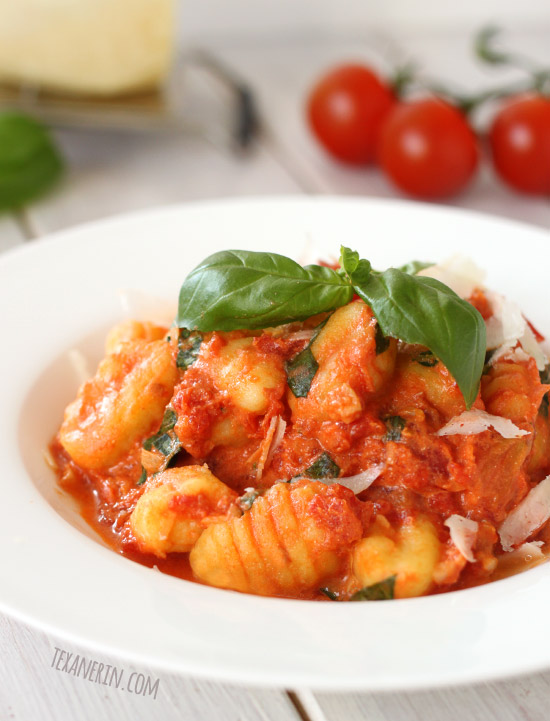 I saw this lighter tomato cream sauce recipe a few weeks ago and sent it to Mr. Texanerin. Kind of as a joke. Kind of not. But he actually made it for me a few days later. You think if I send him my "chore list," he'll do that, too? Because I really hate cleaning up. In general, tidiness is not my forte.
Looking at the ingredients, you'd probably never figure that this is so delicious. But it really is! The red pepper flakes add just a little spiciness and the cream cheese… man. I wish I would have known about this cream cheese in pasta sauce business sooner! I've been missing out. I also recently made some healthier fettuccine alfredo with cream cheese and that was pure heaven. I don't often make sauces with heavy cream (not that I mind fat) but I don't see any reason to ever again.
Don't like or can't find or don't want to make homemade gnocchi? Use pasta! 8 ounces will do it.
❀
Gnocchi with Lighter Tomato Cream Sauce
Prep Time:
Cook Time:
Ready in:
Yield:

4 servings
Ingredients
22 ounces (600 grams) gnocchi (use this gluten free potato gnocchi recipe for a GF version)
1 1/2 teaspoons olive oil
4 teaspoons garlic, minced
1 28-oz (800 grams) can of crushed tomatoes
1/2 teaspoon salt
1/4 teaspoon crushed red pepper flakes
4 ounces (125 grams) cream cheese
1/4 cup fresh basil leaves
4 tablespoons Parmesan or Pecorino Romano
Directions
Prepare the gnocchi according to the instructions on the package. For the kind I buy, all you do is put them in boiling water and let them boil about 2 minutes until they're floating.
Heat a large skillet over medium heat and add the oil. Then add the garlic and stirring occasionally, cook for 2 minutes or until fragrant.
Stir in the can of crushed tomatoes, salt, and red pepper flakes and cook for 3 minutes, stirring occasionally.
Add the cream cheese and basil, stir, and then add in the prepared gnocchi. Top with Parmesan and serve.
Adapted from Cooking Light