These roasted smashed potatoes with Pecorino Romano (or Parmesan), garlic and lemon are possibly the best potatoes you'll ever have! They're soft and fluffy on the inside and crisp on the outside.
Before I get to the recipe, I just wanted to say really quickly that if you've left a comment and I haven't replied yet – I'm sorry! Since mid-December, we've had over 6 full weeks of being sick and I've been unable to really do anything. So I'm behind with everything.
It's been a looong, tough winter.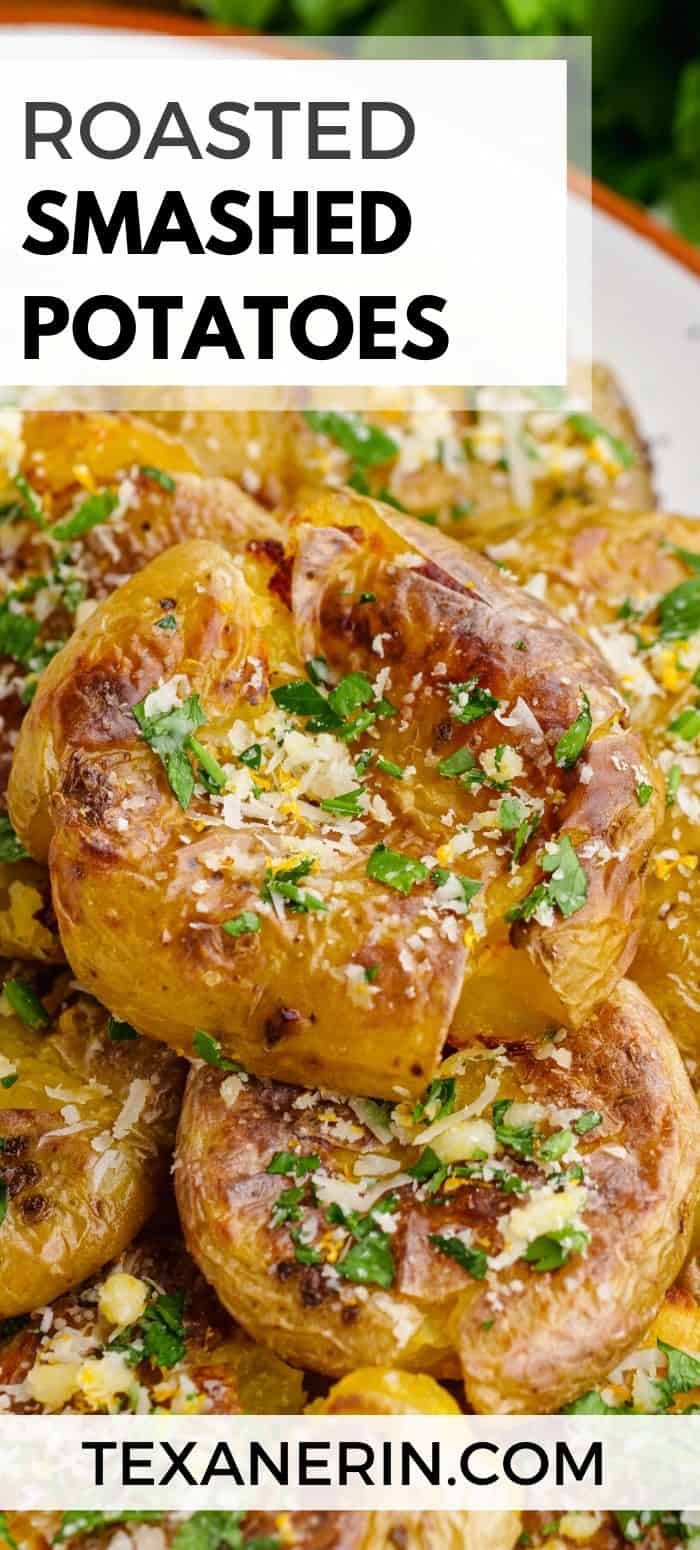 But on to this week's recipe! Potatoes are such a comfort food for me. Especially roasted potatoes, like these potato wedges. I will happily eat the whole tray if others aren't quick enough.
You know what makes potatoes even more magical? Gremolata. It's not as fancy as it may sound – it's just a condiment that's made up of parsley, garlic and lemon zest.
So for these roasted smashed potatoes, what you do is boil the potatoes, place them on a baking tray and smash them with a meat tenderizer or the bottom of a glass, roast them and then cover them in the gremolata. Easy!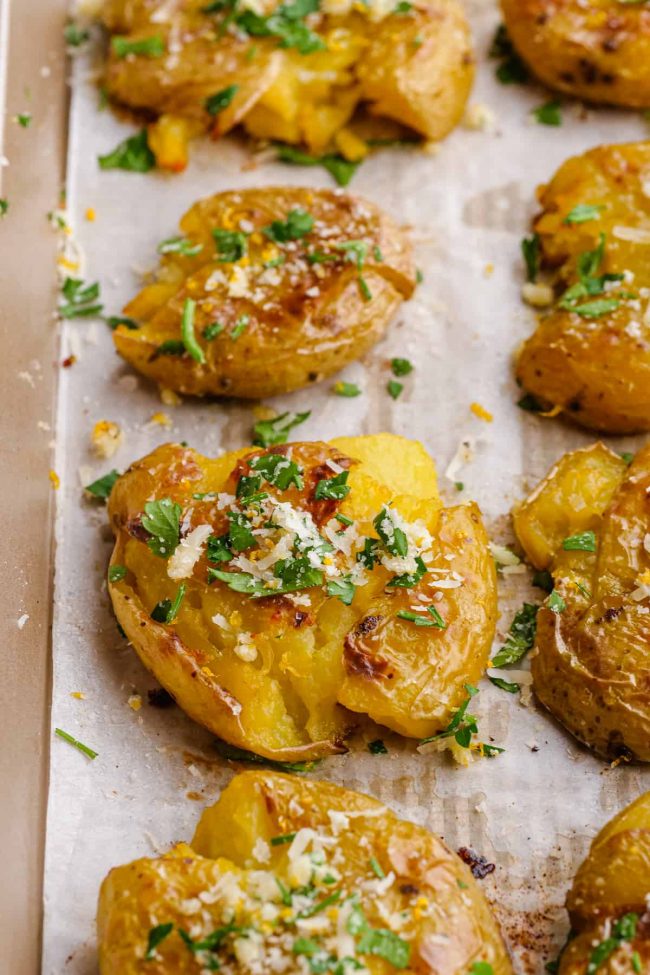 I love to serve these smashed potatoes at parties. You can prepare almost everything in the morning.
I boil and flatten the potatoes, cover them on their pan, and refrigerate. I also make the gremolata and refrigerate. Then when it's time, I roast the potatoes and add the gremolata.
I used Pecorino Romano in this recipe because I use that in everything (especially my classic homemade lasagna and healthy alfredo sauce) instead of Parmesan, but you can absolutely use Parmesan if you want.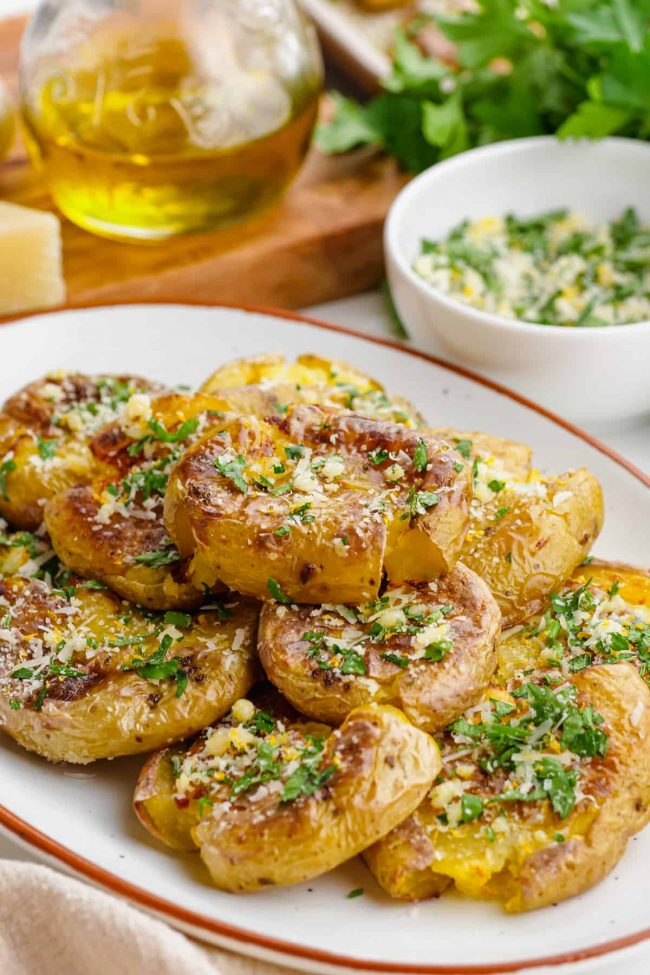 Since I tried Pecorino Romano, I can't go back! Mr. Texanerin thinks it smells revolting but it tastes delicious. :D
I've made the gremolata with fresh parsley and dried – and fresh is much better.
Usually, I don't notice much of a difference but in these smashed potatoes? Totally worth a trip to the store or your garden if you are one of the lucky ones!
It's hard to tell by the photos, but these smashed potatoes are nice and crisp. And if you get a little messy with the smashing part of the process, even better!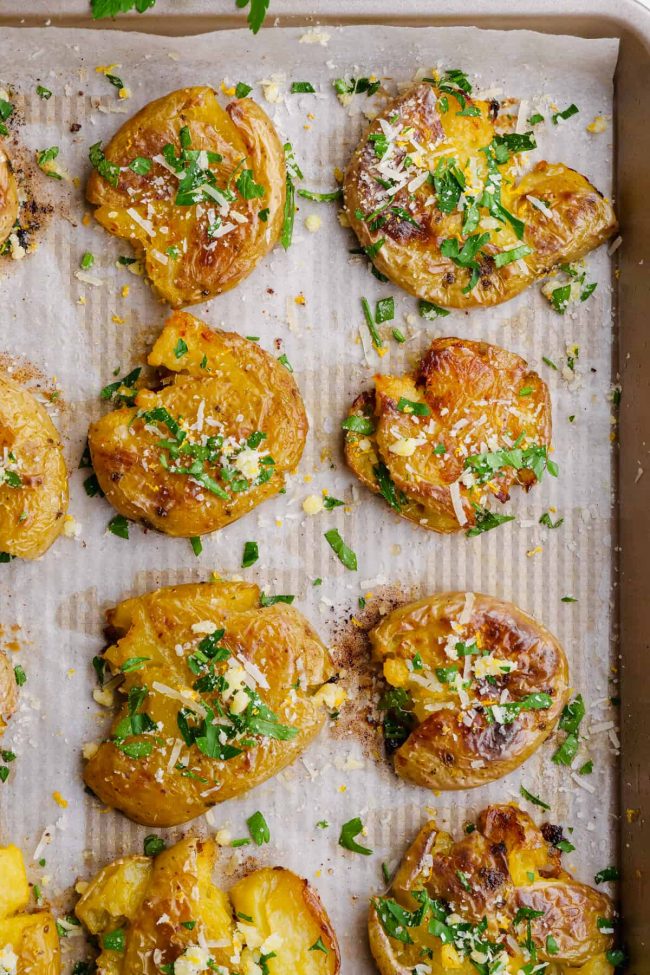 Then you'll end up with more crispy bits. Those are the best parts!
This recipe has so few ingredients and is so easy that I don't have much to say about it. They may not look or sound that exciting but I hope you'll give them a try!
If you're unlike me and like to eat other food with your potatoes rather than just 2 pounds of potatoes, try this pecan-crusted salmon! It's also great for dinner parties as you can prepare the topping ahead of time and keep it refrigerated until needed.
I think these potatoes would also go great with steak, like this grilled T bone steak. New York Strip Steak would be equally as tasty!
❀
Roasted Smashed Potatoes
Prep Time:
Cook Time:
Ready in:
Yield:

4 servings
Ingredients
2 pounds (900 grams) fingerling potatoes or other smallish potatoes
1/3 cup (80 milliliters) olive oil
1 teaspoon sea salt
4 cloves garlic, minced
1/4 cup (~ 5 grams) minced fresh parsley
1 tablespoon lemon zest (from about 1 medium lemon)
1/3 cup (30 grams) Pecorino Romano or Parmesan, grated
Directions
Preheat the oven to 400°F (205°C).
Boil the potatoes in a medium-sized pot and let simmer until the potatoes are cooked through. This took me about 10-15 minutes.
Drain the potatoes and let them dry on a kitchen towel.
Place the potatoes on a baking sheet and drizzle about 2 tablespoons of olive oil over the potatoes.
Stir to make sure that all of the potatoes have been covered with oil.
With the bottom of a glass or a meat tenderizer, gently press the potatoes down to a thickness of about 3/4".
Drizzle the remaining olive oil and sprinkle the salt over the smashed potatoes.
Roast the potatoes for 15 minutes and then flip them over using a spatula or tongs.
Return the potatoes to the oven to roast for another 15 minutes or until the edges are crisp.
Meanwhile, prepare the gremolata by mixing the remaining ingredients together in a small bowl.
After 30 minutes of total roasting time, remove the potatoes from the oven.
Let them sit for 5 minutes and then sprinkle on the gremolata and stir.
Serve immediately.