These smashed potatoes with Pecorino Romano gremolata are probably the best potatoes you'll ever have!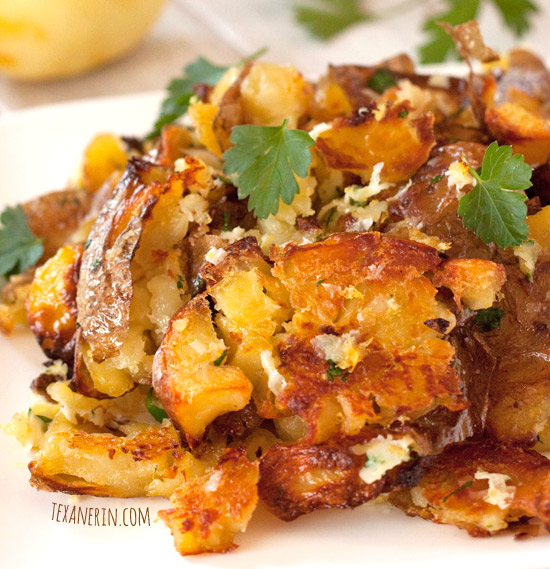 I saw these smashed potatoes on Pinterest about a year ago and had to make them right away. Thanks to Use Real Butter, I now know the secret to the best potatoes in the world: gremolata. It's not as intimidating as it sounds – it's just a condiment that's made up of parsley, garlic and lemon zest.
What you do is boil the potatoes, place them on a baking tray and smash them with a meat tenderizer or the bottom of a glass, roast them and then cover them in the gremolata. Easy!
And on a totally random note, I stole these pictures and recipe from Mr. Texanerin. It was supposed to be an Even He Can Do It Post but he never got around to it. So now they're mine! :D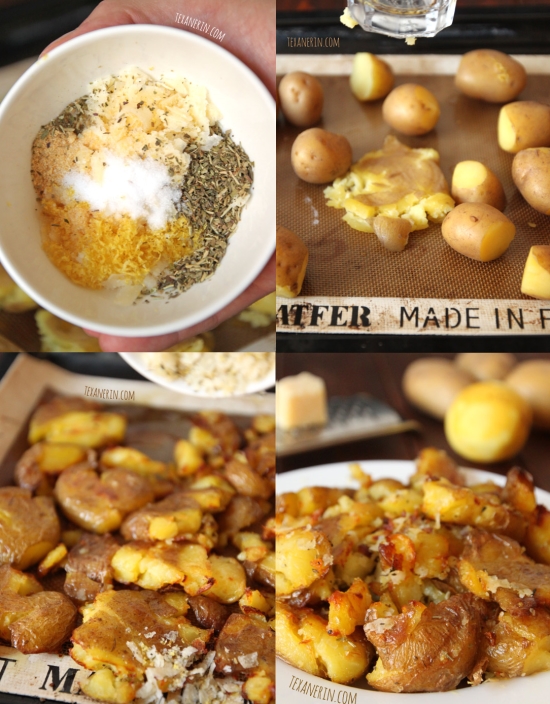 I love to serve these smashed potatoes at parties so what I do is prepare almost everything in the morning. I boil and flatten the potatoes, cover them on their pan, and refrigerate. I also make the gremolata and refrigerate. Then when it's time, I roast the potatoes and add the gremolata.
One of the changes I made to the recipe was to use Pecorino Romano instead of Parmesan. Go with Parmesan if you want, but since I tried Pecorino Romano, I can't go back! I also increased the amount of cheese, because… that's just what I do.
I've made the gremolata with fresh parsley and dried and fresh is much better. Usually, I don't notice much of a difference but in these smashed potatoes? Totally worth a trip to the store or your garden if you are one of the lucky ones!
❀
Smashed Potatoes with Pecorino Romano Gremolata
Prep Time:
Cook Time:
Ready in:
Yield:

4 servings
Ingredients
2 pounds (900 grams) fingerling potatoes or other smallish potatoes
1/3 cup (80ml) olive oil
1 teaspoon sea salt
4 cloves garlic, minced
1/4 cup (~1/2dl) minced fresh parsley
Zest of 1 lemon
1/3 cup Pecorino Romano, grated
Directions
Preheat the oven to 400°F (205°C).
Boil the potatoes in a medium-sized pot and let simmer until the potatoes are cooked through. This took me about 10-15 minutes.
Drain the potatoes and let them dry on a kitchen towel.
Place the potatoes on a baking sheet and drizzle about 2 tablespoons olive oil over the potatoes.
Stir to make sure that all of the potatoes have been covered with oil.
With the bottom of a glass or a meat tenderizer, gently press the potatoes down to a thickness of about 3/4".
Drizzle the remaining olive oil and sprinkle the salt over the smashed potatoes.
Roast the potatoes for 15 minutes and then flip them over using a spatula or tongs.
Return the potatoes to the oven to roast for another 15 minutes.
Meanwhile, prepare the gremolata by mixing the remaining ingredients together in a small bowl.
After 30 minutes of total roasting time, remove the potatoes from the oven.
Let them sit for 5 minutes and then sprinkle on the gremolata and stir.
Serve immediately.
Adapted from Parmesan Gremolata Smashed Potatoes Recipe from Use Real Butter