This healthier Cajun chicken pasta has a milk and cheese-based sauce and can be made gluten-free or 100% whole grain.
Mr. Texanerin has been asking me to post this recipe since I first started the blog. I've always hesitated because I like to stick to sweets but after having had it recently in New Orleans, I felt compelled to share a healthier version. The version I used to make has 1/2 cup of heavy cream and clocks in at 935 calories per serving. I normally don't care about fat content and calories but that seems a little over the top, doesn't it?!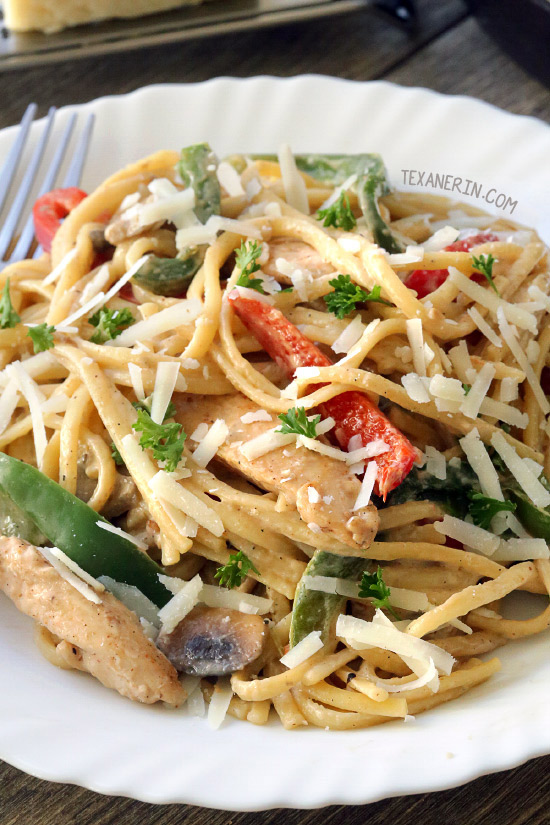 I'm not an expert or anything but I'm thinking Cajun chicken pasta isn't Cajun or even authentic to Louisiana (someone correct me if I'm wrong!). Kind of like how stromboli didn't originate from Italy but Philadelphia. Cajun chicken pasta strikes me as one of those meals started by restaurant chains. One that should have been called Cajun seasoned chicken pasta.
What we have here is an adapted version of my healthier fettuccine alfredo with some vegetables and Cajun-spiced bites of chicken.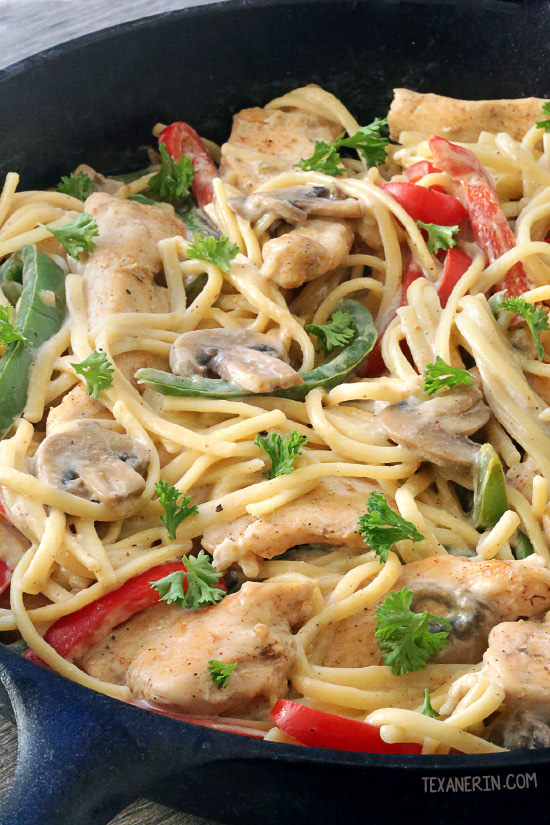 I don't care whether it's authentic or not because it's one of my favorite dinner dishes ever. I rarely make it because honestly, it's not the quickest meal to make. I can say from experience that if you skip the vegetables, it reduces your prep time by 25 minutes. ;)
By the way, are you following me on Instagram? I'm currently working on healthier versions of some of the goodies I instagrammed from New Orleans that I can't wait to share! I'd also love for you to join me in the #CookIt Challenge.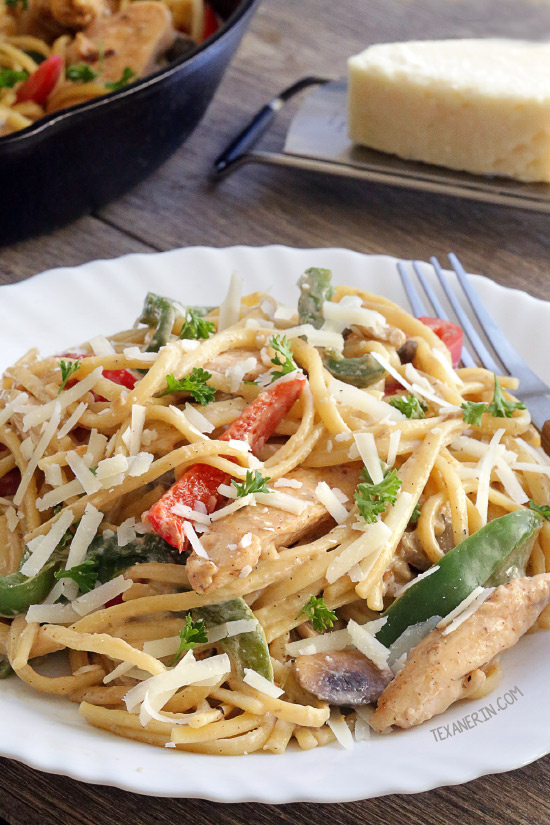 Epicurious has teamed up with The Infatuation to host a #CookIt throw down. Over the next month they'll be announcing different themes and challenging us to make something awesome at home. All you have to do is upload your photos to Instagram, hashtag #CookIt and tag both @infatuation and @epicurious in your photos. The best photos for each week's themes will be regrammed on both @infatuation and @epicurious Instagram accounts! This week's theme? Best dinner ever! Hence the Cajun chicken pasta recipe.
If you're not familiar with The Infatuation, do yourself a favor and check it out. It's a restaurant review website and mobile app started by two guys who wanted to help their friends find great eats and the right restaurant to suit their needs on a particular evening. They provide readers with honest reviews and suggestions on where to find the best food. Check them out and see if they're in your city!
Now let's get cooking!
This post was sponsored by Epicurious and The Infatuation. All opinions expressed are my own.
❀
Healthier Cajun Chicken Pasta (gluten-free, whole grain options)
Prep Time:
Cook Time:
Ready in:
Yield:

4 servings
Ingredients
For the vegetables and chicken:

1 medium red bell pepper
1 medium green bell pepper
8 ounces (225 grams) fresh mushrooms
1 pound (455 grams) boneless, skinless chicken breast
2 teaspoons Cajun seasoning (I used Tony Chachere's but you could use a homemade mix)
2 tablespoons olive oil, divided
1/4 teaspoon garlic powder
1/4 teaspoon salt, or more to taste
1/8 teaspoon coarsely ground black pepper

For the pasta and sauce:

8 ounces (225 grams) dry linguine or fettuccine (use gluten-free or whole wheat pasta, if desired)
1 tablespoon olive oil
4 cloves garlic, minced
1 tablespoon white whole wheat or all-purpose flour (use a GF all-purpose flour for a GF version)
1 1/2 cups (355 milliliters) whole milk
1/2 teaspoon Cajun seasoning
1/4 teaspoon lemon pepper
1/4 teaspoon salt (I like things salty and use 1/2 teaspoon)
1/8 teaspoon coarsely ground black pepper
3 tablespoons cream cheese or neufchatel cheese
1 cup (88 grams) grated Pecorino Romano or Parmesan, plus more for sprinkling on top, if desired
2 tablespoons chopped fresh parsley, optional
Directions
For the vegetables and chicken:

Remove the seeds from the bell peppers and cut the bell peppers into 1/3" strips.
Cut the mushrooms into 1/4" slices. Set the vegetables aside and cut the chicken into bite-sized pieces. Rub the Cajun seasoning on it.
Heat 1 tablespoon olive oil in large skillet over medium heat. Add bell pepper strips and saute, stirring frequently, for 5 minutes.
Add the sliced mushrooms and saute for another 4-5 minutes or until the vegetables are tender enough for your liking. Season with garlic powder, salt and pepper and then remove the vegetables to a medium bowl. Cover with foil or a plate.
Turn the heat up to medium-high and add the remaining 1 tablespoon olive oil to the pan. Depending on the size of your skillet, you may need to cook the chicken in two batches. Cook the chicken pieces for about 6-9 minutes, flipping halfway through. Remove the chicken to the bowl with the vegetables and cover.

For the pasta and sauce:

Prepare the pasta according to the package directions. When it's finished, drain it but do not rinse. Return to the pot.
Meanwhile, in a medium skillet over medium heat, heat the olive oil.
Add the minced garlic and cook until soft – about 1-2 minutes.
Stir in the flour and cook, stirring constantly, for 1 minute.
Whisk in the milk, Cajun seasoning, lemon pepper, salt and pepper and cook, whisking constantly, until the sauce has thickened slightly – about 3 minutes.
Add the cream cheese, Pecorino Romano and whisk until completely melted.
Add the sauce to the prepared pasta and mix until combined. Stir in the vegetables and chicken. Sprinkle with additional cheese and parsley, if desired.
Serve immediately and refrigerate any leftovers for up to 4 days.