This King Cake has a pecan praline and cream cheese filling and is topped off with praline frosting! The brioche dough is light, buttery and incredibly moist. With a 100% whole grain option.
Did you know that King Cake isn't just a Louisiana / Mardi Gras thing? They have King Cakes in France, Spain, Portugal, Latin American countries and some other places. But they don't look like the Louisiana-style King Cakes we know covered in powdered sugar glaze and green, gold and purple sugar (you can see some pictures of international King Cakes at the bottom of this page if you're interested!).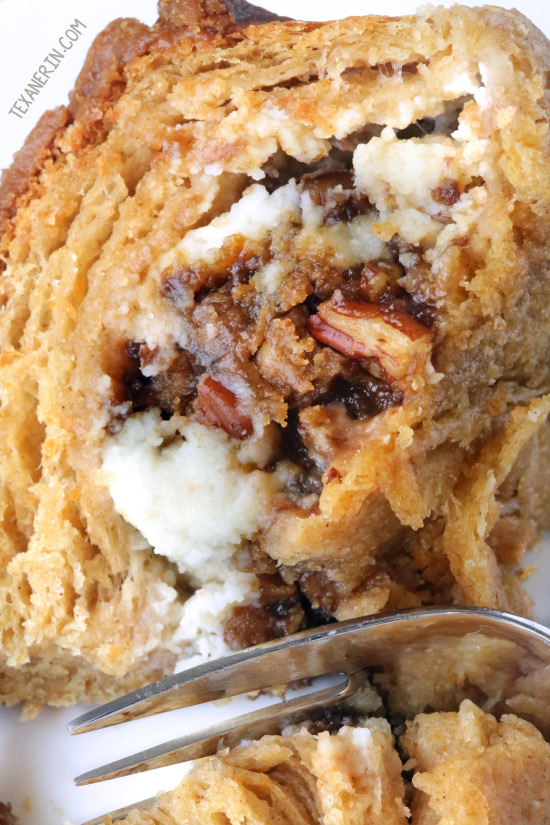 I'm wondering how many angry comments I'll get on this post for not using the traditional powdered sugar glaze and colored sugar. ;) I was going to go with that but I was feeling too lazy to dye my sugar plus I'm not really into using food coloring and adding pure sugar on top of almost more pure sugar to my goodies.
So I used the same praline frosting that I used on my apple bundt cake. It was perfect! And so much more delicious than the traditional glaze.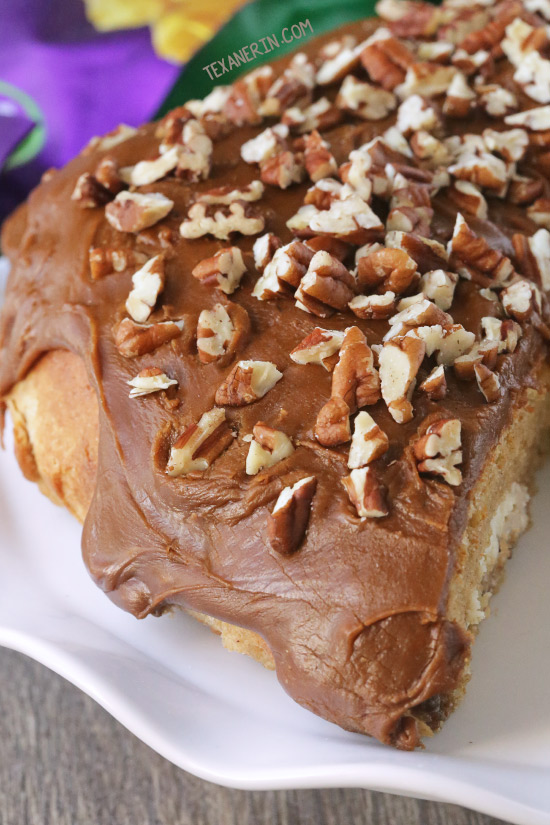 I did find this article about unusual Mardi Gras King Cakes in New Orleans and figured that if their King Cakes weren't covered in yellow, gold and purple, then my cake didn't have to be, either. So ha! :D
This is definitely the fussiest recipe I've ever posted but it's so worth it. First you make brioche dough and chill it overnight. If you want to skip that step, I have no idea how it'd work as I haven't tried it. I'm thinking the overnight rest has something to do with flavors melding but I could be wrong. Then you have to make praline pecan filling and cream cheese filling and praline frosting. It's better than any bakery King Cake I've had – so much more flavorful, buttery and rich!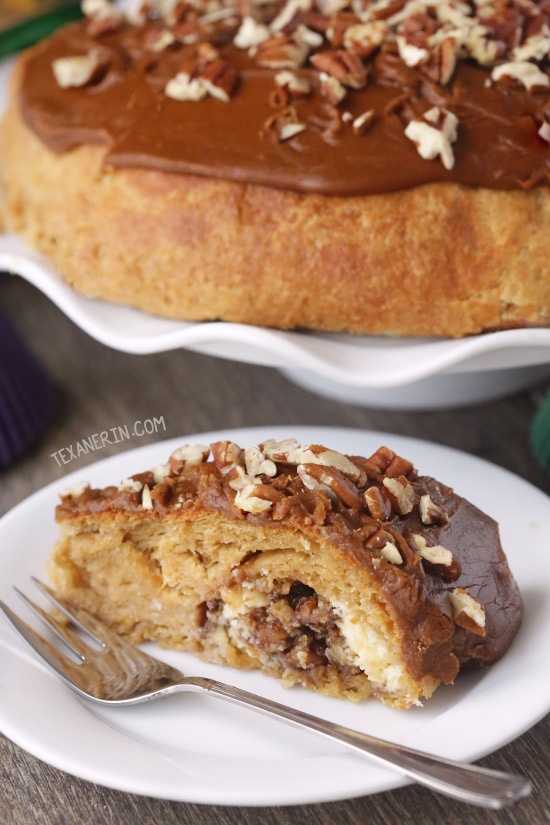 I've made this cake so many times and I always make a mess out of it. The part where you take the two rolled up ends of dough and connect them to form a circle? I can never do that. I keep messing with it and then filling comes oozing out and it never looks good. But it always turns out okay because you're going to cover it up with frosting, anyway! Plus it's so delicious that I swear, nobody will care at all about how it looks.
I waited too long to frost my King Cake and the frosting had hardened a little too much and you can see the frumpy result in that second picture. I contemplated not posting this King Cake recipe for about two seconds due to its appearance and then realized how insane that'd be.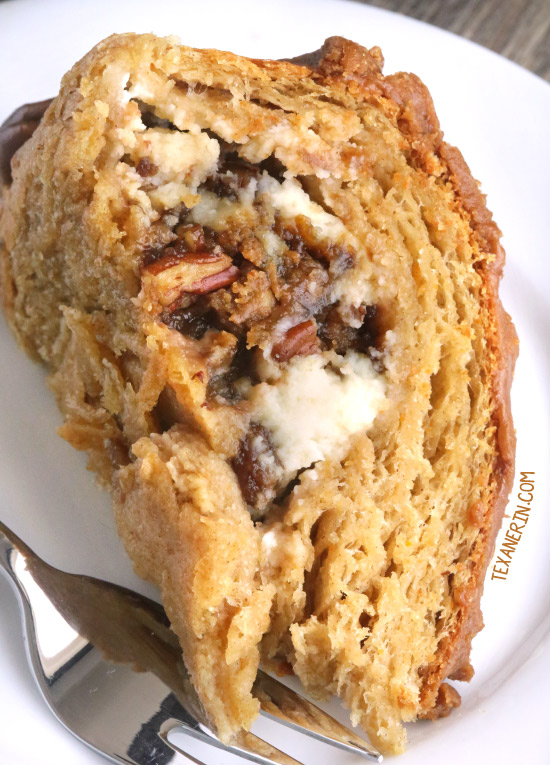 The praline filling yields quite a bit. When I had only put on half the filling, I already thought it was too much and that I should stop. I also had no idea how I would be able roll to up the dough! But it worked. Don't skimp on the filling because it's really not all that much.
And who loves my Mardi Gras decorations?! I totally forgot to bring some back from New Orleans and so for these pictures, I turned to using a chip bag and upside down green and purple cupcake liners.
❀
King Cake with Praline Cream Cheese Filling and Frosting (100% whole grain option)
Prep Time:
Cook Time:
Ready in:
Yield:

12 slices
Ingredients
For the dough:

1 envelope (2 1/4 teaspoons) active dry yeast
2 tablespoons warm water (115ºF / 46ºC)
1 teaspoon salt
2 tablespoons coconut sugar or granulated sugar
1/4 cup (60 milliliters) whole milk
1 tablespoon orange zest
2 large eggs, room temperature
1 teaspoon ground cinnamon
2 cups (250 grams) white whole wheat flour or all-purpose flour
10 tablespoons (140 grams) cold unsalted butter, cut into very small pieces
1 egg white beaten with 1 tablespoon water for the eggwash

For the cream cheese filling:

8 ounces (225 grams) cream cheese, softened
1/4 cup (50 grams) raw or granulated sugar
1 teaspoon vanilla extract
pinch of salt

For the praline filling:

1/4 cup (56 grams) unsalted butter, softened
2 large egg yolks
1/2 cup (100 grams) coconut sugar or brown sugar, firmly packed
pinch of salt
1/4 teaspoon maple or vanilla extract
1/2 cup (55 grams) chopped and toasted pecans

For the frosting:

6 tablespoons (75 grams) coconut sugar or brown sugar
3 tablespoons (42 grams) unsalted butter
2 1/2 teaspoons whole milk
pinch of salt
3/4 teaspoon vanilla extract
9 tablespoons (65 grams) powdered sugar

For decoration:

1 plastic baby trinket
about 1/2-3/4 cup toasted chopped pecans
Directions
For the dough:

Dissolve yeast with the water in the bowl of a stand mixer which has been fitted with the dough hook. Let stand 10 minutes until frothy. Meanwhile, dissolve the salt, sugar, milk and orange zest in a small bowl and add to the yeast mixture after the 10 minute waiting period.
With the mixer on low, add the 2 eggs, cinnamon, and then gradually add the flour. You may not need the full 2 cups – the dough should be a little tacky but not sticky (it shouldn't stick to your hand when you touch it). Knead on low speed for 10 minutes, or until a smooth elastic dough is formed. It may be that you need to add a little more flour. While still on low, add the butter until incorporated, a little at a time.
Put the dough into an oiled bowl, cover loosely with plastic wrap and let it rise for 1 hour in a warm spot. Once the dough has doubled in bulk, punch it down, cover and place in the refrigerator overnight.
The next morning, prepare the fillings. For the praline filling, stir the butter, egg yolks, sugar and salt together in a medium saucepan over medium heat. While stirring constantly, bring to a boil. Continue stirring for another 3-5 minutes or until it's thickened and pulls away from the side of the pan. Remove the pan from the heat and stir in the maple extract and chopped nuts. Let cool about 20 minutes and then place in the refrigerator for about an hour.
For the cream cheese filling, beat the cream cheese and sugar at medium speed until light and fluffy. Add the vanilla and salt and beat until combined. Place in the refrigerator until ready to use.
After the praline filling has chilled, take out the dough of the refrigerator and flour a clean surface. I like to use a large sheet of parchment paper so that I don't have to worry about transferring the rolled up dough. Roll the dough out to a 8"x18" rectangle. Make sure to flour your parchment paper very well so that the dough doesn't stick. It warms up pretty quickly and it will stick if you don't flour the paper enough.
Dollop spoonfuls of the cream cheese filling in the middle of the rectangle along the whole length, leaving about 1 1/2 inch on each side. Spoon the pecan filling over the cream cheese filling.
Fold the dough over the filling lengthwise and pinch the two sides together. Transfer the roll to a parchment lined baking sheet. If you rolled out your dough on a piece of parchment paper, just continue to the next step.
Flip the dough over so that the seam is on the bottom. Turn the roll into an oval, and put one end into the other end to hide the seam. Seal the circle by pinching the dough together. Loosely cover (I spray plastic wrap with PAM so that it doesn't stick) and let rise until doubled in bulk, which could take anywhere from 45 – 60 minutes. Meanwhile, preheat your oven to 350ºF (177ºC). After the dough has doubled in bulk, brush all over with egg wash, and then bake for 20 – 30 minutes until golden brown.
When the cake has cooled, prepare the frosting. In a small saucepan over medium heat, mix together the coconut sugar, butter, milk and salt. Whisking continuously, bring to a boil and continue boiling, while whisking continuously, for 1 minute. Remove the pan from the heat and stir in the vanilla. Gradually whisk in the powdered sugar and mix until totally smooth. Stir occasionally for about 3 minutes or until the frosting has slightly thickened. Immediately pour over the cooled King cake. If you wait until the frosting is too cool, it'll make glazing the cake more difficult (which you can see in my pictures). If it's thickened too much, place back on the heat for a few moments until it's more liquid. Immediately sprinkle the chopped pecans over the top.
Hide the baby somewhere in the cake and serve! Keeps well at room temperature for 1 day or refrigerated for up to 5 days. Reheats well in the microwave at half-power.
Dough adapted from King Cake Recipe on NOLA Cuisine and the pecan filling was adapted from Praline Filling from Wilton.