This Georgia Peach Cocktail is for those who like a light summery cocktail. It has a sweet peachy flavor that's well balanced against a splash of orange and cranberry juices.
If you don't like sweet cocktails, then this one isn't for you. And hopefully, it goes without saying, but you should also really like peach. Because this is super peachy!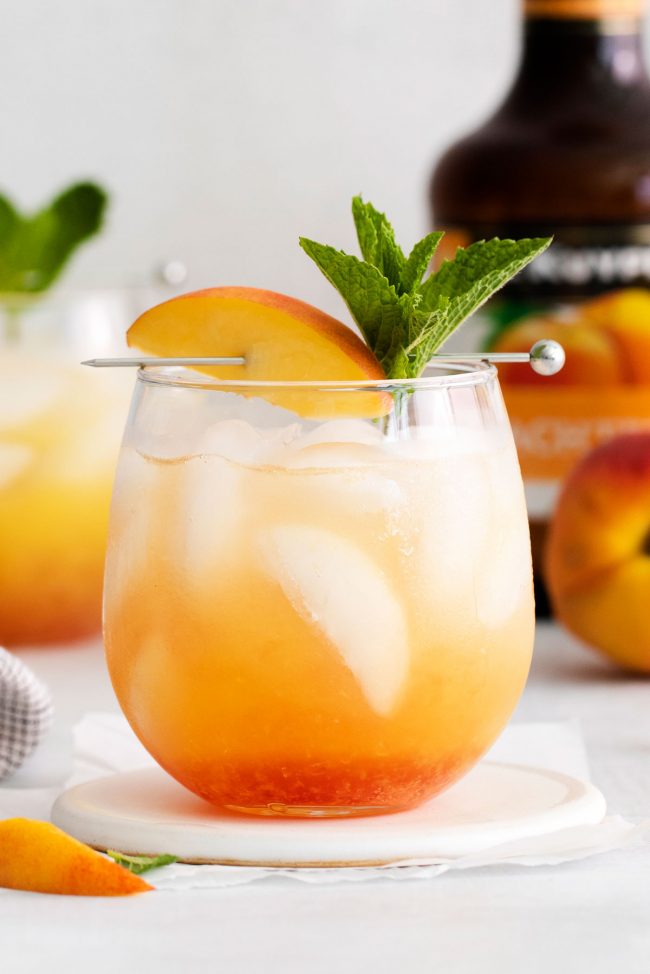 What you need
Peach liqueur – I used Peachtree. I've had some other, cheaper brands in the past and didn't like them nearly as much.


White rum – I really recommend white rum and not a dark one. And definitely nothing spiced.

I used Old Pascas Barbados Light Rum, which doesn't seem to be sold in the US. It was about 9 euros, so it's not the cheapest, but also not expensive. For reference, Bacardi is about 14 euros.


Orange juice – 100% orange juice is sweet enough on its own, so you really don't need one with added sweetener. The drink is perfectly sweetened and doesn't need any extra sugar.


Cranberry juice – I used Ocean Spray Cranberry Juice Cocktail which is cranberry juice, water and sugar.

If you want to use 100% cranberry juice, then shake the cocktail, taste and add sweetener to taste. Then shake again.

Don't use something with a strong flavor like coconut sugar or honey. I'd recommend quick dissolve sugar or simple syrup. I have a homemade vanilla simple syrup recipe in my post for Starbucks Chocolate Cream Cold Brew that would work great in here. But it's quite a bit of effort when you'll likely need just a tiny amount!

I think maple syrup would be tasty in combination with the peach, orange and cranberry flavors, but I haven't tried it. It could possibly be terrible.

I couldn't find 100% cranberry juice or else I would have tried it myself.


Peach slices + mint – this is optional but makes it pretty!


Ice – I prefer to chill the ingredients rather than adding ice. Then there's no chance of diluting the drink with melting ice. But you can use it if you like your cocktails really cold.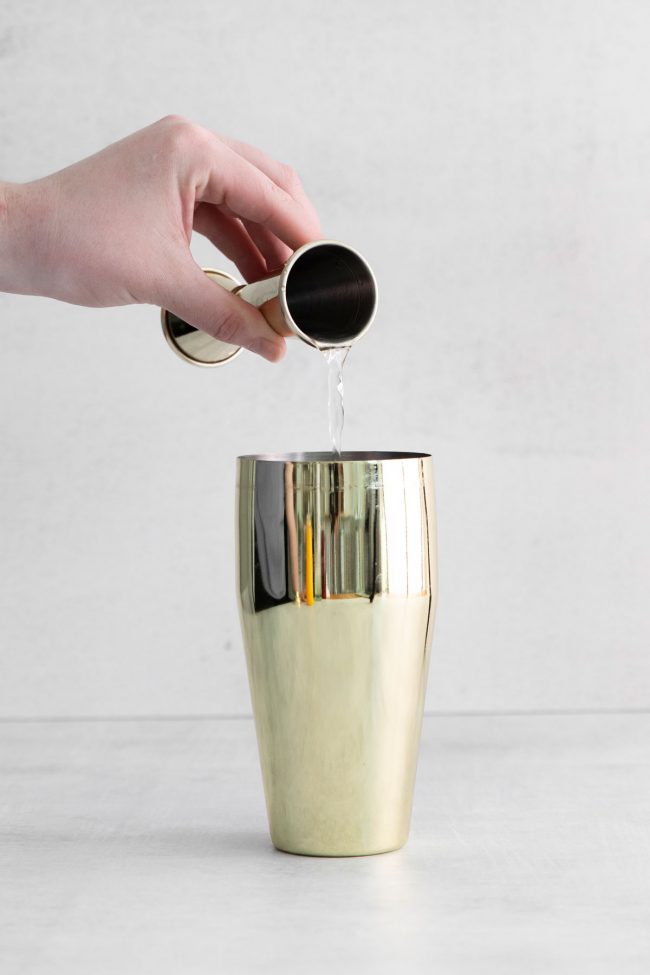 What is Peachtree?
Peachtree is the first of its type to produce peach-flavored liqueur that embodies the taste of tree-ripened peaches. According to their website, it's delicately distilled and well-balanced.
And seeing as they were the first to produce this peachy liqueur, they are considered the original.
You might be wondering if it's comparable to schnapps, and it is! Schnapps refers to an alcoholic beverage that comes in different flavors from fruit brandies, herbal liqueurs and flavored liqueurs made with fruit syrups, spices or artificial flavorings.
So actually, Peachtree liqueur is a type of cordial that falls into the schnapps category. It's clear grain alcohol sweetened with punchy peach flavor.
It's perfect for sweetening and adding fruity flavors into cocktails. It's ideal for this Georgia Peach Cocktail.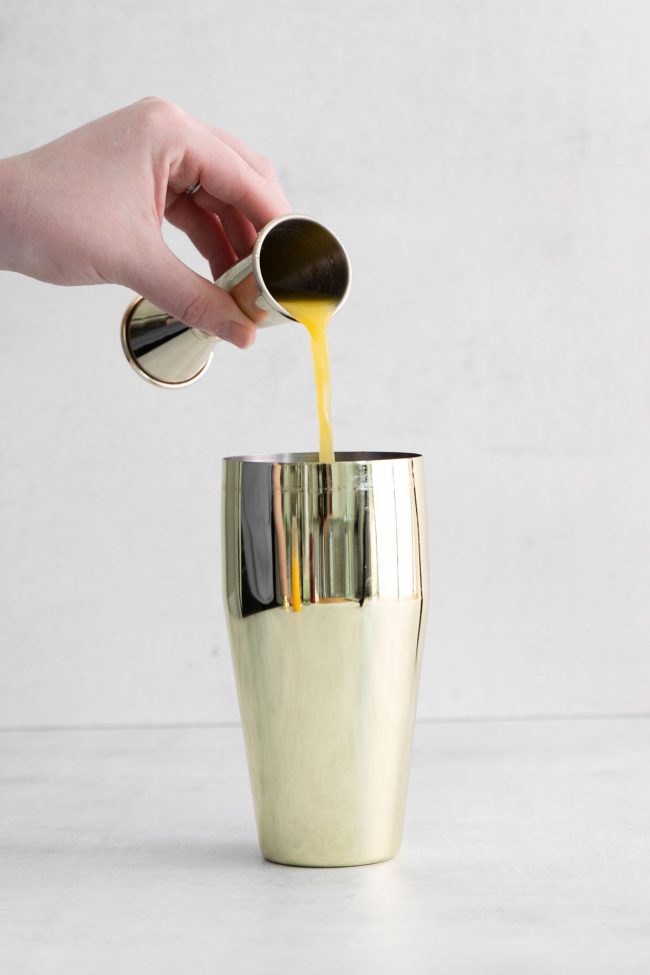 Caution!
This is a strong drink. I had to fiddle with it a bit to reduce the alcohol content and still have it be just as delicious.
I used this alcohol content calculator to compare it to other cocktails. My recipe below is equal to 1.4 US standard drinks and has 13.1% alcohol in 6.5 total fluid ounces.
I was worried that 1.4 drinks is too much, but then saw that a mojito is the same, a margarita is 1.7 drinks with 33.3% alcohol, and a piña colada is 2 drinks with 13.3% alcohol.
So I guess it's not over-the-top at all.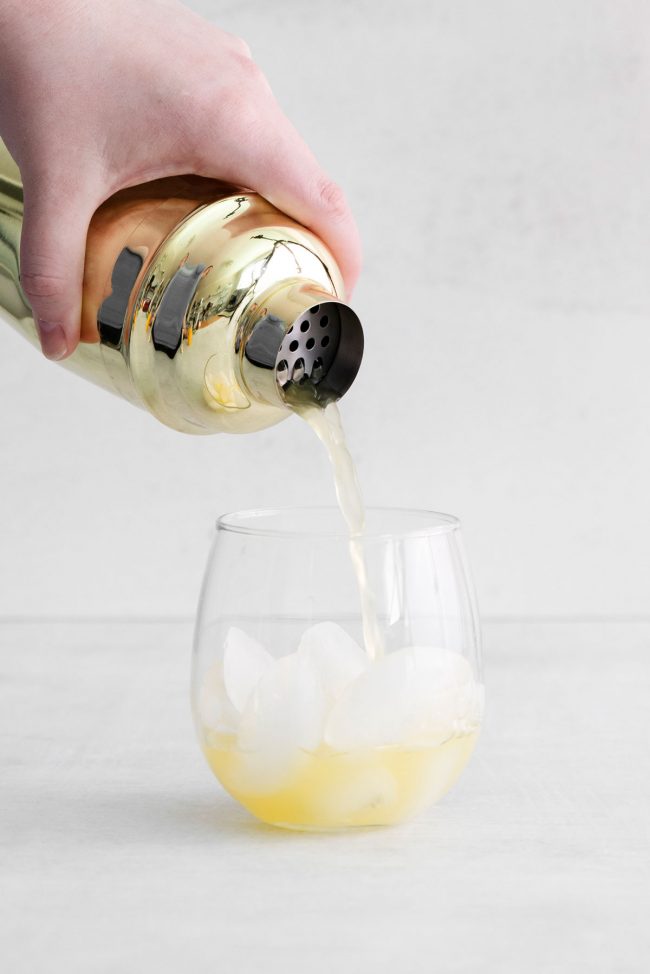 Don't have a cocktail shaker?
If you don't own a cocktail shaker, don't worry, you probably have a good alternative handy like a travel coffee cup! They're great because they are double-walled and made to handle heat and cold; plus, they work well at chilling cocktails.
If yours has a sippy hole, just cover it with plastic wrap and put your finger over it when shaking.
Protein shakers also make great cocktail shakers. Ones that have a metal mixing ball and lid are perfect for mixing ingredients like shakes and cocktails.
What about one of those blender bottles? If you have one, break it out and start mixing some drinks or try this ultra tasty Blueberry Avocado Smoothie! Blender bottles are a great way to mix it up.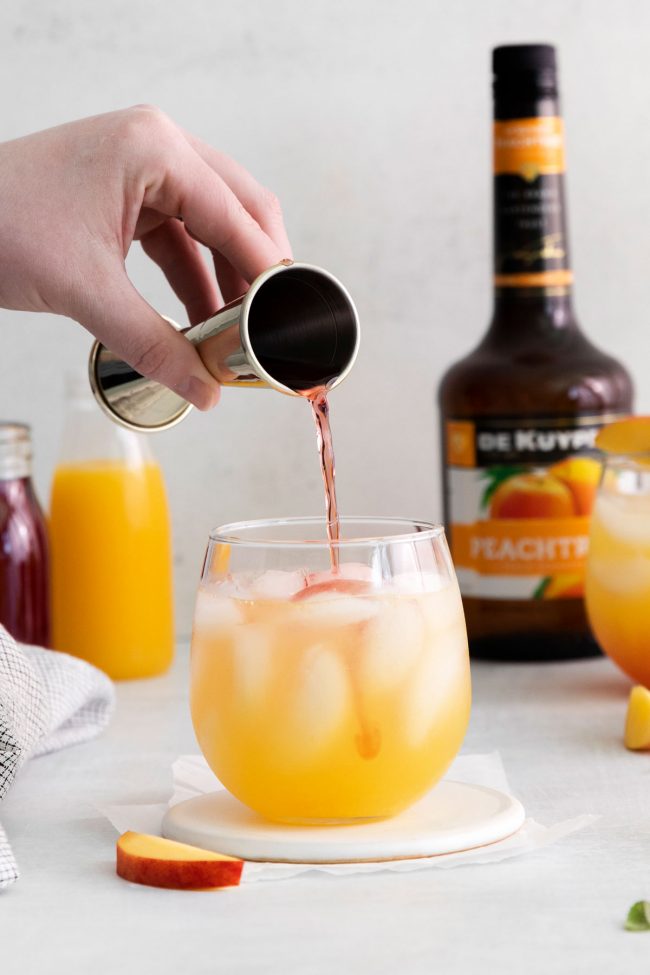 You could also use a mason jar or other glass jar with an airtight lid. It's probably the most common alternative to a stainless steel cocktail shaker.
Just make sure there's enough space to shake it up to reduce leaking. As a precaution, you want to use tempered or heavy-duty glass to reduce the risk of the glass breaking, so shake lightly if you've included ice.
The benefits of having an actual cocktail shaker is that they chill the drinks quickly and have a strainer built-in. It's an all-in-one tool used for muddling, chilling, shaking, straining and easily pouring.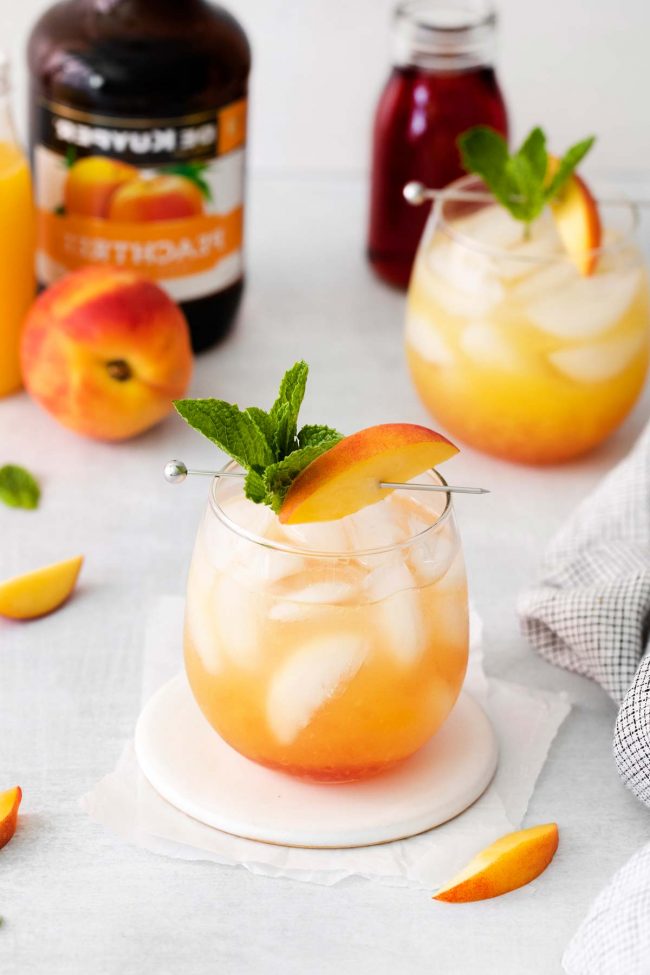 Other summery cocktails
If you love peach, this Peach Sangria looks amazing! If you're in the mood for something else, check out some of my ideas below.
I hope you like this Georgia Peach Cocktail. Let me know what you think in the comments. :)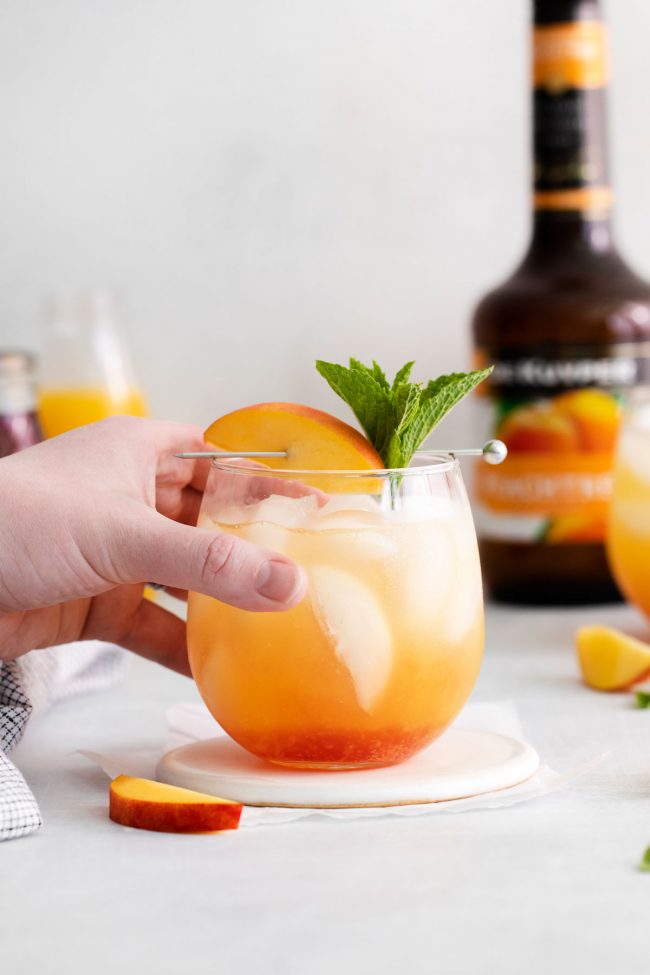 ❀
Georgia Peach Cocktail
Prep Time:
Cook Time:
Ready in:
Yield:

one 6.5oz drink
Ingredients
3 oz (6 tbsp) Peachtree
1 oz (2 tbsp) white rum
1 oz (2 tbsp) orange juice (100% juice)
1.5 oz (3 tbsp) cranberry juice (like Ocean Spray, not 100% unsweetened cranberry juice)
Peach slices + mint + ice
Directions
Fill a cocktail shaker about 1/2 full with ice.
Add the Peachtree, rum and orange juice.
Shake well. Add a few ice cubes to a glass and strain the cocktail into the glass.
Pour the cranberry juice into the center of the drink. Do not stir! It'll kind of look like a peach with the yellowish-orange and red.
Garnish with a peach slice and mint.