These healthier Halloween sugar cookies with cream cheese frosting are 100% whole grain, soft, chewy and taste just as good as the more traditional kind!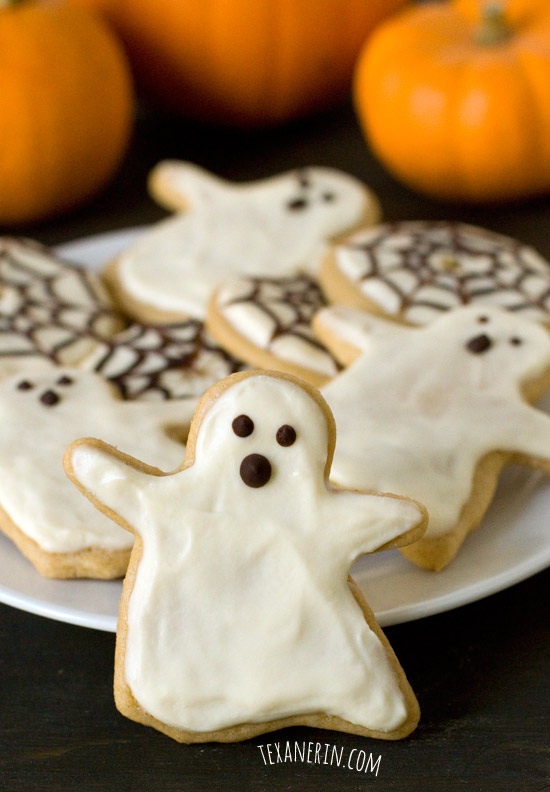 I really struggle with what recipes to post for Halloween. I want to post something cute and festive, but I know the majority of you don't want anything processed and definitely don't want loads of food coloring. So I used semi-sweet chocolate to decorate these healthier ghost and spiderweb sugar cookies!
Sugar cookies with cream cheese frosting are probably my favorite cookies ever. They have to be soft, chewy, and just a little lemony. And you know what I don't like? Royal icing. I know you can make such pretty cookies with it, but for me, it's like eating pure sugar. And it doesn't even taste good! I want cream cheese frosting or nothing at all.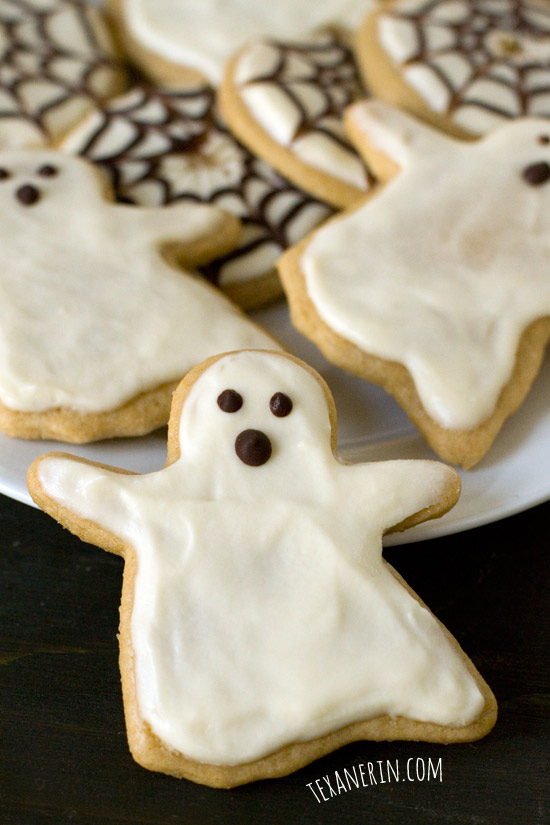 I don't often use powdered sugar but I haven't found a good way to make cream cheese frosting without it. This recipe only has 1/4 cup of powdered sugar, in comparison to others that have several times that amount, so I was happy with it! And the frosting recipe yields only enough for a thin spread of icing. Enough so that it's fully covered, but it's not a huge amount. So there's no risk of having leftovers that you feel tempted to eat with a spoon! :)
The frosting hardens just enough so that you can cover the cookies with plastic wrap. I kept mine refrigerated because of the cream cheese, but they'll be fine at room temperature for the duration of a party.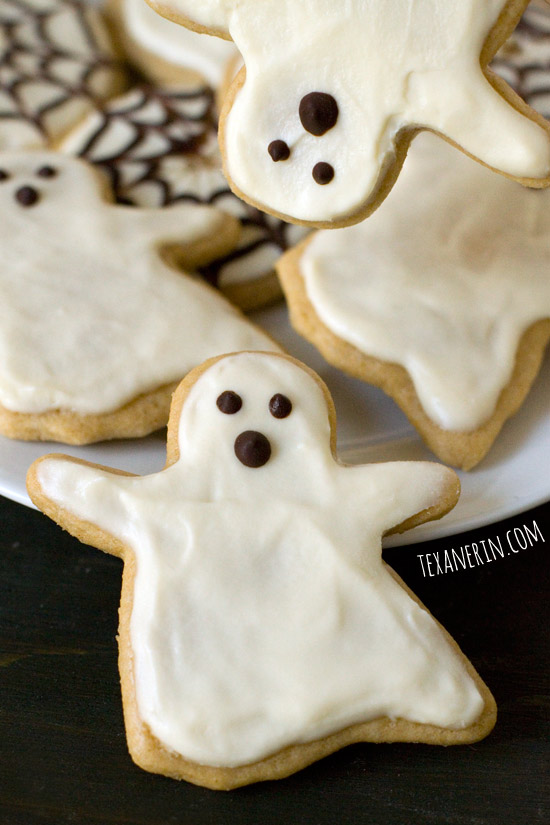 BOO!
I'm not a huge fan of semi-sweet chocolate and lemon. It just seems weird. So I preferred the ghost cookies. When I make the spiderweb cookies again, I'll probably leave out the lemon zest. Or if you want, you could use white chocolate and add food coloring once it's melted. Purple and orange spiderwebs would be pretty neat looking! Here's the spiderweb tutorial. I promise that it's not as difficult as it looks!
Don't care about food coloring and just want to get the cookies over with? Or don't want to get out a piping bag? These sugar cookies look decent with Halloween sprinkles. :)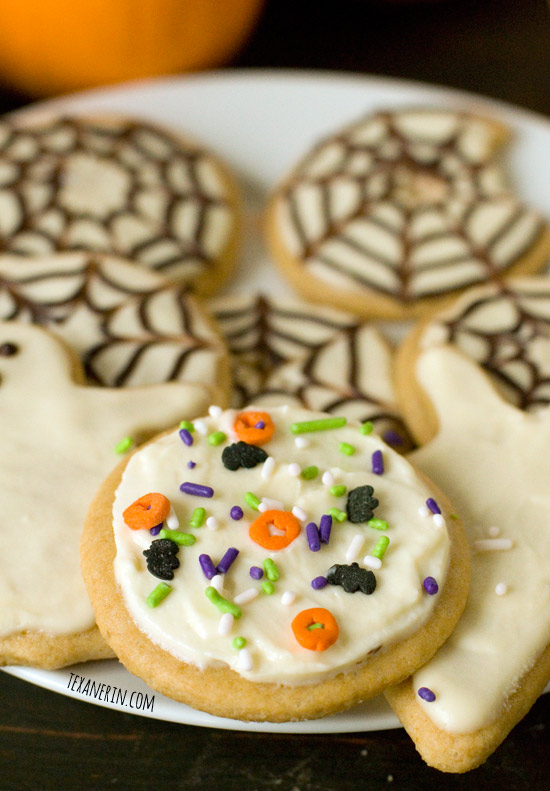 And the cookies. Seriously. SO good. You can't tell that they're whole grain. When I was making this Greek yogurt berry cookie tart, I was thinking that the crust would make some pretty amazing cookies. But I didn't expect them to taste this good.
And something else that I love about this recipe – there's no chilling time involved! Just mix it up and roll it out. Now if you want your cookies super thin, you'll probably have to chill the dough, but not if you flour your surface decently and want them a regular thickness. You can also prepare the dough and refrigerate for up to two days.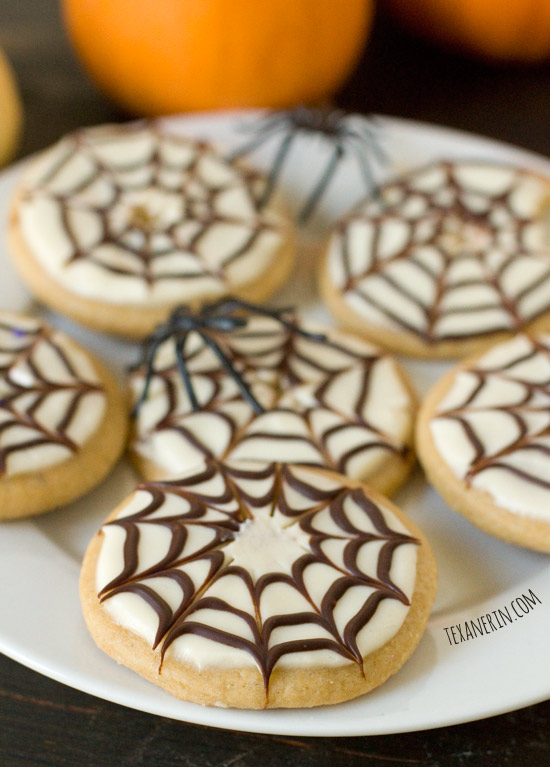 And here's a roll-out cookie tip! Place the dough onto a lightly floured Silpat or piece of parchment paper, cover it with plastic wrap, and then roll. So less messy!
I had way too much fun taking these pictures. If you don't like a little silliness, just scroll down to the recipe. :)
Oh my goodness! Spiders are coming! :D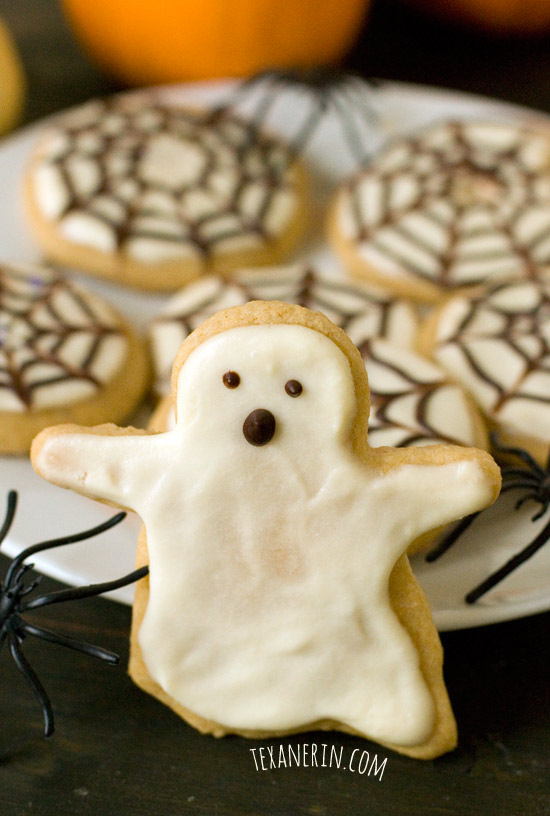 Oh no, oh no! They're coming for Mr. Ghost!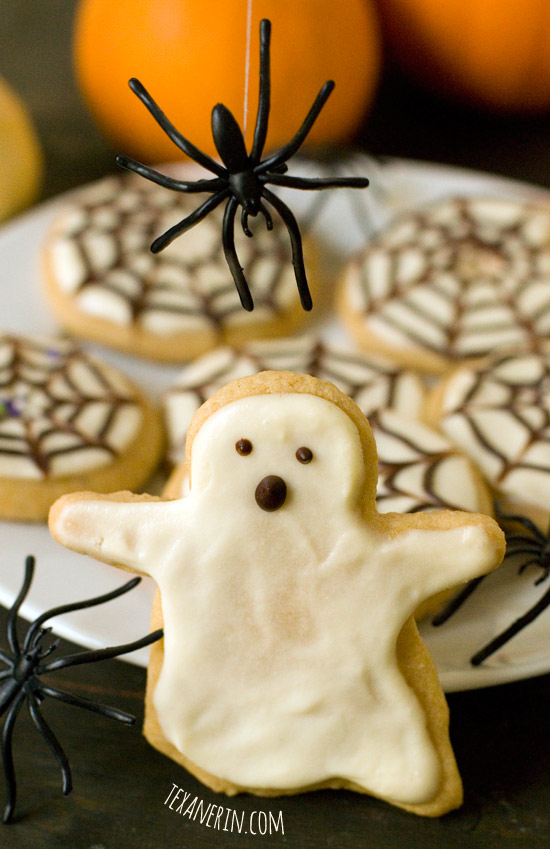 They're coming from all directions now! HELP!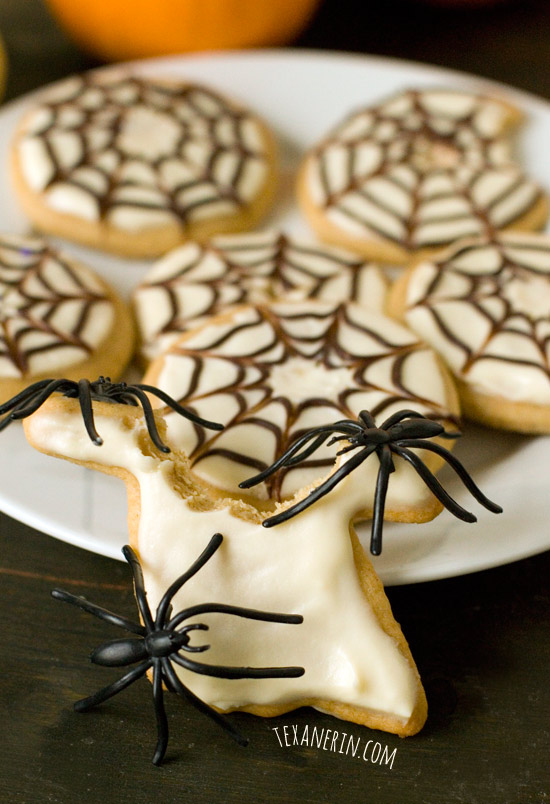 Oh no. It's too late. :'(
Prefer a grain-free version? These Almond Flour Sugar Cookies look amazing! If you can have grains, these Gluten Dairy Free Vegan Sugar Cookies also sound great. So do these Low Sugar Healthy Sugar Cookies!

❀
Healthier Halloween Sugar Cookies
Prep Time:
Cook Time:
Ready in:
Yield:

14 - 17 cookies
Ingredients
Sugar cookies:

5 tablespoons (70 grams) butter
1/2 cup + 2 tablespoons (125 grams) unrefined or white sugar
1 egg, room temperature
1/2 teaspoon lemon extract
3/4 cup (93 grams) white whole wheat flour
3/4 cup (93 grams) whole wheat pastry flour
1/4 teaspoon salt
1/4 teaspoon baking soda

Cream cheese frosting:

4 ounces cream cheese1, room temperature
2 tablespoons butter, room temperature
1/4 cup (30 grams) powdered sugar
1/2 teaspoon vanilla
Directions
Preheat the oven to 350 degrees F (176 degrees C).
With an electric mixer or in the bowl of a stand mixer, beat together the butter and unrefined sugar for about 2 minutes.
Add the egg and lemon extract and beat until well combined.
Add the remaining ingredients and beat until well combined.
Roll the dough out onto a lightly floured Silpat or piece of parchment paper. I rolled mine out to a little less than 1/4" but it's up to you (you'll have to adjust the baking time accordingly).
Using cookie cutters, cut out your desired shapes.
With a spatula, remove the cut out cookies to another piece of parchment paper or Silpat lined baking sheet.
Bake the cookies for 5 1/2 – 7 minutes or just until they appeared cooked. They should not be brown at all! If they're brown, they'll come out crunchy.
Remove the cookies from the oven and let them cool on the baking sheet for 3 minutes and then remove to a wire rack to cool completely.
While the cookies are cooling, prepare the cream cheese frosting.
With an electric mixer, beat together the cream cheese and room temperature butter.
Gradually add in the powdered sugar and then the vanilla.
When the cookies are cool, spread the cream cheese frosting over the cookies, using a knife or a very clean finger (which I find to be way easier).
Notes
If you live in Germany or I'm guessing anywhere that's not the US, and don't have brick cream cheese like in the US, you need to drain some of the liquid from the cream cheese for the frosting not to be a liquid mess. Drain 150 grams of cream cheese in a thin kitchen towel or cheesecloth until it's thick like the American stuff. It should be 110 grams after draining. If it's a little more or less, it's okay.
I used the ghost cookie cutter from this Wilton Halloween cookie cutter set. To decorate the cookies, I used about 75 grams of semi-sweet chocolate, melted in the microwave, at half-power in 30 second increments. That was enough for 7 spiderweb and 8 ghost cookies. I used a Wilton tip 3.
Here's the spiderweb tutorial. Be sure to pipe on the chocolate and make the spiderwebs before the cream cheese frosting dries! I was very slow and didn't have any problem with this. The only problem would be if you take a long break or forget about it.
As an Amazon Associate, I earn from qualifying purchases. For more info, see my disclosure.