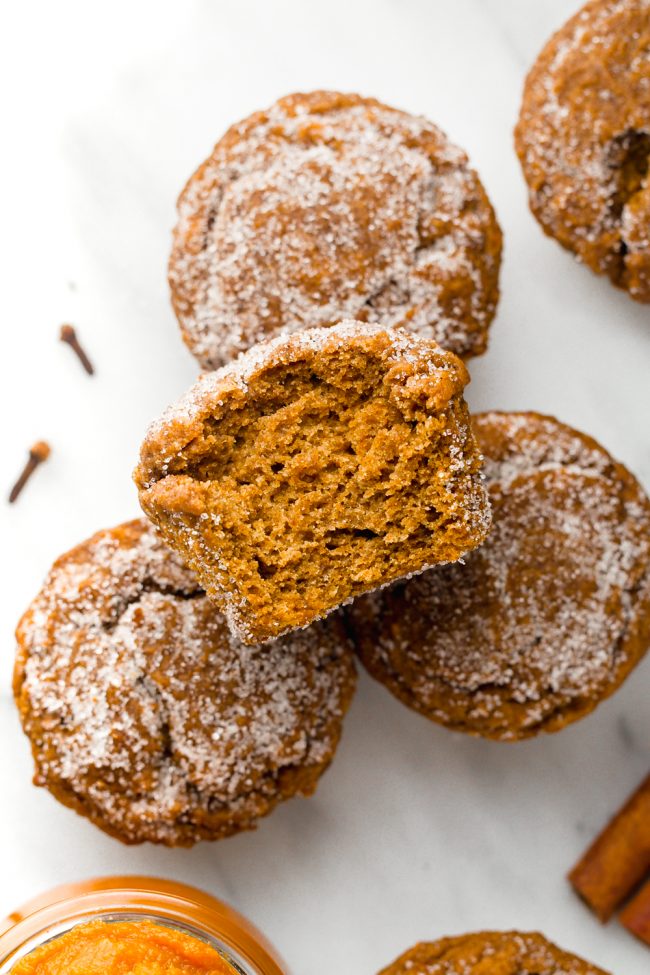 These vegan pumpkin muffins can be made with gluten-free, whole wheat or all-purpose flour. Naturally sweetened with maple syrup and covered in cinnamon sugar!
Speaking of maple syrup – if you're vegan, check out my post on Is Maple Syrup Vegan? Some manufacturers use an animal product during production that you may or not be okay with. And it doesn't even have to be listed on the label!
I first posted these vegan pumpkin muffins in 2014 (and called them vegan pumpkin donuts) but wanted to repost them to include a gluten-free option. I never post pumpkin recipes this early but it was either these muffins or nothing, so I chose the muffins. :)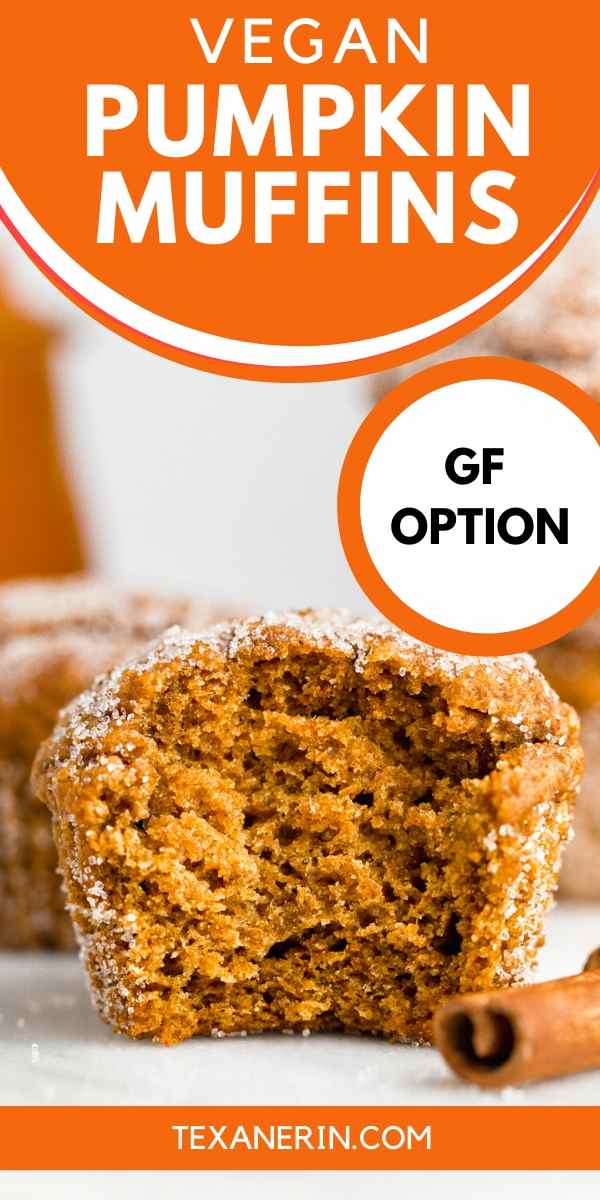 If you want something that's grain-free, check out my paleo pumpkin donuts and just make them with a regular-sized muffin pan!
If you make the gluten-free version of the below vegan pumpkin muffins recipe and they're a little weird or gummy straight out of the oven, just let them sit for a while (maybe 1-3 hours) and they'll somehow magically straighten themselves out!
Something I discovered when remaking these vegan pumpkin muffins is that dipping them in butter or coconut oil is totally unnecessary to get the cinnamon sugar to stick. When you use butter, it's like you actually have to dip them twice in the sugar because the first go around, the butter absorbs it all and it kind of disappears.
So unless you want them buttery and full of sugar, then just forget about the butter! If you prefer to skip the cinnamon sugar, these pumpkin muffins are also great with apple butter (here's how to make apple butter).
When these pumpkin muffins come out of the oven, they look kind of funky texturally but they're perfectly moist and have an awesome texture. A lot of the reviewers have commented on their fluffiness, but for me… they've always come out a little dense! But dense in a good way.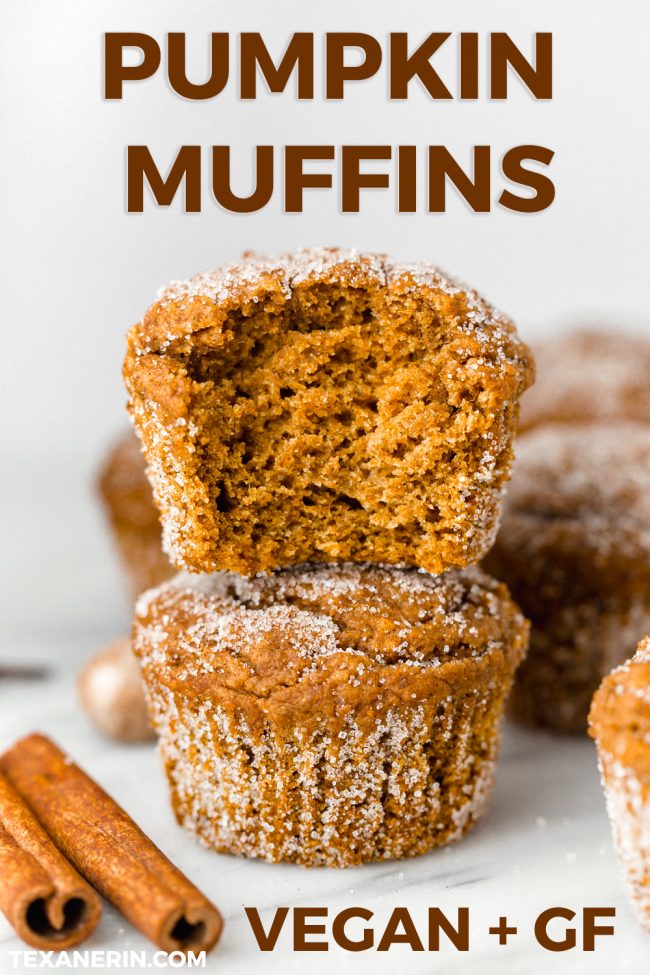 If you need convincing to make these, just read some of the reviews. Everyone seems to love them! This vegan pumpkin cheesecake is also a huge hit around here!
You know how you normally just plop the muffin batter in the pan and if it's not very even, neat or pretty, it straightens itself out while baking? That doesn't happen here. How they look in the pan is pretty much how they look after baking.
I adapted this vegan pumpkin muffins recipe from these maple pumpkin donuts on My Darling Vegan. If you don't have a mini muffin pan or if you want some spiced glaze instead of cinnamon sugar, go check it out!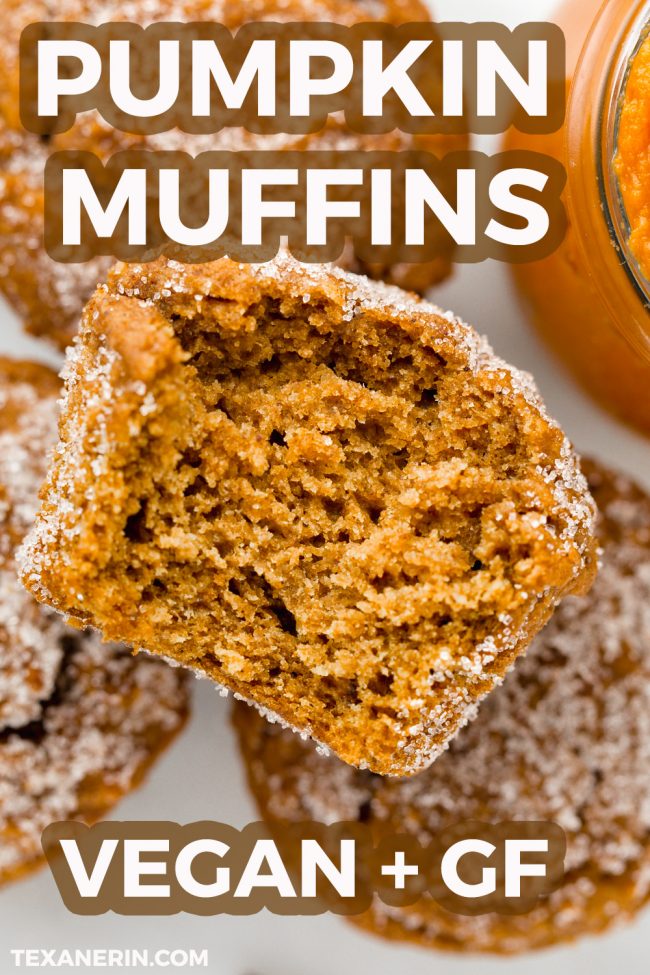 Looking for more great gluten-free and vegan recipes for fall? I've got you covered! Try my Swedish apple pie, paleo and vegan pumpkin pie, or gluten-free apple crisp!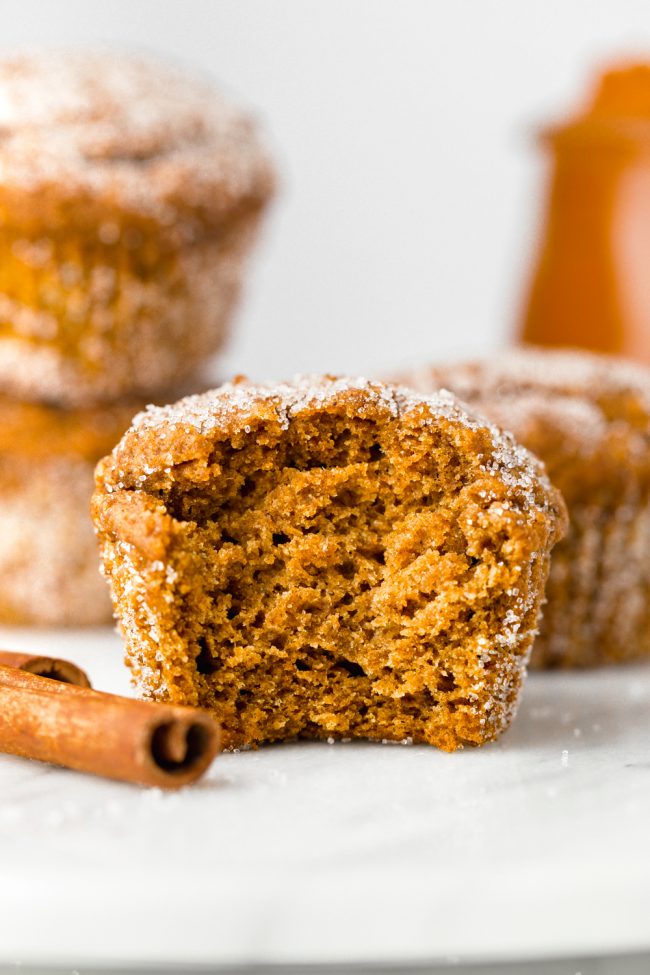 ❀
Vegan Pumpkin Muffins (gluten-free, whole wheat options)
Prep Time:
Cook Time:
Ready in:
Yield:

6 muffins
Ingredients
For the donut holes:

3/4 cup + 2 tablespoons (109 grams) whole wheat flour, whole spelt flour or all-purpose flour or for a gluten-free version, use 3/4 cup + 2 tablespoons (119 grams) of Bob's Red Mill Gluten-free 1-to-1 Baking Flour1
1 1/2 teaspoons baking powder
1/4 teaspoon salt
3/4 teaspoon cinnamon
1/4 teaspoon ginger
1/4 teaspoon nutmeg
1/8 teaspoon cloves
1/4 cup (56 grams) coconut oil, melted or canola or olive oil
1/2 cup (120ml) maple syrup
3/4 cup (182 grams) pumpkin puree, room temperature

For the cinnamon sugar coating (the butter actually isn't needed! See post for more details):

1/4 cup (50 grams) granulated sugar (make sure to use vegan certified sugar for a vegan version)
1 teaspoon ground cinnamon
2-3 tablespoons (28-42 grams) unsalted butter (vegan butter or coconut oil for a dairy-free or vegan version), melted – optional 2
Directions
Preheat the oven to 350°F (175°C) and line muffin pan with 6 muffin liners.
In a medium bow, mix together the dry ingredients (flour through cloves). Set aside.
In a large mixing bowl, stir together the oil, maple syrup and pumpkin.
Add the dry mixture to the wet one and stir just until combined.
Divide among the liners and bake for 25-30 minutes or until a toothpick inserted in the middle comes out clean.
Invert the muffins onto a wire rack to partially cool, about 5 minutes, while you prepare the cinnamon sugar topping. Remove the muffin liners.
Mix together the sugar and cinnamon in a small bowl. Dip the tops and sides of the mini muffins in the butter (if using) and then roll in the cinnamon sugar.
If you make the gluten-free version and they're a little weird or gummy straight out of the oven, just let them sit a while (maybe 1-3 hours) and they'll somehow magically straighten themselves out!
Can be stored in an airtight container in the refrigerator (if you used butter) or at room temperature (if you didn't use butter) for up to 3 days.
Notes
I do not recommend trying another gluten-free flour for this recipe. I can only say that it works with this exact flour (and the reviewers have had good luck with it, too!
If you use unrefined instead of refined coconut oil, these will taste coconut-y.
Adapted from Maple Pumpkin Donuts with Spiced Glaze from My Darling Vegan