These raspberry cheesecake swirl brownies are a slightly healthier version of the famous brownies from Baked!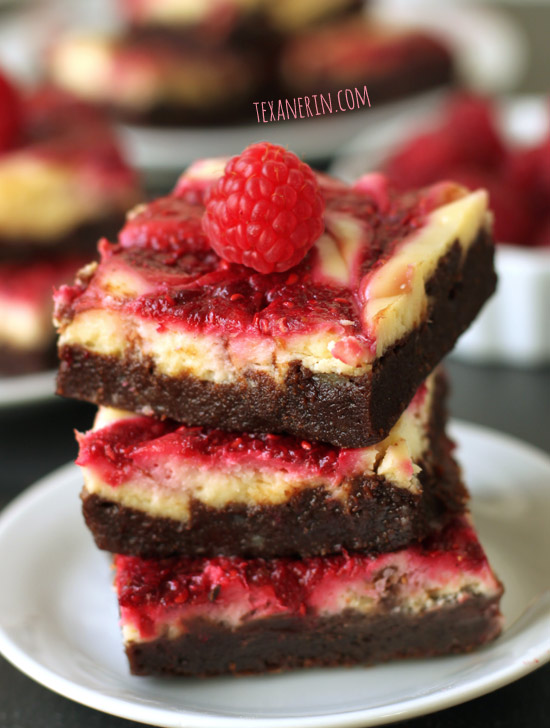 Right after Christmas, Betsy from Java Cupcake came up to Berlin and of course, we had to bake! As you can imagine, the opportunity to bake with another American food blogger in Germany doesn't come up very often. ;)
We thought it'd be fun to make two versions of the same recipe. I went with 100% whole wheat and a little less sugar and Betsy went with the traditional, all-purpose flour way. It took a while, but we finally decided on the Baked brownie! Or rather, a raspberry cheesecake brownie based off the ones from Baked!
The Baked brownies, which were featured as one of Oprah's favorite things, were all the rage in the blogging world a few years ago but I made them and wasn't all that impressed. They were good but I preferred an adaption of these brownies from Allrecipes. Adding the raspberry cheesecake topping to the Baked brownies made a world of difference! And these were so much more fudgy. I'm guessing I might have taken the brownies out of the oven a little too early (whoops ;)) but they were absolutely perfect the way they were.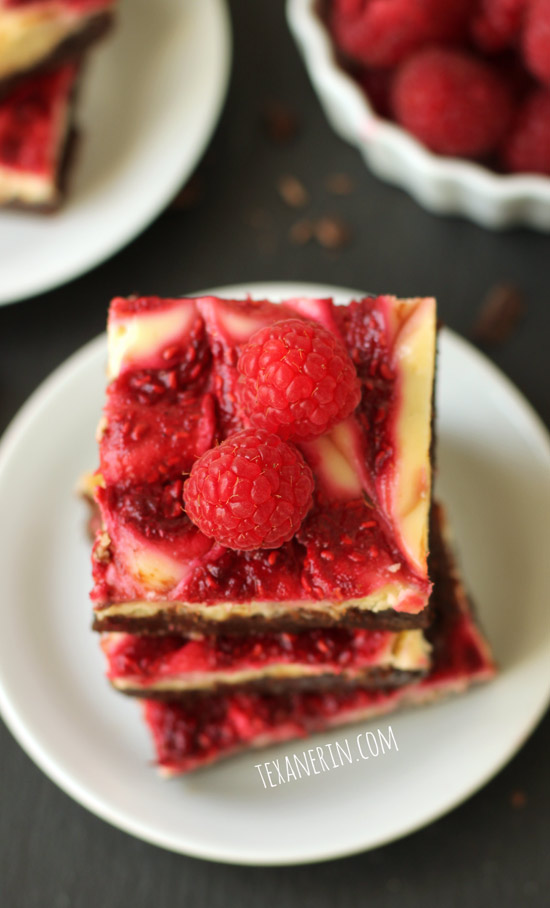 When I adapt a recipe from somewhere, other than using 100% whole wheat (or making it grain-free), I normally change the butter to coconut oil and reduce the sugar by a ton and use coconut sugar. But because I had a special guest and limited time to bake, I didn't want to risk the chance of having these turn out cakey! So I didn't bother with coconut oil and I didn't reduce the sugar all that much. You could definitely reduce the sugar a little more, if you like. Just don't go wild (unless cakey brownies are something you enjoy). And I'm assuming coconut oil would work but I'm not guaranteeing anything. :) So these aren't exactly healthy cheesecake brownies but they are healthier!
We made several changes to the recipe, like leaving out the tiny bit of cocoa powder, using an 8″x8″ instead of a 9″x13″ and adding a little more egg yolk (just because we didn't want to mess with half an egg!) One change I'd make next time is to leave out the espresso powder. Normally you add espresso powder to chocolate brownies or cake to enhance the chocolate flavor, but on the second day, I could definitely taste the espresso powder in these. In my opinion, raspberry and espresso aren't the best fit so I've left it out of the recipe.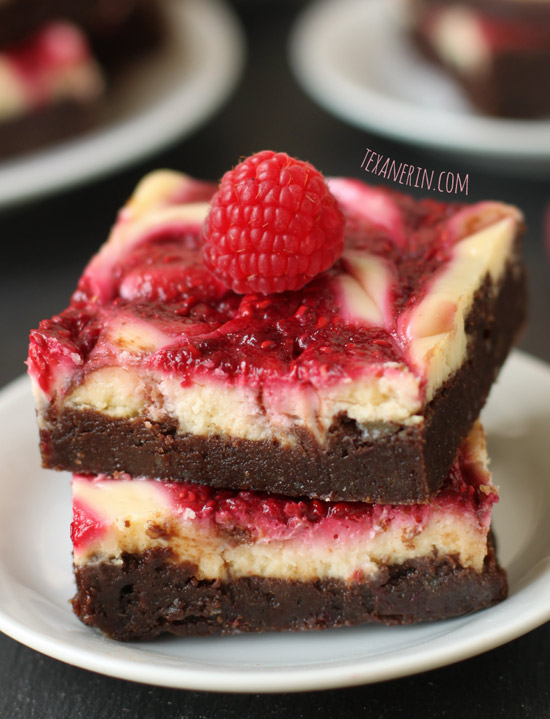 And if the cheesecake topping is too fussy for you, just skip it and bake the brownies for 20 – 25 minutes.
For the more traditional version, check out Betsy's post: Raspberry Cheesecake Brownies
And by the way, nobody could tell a difference between the all-purpose and 100% whole wheat version in these healthier raspberry cheesecake brownies! If you've never baked with whole grains before, here's the perfect recipe to start with. :)
❀
Raspberry Cheesecake Swirl Brownies (whole grain option)
Prep Time:
Cook Time:
Ready in:
Yield:

16 brownies
Ingredients
For the brownies:

6 ounces (170 grams) semi-sweet or dark chocolate
1/2 cup (113 grams) butter
3/4 cup (112 grams) coconut sugar or granulated sugar
2 large eggs
1 large egg yolk
1 teaspoon vanilla
½ teaspoon salt
½ cup + 1 tablespoon (70 grams) whole wheat flour, whole spelt flour or all-purpose flour

For the cheesecake topping:

8 ounces (225 grams) cream cheese
1/3 cup (66 grams) granulated or raw sugar
1 large egg
1/2 teaspoon vanilla
1 cup frozen raspberries, defrosted + 1 tablespoon sugar
Directions
First, prepare the cheesecake filling. In a medium bowl, beat together the cream cheese, sugar, egg and vanilla.
In a small bowl, mash the defrosted berries with the sugar. It should be fairly fluid and not lumpy. You could also use an immersion blender here. Set the two bowls aside.
Preheat the oven to 350°F (176°C). Line an 8"x8" pan with parchment paper.
In a small pot over low heat, melt the chocolate and butter. Stir occasionally.
Remove the pan from the heat and mix in the sugar. Let it sit for a few minutes or until room temperature.
One by one, whisk in the eggs and egg yolk. Stir just until combined! Add in the vanilla and salt.
Fold the flour into the chocolate mixture, just until no streaks of flour remain. Do not over mix or your brownies will be cakey!
Pour the batter into the pan and spoon the cheesecake batter on top of the brownie batter.
Dollop tablespoons of the mashed raspberries on top of the cheesecake batter and using a toothpick or a knife, swirl the raspberries into the cheesecake batter.
Bake for 25-30 minutes or until a toothpick inserted in the middle comes out mostly clean (it shouldn't be totally wet).
Cool the brownies in the pan and then lift them out using the parchment paper.
Cut the brownies and place in an airtight container.
Store in the refrigerator for up to 5 days.
Adapted from Baked: New Frontiers in Baking, as seen on The Baked Brownie by Browned Eyed Baker
As an Amazon Associate, I earn from qualifying purchases. For more info, see my disclosure.