These Air Fryer Paleo Brownies are great for anyone who loves gooey brownies but prefers to bake a smaller batch. They're made entirely with almond flour and are dairy-free. They're super easy to make, and the air fryer makes it even easier.
If it's too hot to turn on the oven, no worries – air fryer brownies to the rescue!
I published these regular Air Fryer Brownies and promised a paleo version, and here they are, and they're just as terrific. If you love gooey, chocolaty brownies, you're going to love this air fryer version.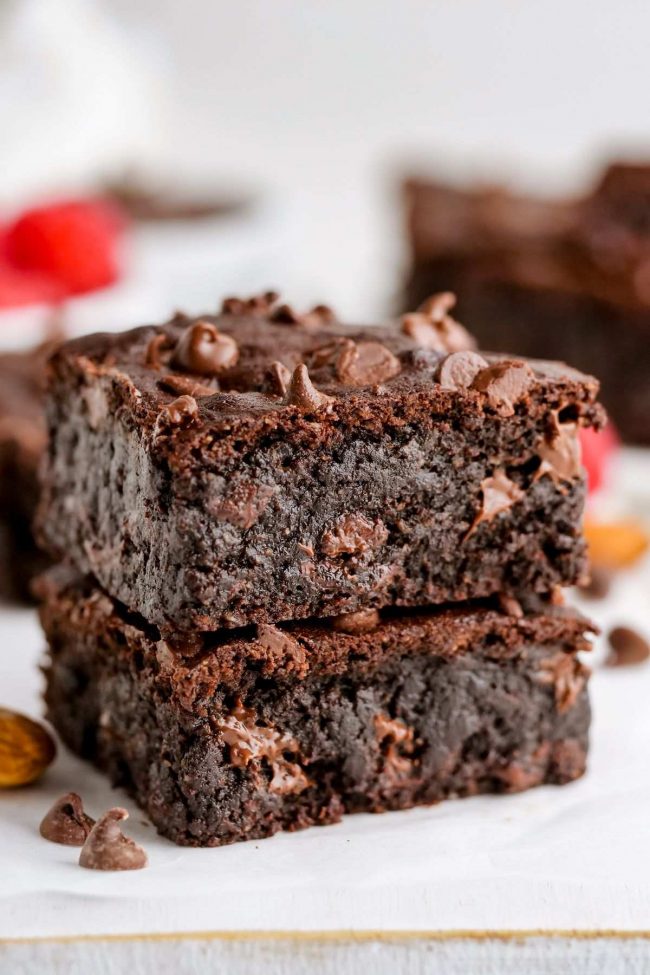 And if you're looking for other air fryer baked goods, you must give these Paleo Air Fryer Chocolate Chip Cookies a try!
These brownies are based on these Almond Flour Brownies, so if you want a full batch but don't want to do all the math, then it's best just to make the original in the oven instead of using the air fryer.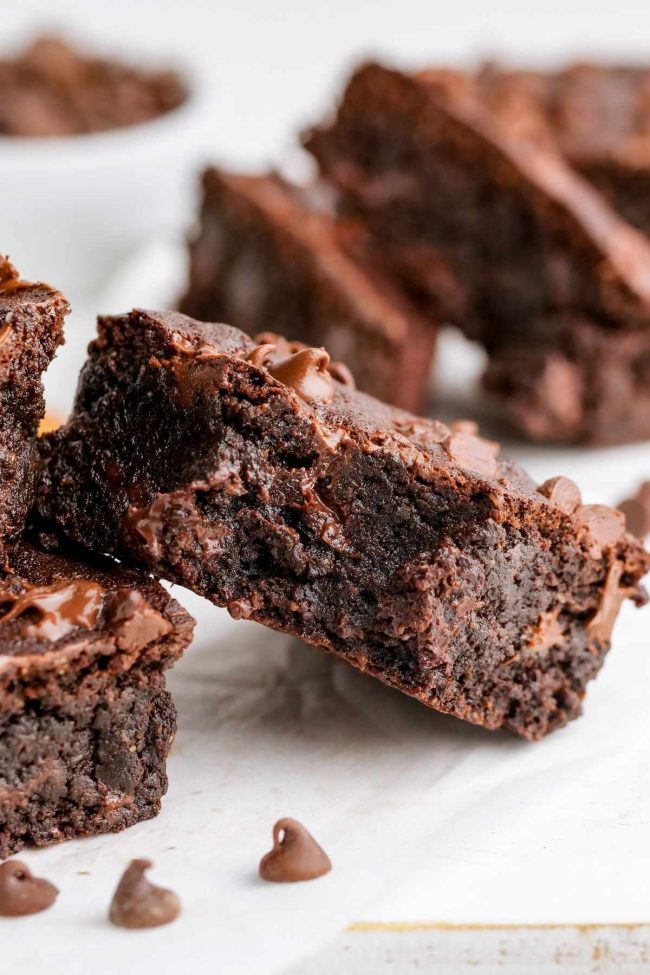 Ingredients:
Almond flour: This is really only interchangeable with other nut flours like cashew or hazelnut meal. They might work, but the texture might not be the same consistency as the fat content of other flour is different. I haven't used almond meal, but it might work fine.


Cocoa powder: I use Dutch-process cocoa powder and it tastes great. If you don't have it, then you could try Hershey's Special Dark as a good sub.

If you want a natural cocoa powder like the regular Hershey's kind, the brownies could be cakier, but I haven't tried it, so I can't say for sure.


Coconut oil: I used refined coconut oil because I don't like my brownies with any coconut taste. If you think that sounds good, then you can use the unrefined coconut oil. If you think butter is paleo and want to use that, it works fine.


Coconut sugar: You're going to want to use coconut sugar. Experimenting with liquid sweeteners won't work. Maple sugar would likely work.

If you've tried other sweeteners with amazing success, leave a comment below, I'd be happy to share the results.


Large egg: I also don't recommend making these brownies eggless or using an alternative replacement. You could make a third batch of these Eggless Brownies! I've tried several times to make today's recipe eggless and each time was an epic fail. But keep reading because I listed some fabulous Paleo Vegan Brownies that work great in an oven.


Chocolate Chips: They're not exactly necessary, these brownies are sweet enough as they are, but if you want that extra melted chocolate taste, then definitely throw them in.


Vanilla extract & Salt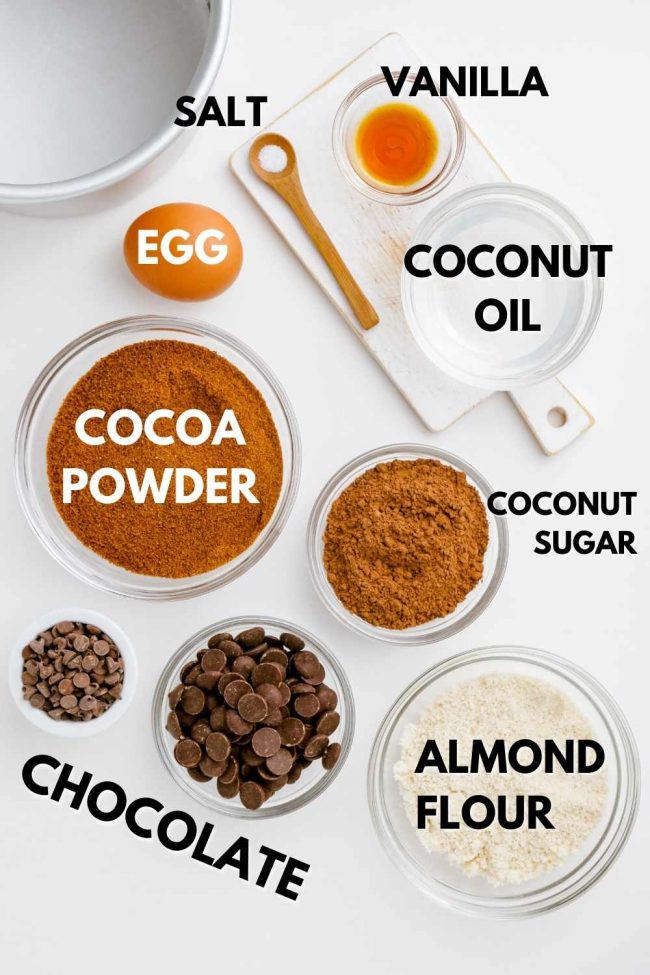 How to make air fryer brownies:
Make the brownie batter, fold in the chocolate chips and pour into a prepared pan.
Preheat the air fryer to 340 °F (170 °C)
Bake for about 14 minutes or until the brownies have formed a thin crust and appear set in the center.
Cool completely and serve.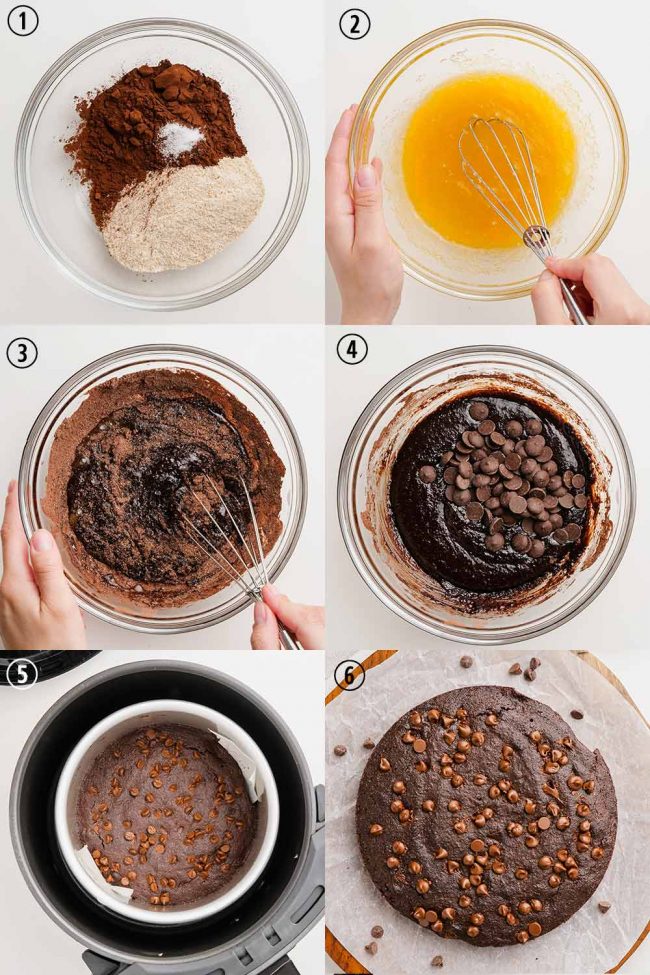 The Pan:
I used a 6" circular cake pan with parchment paper. It fits perfectly in the air fryer and keeps things simple.
If you don't have a 6" (15cm) round pan, you do have some options:
You can use something else with an area of 28sq inches (177 sq cm). But if it's larger than that, you need to take the brownies out earlier.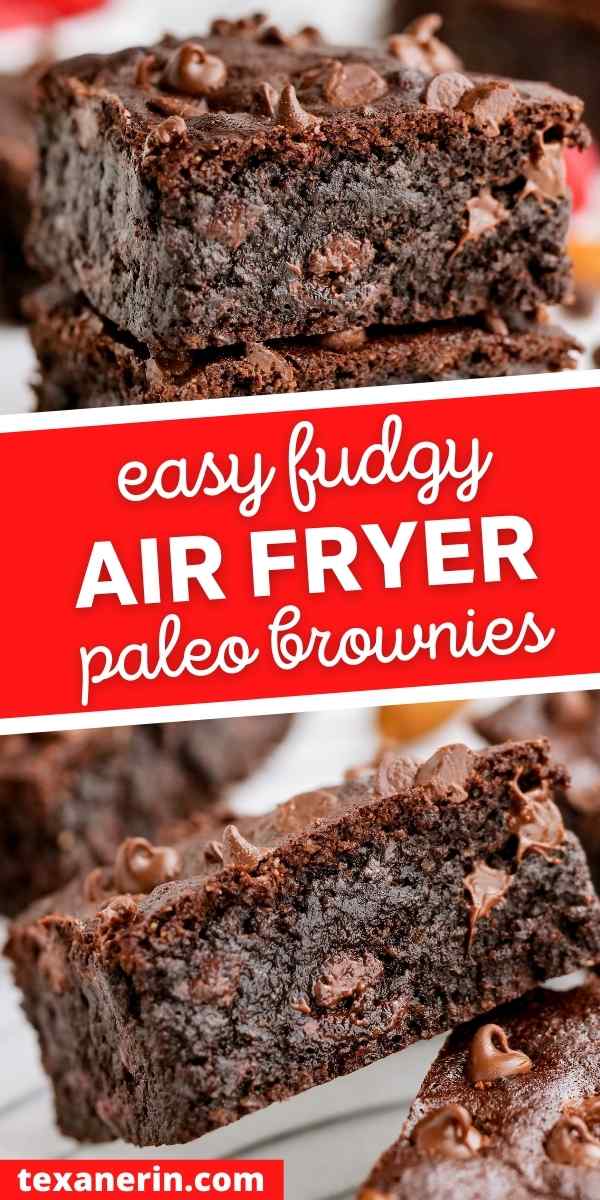 If it's smaller than that check after 14 minutes, keep an eye on them, and bake until they're ready.
Your other option is to use a small air fryer-safe dish or mold like a ramekin. In almost all air fryers, you can use anything made of glass, ceramic, metal or silicone.
Basically, if it can go into a regular oven, then you shouldn't have any problems using the same in an air fryer (except aluminum foil). But definitely check your exact model!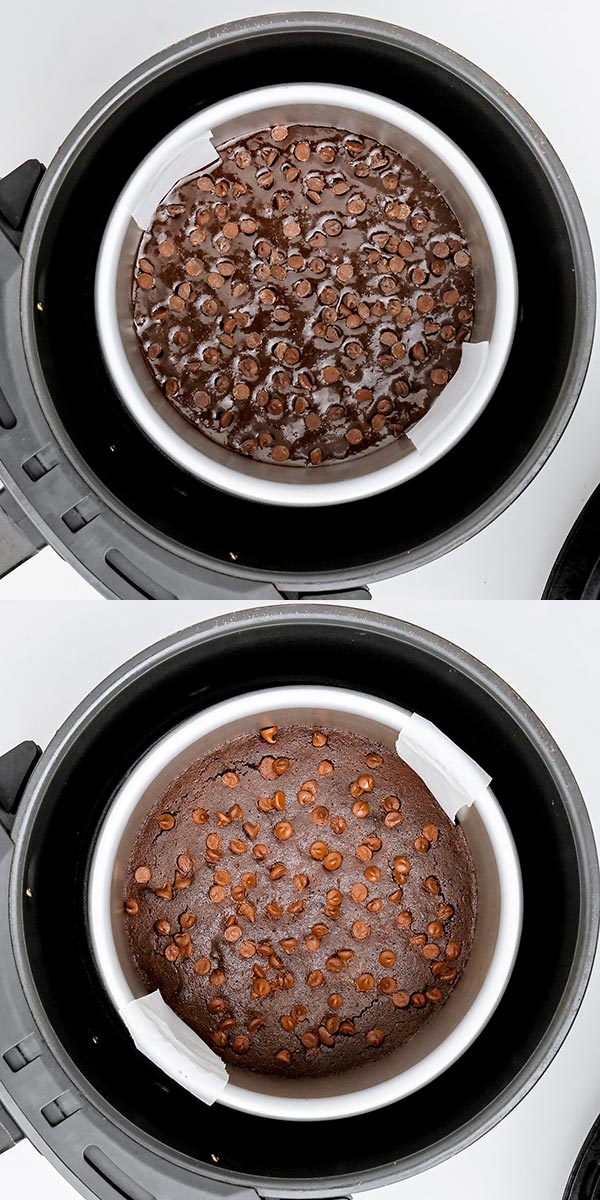 Tips:
Do not overmix the batter! Overmixing will add too much air into the batter and will change the texture.


Brownies will continue to bake once they are out of the air fryer and will firm nicely as they cool.


To test the doneness, insert a toothpick into the sides, it should come out with moist crumbs, but not raw batter. If you insert it into the middle expect it to come out wet.


It's best to let them cool completely before you cut into them and serve or cover and store them.


Brownies will stay good at room temperature for up to 4 days.


You can refrigerate them to get a fudgier texture and they freeze great.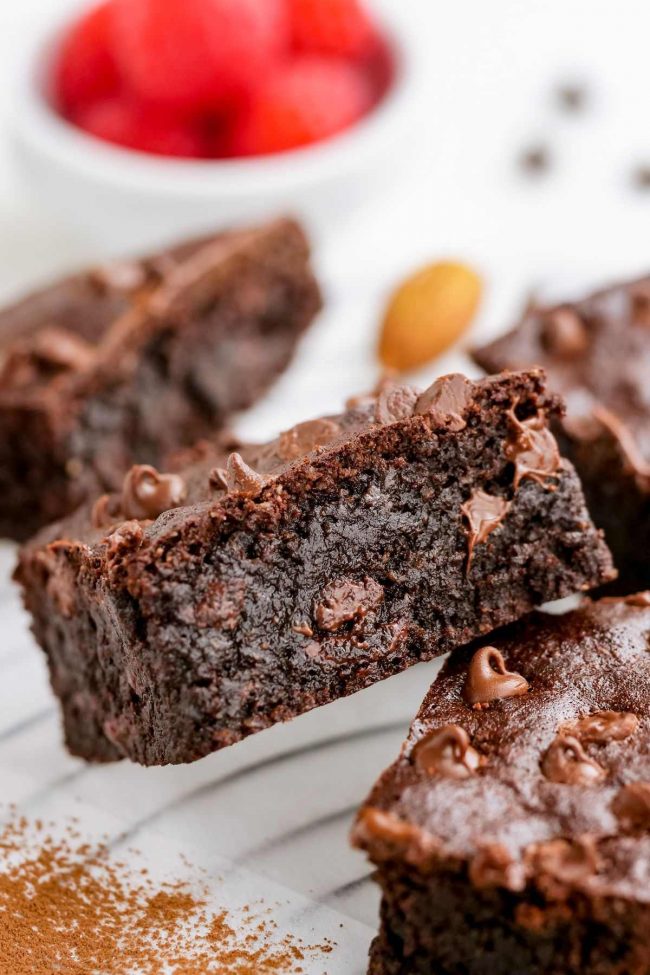 Can I make these eggless or vegan?
If you're looking specifically for Paleo Vegan Brownies then these are the very best. I tried for 6 years to get these brownies right and finally, I arrived at the perfect texture and the gooiest and chocolatiest brownies. If you haven't tried them yet, you should definitely give them a try.
If you're looking for other chocolate vegan desserts (in a normal oven) then you can try out these instead: this Kladdkaka is a Swedish sticky chocolate cake that is super gooey and yummy; or this Vegan Chocolate Cake has an amazing vegan ganache; or try this Paleo Chocolate Cheesecake which is super easy and delicious.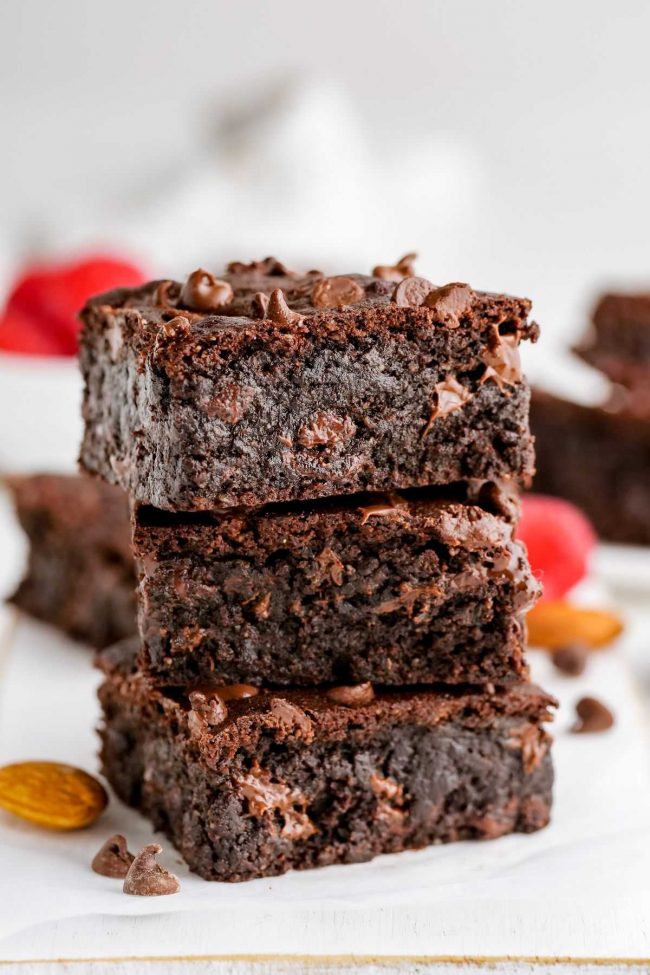 Can I make other brownie recipes in an air fryer?
If you want to do the math, you can make any brownies you want. I usually make them in an 8×8 pan, so if you make ⅓ of the batter, then you can bake most of my brownie recipes easily in the air fryer.
Check out my other brownie recipes to find the perfect ones for you.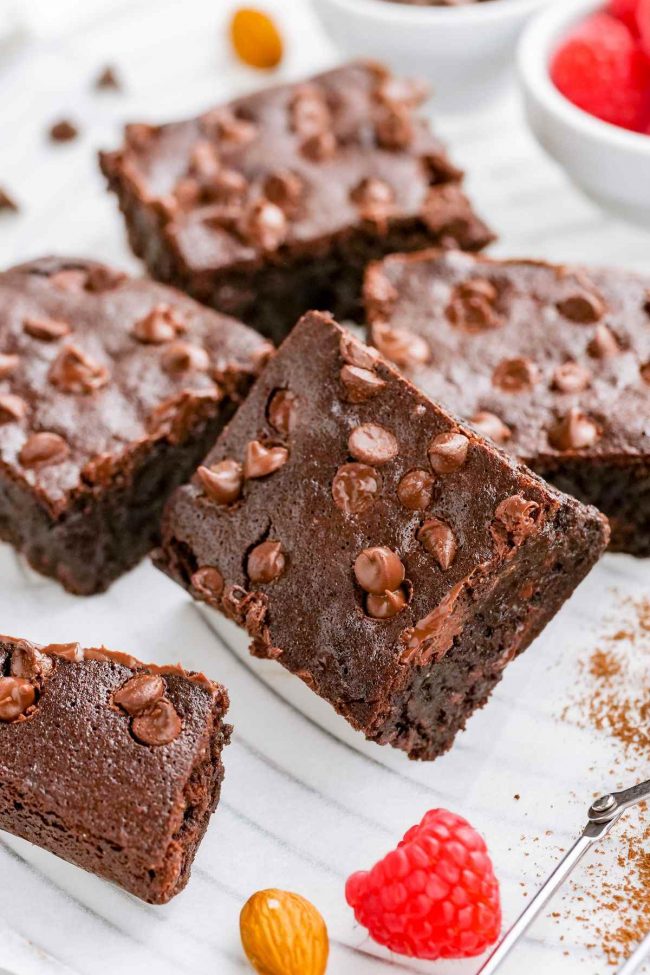 Questions about these paleo brownies:
Can I use homemade almond flour?

I don't recommend it. It is nearly impossible to make it as fine as store-bought almond flour. If it's not finely ground, the brownies will turn out greasy.

Can I use something instead of coconut oil?

I've only used coconut oil and butter to make brownies. I've had commenters that had success with ghee and olive oil, but I haven't tried them.

Do I have to use chocolate chips?

Nah! These brownies are sweet enough without them, but I like them in brownies, so I usually add them in. If you prefer you can use this Paleo Chocolate Fudge Frosting instead.

Can I double the recipe?

Yes, but then you need to make two batches to bake them in the air fryer, so instead you should just go with the regular almond flour brownies and use an oven. Or do two batches.

Do you have other paleo desserts?

Why yes, I do! I have 2 dozen or more pages of paleo recipes from Paleo Vegan Apple Crisp to Paleo Avocado Pesto!
Whether it's sweet or savory, you'll be sure to find something you love.
That's it! If you try these Air Fryer Paleo Brownies, I so want to hear about it! Leave a comment or snap a pic and tag #texanerin, so I can be sure to see it!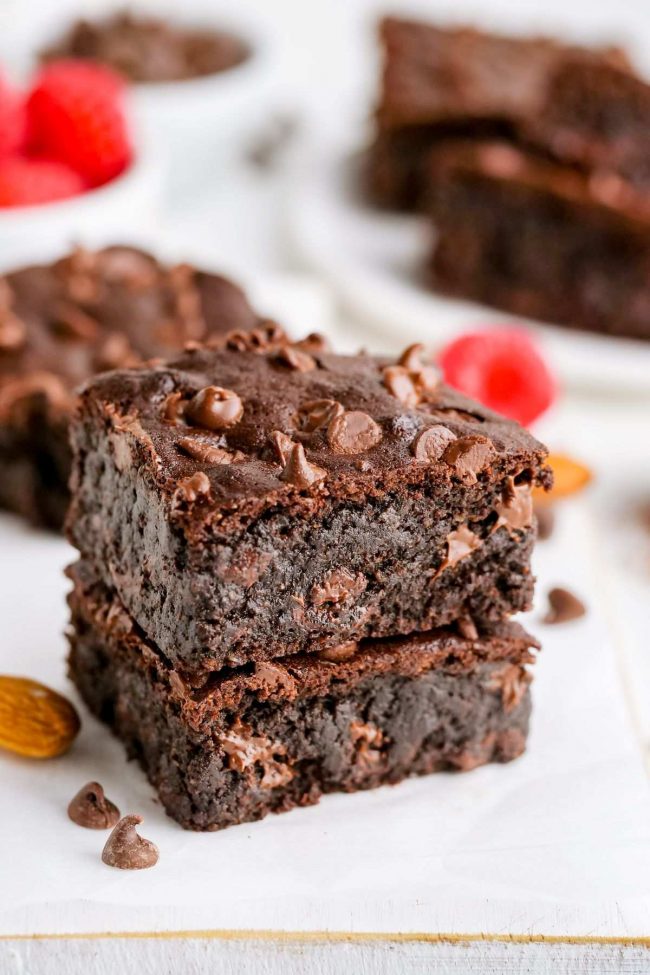 ❀
Air Fryer Paleo Brownies
Prep Time:
Cook Time:
Ready in:
Yield:

6 brownies
Ingredients
1/4 cup + 3 tablespoons (44 grams) almond flour
1/4 cup (29 grams) Dutch-process cocoa powder
1/16 teaspoon salt
1/4 cup (56 grams) refined coconut oil1
1/2 cup (100 grams) coconut sugar2
1 teaspoon vanilla extract
1 large (50 grams, out of shell) egg
1/4 cup (43 grams) paleo chocolate chips
Directions
Line a 6" circular cake pan with parchment paper.
In a medium mixing bowl, stir together the flour, cocoa powder, and salt. Set aside.
In a large mixing bowl, stir together the melted oil, sugar, and vanilla extract. Once combined, add the egg and stir just until combined.
Add the dry mixture to the wet and stir just until almost no streaks of flour remain. Do not overmix! Fold in 1/4 cup chocolate chips.
Preheat the air fryer to 340 °F (170 °C).
Pour the batter into the prepared pan and sprinkle mini chocolate chips on top. Bake for 12-15 minutes or until the brownies have formed a thin crust and appear set in the middle. A toothpick inserted into the center will come out wet. A toothpick inserted into the sides will come out with some moist crumbs on it, but not totally raw batter. The brownies will continue to bake as they sit in the pan and will firm up as they cool.
Let cool completely and then cover and store at room temperature for up to 4 days. You can also refrigerate them to give them a fudgier texture.
Notes
You can use unrefined if you don't mind some coconut flavor.
I highly recommend weighing the coconut sugar! Some brands are very fine and dense and others are not. I used 100 grams in this recipe. You can reduce that by a little bit (maybe to 80 grams) if you'd like, but not too much or the texture will suffer.