This black ice cream is an easy, egg-free recipe that's free of food coloring and super simple – you just blend everything in a blender! It tastes like an Oreo wafer, thanks to black cocoa, and can be made traditionally with heavy cream and sugar, but it can also be made vegan, keto and paleo.
Some black ice cream uses activated charcoal. I've never tried it, and I hear it's great, but black cocoa powder, which is what's used to make Oreos, appealed more to me than charcoal.
So here we are with some ice cream that tastes like an Oreo! It's unlike any ice cream I've ever had.
The flavor is truly amazing, and the texture is really, really smooth and creamy and doesn't freeze rock hard. You can scoop it easily from the freezer.
I just came across one of the batches I made during testing about a month ago. It had formed little ice crystals on top, but I could basically wipe them away with my finger. The ice cream hadn't gotten hard or icy at all.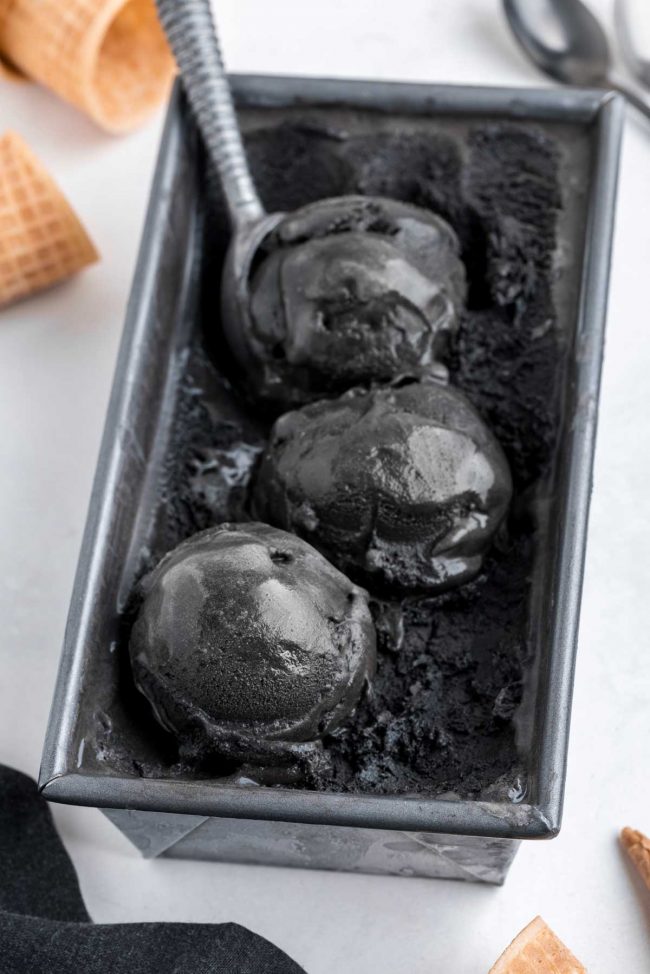 Ingredients
Black cocoa powder – I go into detail about this below. But basically, you have to use The Cocoa Trader black cocoa if you want to be sure that your ice cream will be black.


Granulated sugar or coconut sugar – liquid sweeteners don't work as they'd throw off the proportions.


Brown sugar or coconut sugar – or you can use more granulated sugar. But I think brown sugar makes it a bit richer and gives it a softer, less icy texture.


Light whipping cream or heavy cream + milk – I used all light whipping cream, which seems not to be very easy to find in the US. You can alternatively use 2 cups of heavy cream mixed with 1 1/2 cups of whole milk.


Vanilla – don't skimp on this! Yes, it's a lot, but I kept adding it a little at a time until the ice cream tasted perfect. If you must use less, please use at least 1 tablespoon.


Salt – it might seem like a lot, but believe me, the ice cream tastes quite flat without it!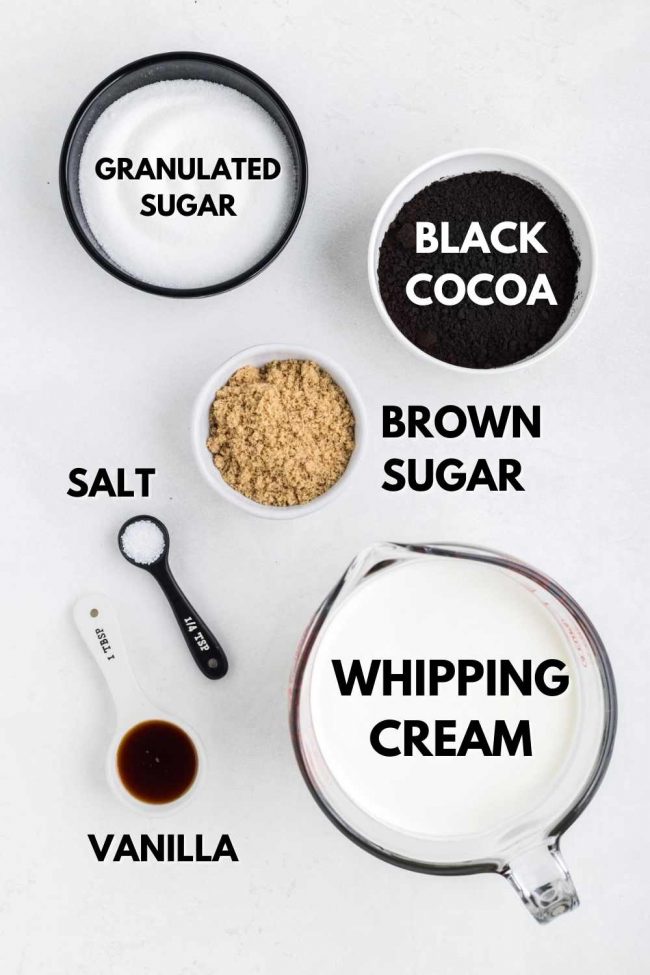 What is black cocoa?
Black cocoa is a type of cocoa powder treated with an alkaline solution, such as potassium carbonate or sodium carbonate, to reduce acidity, giving it a solid black color. This process alters not only the color but also the flavor and texture.
It's produced from the same beans as regular cocoa powder, but it's smoother, not bitter, and tastes more intensely of chocolate than your regular cocoa powder.
It's also more soluble and blends nicely in liquids. It's versatile and can be used in a variety of baked goods, such as cookies and brownies, as well as frostings, ganache, and chocolate sauces.
If you're looking for it in the grocery store, it's also known as ultra-Dutch processed cocoa or Dutched black cocoa.
For new readers, I've been living in Germany for the past 14 years but I test my recipes with US brands to ensure we get the same results.
The problem with black cocoa powder is that there isn't any black powder in the US that I can have shipped to Germany, and none of the brands we have here can be bought in the US.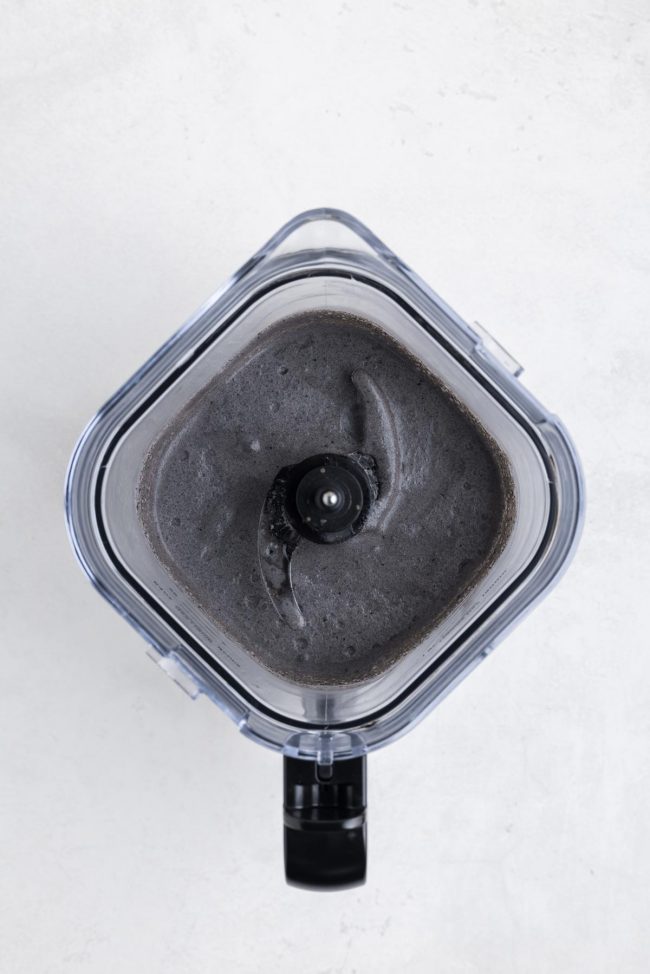 What brand to buy
For the European readers, I've been testing my black cocoa recipes with Van Houten Intense Deep Black Cocoa. Everything I've made has come out perfectly with it.
My photographer is in the US, so for her, I read a bunch of reviews on Amazon and picked the one with the best reviews that had the best price at the time.
Modern Mountain – not if you want it black!
So first, she used Modern Mountain black cocoa in some cookies I'll be posting soon, and her cookies came out looking exactly like mine.
But then she sent me a picture of today's ice cream recipe using Modern Mountain black cocoa, asking if it was supposed to be brown. Nope.
Definitely not! It's supposed to be black!
Not jet black, but definitely black.
Living in Germany but coming from the US, I know all about ingredient issues. But this has us stumped.
I have no idea why her cookies came out so black, but her ice cream looked like normal chocolate ice cream.
It didn't taste like normal chocolate ice cream, though! My photographer said, "I thought the ice cream was awesome, but my husband thought it was the best thing ever and ate almost the whole container in one sitting!"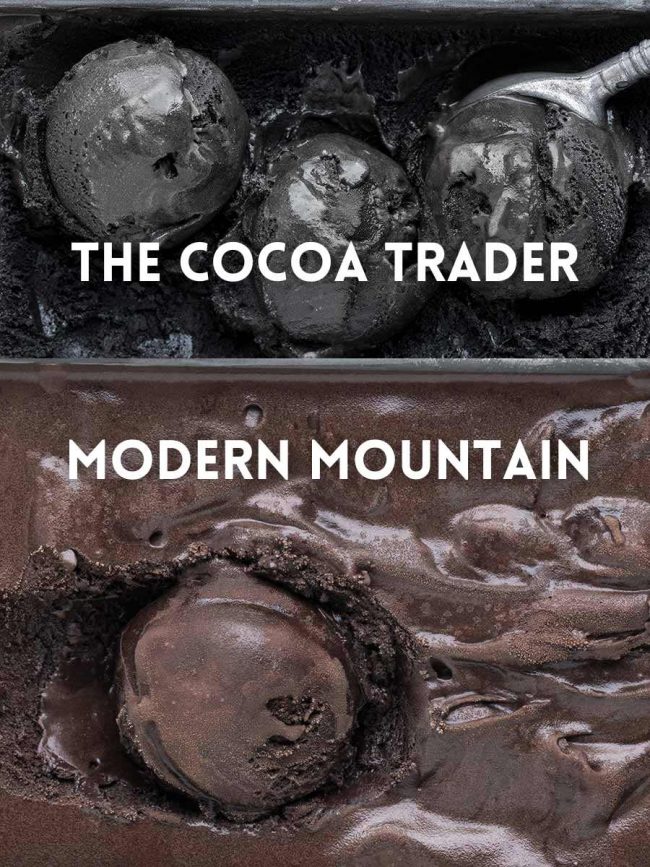 The Cocoa Trader
I'm calling this post "black ice cream," so I couldn't very well post brown ice cream. So I did more research and sent my parents in Texas black cocoa powder from The Cocoa Trader so that they could test it out in the ice cream before having the photographer buy yet another brand that produces brown ice cream.
And it came out black. Phew! A big thanks to my parents.
So my photographer got some, too, and you can see the results in the photos.
In summary, if you want it to be black – use black cocoa from The Cocoa Trader. If you don't care about the color, use whatever brand of black cocoa you'd like. It'll have the right taste but could potentially produce brown ice cream.
Taste difference
Here's what my photographer said about the taste difference between the two brands: "There is a flavor difference between the two, but not a major one. The second one tastes darker if that makes sense. I think the cocoa flavor is more pronounced."
She preferred the first one. My cocoa powder from Van Houten is as dark as can be and I loved the taste.
Amazon price nonsense
By the way, there's some craziness on US Amazon with the prices. The Modern Mountain brand is $14.99 half the time and $11.99 the other half of the time. I thought that was bad, but The Cocoa Trader is even worse in regard to this.
That one is $16.85 right now, but using the Keepa Amazon Price History Chart Extension, I can see that it's $11.80 half of the time and $16.85 the other half of the time.
Very strange. AND, when it was $11.80, there was even a $2 coupon I could "clip," bringing it down to $9.80
It changes back and forth every few days. So if you want to save 58%, just wait a few days.
The extension is really nifty, and you can put in an email alert for when any item reaches your desired price. In this case, you'd want to enter a price of $11.80 because it doesn't get any lower than that.
But back to black cocoa brands. Looking at Amazon, they all have really good reviews. Anthony's also sells black cocoa, and it's $11.99 per 1-pound bag (it just went up from $10.99) and is organic.
But I have absolutely no way of knowing if that or other brands will produce a black color in this ice cream. If you look on Amazon and think King Arthur Flour is probably a good choice (it usually is), I read reviews of people saying that The Cocoa Trader was quite a bit darker in color and resulted in blacker goodies.
Can I just use regular or Dutch-process cocoa powder?
Yes, but if you use regular, natural cocoa powder, like Hershey's, it'll be the usual brown and won't taste at all like an Oreo.
If you use Dutch-process cocoa powder, the flavor will be better than with natural cocoa powder, in my opinion, and the color will be darker than your usual chocolate ice cream.
But definitely not black! Nowhere close to it. And it won't taste at all like an Oreo.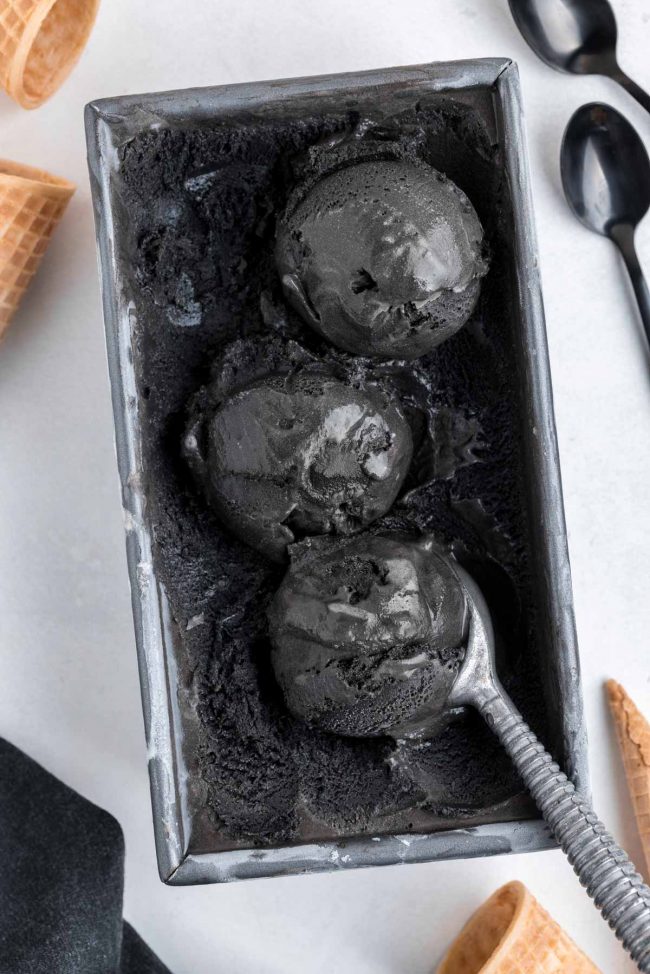 Without food coloring
This ice cream isn't 100% black, but it's pretty close. I don't think anyone is going to complain and say, "Oh, this ice cream is actually just extremely dark grey."
But if you absolutely need it to be jet black, you can add black food coloring. How much you'd need to add, I don't know, but there are recipes out there for black ice cream that get their color from food coloring. So I know it's doable.
Warning!
As black cocoa makes its way through your digestive system and all the way to the end, it doesn't lose its color.
I have no idea why I haven't seen other sites mention this. I think a warning is important so you don't start googling and thinking that you have internal bleeding or some other terrible problem.
It's just the cocoa powder. :D And if you have little kids, they'll probably find this quite fun.💩
By the way, if you've ever wanted to do the beet test but haven't done it because you find beets repulsive, here's your chance! It works with this ice cream and anything else with black cocoa.
Do I have to use an ice cream maker?
Yes. I attempted adapting this recipe to be no-churn using the method used in my Black Forest Ice Cream, and while it was just as delicious as the recipe I'm posting today, it had the mouthfeel of butter.
I don't think anyone would enjoy that, so I'm only posting the churned version.
The Cuisinart 1.5 quart ice cream maker, which is THE affordable and great quality ice cream maker, at least to me, is often $49.99 on Amazon. I know this thanks to the nifty browser extension I mentioned above. Right now, it's $62.
Like I said above, if that's out of your budget, you can put in a price alert to get emailed whenever it reaches whatever is in your budget.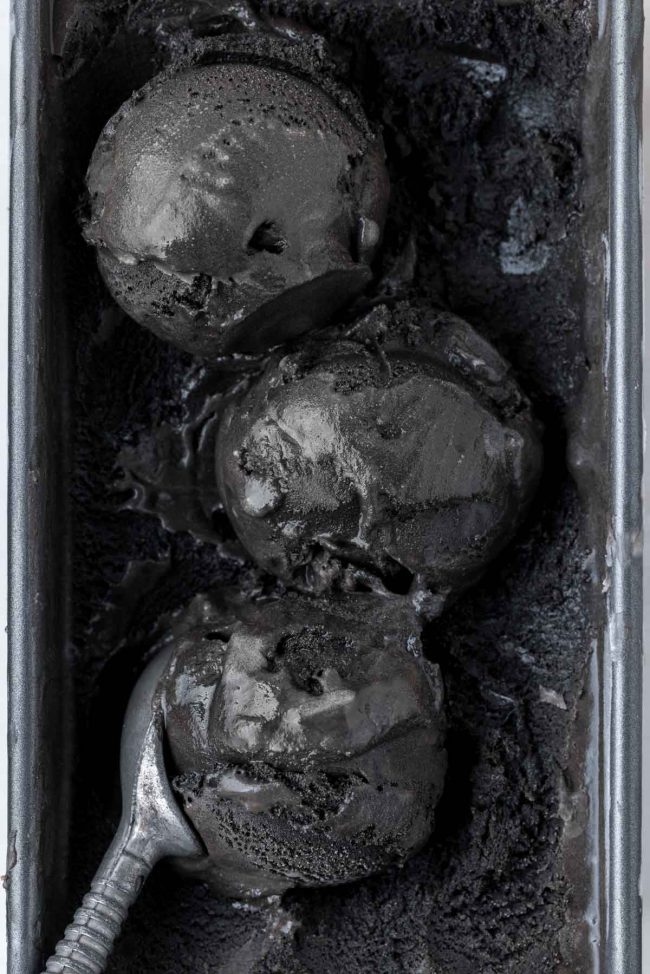 Melts quickly
This ice cream melts very quickly. You need to scoop it and then eat it.
I know that's how ice cream works, but I thought I'd point it out in case anyone is thinking of assembling 10 ice cream sundaes with it and then serving them all at once.
That's not going to work. Scoop and serve!
And also, a big round of applause for my photographer, Mandy, for putting up with the super melty ice cream and black cocoa issues (and of course the amazing photos)! 👏👏👏
Vegan and paleo version
If you want to make some paleo or vegan black ice cream, I highly recommend using black cocoa in my Vegan Gelato recipe.
You don't need an ice cream maker for it, but you do need a high-speed blender. Otherwise, the dates don't get properly blended.
But the result is just as amazing as the dairy and regular sugar version of today's recipe. It's richer, freezes amazingly well and the dates give it an almost fudgy texture.
But because not everyone has a high-speed blender, I tested out paleo and vegan versions of today's recipe.
You just have to use canned coconut milk in place of the heavy cream and coconut sugar instead of granulated + white sugar.
You also have to double the salt. The black cocoa powder taste didn't really pop until I had doubled the salt for the vegan version.
I will say that the coconut sugar does detract from the black cocoa flavor. The vegan gelato I mentioned above is sweetened with dates and coconut sugar, but somehow, the black cocoa flavor isn't lost at all.
For that reason, I really recommend making the vegan gelato version if you have a high-speed blender. The texture of the vegan gelato is also better.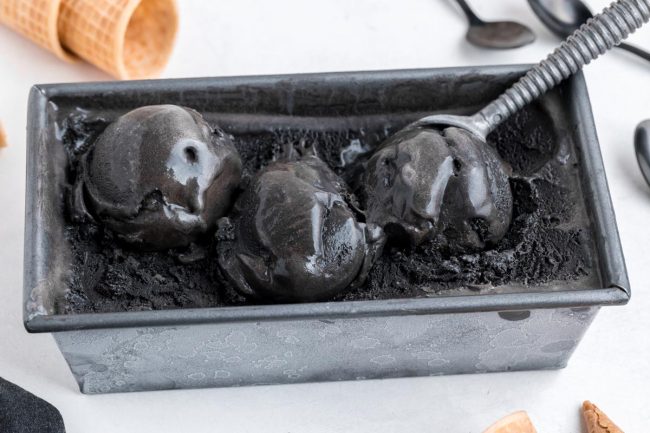 Keto version
I wasn't even going to try this because I've never liked any keto chocolate treats. But I thought that I'd already made this recipe a dozen times, so what's one more?
And oooh! The keto version is just as amazing as the regular version! Hands down, the best keto dessert I've ever had.
I didn't even notice an aftertaste. I was so confused I mixed up another batch right away, thinking I had somehow accidentally used regular sugar instead of my copycat Gentle Sweet keto sweetener.
What's weird is that there was an aftertaste… 10 minutes after I was done sampling the ice cream. So that was weird. Anyone know what that's about?
It didn't bother me, though, and I will very gladly make the keto version again!
I only tried it with whipping cream and not coconut milk. I can't say if the coconut milk + keto sweetener version is as delicious.
I have no idea if other keto sweeteners would yield such a tasty result. This Gentle Sweet blend is pretty much the one keto sweetener I like, so I stick with it.
You can buy it or make the copycat I used. I love having a large batch of this ready to grab it whenever I need a quick keto treat.
You need:
1 pound (453 grams) xylitol = 2 1/4 cups
12 ounces (340 grams) erythritol = 1 1/2 cups + 3 tablespoons
2 teaspoons pure stevia powder
Please let me know how you like this black ice cream if you try it out! The amount of time and money spent on it due to testing, black cocoa differences and how quickly it melted was unreal. 🤦‍♀️ So I would be very, very thankful if people try it and leave some feedback. :) I hope you'll enjoy it! Thanks for reading. :)
Other frozen treats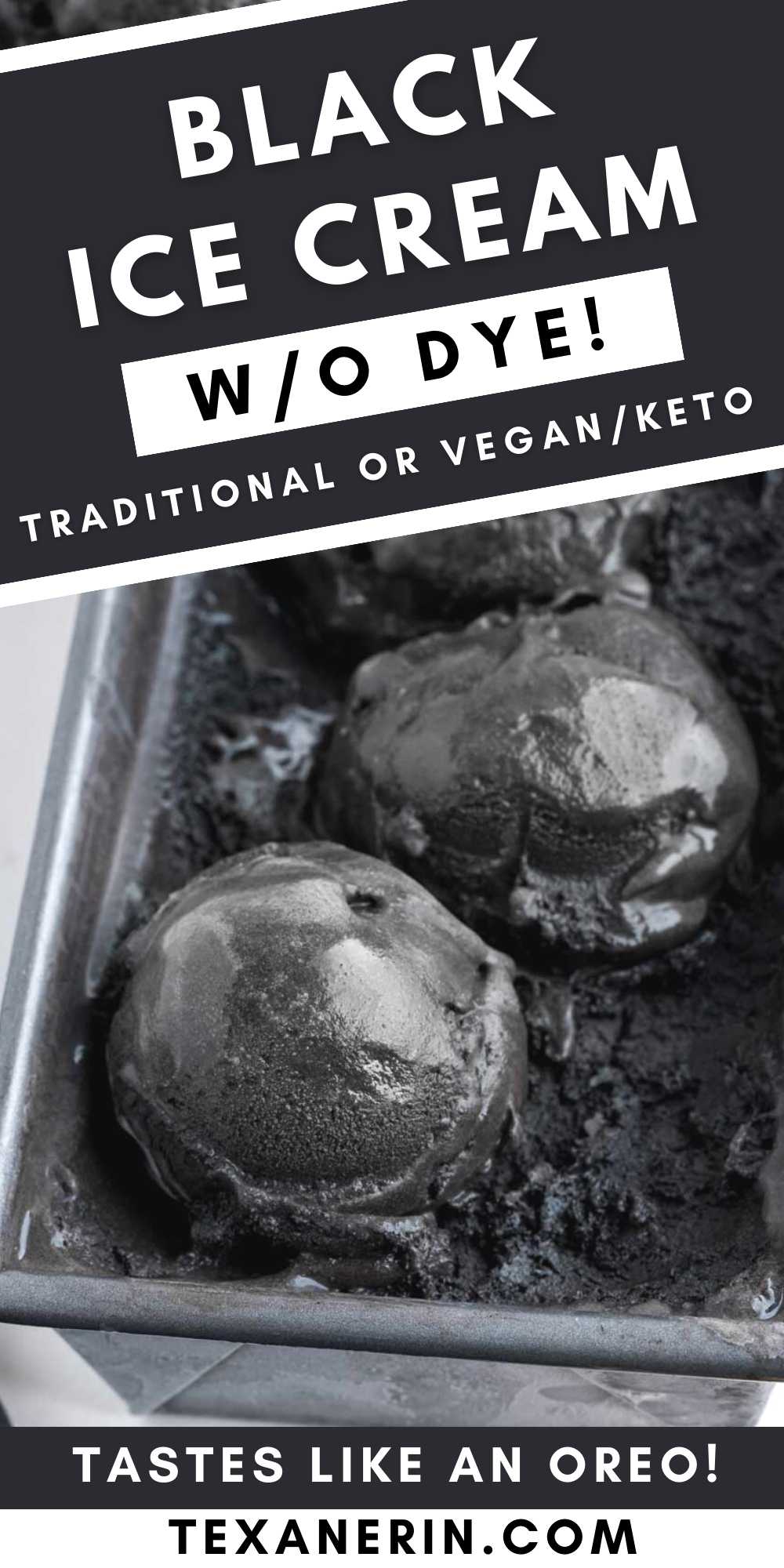 ❀
Black Ice Cream (traditional or vegan/paleo/keto)
Prep Time:
Cook Time:
Ready in:
Yield:

6 cups
Please see the notes for the paleo/vegan/keto versions!
Ingredients
3/4 cup (86 grams) The Cocoa Trader black cocoa powder1
1/4 cup (50 grams) brown sugar, firmly packed
2/3 cup + 1/4 cup (183 grams) granulated sugar
3 1/2 cups (828 ml) light whipping cream OR 2 cups (473 ml) heavy cream + 1 1/2 cups (355 ml) whole milk
2 tablespoons vanilla extract
1/4 teaspoon salt
Directions
Combine all the ice cream ingredients together in a blender and blend on the very lowest setting just until no lumps of cocoa remain.
Chill in the fridge for at least 4 hours, or transfer to a flat container and place it in the freezer and stir frequently. This is what I do to get it nice and cold quickly. But check and stir every 5 minutes or so. It just needs to be very cold - it's not there to thicken into ice cream.
Churn according to your ice cream maker's directions.
Transfer to a container and freeze overnight. It'll be nice and scoopable the next day. It can be kept in the freezer for up to 3 months.
Notes
Any brand of black cocoa powder will give you the right taste, but I can't guarantee that any other brand will give you the right color. Modern Mountain black cocoa results in brown ice cream.
For vegan, use canned full-fat coconut milk. When it's all mixed up, taste and add another 1/4 teaspoon salt, if needed (it was for me to make the cocoa flavor pop).
For paleo, do the above and use 233 grams coconut sugar instead of brown + granulated sugar. Please note that the taste and texture is much better when using black cocoa in my Vegan Gelato!
For keto, use 2/3 cup (128 grams) Gentle Sweet (or the copycat listed in the post) in place of the brown + granulated sugar.