This chocolate walnut cake is super moist and rich chocolaty with toasty walnuts. It's made with simple ingredients and can be made with all-purpose, gluten-free or whole wheat flour. It's also easy to make vegan and dairy-free.
This recipe is based on my Dairy-free Chocolate Cake, but with the added crunch of toasted walnuts. Initially, it was adapted from Hershey's One Bowl Chocolate Cake.
I also used a 9″x13″ sheet pan instead of layering the cake, which made it simpler.
If you don't need this cake to be dairy-free, then you can use regular milk.
This chocolate cake recipe has been my favorite for over 15 years. I've tried other top-ranking chocolate cake recipes to compare, but this recipe is the one that always comes out on top.
It's insanely moist and has the perfect chocolate flavor.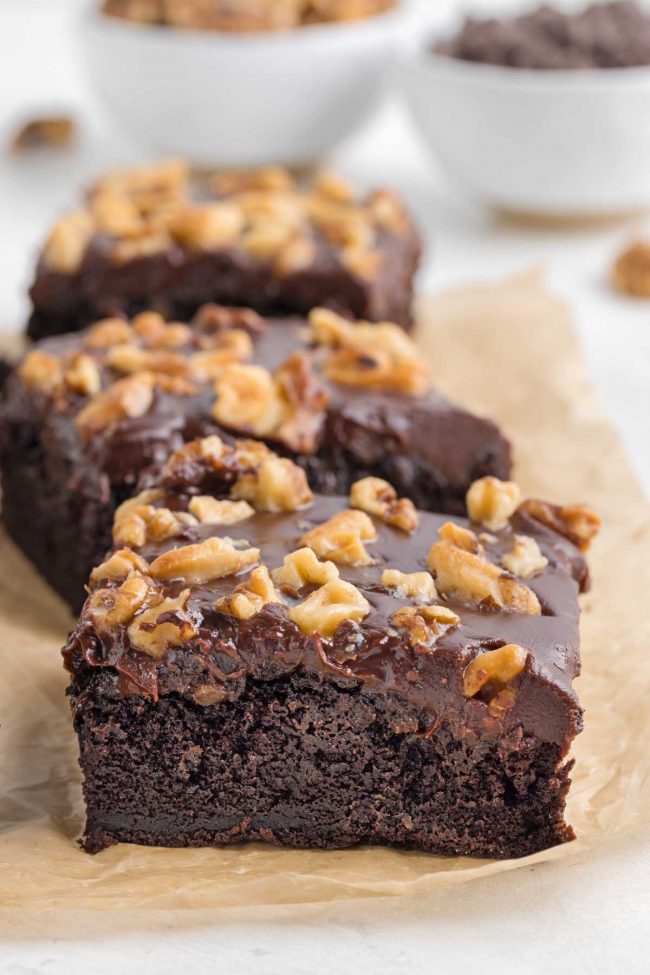 Traditional or healthy version
I've given you a lot of options, and they all taste like the regular version, so you can make a classic non-healthy cake or a healthier one depending on your dietary needs.
You can use any of the following:
Regular all-purpose flour, whole wheat or a gluten-free baking blend that's meant as a 1:1 sub for all-purpose flour
Regular eggs or chia eggs for a vegan version
Granulated sugar, coconut sugar or honey for a non-vegan version
Whatever neutral-tasting oil you have on hand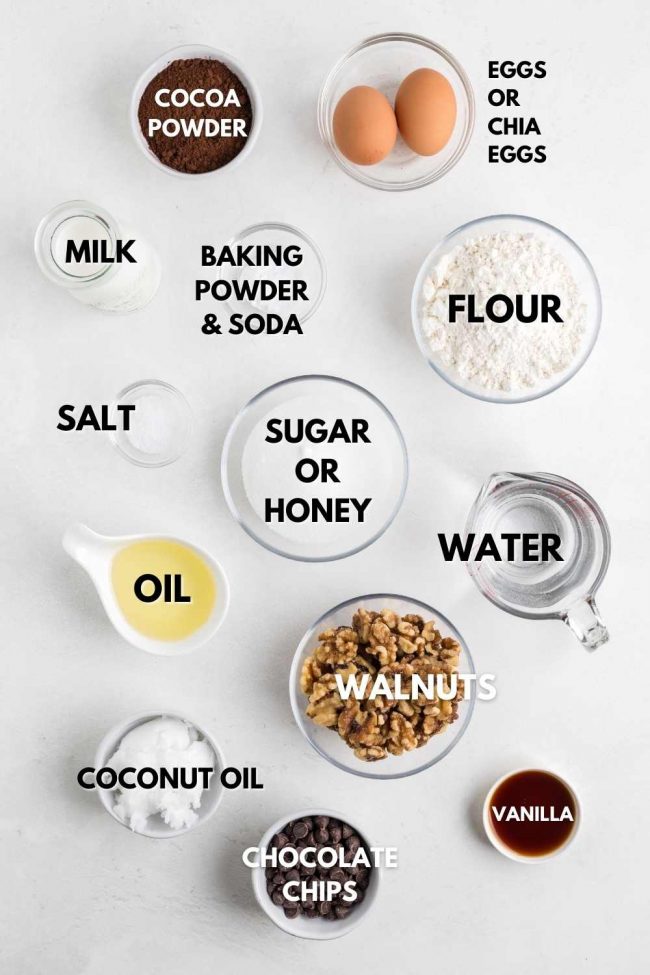 Why use boiling water?
This recipe calls for boiling water. And there's a lot of it. The amount is not a typo!
When hot liquid is combined with cocoa powder, it allows the cocoa to bloom, bringing out as much flavor as possible while dissolving quickly with as few lumps as possible.
It's a step I don't recommend skipping.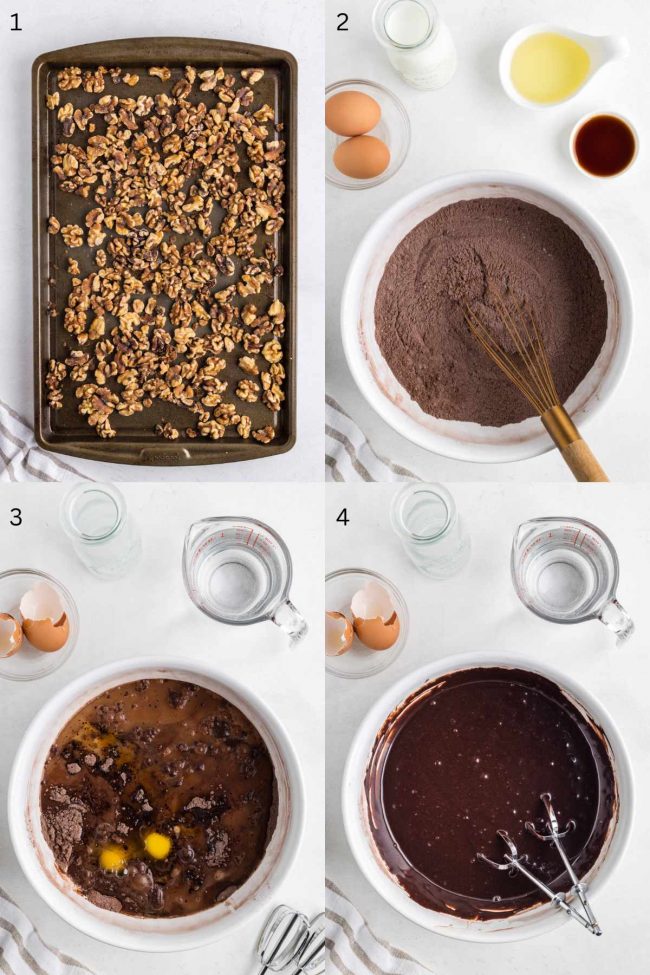 Milk variations
You can use whatever milk you have on hand. Cashew milk is my favorite and more neutral than almond milk.
Oat milk, soy milk or really any type of milk should work.
If you use canned coconut milk, use 1/2 cup of that + 1/2 cup of water to thin it down so it's more like regular milk.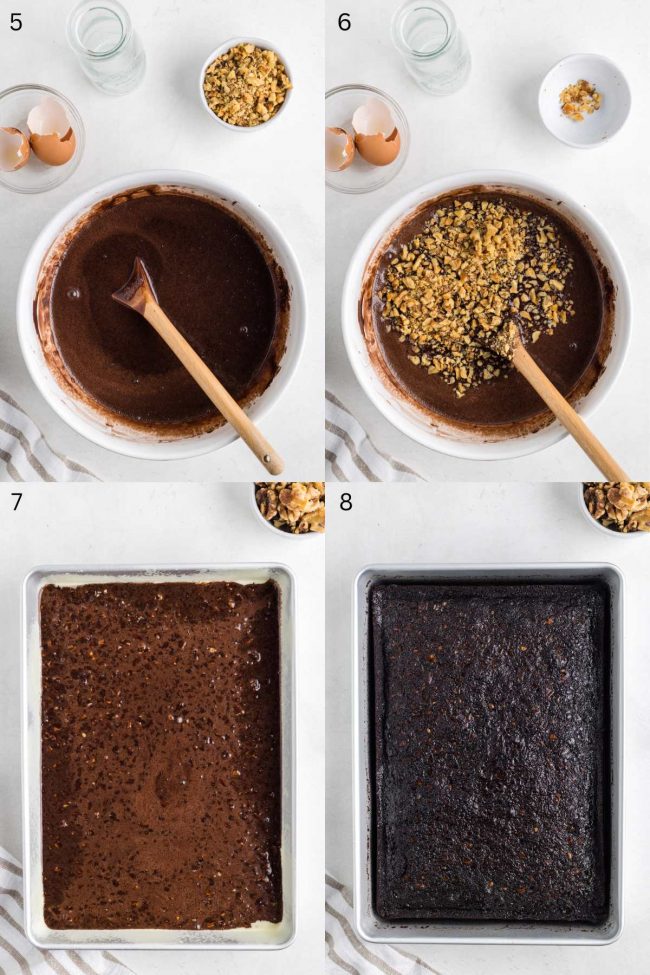 Frosting
For the frosting, I used a scaled-up version of my Paleo Vegan Chocolate Fudge Frosting.
It's super easy and uses really basic ingredients. You can use chopped chocolate if it's easier to find or cheaper.
You can use whatever milk you have, but like with the cake, if you want to use canned coconut milk, then use half water and half coconut milk to thin it down a bit.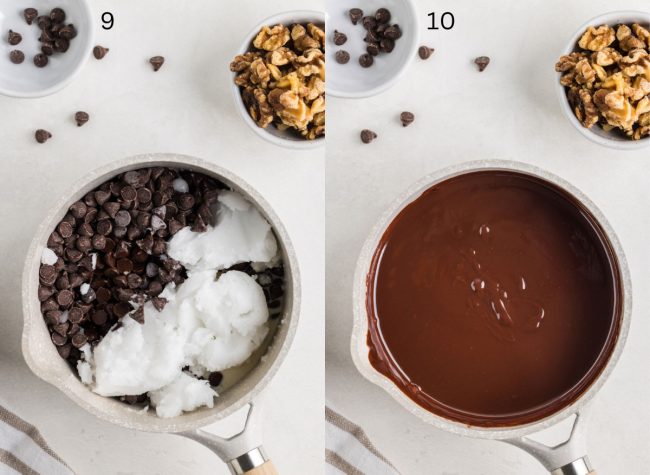 Pan sizes
I used a 9″x13″ pan. The bake time can vary depending on the combination of sugar, eggs, and flour you use.
For the whole wheat, egg, and honey version, it took about 48 minutes.
The gluten-free, chia egg, honey version only took 22 minutes.
For egg-free or gluten-free versions, check at 20 minutes and then every 5 minutes until you think it's almost done, and then start checking more often.
If using whole wheat, you'll likely need more time, but take a peek at 25 minutes, anyway. Better safe than sorry!
When the toothpick comes out clean with moist crumbs but no liquid, it's done.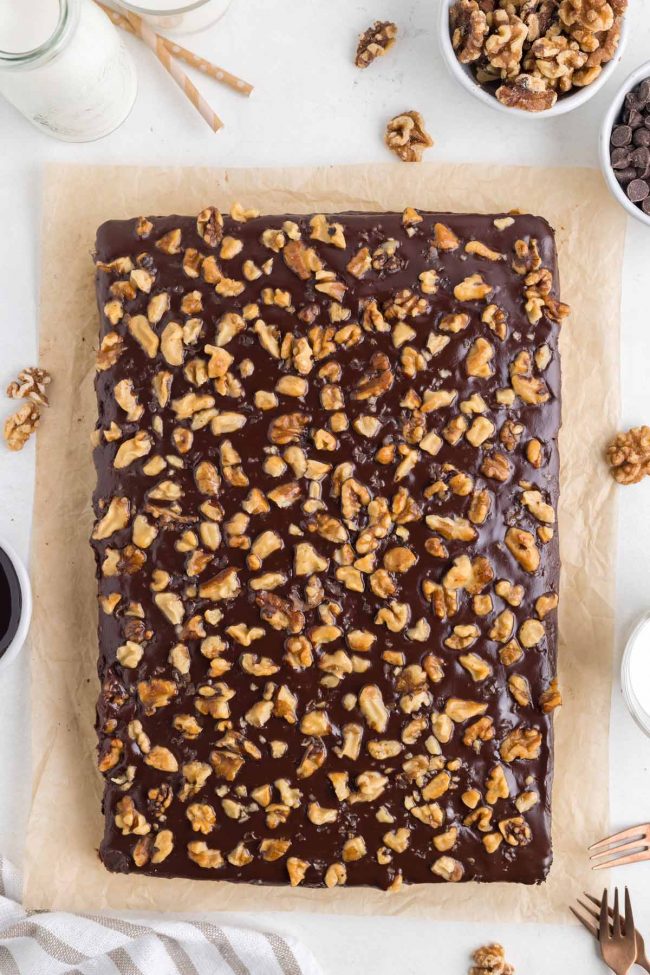 Can I make it in advance?
Unfrosted cake can be wrapped in plastic wrap and stored at room temperature for up to 2 days or refrigerated for up to 4 days. Frosted cake has to be refrigerated, and also for up to 4 days.
You can freeze the frosted or unfrosted cake layers for up to 3 months.
Can I use a different egg replacer?
I've only tried chia eggs in this cake. If you use egg replacers in other cake recipes with success, then I'm assuming you could use them here, but I'm not positive.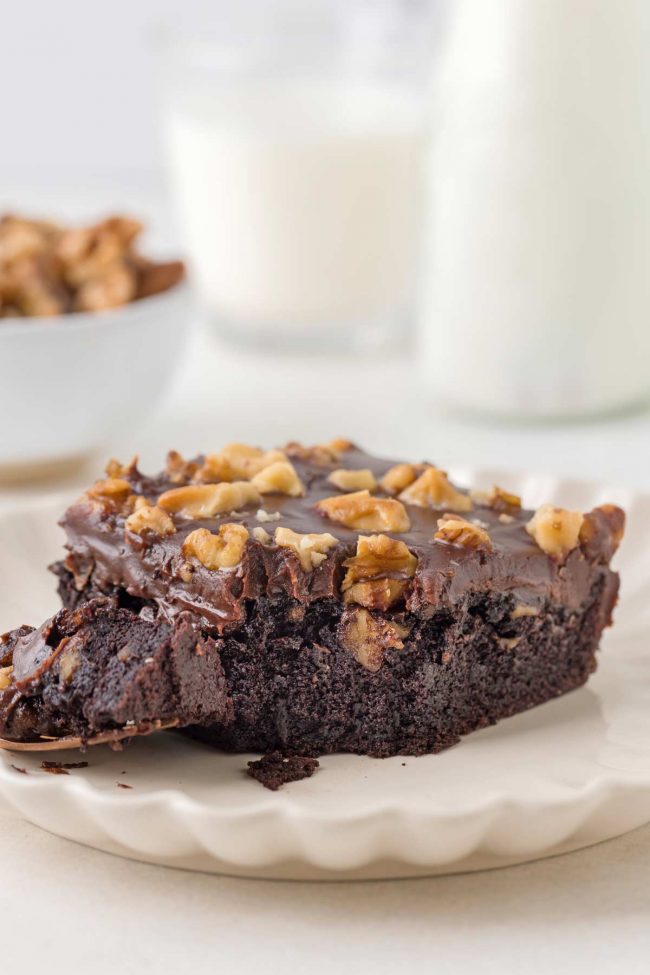 Can I use any type of oil?
Yes, as long as it is a neutral-tasting oil like olive oil, canola oil, vegetable oil, grapeseed oil, etc.
If you use unrefined coconut oil, you'll likely taste a little coconut in the cake.
If you use refined coconut oil, you won't taste it, so I recommend using melted refined coconut oil.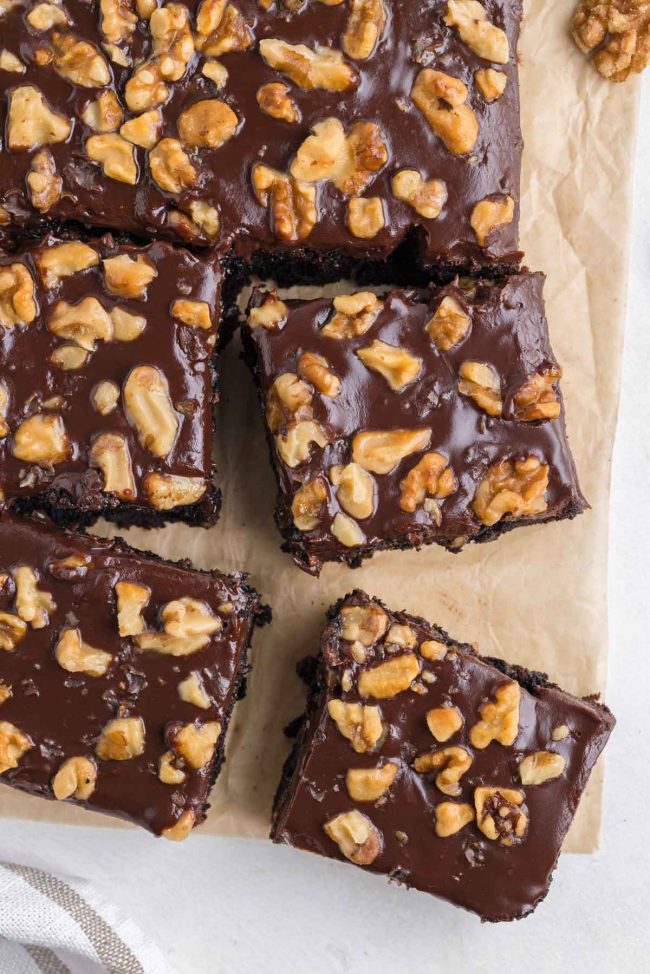 Can you taste olive oil?
If you use extra-virgin olive oil, you can taste it in the batter and when the cake is hot out of the oven, but once it cools, you can't taste it at all.
I use Aldi or Lidl extra-virgin olive oil. It's not super expensive or strong. If you're worried about the cake tasting like olive oil, use light olive oil, which refers to the taste, not the calories. 🙂
Please don't use a very expensive, strong olive oil for this cake unless you want to taste the olive oil.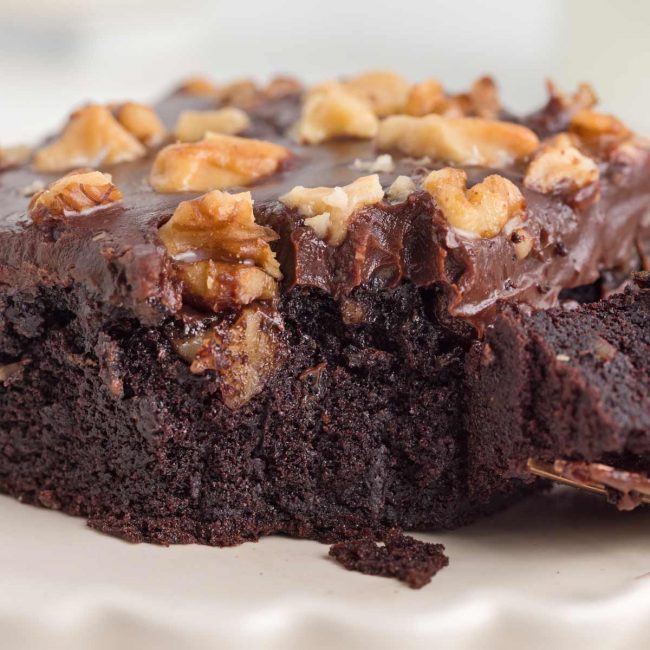 Can I use butter?
The cake won't be as moist because butter is only 80 to 82% fat, and oil is 100% fat.
So unless you want a drier cake, I would say no to using butter instead of oil. It'll still work if it's all you have.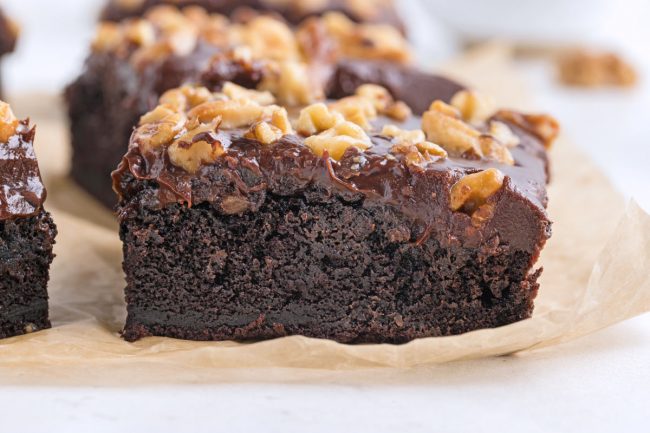 Gluten-free version
The gluten-free version really tastes the same as the version with all-purpose flour.
I always use Bob's Red Mill Gluten-free 1-to-1 Baking Flour and King Arthur Flour Gluten-free Measure for Measure Flour, and the results are amazing with both. I can't tell any difference between the two in this recipe.
If you have a different brand that works as a 1-to-1 sub for all-purpose flour, it'd probably work well here.
I can't guarantee other brands would be as perfect in texture or taste as with the two I recommended.
You can't use almond flour, coconut flour or any other grain-free flour. Sorry about that.
Can I reduce the sugar?
Reducing sugar reduces moisture, so I wouldn't go crazy. You could probably get away with 1 1/2 cups of sugar instead of 2, but any more than that? You'd be risking it.
The honey version is already a reduced amount, so I wouldn't reduce that at all.
Can I use a different sweetener than the ones listed?
If you use a liquid sweetener that you usually use instead of honey, that would probably work.
And any granulated sweetener you would use instead of sugar would probably also work.
I've only made this cake with the listed sweeteners, so I can't say for sure. The listed sweeteners are the only ones I know work for sure.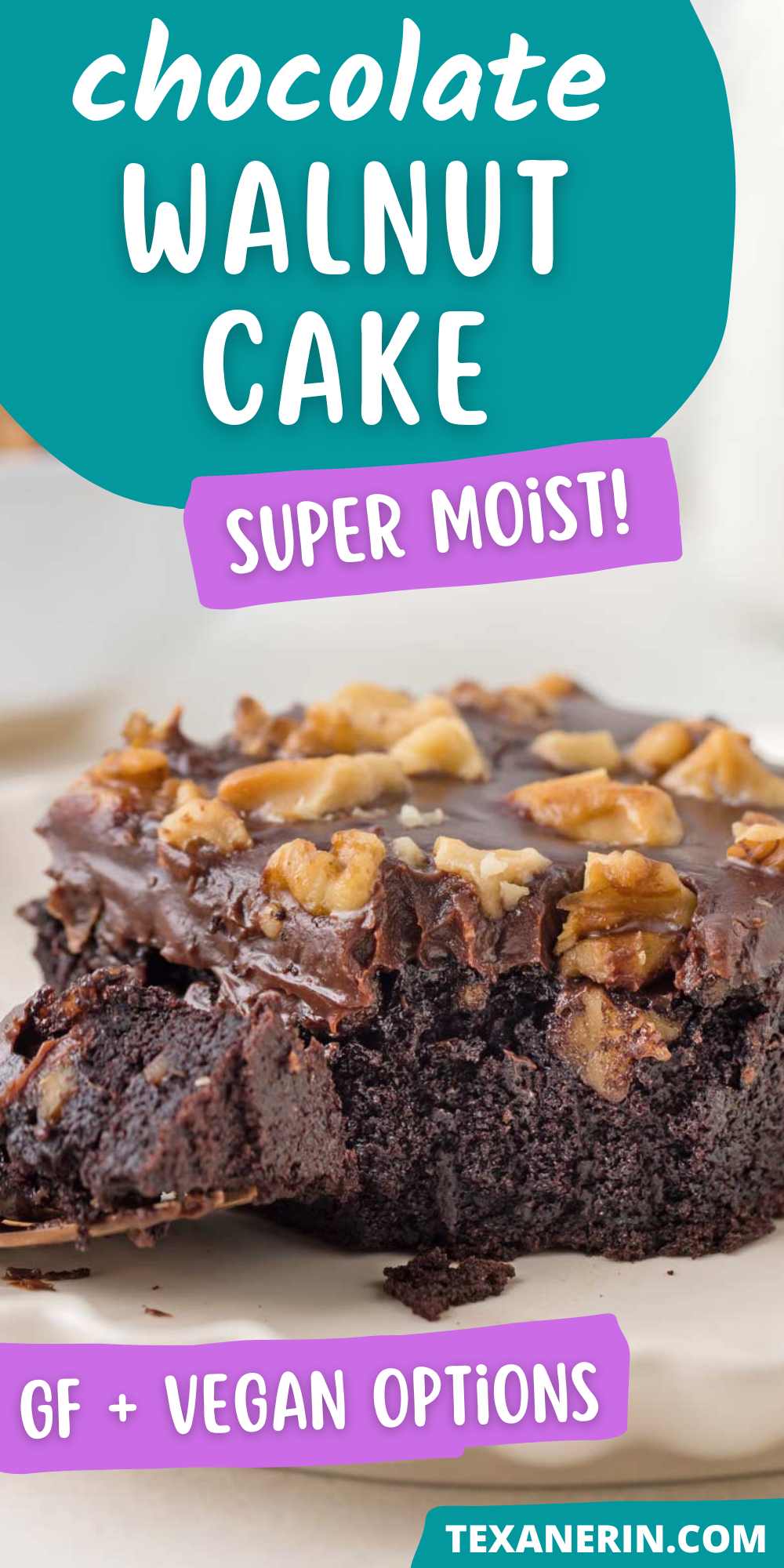 Other cake recipes
That's all for today! I hope you'll enjoy this chocolate walnut cake. If you make it, please let us know how it turned out in the comments below. Thanks. :)
❀
Chocolate Walnut Cake (traditional or gluten-free/vegan)
Prep Time:
Cook Time:
Ready in:
Yield:

12 slices
Ingredients
Cake:

1 cup (110 grams) walnuts (plus another 2 cups (220 grams) walnuts for the topping)
2 cups (400 grams) granulated sugar or coconut sugar or 1 cup (320 grams) honey
1 3/4 cups (218 grams) all-purpose flour, whole wheat flour or for gluten-free, use 1 3/4 cups (242 grams) Bob's Red Mill 1:1 Gluten-free Baking Flour or 1 3/4 cup (218 grams) King Arthur Flour Gluten-free Measure for Measure Flour
3/4 cup (85 grams) cocoa powder (I used Dutch-process)
1 1/2 teaspoons baking powder
1 1/2 teaspoons baking soda
1 teaspoon salt
2 large (50 grams each, out of shell) eggs or 2 chia eggs for vegan1
1 cup (240ml) milk of choice2
1/2 cup (120ml) oil3
2 teaspoons vanilla extract
1 cup (240ml) boiling water (not a typo)

For the frosting:

3 cups (510 grams) chopped semi-sweet chocolate or chocolate chips
3/4 cup (180 milliliters) milk of choice
3/4 cup (168 grams) refined coconut oil or unsalted butter
1 tablespoon vanilla extract
1/4 teaspoon salt
Directions
Toast the walnuts:

Preheat the oven to 350 °F (175 °C).
Spread 3 cups (330 grams) of walnuts on a large baking sheet.
Bake for 7-12 minutes, stirring after every 5 minutes, or until they smell toasty.
Remove from the oven, place the pan on a cooling rack, and let cool for at least 5 minutes while you prepare the batter.

For the cake:

Keep the oven at 350 °F (175 °C). Line a 9"x13" pan with a piece of parchment paper.
In a large bowl, stir together the sugar, flour, cocoa, baking powder, baking soda and salt.
Take 1 cup (110 grams) of the cooled walnuts and chop coarsely (you'll chop the rest later). Set aside.
To the dry mix, add eggs, milk, oil and vanilla. Mix for 2 minutes on medium and then stir in boiling water. The batter will be almost as thin as water. Stir in the chopped walnuts.
Pour into the parchment-lined pan.
Bake for 22-48 minutes (the bake time varies widely, depending on the oven and choice of ingredients - see the post for more info) until a toothpick comes out with some moist crumbs, but no liquid.
Place on a cooling rack and let cool completely, about 2-3 hours, before frosting.
It can be covered and stored at room temperature for 2 days or refrigerated for up to 4. It can also be frozen for up to 3 months.

To make the frosting:

In a small saucepan over medium-low heat, mix together the chocolate, milk, coconut oil, vanilla extract and salt. Stir until melted and completely smooth. Remove from the heat.
Let it cool about 15-20 minutes (it should be a bit thicker than when you took it off the heat). Meanwhile, chop the rest of the walnuts coarsely.
Pour the frosting over the cooled cake. Toss the nuts over the top.
Cover and refrigerate leftovers for up to 4 days. You can also freeze the frosted cake for up to 3 months.
Notes
To make the chia eggs for this recipe, mix together 2 tablespoons of ground chia seed with 6 tablespoons of water until well combined. Let sit for about 1-2 minutes or until goopy like regular eggs.
If you want to use canned coconut milk, I recommend using 1/2 cup of that + 1/2 cup of water for the cake batter. That'll thin it down so that it's like regular milk. For the frosting, use 6 tbsp coconut milk + 6 tbsp water.
I recommend something neutral like refined coconut oil, olive oil, grapeseed oil, vegetable oil or canola oil. I use extra-virgin olive oil from Aldi and Lidl and can't taste it once the cake has cooled. Don't use a very strong, expensive olive oil, or you'll be able to taste it. You can use light olive oil if you have it.
If you're dairy-free, use dairy-free milk, coconut oil and dairy-free chocolate.
If you're vegan, use vegan milk, chia eggs, coconut oil and vegan chocolate.
Adapted from Hershey's One Bowl Chocolate Cake