These no-bake mini raspberry cheesecakes feature a white chocolate cheesecake filling and a graham cracker crust. With traditional, gluten-free, whole grain and grain-free options. Thanks to Driscoll's for making today's post possible!
Before I settled on this white chocolate + cream cheese + Greek yogurt filling, I tried some no-bake cheesecakes with gelatin, which I had avoided in the past, thinking that I wouldn't like them. Then it occurred to me that maybe I would like them if I just tried them, but nope! They were pretty bad. Perhaps it was just a sub-par recipe but I'm thinking I just don't like gelatin-based cheesecake.
I then moved on to the kind of no-bake cheesecakes that use whipped heavy cream. They weren't bad but they reminded me of Cool Whip based treats. Definitely not my thing!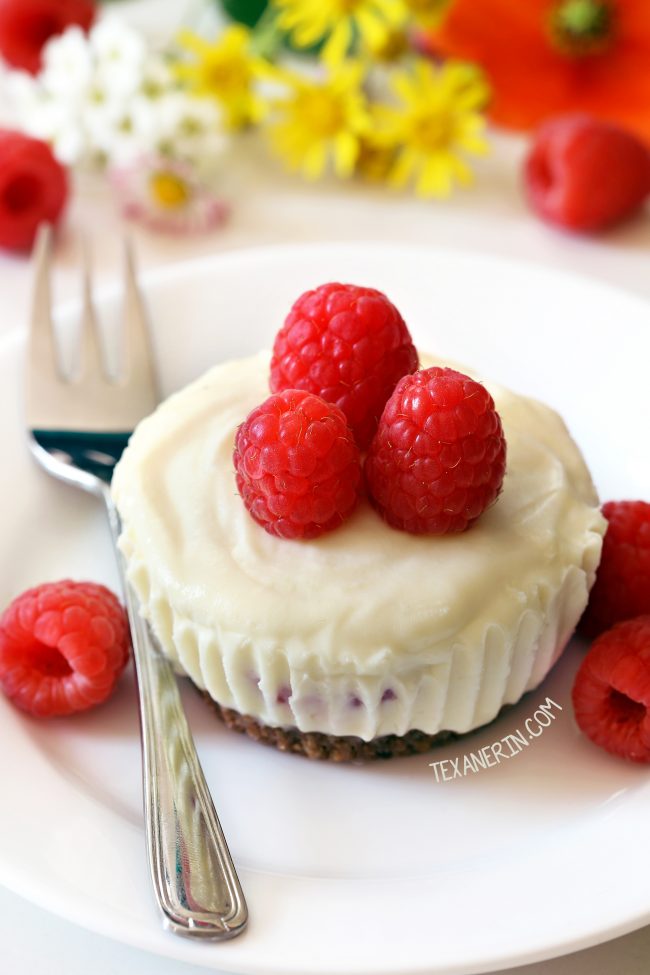 So I adapted the filling I used in my Greek yogurt berry tart. It's incredibly easy and so, so delicious. Healthy it's not, but at least these mini raspberry cheesecakes are worth the calories. ;) I've tried using less white chocolate and more Greek yogurt to make them a little healthier, but they just weren't nearly as good.
I added some whole raspberries to the filling and love the vibrant bursts of flavor they add. I've also experimented with mashing the raspberries a bit to turn the cheesecake a light pink color but the problem is that once you freeze the cheesecakes (which you do to make removing the wrappers easy), they become icy due to all the added liquid from the mashed raspberries.
Speaking of raspberries, every now and then, I'll come across a brand of raspberries at the store that's not Driscoll's. And it's always such a bummer because it means I have to go to another shop.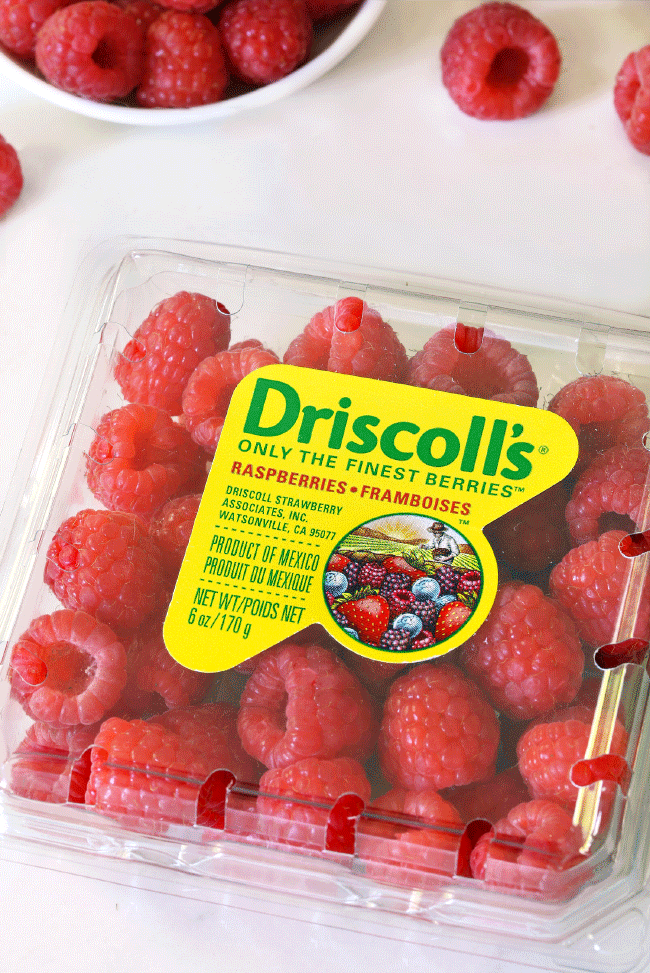 Mr. T used to ask, "Can't you just use another brand?" Such a silly question. The answer is a resounding no! Driscoll's raspberries are always the most gorgeous, brightest and sweetest. I mean, just look at them. It's like opening a package of happiness.
And one more thing – they don't seem to go moldy as quickly as the other brands I've tried. At least that's the experience I've had! I bought these berries on Wednesday and they're still good today (Monday).
I think one thing that may have helped is that I didn't leave the raspberries in their package. I put some paper towels on a cookie sheet that fits easily in the fridge and then spread out the raspberries. That way they're not pressing up against other, trapping moisture, and spreading mold (should one become moldy).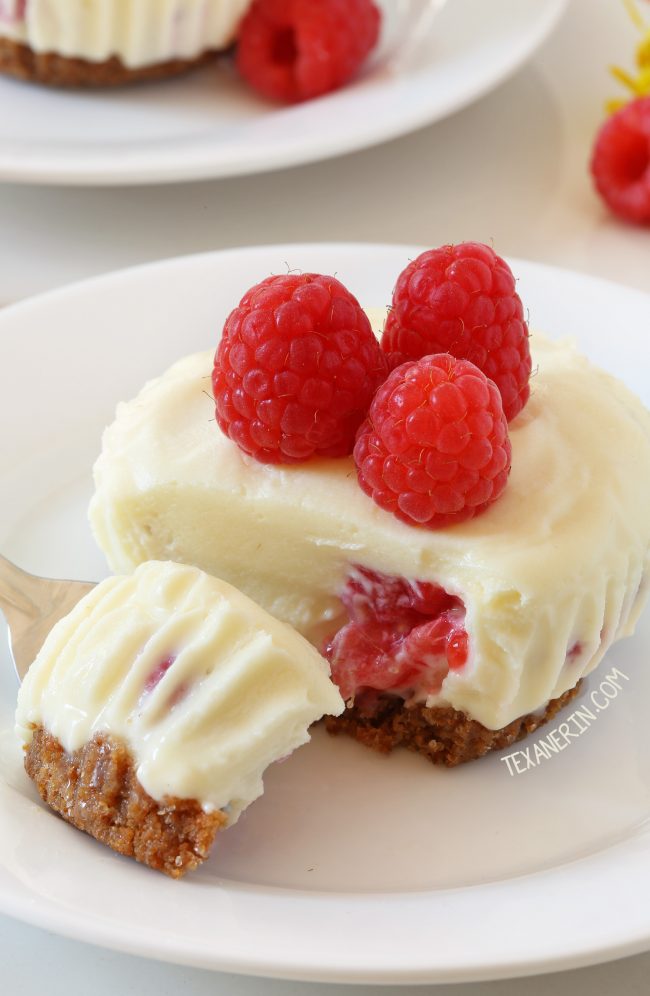 But back to these cheesecakes. The brands and types of muffin liners and filling ingredients also play a role in how quickly you can remove the cheesecakes from the liners. You may be able to remove them from their wrappers neatly after about 30 minutes of chilling, or you may need to freeze them for 2-4 hours first.
If you don't want to serve these cheesecakes the day of making, I suggest keeping them frozen until shortly before serving. This guarantees that the raspberries won't make the filling too runny and it'll also keep the raspberries as fresh as possible.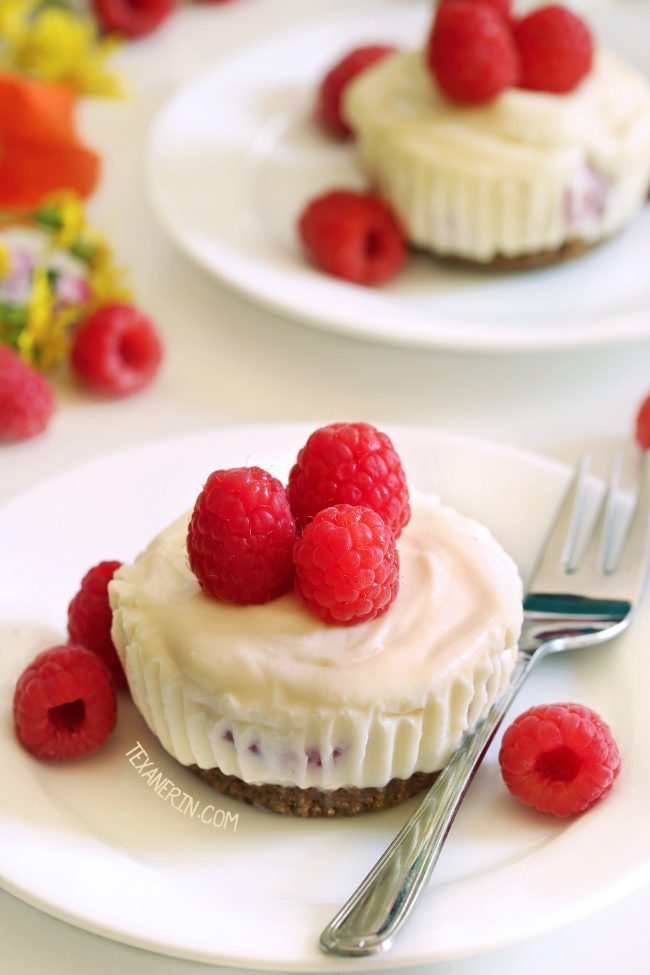 For the crust, I used my homemade graham crackers. That recipe is whole wheat but you can use regular or gluten-free store-bought crackers instead! I also tried out a number of grain-free crusts but then realized if you're grain-free, you're probably not into eating copious amounts of white chocolate. I've included the option in the notes section of the recipe, anyway!
Want to turn these no-bake cheesecakes into a Christmas-time treat? Add some mint leaves! And if you prefer something different, check out this delightful raspberry fool!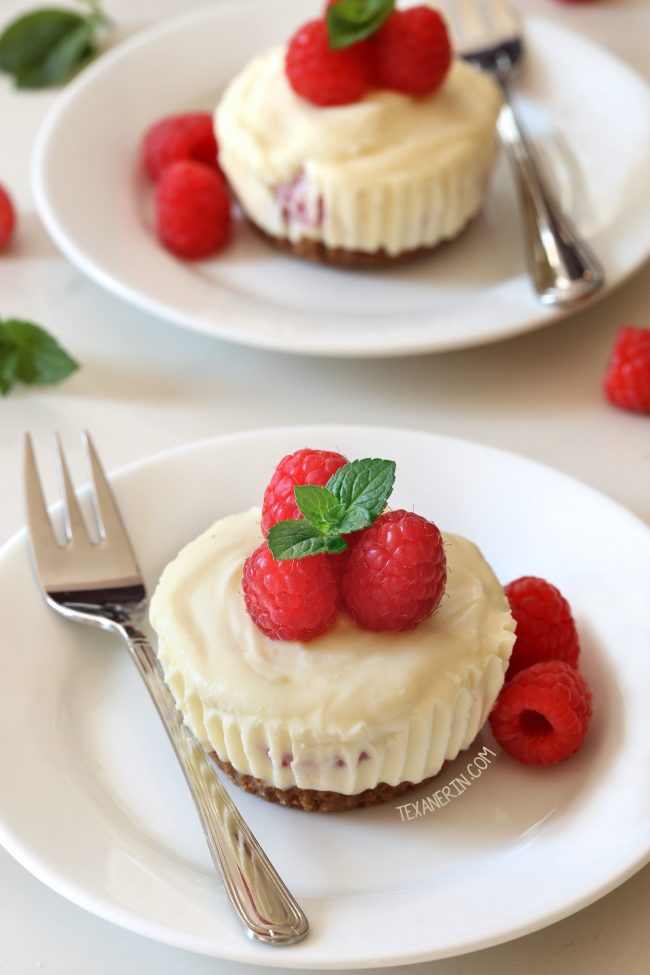 For more delicious raspberry recipes, check out Driscolls.com. I've been wanting to try that gluten-free + dairy-free lady bug chocolate tart (on the second page of recipes) for months! It's so cute and sounds delicious.
You can also enter for a chance to win their Sweetest Berry Sweepstakes here. Thanks again to Driscoll's for sponsoring today's post. As always, all opinions expressed are my own. :)
❀
No-bake Mini Raspberry Cheesecakes (grain-free, gluten-free, whole wheat options)
Prep Time:
Cook Time:
Ready in:
Yield:

12 mini cheesecakes
Ingredients
For the crust:

1 cup graham crackers crumbs (I used homemade whole wheat graham crackers but store-bought gluten-free or regular graham crackers work, too - see the bottom of the recipe for the grain-free alternative)
4 teaspoons granulated sugar or raw sugar
8 teaspoons (that's 2 2/3 tablespoons) up to 4 tablespoons unsalted butter, melted

For the cheesecake:

1 1/2 8-ounce packages (12 ounces / 338 grams total) cream cheese
1 1/2 cups (255 grams) white chocolate chips or chopped white chocolate, melted
6 tablespoons plain Greek yogurt
1 1/2 packages (6 ounces each) Driscoll's raspberries
Directions
Line a muffin pan with 12 liners. Prepare the crust. Mix the crumbs and sugar together. If using store-bought graham crackers, you'll likely need the 4 tablespoons of butter. If using the homemade version I linked to, you'll only need 8 teaspoons of butter. The amount of butter you'll need depends on the brand of graham crackers or the homemade graham cracker recipe used, so use your best judgement. Stir in the melted butter. Spoon 1 packed tablespoon of the mixture onto the bottom of each muffin liner and press it down to form the crust. Place in the refrigerator while you prepare the filling.
To prepare the filling, beat the cream cheese with an electric hand mixer at medium speed until fluffy.
Beat in the melted white chocolate and once well combined, stir in the Greek yogurt. Gently stir in one package of raspberries (make sure they are very well patted dry).
Remove the crusts from the refrigerator. They should now be firm - if they're still soft and crumbly, refrigerate them until firm.
Spoon 1/4 cup of filling into each cup. Place in the freezer for at least 2-4 hours. This will make removing the wrappers easier and they'll come out looking neater.
Remove from the freezer and remove the wrappers. If they're still soft, you can serve immediately. If you've frozen them for 6+ hours, they're likely totally hard. In that case, let sit at room temperature for at about 20-30 minutes before serving or let thaw for about an hour in the refrigerator.
Decorate with remaining raspberries before serving.
Notes
For a grain-free alternative, use a little more than 1 tablespoon per muffin liner of the following mixture:
2 tablespoons (28 grams) unsalted butter, melted
4 teaspoons (27 grams) honey
2 teaspoons lemon zest
1/8 teaspoon salt
1 cup (100 grams) blanched almond flour