This no-cook white chocolate mousse is made healthier with a secret ingredient and doesn't have any eggs!
I was extremely excited to see that one of my favorite healthier food bloggers, Lauren of Healthy Food For Living, was writing an e-cookbook called Healthy Decadence for One. I'd been making Lauren's recipes long before I started blogging and they've never let me down. When I went over the table of contents, it was obvious what I was going to make first. Lauren and I both share a love of white chocolate and I was happy to see she worked in a healthier white chocolate mousse recipe.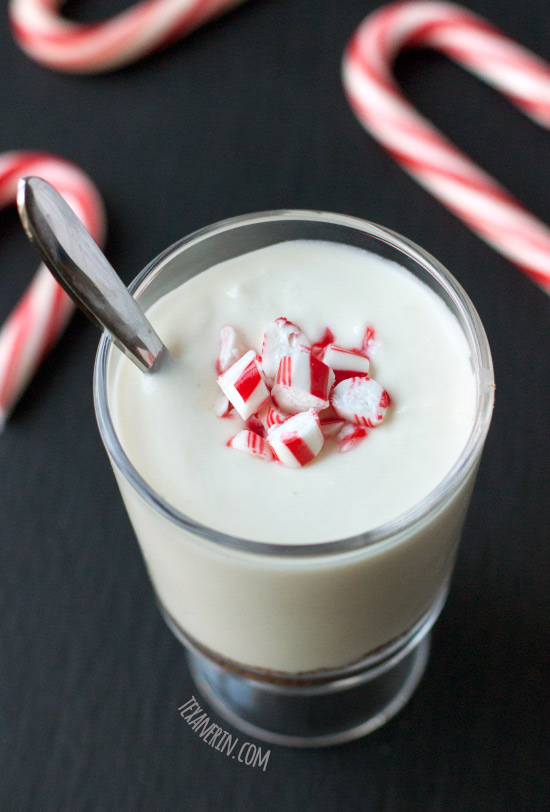 This recipe uses cottage cheese as the base but you absolutely can't taste it! If you use a mini food blender or an immersion blender, like I did, there really isn't any trace of cottage cheese. If there had been, I wouldn't have eaten it as I really, really do not like cottage cheese!
All of the recipes in the book are for single servings, but can easily be doubled, which is what I recommend if you want to share with someone. There's no way you're going to want to split a single serving. What's pictured here is about 1.5 servings but the recipe is written for 2 servings.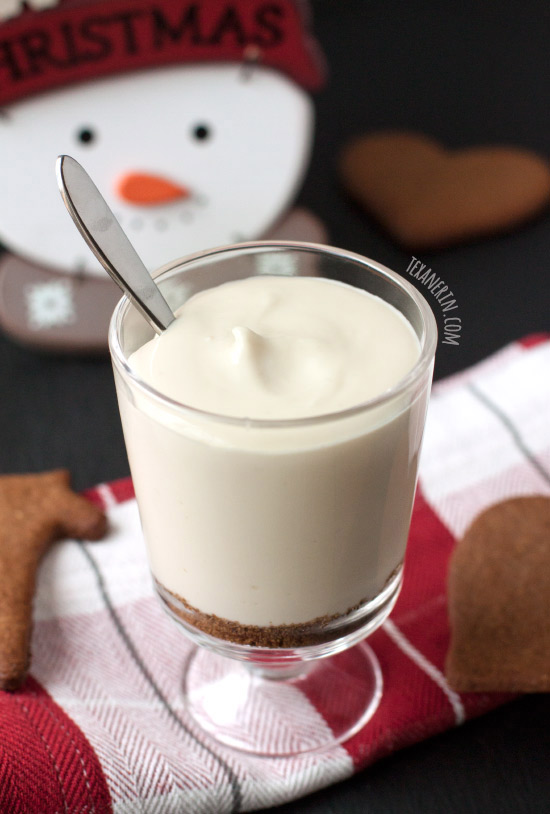 I had this really sinister story about the viking and the Dala horse pepparkakor below but since you don't come here for evil stories, I changed it up a little. The new story goes this like: the Dala horse was attracted by the bright, shiny candy canes in the mousse. He jumped in and ate them up, but then he couldn't get out. The viking saw this and alerted Mr. T, who then promptly removed the horse from danger. It turns out that the Dala horse only had one leg, making his escape from the mousse difficult. The viking and the horse went off together in the sunset. It was beautiful.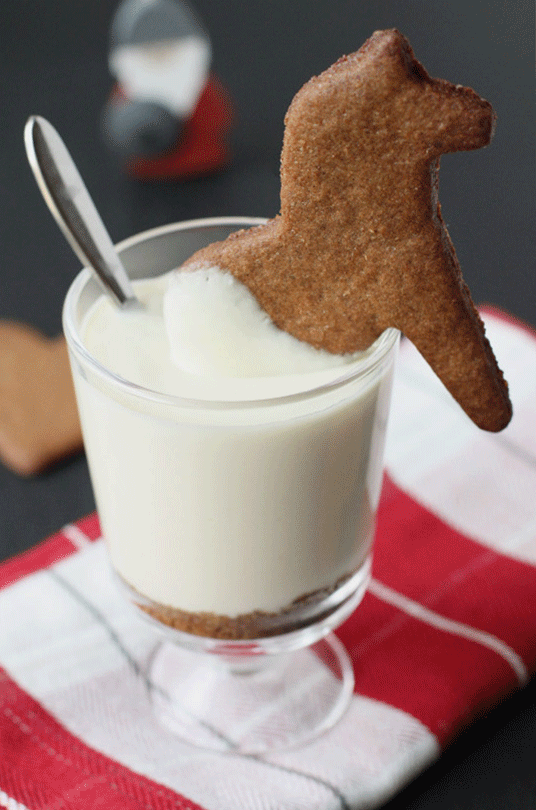 If you enjoy my recipes, you'll love Lauren's and the ones in this book. There are 15 breakfast recipes, both sweet and savory, and another 15 dessert recipes. They're all made healthier, don't have any processed ingredients and are relatively quick and easy to make! A majority of the flour-based recipes are whole wheat but the book also has some dietary friendly recipes! It's only $6.99 and can be found here on Amazon and can be viewed with the free Kindle app for smartphones, tablets and computers. I hope you'll enjoy it as much as I have so far! :)
For something more autumnal, try this gluten-free pumpkin spice mousse from My Gluten-free Miami!
❀
Healthier White Chocolate Mousse
Prep Time:
Cook Time:
Ready in:
Yield:

2 servings
Ingredients
1/4 cup (43 grams) white chocolate chips or chopped white chocolate
2 tablespoons milk of choice
1/2 cup (118 milliliters) cottage cheese
2 teaspoons honey
2 ounces (57 grams) cream cheese or Neufchatel
1 graham cracker or pepparkakor, finely crushed (make sure to use graham crackers or cookies that fit your dietary needs)
Directions
Place the white chocolate and milk in a small microwave-safe bowl and heat at half power for 30 seconds. Stir and then continue microwaving in 10 second increments, stirring after each one, until completely melted.
In a small bowl, beat the cottage cheese, honey, and cream cheese using an immersion blender. You could also use a mini food processor. Process until completely smooth and no chunks of cottage cheese remain.
Add the white chocolate mixture and mix until smooth. Scrape the sides of the bowl as needed.
Put the graham cracker or cookie crumbs at the bottom of a small serving glass and use a shot glass to press them down. Spoon the mousse over the top.
Serve immediately (it'll be quite soft) or refrigerate for 30 minutes to an hour or until slightly firmer.
Recipe from Healthy Decadence for One: Single Serving Breakfast and Dessert Recipes by Lauren Zembron
As an Amazon Associate, I earn from qualifying purchases. For more info, see my disclosure.